Better Than A Good Time: An Audience with Bob Blank
From the DJ History archives: the legendary New York engineer and producer talks at length about working with Arthur Russell, Walter Gibbons, Larry Levan and Ze Records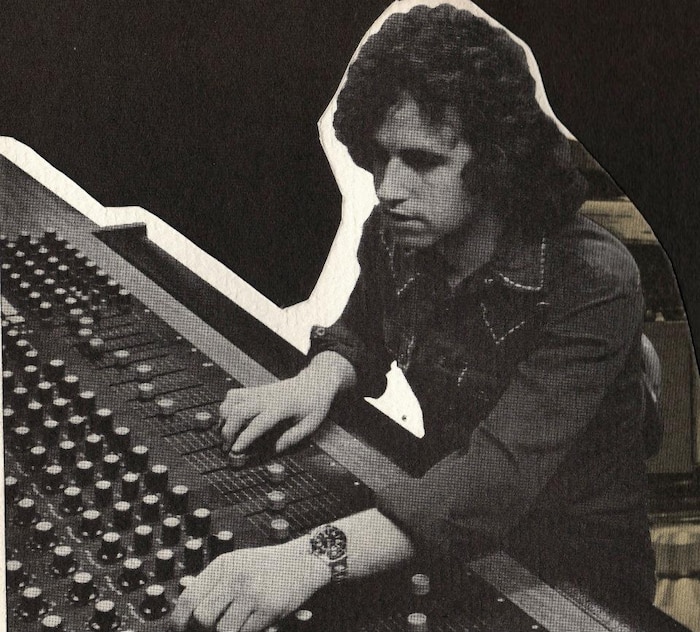 Bob Blank began his career in the music industry as a session guitarist, but soon realized that his talents lay behind a mixing desk. He bagged a job as a studio engineer working on Latin funk and disco records. Energized by his success, Blank built his own studio, Blank Tapes, and began taking on jobs from bands and labels in New York's thriving disco and post-punk scenes.
Blank Tapes quickly became a hub of the so-called "mutant disco" scene. Blank was the go-to engineer for Ze Records, which resulted in productions and mixes for James Chance, Lizzy Mercier-Descloux, Kid Creole, Lydia Lunch and Cristina. He was much in-demand within the disco scene, too, extensively working with now legendary figures such as Patrick Adams, Arthur Russell, Tony Humphries, Larry Levan and Walter Gibbons. For a time, he also recorded and performed in a group of his own, Aural Exciters, which released the Spooks in Space mini-album via ZE Records in 1979.
For a long period of time, Blank's contribution to the sound of New York during the late 1970s and early '80s was unknown outside of his particular corner of the music industry. However, since the 2010 release of a Strut Records compilation of material produced or mixed at his studio, The Blank Generation, there has been far more interest in his extensive body of work.

In 2006, Blank talked at length to Bill Brewster about the formative years of his career, focusing on some of the iconic DJs, artists and labels he worked with, as well as the stories behind some of his most celebrated productions.
OK, let's get a bit of biographical detail — where you were born, when, etc...
I was born in 1951, which makes me 55 years old. I was born in Manhattan, but I was raised in the suburbs on Long Island about 45 minutes from the city in Huntington. At that time there was a lot of what you'd call white flight from the city and that's where people wound up. The first thing I wanted to do as a pending adult was to get out of there.
What were your musical interests as a kid?
Well, I started out not knowing I was going to be involved in music. I had an uncle who owned a lot of real estate in New Jersey. Some of the real estate he owned was a bunch of bars in Elizabeth, New Jersey, and the bars he owned were all black. When I was about eight years old one day he brought me a tape recorder and then a bunch of records. When you're eight years old and living in the suburbs in the 1950s, you'd probably get "How Much Is That Doggy In The Window" and that goofy stuff, but I was getting things like Bobby Bland and a lot of blues and R&B records of the time. It didn't occur to me that was this anything different. As a teenager in Long Island all you heard was the pop and rock music of the day. Once I got these records I started collecting them. By the time I sold the vinyl that I had, I had over 120,000 records. That was my musical influences of the time.
What was your intended career when you left school?
Well, actually I should tell about how I went to school. Through a set of circumstances, my parents were divorced and my mother passed away. For the last two years of high school I lived by myself. I supported myself by doing jobs, like working at the TV repair store and the public library. One of the things I did, I had amassed a lot of recording equipment and I was getting known for recording local groups. The local bands in the park, stuff like that. We would try and make records and I got a lot of interest.
When I graduated high school in 1969, I went to Woodstock. That summer I'd been working in a record pressing plant on Long Island, where we pressed "Honky Tonk Woman" all summer – your typical midnight-to-eight nightshift that nobody would allow an 18 year old to do today. When I came back from Woodstock, I thought I was gonna do something more involved in the arts. I'd been teaching myself guitar and thought, "I'm really gonna do this for real."
It seemed to me that everything I did I was very successful at, without really working at it.
I wound up getting on a plane with my savings and moving to New Mexico. I knew a couple of people out there and it sounded really great, though the dream is always different to the reality. I wound up hooking up with some musicians, producing them and having local success with that. So I was doing that and going back and forth to New York. As I fell into the record production through engineering – and this is going to sound very conceited – it seemed to me that everything I did I was very successful at, without really working at it. I guess if you see things like that it's a definite sign that that's the direction you have to go in your life.
By 1972 I had been working as a guitarist professionally and working with this one rock band and producing them. I wound up coming back to New York with my guitar, figuring I would work in the music business. I started out as a session guitarist. I did some commercials, but one day I was sitting next to the superstars of the day, Elliott Randall and Steve Love, and realized that if I spent 22 hours a day practising I would never have the chops that these people did. But I had something that these people couldn't do and that's engineering and production. Even though every record that I've ever produced, or most of them, I've played on, that was the last time I played as professional musician.
I'd been working at a place called Sander's Recording Studios on Music Row in New York, a little demo studio. It was actually a really cool little place because everyone came there to do their demos and that's how I would meet the people of that time. I wound up working at a place called Delta Recording and moonlighting at RCA/Victor Records. Delta was a place that specialised more in Latin music and I got really involved in that. At that time, the Latin scene, the R&B scene and the dance scene were very integrated. The musicians who played on the Latin records also played on the R&B records. Lots of dance music was made by the Latin cats.
I wound up producing one of the first 12" records, "To Be With You," which was originally done by the Joe Cuba Sextet. It was a very big New York hit in the '60s and I worked with the singer, Jimmy Sabater, on a new disco version. Of course it became really successful, because when there's only a few records like that out, yours is hot. It was on a local label called Disco Mania. The record comes out and in the meantime I'm still working on records and engineering in this studio. So this record's becoming really popular and I'm seeing this as nice way of working. So I went to my boss and said, "The next record is this and we're gonna do blah blah," and he said, "You know, I really like you as an employee but I'm really not happy with you working all night on these things."
The studio was in the Palace Theater building and it officially closed at 11 PM so you couldn't work past then. The studio was a nine-to-five studio, so I had this little window of opportunity in the evening till about 11 o'clock. Sometimes I'd give the night guy some money and get locked in and work all night. So I did what every guy in their early twenties would have done in this situation: I opened my mouth and said something stupid. "Oh yeah? I'll go and open my own studio!" When you're that age you can do stupid things like that. So I was living in a loft, built a recording console and started producing and engineering.
What was the studio called?
It was called Blank Tapes like it is today and it was on 20th Street between 5th and 6th Avenue on Manhattan. That was in Chelsea, which at that time was a pretty depressed area and loft space was very cheap. I had 1,200 square feet and built it with the help of a couple of friends. The building turned its water supply off at 6 PM and turned it back on at 8 AM in the morning so it was a bit of a mess. I found some partners and we bought a 16-track tape recorder, which at that time was a state of the art machine. Before that I had a four-track that I'd built out of a three-track.
At this stage had you been to any of the clubs where they were playing the sort of music you were engineering and producing?
At the time in the early '70s, these clubs were very different than what they evolved into. I was mainly going to the Latin clubs because the bands were bringing me in. The discos at the time were fairly exclusive. The times when I actually started going into those places like 12 West, which was one of the gay clubs at the time, or even places like the Anvil, it was totally different than what I possibly could have thought was going on in those discos. What I mean is, I was making this music in a very studio environment, people come in with ideas for music but it never occurred to me how people related to this music.
It never occurred to me that a DJ would listen to all these records and pick out the elements that they would integrate in their sets and make a production out of.
So I'd go into a gay club and see people going nuts to the drum breaks. I certainly understood the concepts of making a dance record, building to a peak, and the energy, but it never occurred to me how they would take these breaks and mix them together to create longer breaks. The principles we used to make those breaks, we'd get people coming in with records saying, "This is the tempo that's really hot right now," or, "This is the groove that's happening." But it would never occur to me that a DJ would literally listen to all these records and pick out all these elements that they would integrate in their sets and make a production out of.
Did that influence the way that you approached production once you'd learned that?
That's a really good question... At that time, it didn't feel like I went straight back to the studio and said, "Ah! I got it, all I gotta do is go to the studio and make these breaks!" What I realized at that point was that when I went with my feeling of how it should go, that's the record that happened. The ones that were very "figured out" and planned usually didn't work. In a way, when we were mixing and we just said, "Right, turn on the congas," those were the records that worked. It did make me feel like, "Just keep doing this and it will work."
It's funny, but going to clubs at that time, I didn't do drugs, I didn't participate and I didn't dance, so a lot of the influences of being on the floor and being in the moment there were lost on me. I didn't wake up at 2 AM to go to the club. I wasn't doing poppers. So I didn't understand the reasoning and the feel of what these people were doing so for me it was a little... different.
So how did your association with Ze Records start?
I'd been working with John Cale. In addition to the dance music, I was doing some things for Red Star Records and we'd got to know some of the bands. I'd done "Little Johnny Jewel" by Television for Terry Ork. I'd gotten to be known as somebody you could go in the studio and do something interesting or bizarre with.
How much stuff did you do with Television then?
We did "Little Johnny Jewel," which was a single. We wound up doing some recording with Tom [Verlaine] and his brother. That was the only thing I did with the group. They were working for Terry Ork, who was the owner of the store that Tom worked at and he was the backer and they were breaking away from him. At the time, because he was paying the bills, they wound up getting a record contract. What happens a lot in the record business is someone will have a seminal success and a lot of times and they go into another crowd of people. So they'll say, "Yeah, we really like working with Bob and the studio feels really comfortable." But of course the record company says, "Well we really like Joe and we use him all the time..." So what you'll find is the first album is wonderful and the second album isn't, and that's because they don't use the same people. At that time I think the studio was deemed too raw to make the album.
Anyway, back to the John Cale story and Ze Records...
So anyway John Cale was at that time, we can see now, a really depressed person and his music was very dark, just as it was for the Velvet Underground. I'd been working for a couple of other people from the Velvet Underground, the Insect Trust, and one day he comes in and says, "I'm doing this record and I know you know how to do disco records. I'm bringing in this guy and we're gonna do this thing."
He brought in this guy who worked with De-Lite Records. They brought in an orchestra and did this disco track. The record was called "Disco Clone" and eventually wound up with Cristina Monet, who was Michael Zilkha's girlfriend, but at the time we recorded it, it was just an idea. Eventually John Cale left that project and Zilkha put me in charge of it for a while. I think I'm credited as producer with August Darnell, because towards the end he was involved in it. But it was just a circus.
In the process of doing this I became involved with all these other groups and produced Lydia Lunch and worked with groups like DNA. I knew them all through working on the punk scene but now they had a financier, because Zilkha had a lot of money and he was very visionary. We recorded a lot of stuff and worked with a lot of artists who are now listed as influential.
Who played on those records? Who played on "Disco Clone" for example?
The track on "Disco Clone" was recorded with Bert Keyes who's a well-known arranger and your usual disco rhythm section – Jimmy Young on drums, the studio musicians – with a full orchestra playing on it. But by the time Kevin Kline got on the record, we had gone through so many changes and overdubs. By the time we did that we brought in another arranger Carlos Franzetti, who wound up arranging a lot of the stuff on the second Kid Creole album. He was an old buddy of mine. Carlos is a classical composer from Argentina, who came up and he did a lot of stuff for Ze. The big thing he did in the last few years was the score for The Mambo Kings, but he's a pretty well known classical artist.
I sometimes felt like I was being pushed into a dark hole sat there trying to record an artist for ten hours.
What happened with Ze Records is that Michael had a partner and they both had slightly different ideas. They both had axes to grind. Lizzy Mercier Descloux was Michel Esteban's recent partner, his muse, and Michael had Cristina. The record company started to take off, they had offices in the Carnegie Hall building and whereas I would see him every once in a while, he decided I would be working on everything on his label. In a way that was cool, because there was a lot of great stuff on his label and we did a lot of great stuff, but at the same time I was saying, "Well I wanna work on other stuff as well!"
I was working with three of the biggest producers of that time – Nile Rodgers, Britt Britton and Freida Nerangis [who produced Crown Heights Affair] and Bunny Sigler from Salsoul – and I wanted to keep my fingers in there. So I said, "I'll tell you what, I'll mix all the records." This was after I'd produced a few things like the James White and the Blacks. I sometimes felt like I was being pushed into a dark hole sat there trying to record an artist for ten hours.
What's the stuff you're most proud of at Ze?
I think Lydia Lynch's album Queen of Siam is pretty cool. It was quite a concept. I thought that was a fully realized concept. The first two James White albums were really good.
What was James White like to work with?
Well, I wouldn't be speaking out of school if I told you he had a heroin addiction. Anya Phillips was his agent of sorts. James was always a gentleman. He was always focused and very polite. He was real easy to work with. The problem with people on heroin is they can sometimes be a little unreliable. But the music, the frantic craziness of the music… that happened in the studio, very controlled, and he was very professional. And I have to say this because it's very different on what you hear on the record.
What's really funny is that the James White album is very influenced by James Brown. Through a series of circumstances I eventually married Lola Love who was with the James Brown band. So at the time I had been working with James White, and when he started doing this stuff, it was a parody. Well one day [my future] wife came into the studio and James literally fell on his knees in front of her and said, "I really enjoyed what you did with James Brown." It was so sweet. So he's very real. One day he said to me, "You know I can play really legit saxophone." He never had to tell me that, you could tell by his playing that he'd had training. But even though he was literally shooting up in the back room, he never lost it.
Whatever happened to him?
Well Lydia is in LA and she's giving poetry readings but a lot of the artists for that label were artists in name only. A lot of them, they just got a job. It's one thing to see James White looking and acting like that at 23, but it's another thing to see him do it at 50.
That's true, but the Rolling Stones are still out there embarrassing themselves...
Yes, but that's different. Punk worked because you could believe that these people barely understood their instruments and they were very raw. You can't refine punk for 30 years. I think a lot of these artists were not really artists at all. They were wonderful characters at the time and that doesn't always translate, like those '80s drum sounds... What were they thinking of? For instance we did the Spooks In Space record...
Was the Aural Exciters your solo project?
That's what it became yeah. I was working with all these people who were doing other projects. Ronnie Rogers was working with someone who was producing Barbra Streisand. Ronnie was a songwriter. August Darnell was with Savannah Band and hadn't figured out how to be Kid Creole yet and he was literally living from hand to mouth. Taana Gardner was introduced by a drug dealer friend. At the time she was 18 years old. These people were talented and interesting.
Ronnie came in and I said, "Let's go and record something. Let's make a record, let's do it in an hour or two." There was a piano was set up and he came up with "Spooks In Space." The vocal and piano is the first take of that song. He made it up, the laughing and everything. Ze Records thought it was great. All of a sudden, there's a record! And that's how a lot of the records at that time were made. Nobody sat and conceptualized the Aural Exciters.
Well, I guess that's how music has evolved into now with Pro Tools and Logic and so on...
You're absolutely right. It's interesting you should say that because at the time studios were very expensive to create and maintain. They were very difficult to operate and there was a big issue with manual dexterity for an engineer. For me to manage that stuff, I had to be running around all the time, turning up faders, moving microphones, punching in and punching out. It's a very physical process. When we finally got our first automation system, I really embraced it.
Who played on the Aural Exciters records then?
I worked with Patrick Adams' musicians mostly. We'd been doing all these recordings for Patrick like Bumblebee Unlimited's Sting Like A Bee album and we'd finally had a hit with Musique's "In The Bush," so those players were around all the time. Richie Kessler was the drummer and the guitarists were Ken Mazur and Stan Lucas. We would use all the people from Ze whenever we could. We'd use James Chance, we'd use Pat Place, Coati Mundi, all the people from the Kid Creole band. It wasn't the kind of sessions where we'd book it and hand out arrangements to musicians. I tried to really use a lot of people who happened to be around.
You said earlier you were working with Nile Rodgers. What was that?
One night I got a call from Nile Rodgers, who I'd been working on another project with – an act on Prelude called Lemon. He said, "We're moving from that label and we need to do a B-side." So they came in on a Saturday and recorded the B-side of "Dance, Dance, Dance" for Atlantic. It was a wild jam. He lives near me here and we do things together occasionally still.
Do you remember the name of the track you did? Was it "Sao Paolo"?
Good question. It was so important to me then to have that credit on the record because I was nobody then. Patrick got a contract with Atlantic when "In The Bush" became a hit so suddenly Narada Michael Walden, Eddie Kendricks, Herbie Mann and loads of other artists were starting to work with him in my studio. But my name and my studio's name would get left off. Record company politics. I asked Nile Rodgers if I could get a name credit and he said, "I'll do my best." If you think of him now, he could just snap his fingers to make something happen but back then he was just another guy.
August Darnell was very talented, but he would book all night sessions because he had no place to live. He would work all night and then sleep at somebody's apartment.
You were involved in the Off The Coast of Me album for Kid Creole. What was it like working with August Darnell?
I first met August through the drummer Micky Sevilla, who had played on the Milton Hamilton album. That was one of the first records done in my studio. I knew Micky, he said August had just had a big hit with Dr Buzzard's Original Savannah Band and wanted me to meet him. August was very talented, but he would book all night sessions because he had no place to live. So he could work all night and then sleep somewhere at somebody's apartment. I didn't know that at the time, but found out later.
The first Kid Creole album was something they were working on at Warner Chappell music. They had a little demo studio. Michael Zilkha said, "This is great, let's make an album!" So they took the tapes and brought them to me work into an album. My picture is on the back of the album and my credit's on it. The woman on the front in the middle is the woman who became my wife. That's the actual picture of us meeting. He was very smart, as that was actually a working band. Carol Coleman was the bandleader. At the time Fonda Rae was this lead singer. Once again, ironically, we recorded the entire album as a low budget thing, then at the last minute they said they needed new production on it and took it down to Electric Ladyland. I remember feeling very disheartened because I felt the only way I'd feel good about records at the time was if I was involved every step of the way. On the Salsoul records I always mixed them, usually they'd record them down in Philly. I was always very proud of that fact. But anyway, August was very talented and we worked on tons of things. I have to tell you that one of the problems he has is that he's very good at creating public personas but not very good at explaining himself. He really likes to hide behind the characters he creates.
Tell me about Charanga 76.
At the time we were working for this company called Disco Mania. Charanga at that time was a very hot property. They were also really unique because they had a woman flautist. At the time there was so much prejudice so even though Andrea was really talented, and she was very hot looking, she could never do anything right to any of the people who I was working with at that time, who were flautists and leaders of charanga bands. They came up with the most ridiculous excuses as to why Charanga 76 would never make it.
"The flute player is this white Jewish girl; the singers in the band are Cubans but not the right Cubans." Anyway it turns out the singers Hansel and Raoul went on to tremendous success in the Latin field and had a lot of success as solo artists. I remember recording the basic tracks at Delta Recording, which was that little studio that I told you about. I had to put the microphones in the reception area, because Charanga is two singers singing in unison with a band and the way you recorded bands at the time, you'd record it all live. There are a lot of fix ups but basically what you hear is what they played.
What did you do with them? They famously did Spanish versions of "Ain't No Stopping Us Now" and "Good Times."
I did the first two albums. I didn't do those two records [you mentioned]. The second album, Encore, was produced by Ira Herscher. He was the producer of Orchestra Broadway and his idea was to make it the Sergeant Pepper of Latin music. In those days you recorded for four days and mixed for two and that was it. The album had a lot of number one records. It was through this kind of stuff that I came to the attention of Salsoul Records, because I had done two Grammy albums in the Latin field and Salsoul started as a Latin company. The dance music they did was because one of the brothers was just a freak for dance music.
How did you meet Arthur Russell?
Arthur booked time in the studio and I was actually the engineer. He had done "Kiss Me Again" and we were doing a lot of stuff for Sire at the time. The guy behind Red Star Records, Marty Thau, was a good friend of Seymour Stein, the guy behind Sire, and Sire was trying to do this odd stuff. They had no idea who Arthur was. When he came in it was just a rhythm date and he was the producer. He sat down and one of the things I had pioneered in our studio at that time was the fact that you could come into the studio and you could start recording right away. At the time, there was a lot of, "Let's get a drum sound," and, "Let's put the mics up." Well, forget that, I had everything pre-set – if you walked in at ten o'clock, a minute later you could record. I thought this was a big advantage and we got a lot of dates where people said, "We've got three hours so we've gotta record," or whatever.
Arthur Russell really came from that other place. He was a very sincere person and everything he did was real. He didn't do anything fake.
So Arthur comes in and he's starting to play and says, "Roll tape." I'd never had that happen. So of course I hit play and musicians were sitting around so they did what musicians do: they started playing along with it. Then he stopped and said, "Well, that was great. Thanks everybody." And I went, "What?" Apparently this is what Arthur's dream session was. His theory was – and he was very intelligent in this way – that musicians tend to play from the heart and play what they feel the first time they hear music. When they start thinking about it, it becomes a different kind of music. He would get these strange musical performances, either inspired musical moments or crazy sound clashes. Some these were brilliant and sometimes they were horrible. That was the first argument I had with him, because I said, "Well, we gotta take it again, because of this and that," and he said, "No, that's it." It really freaked me out. All the years I worked with him, he really came from that other place. He was a very sincere person and everything he did was real. He didn't do anything fake.
When I interviewed Steve D'Acquisto, he said Arthur was really into recording when there was an equinox and stuff like that.
He kept a lot of that from me. He didn't call me and say, "It's an equinox, let's record," but I did notice that he would definitely book certain times of the day or month based on something that had nothing to do with recording. For example, it's very easy to book a seven o'clock session because that's standard, but he would book at 10:30 PM. I think he was really spiritual.
How do you feel about his music now listening to it? I've always found his most successful stuff was the songs where someone else had an input and they were able to take it and distil the best parts.
Well, you know I feel that way too. There were a lot of things in the can when he passed away – like "Let's Go Swimming," which had been recorded for my son – that when Arthur finished them were not as cool as what we were working on. "Wax The Van" I think turned into a much better record because he wasn't involved in the decision making. He was really an ideas person. Some artists are known for putting together the package, you know, the three-minute single. Look at Michael Jackson: he knows what a pop record is about. I can't imagine him jamming. Arthur was the exact opposite. When it was done and it was a record and it was out and was successful, he would be saying "Now we have to work on it and improve it." He had no perspective that it was done.
I think that when we did the Necessaries albums, he was really uncomfortable with the finished product being as slick as it was, even though it wasn't very slick. If it had been left to his devices the music would have gone in a totally different direction. When I listen to his music today, I realize how timeless it is. It's really amazing. I think that's what genius is. I think the only guy that really sounds great from the '80s still is Prince. Most of the dance music from that time is embarrassing, and I worked on a lot if it so I can say that!
I think Prince's saviour in that period was his affection for the Linn drum and the Linn has a more timeless sound than a lot of the later drum machines.
That's very true! I worked with a few of Prince's players on solo records around the mid-'80s, and his stuff always had great ideas. What's interesting no matter what you listen to from that era you don't think, "Oh this is 1985 and this what the cool sound was." Even if he's using a cool sound as a touch point of the era, it's still done in an interesting way.
How did your hook up with Sleeping Bag happen? Wasn't Arthur originally a partner?
Arthur was the original partner with Will Socolov. Will Socolov was a guy whose father owned a restaurant in town. He was a fan. He was a friend of Arthur. He hung out in the clubs. He started Sleeping Bag because he believed in Arthur's music.
Was the name and logo Arthur's idea? It feels like it to me.
It probably was. At the time I was being approached to work on a lot of records with that bent. Every once in a while, I'd work on a "commercial record" but by that I mean I would work on records by West End or Salsoul, taking their really commercial things and making them clubby. It was really funny, in my mind. I thought I always understood how to make a record really commercial but apparently my expertise was to make it commercial for that niche market.
It was obvious for Will to show up to deal with me because Arthur and I had been working on a lot of stuff and they had tried doing some things with François [Kevorkian] and he didn't make them comfortable. It was obvious they were gonna work with me on some of their stuff because they wanted that slant. In New York, although there was a lot of dance music activity, a lot of that stuff happened despite the studio environment at the time. Now it seems to be a lot more experimental, but back then it was like, "No you can't do that." He also came to me because I worked really fast and Arthur worked really slowly. He figured they would get the record done under the radar while Arthur was still figuring out what to do.
You did Class Action for them as well didn't you?
Yes, but Arthur wasn't involved in that. Class Action was my production. This was a big source of contention between me and Arthur. The original version of the song, Patrick Adams' production of Phreek, I'd engineered in 1979. One day Chris Wiltshire, the back-up singer in Phreek, said, "You know, we do "Weekend," it's a big hit in the clubs. So I got together with Fred Zarr, before he worked with Madonna and Debbie Gibson, and we put together "Weekend." It was a really hot track. It was very Prince derivative, it really sounded like Vanity 6. Arthur was freaked out, because he wanted Sleeping Bag to be really obscure and here was this song that was number one in New York and one of Larry Levan's last mixes before succumbing totally to drugs. It was the last one I did with him, even though he wasn't involved too much.
I worked on a lot of records with Larry Levan where he never showed up and I did all the work. I'd love to tell you what a genius he was, but to be honest, what Larry liked, I liked.
When Larry did that mix did he do it with you at your studio?
Yes. I've told this story a few times and I feel uncomfortable about it. Larry never showed up for any of the mixes on that record. He was not in the studio for any of the stuff with his name on it. I worked on a lot of records with Larry where he never showed up and I did all the work. I'd love to tell you what a genius he was, but to be honest, what Larry liked, I liked. We were very compatible with each other. He was suffering. He was drug addicted. I'm very happy that his work as a mixer is well known but everybody who knows him knows he was not around for a lot of that stuff.
Can you clear something else up while we're on this subject: Who actually did the remix for Instant Funk's "I Got My Mind Made Up"? It's credited to Larry Levan, but a lot of people have said that Walter Gibbons actually did it.
I'll tell you how this wound up. I'd been working with Bunny Sigler on some things and Ken Cayre brought in "I Got My Mind Made Up." He said, "It's going to be on the Instant Funk album. It was done as a demo, let's make this work." The remix is totally different to the demo. We had been working on this all over the place. Bunny Sigler, in the Billboard Book of R&B Hits, credits me and says, "Bob Blank put the bass up and started adding the accents."
I have to say that we had worked on that record for so long. It was a three-minute R&B record and to make it what you heard as a remix was a million edits and involved taking the bass part and manually chopping it up with my hands. Larry was involved because he made a lot of suggestions as far as the flow of the record and a lot of his involvement was in the editing. That was the last manual mix that I ever did. You make these mixes and you record all this stuff and you have a half hour of tape. What you gonna with it? Cut this part, this part and so on. That's what Larry did. He was not in the studio saying, "Bring up the bass."
Walter did a remix of "I Got My Mind Made Up." What he liked to do was sit at a console where I'd set up all the balances and he would do mutes and things like that. At that time that's what you did in the mix, there was no recording. Then I would roll tape and we'd put it together. Walter did a really great job making parts and pieces and some of the parts and pieces we used. Although Walter was well known at the time, Larry was very hot. Walter did a bunch of stuff. Larry heard that mix. And then he worked from there. So I would have to give Walter credit for some of the innovations on that record.
What specifically did he do, then?
The obvious stuff, like the part where it's just the bell. Walter's idea of a remix was very fluid. If you ever heard him DJing, he used to do this show on local radio, he would DJ and put together a mix. He loved strings and lush production, so it was hard for him to work with a break, but his stuff was so fluid. You'd listen to a dance mix of his for half and I swear you wouldn't be able to tell where a record started and stopped. He gave that record a flow.
Did you work with him on other records?
Tons of records. We edited [Double Exposure] "Ten Percent." We did virtually everything that was on Salsoul that he worked on, and a lot of stuff on West End.
Were you involved in remix of Gladys Knight's "It's Better Than a Good Time"?
Yeah we worked on that. That was recorded as a three-minute R&B ballad. You know how these were done: they were recorded and then we went into a room and made scissor edits. Then if you liked a part you'd copy it and repeat it. I think one of the big things of that era was stamina. At the time before automation, and even after it, you couldn't magically copy a part and move it, you had to play it again and keep it in your head. I remember one time, it was the end of a song and one of the people on the tape said, "Where's the rest of the tape?" So I rewound a tape and put that into the mix. They thought that was great! You'd never think of answering some voice on a tape with something else. You have so many more options these days.
You worked with both Larry and Walter. What were the differences between them?
Larry was very inarticulate. Walter could talk, not in musical terms, but in feel terms; he would say, "I want this to blend here," or, "I want it to build." Larry was never able to articulate what he wanted to do. He would say something like, "Bigger," or whatever. He would not be able to tell you how it should sound, but once he heard it he would agree. In other words, he would say, "We need to extend this part." So I'd do something and he'd point and say, "Yeah, that was right." You can't take anything away from him, when he said it was right, it was. But he couldn't say, "I want four bars of bass drum and then I wanna bring the congas in." Walter could do that.
From interviewing guys like Danny Krivit who spent time in the studio with Larry, they said he could be a little unfocused, too.
Yeah. I think one of the reasons he was like that, too, was what DJs did. That was the step up. It wasn't enough to have 5,000 people in a club screaming, you then had to go into the studio the next day and make the records. And I don't think he really knew how to make the record. He was unfocused mainly because that's a different skill. I have to tell you that every time I was working in the studio, the things that came easiest to me were the most successful, just like everybody else. What came really easy was going with the flow and innovating. What I was never able to do was to work and then come back to a song and work on little tiny details.
Who do you think had the most aptitude for it out of all the DJ/remixers you worked with?
Two guys: Sergio Munzibai and John Morales. John was a man who knew what was needed and what was required on a project and worked through it diligently. His remixes are never going to be known as the super remixes of the time but he came in and he was able to give the record companies what they wanted, which was a skill. Sergio was the Music Director of the local dance station in New York. He would come in and do remixes and he'd say, "Look, we're here because the company pay me a thousand bucks to remix it. They'll get a better record, but I regard it as a guy giving me a thousand bucks to learn how to make good records." And he would proceed on that level. He was such a fast learner and smart guy that towards the end, he was a great remixer. He wasn't trying to stamp some sort of a personal imprint on the records he mixed. A lot of these DJs would come in and say, "This is my sound." And in a way they were smart to say that's what they're paying me for because they want what I do, but it was usually at the expense of the project.
John Morales did Mikki's "Itching For Love" at your studio, which is one of my favourite mixes of his.
Right. He was really involved in the Inner Life "Ain't No Mountain High Enough," because he was always in that crowd. I met John when he was a rock guitarist in the late '60s and he had great rapport with Jocelyn Brown and all of those people he worked with. Because of that rapport he was able to do really good things. I can't say enough nice things about him. But I think Walter was the most inspired remixer.
In what sense?
When we worked on a record, he was very adamant that we should leave the core of the record alone, but the ways he came up with to make the record better were very inspiring. He would say, "Let's get that string part and solo it." And that was great because instead of changing something and changing the context of the record he would be saying, "This is the spotlight in a great record. I'd like everyone to focus in on this." I thought that was really smart. He was also smart enough to know that he knew what he knew. It took a lot of nerve to show up at a record company after spending a whole bunch of their money and leaving a lot of it unchanged. I thought Tony Humphries was really talented. I worked a lot with him. He was really good at just finding the groove.
You did "Work That Body" by Taana Gardner too didn't you? Can you remember who played on it?
That was the Crown Heights Affair. Kenny Nix, who was the producer on that song, had met Taana at an airport and she'd hit on him there. Kenny Nix was just a hanger-on with the Crown Heights Affair, who I was working on an album with at the time. He said, "I wanna make a record with her." So I recorded Taana as an artist for Ze, on the Aural Exciters project, well before "Work That Body." I had found her really cool. She had this very unique voice and was only 18 years prold at that point. So "Work That Body" was Crown Heights Affair playing.
I always felt with Taana's "Heartbeat," that it was really the essence of what groups like Crown Heights Affair were doing at that time. When they did the records that De-Lite were putting out they were much more produced and much more crazy. West End realized that that slower R&B groove was what hit our nerve. And if you think about it now, "Heartbeat" is still heard and played in the clubs and sampled
What stuff did you do with Patrick Adams?
I worked with Pat on many, many records. How it would work was that I'd get a call on Saturday afternoon from Greg [Carmichael], saying, "We're gonna do a record." So Pat would come in and maybe play piano and drums, Leroy Burgess would play piano, we'd get some players in and Patrick would finish the record in one day. He was very clever. He would do it all on the fly. He was just amazing.
What about Tee Scott? You worked with him on some early mixes right?
Tee was very articulate and he was able to say, "I don't like the feel of the hi-hat here, let's change it," and things like that. Tee was also smart enough to walk in to the studio a few hours after we started when it was sounding more like a record on the speakers and work from there. I always respected him for that. The guys who sat there at the beginning while you were turning up the bass drum and everything, drove everybody crazy. Tee very much understood how records were put together.


This interview was conducted in August 2006. © DJ History