Danny Rampling on Shoom, Balearic Beats and the UK's Second Summer of Love
From the DJ History archives: the long-serving DJ recalls the myths, madness and infamous Ibiza trip that changed the direction of British club culture forever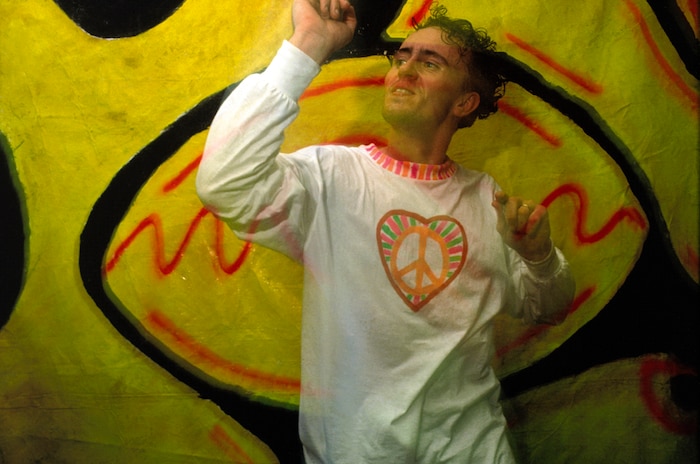 In early 1987, Danny Rampling was injured in a car crash in America. Feeling like he'd cheated death, he returned home with a new lease on life. In the months that followed, he met his future wife, Jenni, went on holiday in Ibiza and took ecstasy for the first time. Thanks to this life-changing experience, he launched Shoom in the autumn of '87, in the process establishing the UK's first club night dedicated to the "Balearic beat" sound developed by DJ Alfredo at Amnesia.
Along with club nights launched by others who were on that Ibiza trip – most notably Paul Oakenfold's Spectrum – Shoom helped to convert a whole generation of would-be DJs and promoters, who in turn began putting on their own events, not just in London but across the UK.

Rampling was already an established presence behind the decks before he launched Shoom, having played London's bar and club circuit since the early 1980s. Yet it was the popular Balearic event that turned him into one of Britain's first superstar DJs, first championing an eclectic, anything-goes style before focusing more on house music as the '90s rolled around.
This in turn led to a regular show on London's KISS FM, before he joined BBC Radio 1 in 1994 as host of the Love Groove Dance Party – a show that aired weekly until 2002. Rampling retired from DJing in 2005 but returned to action two years later, releasing a self-help book, Everything You Need To Know About DJing and Success in 2008. In 2017, he promoted a one-off Shoom reunion to celebrate the party's 30-year anniversary.
In 1999 and again in 2005, Rampling sat down with journalists Bill Brewster and Frank Broughton to discuss in detail the events that helped spark a revolution in British club culture. The following feature includes material from both of those interviews.
I want to take you back in time a bit. Tell me about the Ibiza trip and how that changed your life.
When I came back to England I had this new zest for life. There was a dramatic change in my personality and my outlook towards life. It was Oakenfold's birthday, so we went off to Ibiza on this trip. I'd read about Amnesia and the afterhours scene in America, so I was already familiar with it when we got there. But Trevor [Fung] was the man who really introduced us to afterhours Ibiza! I did one [E] first. I certainly wanted to experience the whole thing. I dived in instantly.
The others were monitoring the experience and shortly after Oakenfold dived in, which I was most surprised at. He struck me as being the most sensible of the crew, but far from it. Then he was followed by Johnny [Walker] and lastly Nicky [Holloway]. We spent that night in Amnesia and it was incredible. I'd never experienced anything like that on the soul scene.
Looking back on it, the soul scene was all very normal. OK, great music, but it was all very provincial. Going there was a revelation because it was this international cosmopolitan crowd full of beautiful people. It was a very wild place. Today, Ibiza is still a lot of fun, but everything was a lot more natural then because it hadn't had the major exposure it has today. The exciting thing about it was it was a very word-of-mouth thing.
What was Alfredo like?
A complete alchemist. The way he weaved music in and out, the styles of music. It was a revelation in terms of the way music was played. Larry Levan was doing that at the Paradise Garage and Alfredo had connections with friends of Larry's. I firmly believe it had an influence on Alfredo and his sound and especially with some of the house records he brought in. They were given to him by a guy connected to the Paradise Garage.
But then Alfredo had that natural flair, a very artistic Spanish way of putting records together and telling a story. And every record he played had its own distinctive sound. He picked very unusual records and that made him stand out: the Woodentops, the Residents, Elkin & Nelson.
But also his house records: the Night Writers, House Nation, Ralphi Rosario and then pop things like Mandy Smith. But it was right for the scene going on there. This was his peak time when he was really shining. He had this wonderful audience like all the great clubs. I had it myself at Shoom.
Was he a big influence on what you did at Shoom?
He was my mentor. He was the connector. He really directed me towards that style of being really broad in my musical tastes. I'd grown up with that, listening to punk rock and soul, but you'd never been able to play that in a club.
When I asked Alfredo why he inspired you so much, he said it was because you'd been shown a way around the soul boy thing.
Yes, indeed. He certainly did. But at the same time he had soul and funk and blackness in his music. I come from a black music scene, but he was playing black music alongside white indie music, but even indie records had funk and that deepness about them. I really admired what he was doing there. He was a leader in Europe. I've always said Alfredo was the Levan of Europe and he had a Paradise Garage at Amnesia. It was a free state where anything went.
When you came back, did it feel like you were on a mission?
Yes, a big mission.
What was it that made you feel like that? Did you think it would be enormous in England or that you wanted some of it here?
Both. It was energy, this driving energy. At the time it was all 105 BPM – 110 BPM. Nothing was 120 BPM, except maybe some of the jazz. No dance music was that BPM. The energy wasn't there.
Firstly, it was an opportunity to become a DJ. I had a vision that this was music that I wanted to play, and came back and completely changed my radio show on KISS. I wanted to find as many house records as possible. I decided to start my own club. I played at a guy's engagement party at the fitness centre; it was in a part of London that no one cared about and it was left alone by police so you could party all night.
Fortunately, I met my wife Jenni at that time and she had management skills, having done fashion management before we started that club. So I'd found this music and also fallen in love all at the same time. 1987 was a brilliant year. She gave me a lot of support and said, "You've got to do this," because there was no way in to all the other London clubs.
There was the psychedelic experience that was shared. People who were experiencing that started to believe that I was some form of messiah, and that scared me.
There were a few places around that had tapped into this like the Jungle, Delirium, etc...
Indeed. That's where we went clubbing, Delirium. But at the time it was only getting about 300-400 people in there. Nevertheless, they stopped it just too early, in about October or November '87, just as everything was going to be massive. They didn't recognise what was going on out there. All those people from Amnesia, the English kids, were on that dancefloor at Delirium. Noel [Watson]'s music was fantastic and Maurice even more so, he was brilliant.
At the Astoria, they were mixing up hip-hop and house but it was very rough. I went to a Schoolly D concert there and it was horrible, so I decided to go traveling to see what else was out there. But Delirium was great. It had two fantastic DJs there, but it was just slightly ahead of its time.
Jungle was also a favourite club. Colin Faver, who at the time was my favourite British DJ. That's why he came to Shoom and played so many dates for me. To me, he was just an amazing, technically brilliant DJ. He had an unusual sound with German influences, Frankfurt stuff mixed in with Detroit, he was very leftfield in terms of his selections.
When I first asked him to play he was a little unsure. "Who's this kid, he's a nobody" sort of thing. The third or fourth night he agreed to play, then wanted to play every week. In terms of promoting that night it wasn't great clubbing etiquette, but we went out and flyered Delirium, the Jungle and Pyramid. Those three clubs were the ones that we targeted.
How long did it take before it really took off?
The first one, we had this rare groove, funky DJ Ian playing with me. Two crowds. Half house heads, Amnesiacs, half rare funky Special Branch soul boy lot. He played his music to the rare groove lot and I came on playing house. Carl Cox was there that night. I didn't even know about BPMing records at that point. Carl was like, "That one's 118 and this one's 122, you need to pitch that one up slightly!" So I had to learn pretty quickly. It wasn't about the long mixes all the time, but I was bold enough to try them. That's what happens with the innocence of it and the carefree nature.
Shoom was like a house party. It was opening the doors to everyone that came with a great attitude and wanted to be part of that.
People talk about the intensity of feeling in Shoom. Is this true?
I'd nearly lost my life, so I'd had a renewed enthusiasm towards life as a whole and just felt totally reborn. I was so overwhelmed and excited that I was still alive. It happened to be that the timing of house music breaking that particular year; a combination of those elements and also the collection of people that came to the club.
And there was also the psychedelic experience that was shared as well. That certainly played a role in it. But that also played a role in the sense that the people who were experiencing that then started to believe that I was some form of messiah, and that scared me actually. There was a period at Shoom where a group of people was trying to hail me as this new messiah and I got a bit worried by it. It quite frightened me, because it became so intense.
How did that manifest itself?
I had one guy who opened a page in the Bible and my name was in the Bible in this particular paragraph. He said: "This is you! This is you! This is what's happening now." And that completely flipped me out. These people were using a lot of LSD! [laughs] I hadn't used it at all during that period, I wasn't really into it. It was a really strange period. But exciting. People immediately embraced that.
It's also the hosts of a space. That's important, too. Achieving that kind of success and energy was about hosting. With our days at Shoom, it was like a house party, it was opening the doors to everyone that came with a great attitude and shared that and wanted to be part of that. If people came and stood around, I used to ask them to leave.
If they were looking boring, and they were bored and onlooking, I would be polite and say, "Well, you can have your money back and go." Sometimes people did go, and that was fine. So we could allow other people to come in the club who wanted to come in and really go for it. Not being rude to people or condescending to them. We were very aware of what was going on in that club and made everyone in that club – it was a personal thing – feel comfortable and part of something. It wasn't just coming into a club: they were part of something.
Were you feeling very evangelical about leading people and teaching them what you'd experienced?
At that time of my life, yeah, big time. Absolutely. That was very apparent in that club. The energy that was in that club. Also sometimes I could go into a trance state through certain records; through the movement of dance. As with different societies through dance, trance can be obtained. Without the use of drugs; solely through music and the energy and the lighting and the energy of the people who maybe were on drugs in that room, with the spirit of that particular piece of music.
An example is Frankie Knuckles' "Your Love," which induced a trance state on a number of occasions; and the Nightwriters' "Let The Music (Use You)." But I think through the movement of the body and just the feeling I was feeling at the time induced that state. And it was a wonderful experience. But I haven't had that experience in recent times. I think it was a combination of everything that was going on at that particular period and the spirit of the human beings that were in those rooms. Everyone was feeling that; everyone was feeling, generally, the same.
How conscious were the parallels with the '60s? Was that accidental?
It was accidental actually, because some time after Shoom had finished I saw something on TV about Ken Kesey and the Magic Bus and that period of the '60s. Tripping the light fantastic and sharing that with America. Well, we didn't exactly go around the country, but we hit Brighton and a couple of other places on the South Coast and that was very '60s-induced, but unwittingly. We went off on these bus tours to the country and played out there.
There was a connection with that. But there was also a connection with pushing the peace and unity of people. Also, that was not totally drug-related. That feeling was also coming through the music as well.
At that particular moment in 1987, there was Ce Ce Rogers and Ten City. They're very spiritual records. All of those records had a big spiritual content through gospel music and R&B and disco. They certainly were meaningful and appropriate for that moment. The whole thing, the synchronicity, was just so well timed.
We look at that now and see how major it's gone worldwide. Practically the whole world has been touched by it. Sadly, some of these conflicts that go on in the world... Give them house music! Give them more house music, these generations that are not feeling it because of these fucking awful rulers of countries.
We broke down a lot of barriers at the beginning of house music. It broke everything down. It smashed down the walls. Jobs were plentiful and forthcoming. It was a thriving industry in itself. Where a lot of kids didn't have a chance to get a decent job before, they were now getting jobs in the music industry; in the arts; fashion; all kinds of things were opening up. All of this was related to what was going on in that club scene.
With a lot of the stuff you were doing, and the fact that the drugs were illegal, you were sort of outlaws, I suppose. Did you feel like outlaws?
That added to the excitement of it. When the doors were closed, you could do what you wanted. It was our own state of freedom. It was a free state, as it should be generally anyway. There were no restrictions in that club, at the beginning, whatsoever. All you wanted to do, that was conducive to that atmosphere, you could do it. Like all of the good clubs that have stood the test of time.
So, in a sense, yeah, it was an outlaw period. Also, the authorities weren't aware of what was going on at the time. Which was great because we were running an illegal party. We could have got hammered for that. But it was a party and, fortunately, the police force were understanding. They could see it was run properly. It was adults running the place and it was efficiently run and safe.
The message was: do it yourself. There were changes politically, but the attitude was, "Who cares what the government does? We're just gonna get on with it ourselves."
It was only when rave went major and it started to attract 25,000, and gangsters. That's when the police slammed into all of us. And it affected all of us, unfortunately. But those days leading up to that, even leading up to acid house with the warehouse parties, the police generally would let it go on and turn a blind eye. They were cool about it. Unfortunately, that was lost. And then the bloody ridiculous Criminal Justice Bill. A lot of the clubbers who go to superclubs ignored that. They were very ignorant of that bill. It was only the traveling scene and a sprinkling of other clubbers that embraced that and got behind it and were against that bill.
What influence has that first acid house movement had on British society and music?
It's had a very positive influence. At the beginning, British youth culture was, at the best of times, quite divided. Different youth tribes. It did bring a lot of people together, through the music and with ecstasy as well. It did bring a huge proportion of London's youth together. Everything changed so dramatically.
There were parallels with the acid house movement and the '60s. Governments were very repressive, not many opportunities. All of a sudden this came along and the opportunity of the club and seeing the culture affected through the crowd of people who came in the club that then had a knock-on effect, with other people in a similar situation to myself who'd been held back.
And the message was: Do it yourself. There was changes politically, but the attitude was, "Who cares what the government does? We're just gonna get on with it ourselves from the artistic side of things to the illegal side of things," and most of the opportunities that came along were illegal anyway! It was all black money.
Those three years before that rave scene blew up were incredible. People who lived through the '60s said it was better than the '60s.
How did that period change you?
It was the happiest period of my adult life. The most fulfilling time. After struggling to be a DJ for seven years and then getting your break, and making the break happen for yourself. For me, I was just eternally grateful that I'd made something happen after all the hardship and not getting there as a DJ, but still following my passion and belief. It wasn't about the money. It was a fiver to get in. £300 for the soundsystem, door staff, hire of the building, so there wasn't much left every week. We made £300 on a good night.
Shoom had a very strict door policy, didn't it?
It was a space for 250 people, so then people started to get resentful towards the door policy. It wasn't our intention to keep it to this small, dedicated group. It was progressing. There were a lot of underground parties going on. It attracted too much bad media attention.
Those three years before that rave scene blew up were incredible. People who lived through the '60s said it was better than the '60s. You could be in a party every night of the week with this wide cross-section of people from all walks of society. It was wonderful. One particular party was Hedonism where Soul II Soul were playing and Colin Faver, Justin Berkmann, Norman Jay. I went there to dance one night and it was brilliant.
You did that over a long period of time with Shoom, Pure Sexy and Glam, keeping it intimate. Did you feel protective?
Yeah.
There was a rave at Wembley and there were a load of Shoomers who went up there to try and stop people going in, wasn't there?
Yes, that was the Shoom militant wing!
But did it feel like, "This is a special thing and we don't want to ruin it."
Yes, it did. That's why the TV crews that came down on occasions were kept at bay, because we knew that it was very damaging and destructive to what was going on. And also because it was illegal and it was also rebellious. Why should we embrace them? What had they given us? This was our scene.
Alongside that was the commercialism, people like Colston-Hayter, Dave Roberts and even Oaky; he commercialised it. He'd admit that, he was a businessman right from the start. I didn't treat it as a business – I did it for the love of the party. It was a party every week. I wanted to keep that special.
It was perceived as elitist at the time, and maybe some of it was. There was exclusions at the door, but maybe if there wasn't it might not have lasted as long as it did. It was like a secret society. It did feel secretive and special. In there was a magical mix of people and that had an effect on those people. There were many times when I wanted to speak out about what was going on, but Jenni said, "No, if you do that it will have serious repercussions." So I didn't say anything, when at times I should've. She was worried about the authorities.
It was also where the cult of the DJ first took off in a serious way. You were a bit of a hero to them.
A messiah to some... To some it was a mystical experience, and I can understand that because there was a very unusual energy in there at times. A combination of music and people's mindset and that strong connection between people. I wasn't under the influence when I played there. I had a house to run. So the responsibility of that house was on my shoulders if the authorities turned up.
I'd have a couple of scotches before I played to calm my nerves, just with the whole build up to it. Also with the dry ice and white lighting in there, it was trance-inducing. Records like "Acid Tracks," it was a long hypnotic record, especially in that environment with all that surging energy and with all the chemicals that were going on in there. A very tribal thing, very tribal. There were certain primitive aspects of those records; very minimal.
Tell me about Pure Sexy and Glam.
That was the clean-up period, really. It was rehab! Everything had become so commercialised. Frightening, really. Too much money involved, criminal gangs, and a lot of people had let themselves go taking too many drugs. We didn't feel a part of that any longer. Same as happened in the '60s, people had lost control of their lives and lost sight of things. That was going on big time in London. We were surrounded by it on a daily basis and it affected us deeply. It was a reaction to the dressing down. It was so widespread it had become a uniform.
So we moved off into a different direction and were heavily criticised. We closed our club before it closed itself. The last couple of months at Shoom were hard. It had become really sleazy and it wasn't fun. On the last night all of the proceeds were put back into the club and all their champagne was bought and distributed to everyone in the club. Marvellous night!
What were the connections between Shoom and KISS?
I was doing my show on Friday afternoons between four and six. The best memories were from Cable Street, Hackney. It was at Manasseh's flat, which was on about the 23rd floor. And it had this magnificent view all over the whole of London. And when house was blowing up, that whole energy and feeling and being 23 floors up, looking out over the city and people would be locked into KISS during that time... It was very popular. And breaking that new music on that station, that was a very exciting moment for me. I made this transition from playing independent soul to playing this wonderful new musical form that I'd embraced. That just felt amazing. It was a very good period of broadcasting.
Was it very much the same records?
Yeah. Also those Balearic records. Which [radio station head] Gordon [Mac], at the time, couldn't get his head around for a moment. Then he came to the club and he saw what was going on and said, "You're doing the right thing. Just get on with it." That was a good endorsement. He was a very understanding man, you know, Gordon Mac. He had a broad musical taste. Which you've gotta have, I think. Unfortunately, now, I think that's been slightly lost.
When did Radio 1 start?
I was there for six years. 1996, maybe?
What was it like being at Radio 1 doing what you were doing?
At the beginning, difficult. I'd felt really at home in London with KISS, but at that time I was getting a bit disillusioned with them because they'd gone from being a pirate to corporate radio. Lots of suggestions of what you should be playing, lots of new rulings. It felt very stale. Just as I was getting ready to leave KISS the BBC came and offered me the job at Radio 1. I wasn't sure about the idea initially, but Jenni was like, "This is an incredible opportunity, so just go for it."
When I first joined it was in the pit at Regents Street, down a tunnel where all these dinosaurs of rock had done their shows. It even had those Smashie and Nicey faders. A very different way of working. First record I played was "I Get Lifted" by Barbara Tucker. It took me over a year to settle into it before I felt comfortable, and I got a lot of flak for it, too, after all the years of playing in the underground. It's the same now there than it was ten, 15 years ago. It's a hierarchy.
How do you feel about it now?
The most positive aspect of it was that I was there week in, week out sacrificing a great profile on my career internationally to play music that helped a lot of independent labels and artists. The show was a platform for a lot of independent artists who otherwise would not have had the opportunity to sell additional records.
I was the black sheep of the family there. Didn't play the game – foolishly, now I look back on it. I learned a lot there. It taught me a lot about that world and about business. There was a lot of management politics and I got caught in the crossfire.
The best part of it is climbing radio from South London pirate to going national, and global through the internet. Most people who do radio would feel the same, they'd feel made up and accomplished. There were some very good days and there were some very negative days, too, through individuals within the company. When I left there I wasn't paid for seven months of work, which added insult to injury. To work hard for the company, then not get paid, it left me very bitter for some time.
Did you think then that the DJ would become a superstar?
Patrick Lilley, who was involved with me, certainly did. He said, "This is revolutionary in club life and I'd like to take you out on a worldwide tour with what you're doing." Nowadays, you've got to be technically so brilliant and your concentration level has to be high, so you can't just go berserk in the DJ booth. But Patrick saw something there. He said it was going to be massive.
When did he say this?
In 1988.

This feature is composed of two separate interviews. One in May 1999 with Bill Brewster and Frank Broughton, the other in September 2005 with Bill Brewster. © DJhistory.com