Ken Cayre on the History of Salsoul and Working with Disco's Greatest Remixers
From the DJ History archives: the label co-founder discusses starting the revered dance music label and collaborating with iconic DJs like Larry Levan and Walter Gibbons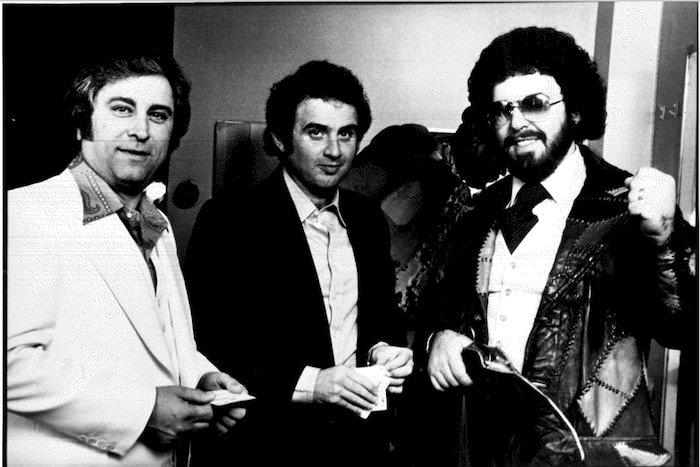 There's no musical format more essential to dance music culture than the 12" single. Since as early as the mid-1950s, 12"s have remained a cornerstone for DJs, MCs and producers alike, but it wasn't until 1974 that the format became available to the general public, and that was all thanks to the work of three brothers from Miami.
After trying their hand in the textile business with their own pantyhose factory in Florida in the early '60s, eager young businessmen Ken, Joe and Stanley Cayre decided to take a chance on manufacturing eight-track cassettes. After finding success marketing Latin and Mexican artists to listeners urban centers across America, the ambitious brothers moved on to found the historic Salsoul Records. In 1976, it became the first label to make 12"s widely available with the release of Double Exposure's "Ten Percent." From there, Salsoul went on to release over 300 singles, becoming one of the most prolific and influential independent labels in the late '70s and '80s, and defining the sound of Philly soul, funk and disco.

Though he never expected to stumble into the music business, Ken Cayre, the youngest of the three brothers, always had a passion for dance music. In 2005, Cayre talked to Bill Brewster about how his love of disco led him to become a champion of the remix, and working with legendary DJs like Walter Gibbons and Larry Levan.
Where were you born and where did you grow up?
I was born in Kansas City, Missouri. I lived there for seven years, and I moved to Miami in 1963 and I lived there for 20 years. I moved away in 1972. I attended school in Miami, elementary and university. I came to New York in 1972. I've lived here ever since.
How did you first get into music?
I got into music through the invention of eight-track cartridges. We opened up a factory to manufacture plastic injection molding machines. We went into a partnership with our cousins in Mexico and started manufacturing the raw cartridges. Eventually we manufactured too many, so my cousins licensed some Spanish music from CBS, some of their artists. We started selling the cartridges with the music in Mexico. We still had too much inventory, so we started selling it in the US; in the Texas border towns, Florida, California. Then we received a letter from CBS in New York who said that you must stop selling these tapes in the USA, you only have a license for Mexico. We said, "We're sorry, we'll stop, but can we come and meet you in New York?"
So we flew to New York and gave them a one million dollar advance to get the US license for Spanish eight-track cassettes. That's how we got involved in the music business. From there we started our own salsa label – because we were living in NY and the Spanish-Mexican music didn't sell too well – and we were distributing it and at that time in New York there was a company called Fania recording salsa music. We signed an ex-Fania recording artist named Joe Bataan and he recorded a Spanish album for us. On that Spanish album there was an instrumental [Eumir] Deodato tune that some of the New York American stations started to play. That was right about the time, in the early '70s, when disco was first starting in New York. It was around 1971.
What was the name of the tune?
I think Joe Bataan called it "The Latin Strut."
Was Caytronics inducted to release this music?
That was the label we used when we received the rights to sell the eight-tracks in the USA. We started recording our own Latin music on the Mericana label.
When were the first releases on Mericana?
Approximately '71.
What was the most successful release you had on Mericana?
I believe it was Machito, who was a Cuban band leader, and Roberto Torres.
You had the effect of the visual and audio and powerful speakers that they'd never had before. You played an ordinary record and it sounded phenomenal.
What sort of numbers were you doing on these records?
If an album did 50,000 it was a lot.
So a fairly specialized market.
It was very specialized. Basically the sales were in New York, Puerto Rico, Los Angeles, Miami and Chicago.
When you came to set up Salsoul had you already visited discotheques? Did you know what was starting to happen in them?
This is an interesting story. I didn't understand the Spanish lyrics, and I went into the studio with these Mericana bands that we were recording, and I really didn't know whether it was good or bad. Then we signed Joe Bataan. He was not even Spanish, he was Afro-Filipino, which is what we called his first album [on Salsoul]. Everyone thought because he recorded in Spanish and he recorded on Fania that he was a Puerto Rican. I got to know Joe, and we did his first album, Sal Soul, which was on the Mericana label. We had not created the Salsoul label. We had no idea we were gonna create a disco label. I got friendly with Joe, and during the first recording we started hanging out together and he started taking me to the Queen, and I think there was this night called the Monastery.
Was that a Latin night?
No, they played American music. What I saw there really opened my eyes. It was the first time I saw the techno revolution hitting the consumer. Never before did you have the senses hit by powerful speakers and these lights that took you to a different destination. It was a very powerful experience. You had the effect of the visual and audio and powerful speakers that they'd never had before. You played an ordinary record and it sounded phenomenal. It got people off their seats and onto the dancefloor. Because Joe had a hit with an instrumental and I had some difficult times with him – he was little difficult as a person – I thought I could create a band or an orchestra and have a hit song.
What happened was I got that opportunity, because CBS offered us $100,000 to take one of Joe Bataan's hits that we had on the R&B stations to the pop stations. They gave us the money, and the song they picked was "La Botella" by Gil Scott-Heron. I took that money and I went down to Philadelphia, because all the records that I liked at that time were recorded for Philly International. I looked at their rhythm section and I saw the same names on every record I liked: Earl Young on drums, Ronnie Baker on bass, Norman Harris and Bobby Eli on guitar, Bunny Sigler and Ron Kersey on keyboards, Larry Washington on congas. I met Vince Montana, who was the vibes player, and he introduced me to the rhythm section and we recorded three songs. One of the songs I called the "Salsoul Hustle;" I called the band the Salsoul Orchestra on the Salsoul label. I figured every time they played the record they would promote the label because I didn't have any money to do any advertising.
Luckily we took that one single to CBS, they had the first rights of refusal because they'd given us the money, but they refused it, so we put it out on our own because we had the distribution company in New York. I gave it to Frankie Crocker and he loved it. He played it about six times a day and, all of a sudden, we had a big, big hit on our hands. From there we started taking it to other stations in other cities; Philadelphia, etc... We went back in and recorded the album and I think the album sold at that time about 450,000, which was unheard of for a small label. When we put the album out, we put all the musicians' names on the back real big. We were the first company to do that. These guys were well loved by the black disc jockeys around the country because these guys had played on all the big Philadelphia hits; the O'Jays, the Spinners.
Was that a conscious decision by you?
Well, it was a conscious decision, but not for marketing. I felt bad. These guys were the real sound of Philadelphia and they never got the recognition. I got friendly with them. I recognized that I was working with some geniuses. They created a lot of spontaneous things in the studio that became hits. The story goes that Ronnie Baker was just fooling around on that riff "For The Love Of Money," so they put the record button on and then wrote the song after that. I really believe the first album by Salsoul Orchestra got a lot of play because I put those names on the back.
Once the label had started, I guess you'd have developed a relationship with the DJs in New York.
We had a close, close relationship with the DJs. They used to be our sounding board. I used to go to the clubs and watch them spin. I was amazed at how they got the crowd going; how they did the mixes, the choice of music, how they took them on a rollercoaster ride.
Did that inform what you were doing in the studio?
Yes, it did. I always liked the high energy songs. I noticed that the clubs didn't like to play a three minute song; it wasn't enough. They liked blending the songs to make them longer. So when we started recording our sessions with the rhythm section, I told Earl, Ronnie, and Norman, "Just keep playing." They were very single oriented. Eight bar intro, 16 bar first verse, a bridge, eight bars and then the second verse. Three minute songs. This was fine for commercial radio, but the clubs liked it longer. "So just start jamming and we'll do some ad-libs, whatever you feel, play." That's what happened with "Ten Percent." We did the regular song, but they kept playing. They laid down a track of maybe eight or nine minutes and it turned out that the latter part was the best part of the song. I asked Walter Gibbons to come in and remix it, and that was the first 12" we ever sold. When we put out "Ten Percent" as a 7" single, the song really didn't take off. It was a mediocre hit. So when I made a DJ copy of the 12", I did one side and Walter did the other. The clubs loved it and played the hell out of it, but when the kids went out to buy it they were a little disappointed that there was only the 7" version on sale.
I never had any desires or ambitions to be in the record business. It happened by accident.
How long had the 7" been out before you put out the 12"?
It had been out maybe a month. We immediately started getting bad feedback. So I said, "Listen, let's give them what they want, let's sell the 12"." "No! You can't do that." So we did it. We were the first to do it, but I think logically it would have happened anyway…
Well, there were already 12" promos around, weren't there?
Yeah, that's what people wanted in the clubs. It shifted from three minute radio songs to disco versions of seven minutes.
How did you meet Walter Gibbons?
I met him in a club where he was spinning. I saw him spin and he flipped me out. He was very good. He had a great attitude, he loved music and he loved people having a good time. I said, "Look, would you like to come in the studio and mix one of my records?" He nearly fell on the floor.
How did he differ in his style to other DJs? He was very drum-oriented, wasn't he?
He was drum-oriented. He knew, because of his experience on the floor, what worked and what didn't work. He didn't care what was on the tracks. He had no respect for what was on the tracks, or rather he had respect, but he didn't look at it from a producer's point of view. He looked at it from a DJ's point of view, which was the right way to look at it. So some interesting and different versions came out. He left Loleatta [Holloway]'s vocals from the 12" of "Hit and Run!" He left out the first and second verse because he felt it was a little corny, but he turned in a classic remix.
What did you think when he first delivered it?
"Walter, you're crazy and you're gonna get me killed by the producers!" He laughed and said "Come to the club." I went to the club. He played the original version. Then he played his version. And I saw the difference: the crowd went mad. I gotta lot of respect for the guy. I used to take these records to the clubs before I released them. I used to take them to Walter, Larry Levan, Richie Kaczor at Studio 54; those were the guys who I was close to. I thought they had a bigger responsibility than I did. They kept the club going so the owner could make money. If they were no good, they would get fired, because the owner wouldn't make money. I was very happy to bring them in the studio to help me, because our music and their mixing blended with each other.
What do you think is the difference in approach from a producer like Norman Harris and a remixer like Walter Gibbons?
A world of difference. The producer records all the instruments, brings in all the players and he does the arrangement. He tried to fit everything from the song structure point of view. Sometimes it's too overpowering, it can be a little jumbled. When Larry Levan did "I Got My Mind Made Up," it was very floor-oriented, not studio-oriented. He didn't put everything on the tracks on his mix. Tom Moulton did the same thing on "Doctor Love." Tee Scott did the same thing on "Love Thang." They took out stuff that the producer's had put in that overcrowded the sound. My strengths were the drum and bass. We always had fat drum and bass sound, to get people up on the floor. Earl [Young] had a lot to do with it. He was such an unconventional drummer, but he was a fun-loving guy and he had a passion for playing. He used to hold sticks backwards. He would hold the skinny part of the stick and he would hit the drum with the fat part of the stick, exactly the opposite of how drummers did it. He had a feeling when he played that you just had to get up and dance. He got the disco drummer of the year award from Billboard.
Tell me the story behind "I Got My Mind Made Up." I heard Walter started the mix, but Larry came in and finished it. Is that true?
It even goes back further than that. When Bunny Sigler brought the tune in, the drum pattern was different. I asked him if he could go back and re-cut the drums with a basic 4/4 pattern, to get a little more danceable feel to it. Walter started it, but Larry had asked me if he could do something with it. I had gone down to the Garage and Larry was playing it and he did something that I didn't think could be done, he made it sound completely different. So I gave him a shot. What he did is history. It wasn't that Walter's wasn't any good, it was just that Larry did something special with it. It was such an experience to go to the Garage and see Larry play on a Friday night.
What was good about it?
Him. He had a passion for the music and crowd and he loved it when the crowd got off on his music. They respected him so much, the dancers on the floor used to idolize him. Larry also loved percussion. He loved percussion. That was the raw sound of the Garage.
Can you remember any tunes that stand out?
"Don't Leave Me This Way," the Thelma [Houston] and Teddy [Pendergrass] versions. Can't think of any more…
Why do you think Loleatta wasn't more poplar than she was?
I don't believe it was her fault. I couldn't get a major hit single on her. She did the Dan Hartman ["Relight My Fire"] and then she did "Love Sensation" with Dan. They did well, but I couldn't get them going pop. They were top of the disco charts but at that time the R&B sound was a little more funk. It was just bad breaks. She's a major, major artist. I've been out with her in clubs, she's a tremendous live performer. She ad-libs, she sings from her heart and she's a feisty lady. She should've had more success than she had. I've been to clubs where she was performing live and the promotion was not what it should be and there's only maybe 100 people in the audience. She didn't care, she came out there and gave a performance as though there were 20,000 people there. And 100 were going crazy, it was like bedlam.
When the disco industry collapsed, how did that affect you?
It did affect us. But in '81 and '82 there was a definite backlash and we moved towards funk with Skyy and Aurra.
Did you notice a sudden dip in sales? How did you notice the change?
Sales, and then the record plays in clubs. The sound was changing. The sound was changing to funk and hip-hop. Joe Bataan had a major hit with a song "Rap-O Clap-O."
Arthur Baker produced it.
Yeah.
Did you ever get tempted to move into the rap market more?
I never felt it. It was not my generation, it wasn't part of me. I never had any desires or ambitions to be in the record business. It happened by accident. When I did have the opportunity to start up Salsoul, I did it because I loved the sound that was hot at the time. I had a good feel for those songs. I enjoyed the creative part, I felt it was an honor to be around creative geniuses. The songwriters, musicians, singers, I really got a kick out of it.
There was quite a close link between Larry and guys like Frankie Crocker. Did you regard it as a key place, the Garage, for getting Frankie to hear your tunes?
At that time in the '70s, the radio disc jockeys were definitely looking to see what the clubs were playing, and then add it to their lists. That's why our big, big push was to the clubs. We were lucky because our music was very powerfully rhythmic.
Were the mixes on the Disco Madness LP all newly commissioned mixes?
Yes.
What was the reasoning behind that album? Because it was unusual to feature a remixer in that way.
It was my idea. I asked Walter if he'd like to do it. I felt he deserved it. He did a great job on it, too.
How did his approach to mixing differ from someone like, say, Tom Moulton?
Tom was more scientific. He had a lot more respect for the producers and musicians. He was more polished than Walter. He did some great remixes: "Disco Inferno," "Doctor Love." Tom was very successful on a lot of my hits. He enhanced the records. Walter would rip it all apart and then put it back together his way. Unconventional. Same with Larry. That's why you can't compare them, really, because they all created something entirely different.


This interview took place in 2005. © DJ History