Master of the (New York) House: An Interview with Rheji Burrell
From the DJ History archives: a conversation with the man behind legendary acts like N.Y. House'n Authority and Bas Noir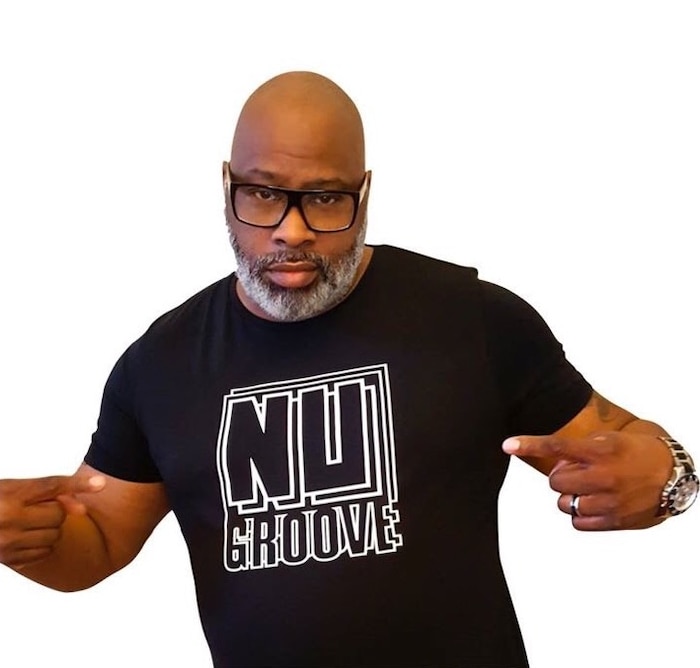 Twin brothers Rheji and Ronald "Rhano" Burrell helped establish the blueprint for New York house music as we know it. Born and raised in New Jersey, they spent their teenage years playing in bands throughout the state. Eventually, a tape they recorded in their mom's basement caught the ears of executives at Virgin, and they signed a deal to release commercial new jack swing.
Shortly after they released their debut Burrell in 1988, their deal fell apart. They landed on the legendary house imprint Nu Groove Records, founded in New York by Frank and Karen Mendez in 1988, and set to work releasing some of the most blistering house ever to come out of New York City.
The brothers – working both separately and as a unit – released under a number of names, including Bas Noir, K.A.T.O., Metro, Houz' Neegroz and N.Y. House'n Authority. Until it folded in 1992, Nu Groove was one of New York City's key house labels, and the Burrells were its backbone; their tunes ranged from rave anthems to deep, hypnotic rhythms, with each alias carving out a unique sonic identity.

Eventually the Burrell brothers moved on to producing major label R&B, including songs for Toni Braxton and Aaliyah. No matter the genre they were working in, they imbued their music with a soulful quality that still resonates today.
In 2011, Rheji Burrell spoke with DJ History's Bill Brewster about his upbringing, his unorthodox production techniques and his years as a leader in the '90s club scene.
Where did you grow up and what was your family background?
I was born and raised in Queens, New York. I don't think my immediate family was very musical – they didn't play any musical instruments – but they did bombard us with any type of music you could possibly think of. I guess that's the same as a musical instrument, being exposed to all that music. Everybody from the Isley Brothers to Conway Twitty. There was a constant stream of music in our house. If we weren't listening to the radio, we were at family parties or we were making up songs. I found myself singing more than talking half the time. Not really instruments, but always music.
What's the age difference between you and your brother?
Three minutes. Identical twins.
So I guess you were close growing up.
Yes, in some ways, but then in other ways not close at all. His taste in women was definitely not my taste; he liked the pretty model type, and I liked the earthy working girl. Fashion, I was more like the hip-hop, rugged hoodie and Adidas type, and he was real dressy. Superficial differences. The things that mattered, we felt the same.
Did you study music at school?
We did, but not for long. We played a multitude of instruments our whole life. We might have taken up drums for the summer, or maybe Ronald took up keyboards for a couple of months. Very sporadic music lessons. But we always had instruments around the house, and we played them with proficiency. Don't think we'd ever be playing Brahms, but we're pretty good at doing what we do. If it comes to playing something more advanced I'll pay somebody.
I didn't do it because I wanted to be in the music industry, I did it because I loved music.
What was your first contact with DJs?
I was in tenth grade. DJ equipment was still expensive. We all had phonographs, but a DJ set-up was really expensive. A white guy from Plainfield had moved from a black part of town, but he really loved hip-hop and his parents had money. He had real underground hip-hop long before it was cool. A lot of black people thought it was noise then.
So he stuck out, a white boy with Adidas, Kangol hat, Lee jeans, mock neck, CAZAL glasses. He's either real fake or really real. He was in my auto mechanics class and he said he was a DJ. And he was really good at cutting and scratching. He had money. His parents were rich, they owned an elevator company. I'd ride the bus to his house; he had equipment and he wanted me to teach him how to make music, and I wanted him to teach me how to DJ.
So we became good friends. I knew about cutting and scratching but I didn't have Technics lying about my house, and he did. He had several, actually. Of course growing up in New York, I'd always seen stuff like that and heard it. I remember seeing breakdancing when I went to Yankee Stadium and Shea Stadium in the '70s, so it wasn't foreign to me. That was about 1982.
What was his name?
Tim Dowbecuk. He went by the name T-Ski. He was from Plainfield, New Jersey. There was a very well known music store called Vogels nearby, that was where Biz Markie and Big Daddy Kane and all of them came from. The music video for "Vapors," they filmed it there. It was a really known underground store.
You said you had some musical equipment by then?
That wasn't until late. In 1980 me and my brother joined our first band, Inner Spirit, which sounds like a gospel group, but it wasn't. I was a lead vocalist and percussionist and Ronald was the keyboard player. We always had musical instruments, which is why people would say our music sounded jazzy and musical. It was because we didn't know any better. When you think about Barry White or Barry Manilow, they played instruments, they didn't play drum machines. It was a new tool then. I didn't think it was revolutionary at the time, I thought it was just being lazy! I thought it was temporary until you got a drummer. But at some point it became an instrument. I still have instruments; I have a 12-string guitar laying about now. I'll always be a musician.
Imagine a bunch of 12, 13 and 14-year-olds winning $400 in prize money. It was a good experience.
How long did the band last?
We played up and down the Jersey Shore and New York. I was playing bars when I was 13. I played at Larry Holmes's club. We were entering and winning talent shows and some of them were for money. Imagine a bunch of 12, 13 and 14-year-olds winning $400 in prize money. It was a good experience. We had to imitate Cameo and the Sugarhill Gang. We had to reproduce those sounds. We had to play the Fat Boys, then Teena Marie and Rick James, then go back and play something by Midnight Star. That's how I learned how to produce, because you learn how each of these instruments contributes to the overall sound. We were very good. I didn't take it seriously. I didn't do it because I wanted to be in the music industry, I did it because I loved music. I was making music at T-Ski's house and putting it on cassette for my interest.
How long did the band go on for?
About five or six years. We were in high school and some of them left and had to get jobs, or joined the military. Me and my brother were the youngest, so when we left there was no one left. I got lucky. Matter of fact, when we got our first deal my brother Ronald was a week away from graduating from the State Trooper Academy. When we got our deal with Virgin Records he was there.
How did that come about?
T-Ski would run off a cassette of what we were doing at his house, and he'd run one from himself for his boombox. And in those days, he had one of the biggest. Anyway, he was in Vogels playing something that I had made. It was the owner's job to know everything that was around, and he didn't recognize it, so he was on the phone with someone and he said, "Excuse me, what is that you're playing?" He told them my name. "OK, do you have more of that?"
The person on the other end of the phone was Karen [Mendez], who eventually set up Nu Groove. Karen was an independent marketer at the time. Anyway, he gave her my phone number. There was this group from Plainfield at the time who had a record out called "Stimulation." I thought it sucked, personally. She called me and said, "Me and my fiancé [Frank Mendez] heard something that we liked over the phone, could we come and listen to more of your stuff?" So they drove out from Queens to New Jersey. I took them down to the basement and started playing them stuff.
About 15 tracks in, they were like, "Would you mind coming in to record a demo in New York? Because we think we can get you a deal." We recorded about four or five songs. We actually made up some stuff over the weekend rather than recording the stuff they'd heard. Anyway, Frank knew Timmy Regisford really well, and at the time Timmy was A&R at Atlantic. That's how Merlin Bobb got his job at Atlantic, he's Timmy's cousin. We caught him right in the middle of that. I think he was mixing Soul II Soul or Loose Ends or something like that, so he had ties with Mick Clarke at Virgin in the UK.
He played a lot of our stuff on his radio show, even some of the raw stuff, and he told Mick to pick us up. I wasn't a bad looking fellow and he wanted to produce the album. Within a week or two I was signed to Virgin. I wasn't expecting it, but I was ready. I had a hundred tracks by the time I was discovered.
What was your experience at Virgin, was it happy? Because it didn't last long.
Without getting too into it, one personality in the United States and another personality in the UK hated each other. And the personality in the States told me, "I can't support your project because he signed it." It had nothing to do with me or my music. He apologized to me. He said, "Because of who signed you, you will not get support in the United States. I hate him. He hates me, so I will not help him in any way." That was the end of it.
So what I did was take the money, buy some recording equipment, and then we worked on tracks for the second album. We had about 40 to 50 tracks, and we weren't going to polish them for Virgin or for Timmy. What I wanted to do was strip it down and make it more of a raw Robert Owens sound or Larry Levan sound. With no big budget, no tour. Just getting [the songs] off our chest. There were no rules. There was no background singers or shit like that.
Were you going out to clubs through this period?
All of them. Every club in New York. Palladium, where Timmy was spinning. R&B, CeCe Peniston. I used to hang out with Teddy Riley's group Guy, I got influenced by them. Nell's was big, with DJ Basil, who played eclectic. I used to hang out with DJ Clark Kent, and we'd all go out with Jay-Z and all that crew. I'd hang out with Todd Terry; I still hang out with Todd! Club 88 in Jersey, Zanzibar and Rutgers University. Actually, Rutgers was one of the first I went to. The DJ there was Vernon Freeland. He was like a mobile DJ under Timmy Regisford. He followed Timmy, but at Rutgers he had more freedom to play different things. I taught kung fu there. He would play on a Thursday and play underground house music. He played that "Stimulation" record too!
I liked the fact that house music was crusty, like an old jazz record. I liked the hiss.
There were a lot of Jersey musicians at that time, did you hang with them?
There was one group in particular that we were compared to, and that was Omni. And they were like 15 guys and they were all like incredible, stellar musicians. They all played about five different instruments.
Is it true when you were at Nu Groove, you recorded a lot of the tracks straight to cassette?
The first House'n Authority was straight to cassette because that's what we did. That's how we'd record our demos and stuff, and we didn't want to change what we did because it worked. I liked the fact that house music was crusty, like an old jazz record. I liked the hiss. It wasn't crisp, it was crunchy. It would fuck up your speakers if you played it too loud. I liked the fact it was rugged and unfinished. We would record out-of-tune drums. But we did change to DAT because we had to. The mastering labs were no longer mastering from cassette. We fought the Logic and Pro Tools, too. I was still 16-trackin' it until maybe seven years ago, until you just couldn't fight it no more.
Where was the studio?
It was actually in the basement of my mother's house. We liked the way it sounded. We could've pulled it out of there anytime we wanted – I had an office in New York – but there was something about getting ready to go to the basement to create something. It was the anticipation of going somewhere. We'd drive down the street, park, and put the key into the door and go downstairs. A lot of these projects were only one or two days. House'n Authority was one day. We'd have the microphone in front of me and we'd sing as we were mixing, straight down and there was no multi-track or anything like that. Just that one recording. Straight to DAT and over to Nu Groove.
Was there a reason for using various aliases? Did they signify something different to you?
Well, yeah. The names of the projects matched the mood of the records. You knew what you were getting if you put on a Rick James record compared to a Carpenters one. So instead of changing me, I just changed the name of the band. So you'd know what to expect if you heard a N.Y. House'n Authority or a Bas Noir tune. They were real groups to me. If I was in a jazzy mood, I'd do Jazz Documents or Utopia Project. If it was raw, it would be a House'n Authority. It was easier to create a lot of music without overexposing myself.
It gave you the freedom to play around with different identities.
Yes, I didn't have to be Rheji Burrell all the time, I could be six different people.
You worked together and separately with Ronald. What are the differences in your sound and approach to music-making?
Ronald was a lot more ideological than me. He might start programming with just a hi-hat, for example. His music, to me, is a lot more arrangement free. He tries to be crazy. He might just break it down in the middle of the song for no reason, or go to a bridge that has nothing to do with the tune. Over the years I've really come to appreciate that about his music; he's really trying to be different. Music is based on mathematics and since I started as a drummer, I gotta count it off: Four bars, eight bars, 16 bars. For him, if it feels good, do it. So working with him I always knew we were going to do something that I wouldn't do myself and that's what you're supposed to do when you have a partner.
You also had several releases out in the UK on labels like Republic, which was run by Dave Lee at the time.
You know, I had no control over that. Frank would build ties in the UK and give me some more money, but the business of it was all Frank.
When Nu Groove collapsed, did the rights revert back to you?
Legally, they never left me, because believe it or not, we never had contracts for those songs. We just handed in the DAT. He had the right to put it out, I guess. What happened when Nu Groove defuncted was, he not only sold the rights to the masters, he also sold the physical masters. We're now in the process of hunting them down.
That was arguably the last great era of New York dance music, with so little going on now. You must be proud to have been a key part of that?
Absolutely. I wasn't always as proud. I think we went wrong in several areas. I didn't like people who weren't making records telling people who make records how to make them. How can someone who never did it, these accountants and lawyers, tell bass players how to write a song? It was getting away from us a little, and I couldn't fake it. I couldn't make our records sound like Todd's records or Armand's. So we started making R&B and pop records. I think house music got away from us. It got away from the Boyd Jarvises, and the Blazes, and the Timmy Regisfords, and the CeCe Rogerses. It got away from us. I worked with Toni Braxton, I recorded with Puffy, Mase, Heatmakerz. I'm all over the place. Aaliyah!


This interview was conducted in 2011. © DJ History