I'm More Than What You Made of Me: Making Sense of Beyoncé's Curious Film Career
Jason King explores the best and worst of Beyoncé's movie roles – and how they help us better understand her path to global superstardom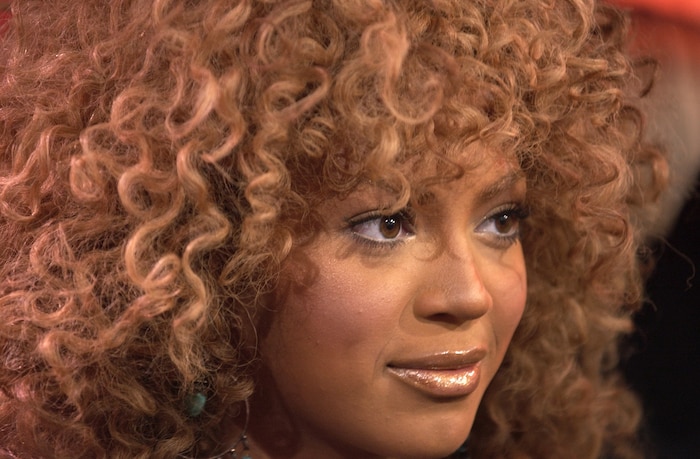 It's hard to name more than handful of on-screen moments featuring Beyoncé where we get to see a less guarded, unassertive, non-omnipotent version of the superstar. One came via hidden camera in 2006, when activist organization PETA (People for the Ethical Treatment of Animals) confronts her for using fur in her fashion line House of Dereon. Another is the 2007 viral video that shows Beyoncé tumbling down a flight of steps in high heels during a Florida concert, and there's also 2014's infamous, video-only elevator security footage in which she demurely stands by while sister Solange assaults hubby Jay-Z. Though she currently enjoys her stature as a self-assured, self-empowered 21st century supernova, Beyoncé started her late '90s career much more tentatively, as an ambitious R&B aspirant who made decisive career choices, but also threw things at the wall to see what would stick. Her curious film career to date, running the gamut from gleaming highs to murky lows, often falls into that "see what sticks" category.
Beyoncé made her official debut in MTV's 2001 made-for-television Carmen: A Hip Hopera. There's also her 2002 big-screen debut opposite Mike Myers in Austin Powers in Goldmember; 2003's gospel comedy The Fighting Temptations; 2006's The Pink Panther reboot opposite Steve Martin, and Bill Condon's high-end Dreamgirls movie musical, released that same year; 2008's Chess Records biopic Cadillac Records; and 2009's stalker thriller Obsessed, co-starring British sex symbol Idris Elba. Beyoncé also contributes voice-over work for children's television series Wow! Wow! Wubbzy! and the Wow! Wow! Wubbzy!: Wubb Idol TV movie in 2009; and she plays the voice of Queen Tara in 2013 animated film Epic. Besides gracing the small screen in 2013's self-produced HBO reality documentary Life is But a Dream, Beyoncé makes no more feature film appearances after 2009, focusing instead on raising her family, making albums, videos and short films, touring the world and embarking on a host of entrepreneurial projects. She'll return to the big screen, however, in 2019's computer-animated reimagining of Disney's cartoon blockbuster The Lion King.
How do we square up Beyoncé's perfectionist public persona with the decidedly imperfect feature films that define the earliest phases of her solo career?
Beyoncé may have received a Golden Globe nomination for her acting in Dreamgirls, as well as raves for her turn as blues icon Etta James in Cadillac Records. But most of her other feature films have been, to be generous, middling to mediocre. She received a Worst Actress Razzie nomination for Obsessed, and early howlers like Austin Powers in Goldmember – which nevertheless opened at #1, and garnered a Guinness Book of World Records commendation for the highest-ever box office opening gross for a comedy – seem out-of-step with her innovative and expertly executed projects like 2016's Lemonade. They're even more incommensurate with the imperial, near-deity status currently bestowed upon her, especially by legions of Beyhive superfans.
In crafting her public persona, Queen Bey has long mythologized her flawless perfection – cue "I woke up like this" lyric – promoting herself by way of Oprah-esque self-empowerment ideals. Beyoncé always appears to be living her "best life" – or at least some of us project that she is doing so. By 2019, Beyoncé has emerged, for some, as a peerless example of how women can effectively balance domestic/family pursuits and professional endeavors, and how they can audaciously emerge as entrepreneurial high-achievers (Forbes reports that she and husband Jay-Z have ascended to joint billionaire status). She's done so in the face of statistics that confirm far too many women, particularly women of color, remain burdened by glass ceilings that limit their ability to "have it all." So how do we square up Beyoncé's current perfectionist, high-impact public persona with the decidedly imperfect feature films that define the earliest phases of her solo career?
There's plenty of reasons Beyoncé feels the need to make films at all: to earn additional revenue (her 12.5 million dollar Dreamgirls payday, plus high royalty rate for the soundtrack, reportedly made her the highest paid black actress in Hollywood); to diversify her income streams; to express herself visually beyond music videos and short films; and to play roles that resonate with, and at times exceed, her commanding public persona. Acting is just one element of Beyoncé's savvy approach to entrepreneurial diversification – from 2001-2009, that includes branding ventures like her House of Dereon fashion line, nonprofit the Survivor Foundation, and commercial appearances as the "poster girl" for Tommy Hilfiger's True Star fragrance and a L'Oreal spokesperson. It's possible to consider acting as one element in a constellation of initiatives that constitutes the business some call "Beyoncé Inc." "I think it's very ambitious for me to start acting," she told an interviewer in 2006, "because I didn't have to. I didn't need to. But I just want to challenge myself and learn, and I admire people like Barbra Streisand and Diana Ross who took that risk and are really good at it."
Even if some of Beyoncé's feature films are substandard according to ratings aggregators like Rotten Tomatoes and Metacritic, these projects have nonetheless reinforced and brought clarity to her compelling brand. Let's state the obvious: Beyoncé almost always plays singers. She's an aspiring chanteuse in the titular role of Carmen: A Hip Hopera; global singing sensation Xania in The Pink Panther; FBI special agent Foxxy Cleopatra, working undercover as a disco artist, in Austin Powers in Goldmember; Southern nightclub singer Lilly in The Fighting Temptations; Deena Jones, modeled not so discreetly after pop icon Diana Ross, in Dreamgirls; and Etta James in Cadillac Records. (Obsessed is the only film Beyoncé makes during 2001-2009 where she doesn't play a singer.) The resonance between whom Beyoncé plays on-screen and whom she appears to be off-camera is deliberate: We believe that she's sincere as an actress because she's always essentially playing a variation of "herself."
Beyoncé rocketed to superstardom by playing, or playing alongside of, a bevy of black musical greats, superimposing their phenomenal auras onto hers.
Playing singers also justifies clever soundtrack tie-ins and licensing opportunities, like the Neptunes-produced "Work It Out" for Austin Powers in Goldmember. It also bolstered Beyoncé in the earliest phases of her career by allowing her to ironically demonstrate that she wasn't just a singer – she was also an actress who played singers. "Obviously, I still want to do fun movies like this [The Pink Panther]" she told an interviewer in 2006. "In a way they help me get where I want, because it's the only way I can be seen and show people that I can act and am not just a singer."
Some rationalize Beyoncé's profound superstardom by way of merit, making the argument that she ultimately succeeded where her peers did not because she was intrinsically more talented. But, in fact, some critics willfully diminished Beyoncé at the outset of her solo career. One of the ways she established gravitas, adding dimension to her persona and exceeding the career trajectory of her peer group, was to step into the high heels, as it were, of talented and assertive 20th century black female musical icons.
In February 2001 – five years before Beyoncé stepped out as Deena in Dreamgirls, a role clearly crafted around the Diana Ross mythology – Destiny's Child graced the cover of Vibe magazine. The trio was styled to look like the Supremes, with Beyoncé positioned as Ross. Beyoncé, whose showgirl brazenness has always evoked Josephine Baker and Lola Falana, also stepped into Tina Turner's stilettos, performing her signature "Proud Mary" (and the signature choreography, too) at the 2005 Kennedy Center Honors. Beyoncé gamely performs the same number alongside Turner herself at the 2008 Grammys Awards, and in her musical introduction to Turner positions herself in a laundry list of historic black female musical talent. Beyoncé not only plays Etta James in Cadillac Records, she also belts out James's "At Last" at Barack Obama's Neighborhood Inaugural Ball, on the night of his 2009 presidential inauguration, earning James's supposedly tongue-in-cheek ire. She also draws on the Dorothy Dandridge legacy by playing Carmen (and in the photo shoot sequence in Dreamgirls, Beyoncé's Deena dresses in Dandridge's Carmen Jones style – it's a profoundly meta moment.) Just as Diana Ross silenced naysayers and deepened her post-Motown persona by stepping into the role of jazz icon Billie Holiday in 1972's Lady Sings the Blues, Beyoncé rocketed to superstardom by playing, or playing alongside of, a bevy of black musical greats, superimposing their phenomenal auras onto hers.
But what of Beyonce's acting itself? One naysayer excoriated her thespianism this way: "Anyone who's seen her performances in films like The Pink Panther, The Fighting Temptations, Dream Girls [sic] or Austin Powers: Goldmember [sic] will witness her amazing range as a block of wood. She runs the gamut from mahogany to pine to plywood." I rewatched her filmography to investigate why she'd earned a reputation in some critical circles for being inanimate, and as always, there's more sides to the story.
Beyoncé made her theatrical film acting debut in Austin Powers in Goldmember but she doesn't have a lot of heavy lifting to do. Mike Myers and Michael McCullers' script is lazy, juvenile and strewn with unfunny toilet humor – though given the film's box-office success, they likely wouldn't have had it any other way. Beyoncé's Foxxy Cleopatra is an Afro-sporting FBI agent in the retro-blaxploitation style of Pam Grier or Tamara Dobson, as well as a former lover of detective Austin Powers; he time-travels back to the late '70s to find her working undercover as a disco-era R&B chanteuse.
Director Jay Roach, working with a minimum of creative imagination, cues Coffy-style wah-wah guitar whenever Foxxy Cleopatra enters the frame: It's a constant reminder that Beyoncé's skin color is her primary contribution to the proceedings. Though Goldmember never asks to be taken as a serious film, Foxxy Cleopatra is less a character than she is merely "the love interest," which is to say "the sex object." Cinematographer Pete Deming's lens lingers on her curvaceous figure and she spits up stereotypical, neck-popping retorts like "You've got a lot of nerve dragging your jive, white ass in here." To her credit, Beyoncé seems down for whatever, going along with the film's queasy ride with a willing sense of conviction and plucky spirit.
If Foxxy Cleopatra and Xania are underwritten characters, that blankness only serves to reinforce the various ways Beyoncé matured on the heels of these early tentative roles.
Beyoncé has even less to do in slapstick comedy The Pink Panther. Steve Martin plays bumbling klutz Inspector Clouseau in Shawn Levy's underwhelming reboot of Blake Edwards' earlier movie franchise. Like Foxxy Cleopatra, Beyonce's Xania is a passive "female lead," though no less generic than Edwards' previous Panther franchise leads like Capucine and Elke Sommer. One writer shaded Beyoncé's appearance in the film, given that she has few lines, as "set-dressing." But if Foxxy Cleopatra and Xania are underwritten, blank characters, that blankness only serves to reinforce the various ways Beyoncé matured on the heels of these early tentative roles. Her limited acting in exceeding limited films reminds us, in retrospect, how strong her sense of self-presentation became over time, and the extent to which she wrestled back ownership of her public image.
Some have chuckled that these sorts of mediocre films amount to Beyoncé's "Beg Years," when she would latch on to projects beneath her talent in a desperately ambitious reach for visibility. But her perfunctory, barely-there performance in The Pink Panther might have also been strategic. Matthew Knowles, Beyoncé's father and then manager, talked to Billboard in 2006 about his team's business strategy – their intent to position Beyoncé in select supporting roles instead of leads. "With Beyoncé and The Pink Panther" he says, "we did the movie for a dual reason: She didn't have to carry the weight of the movie [as the star], and there was the timing aspect. The film is positioned to be out next year, so we won't go two years without seeing a Beyoncé movie." Mixed reviews aside, The Pink Panther also brought her considerable visibility during the same calendar year she released B'Day, which also featured "Check On It" from the film's on-screen soundtrack.
Beyoncé's remaining roles more effectively thematize her essential star quality: ambitiousness. Throughout her music career, Beyoncé appears driven to become more than who she initially appears to be, and to exceed the confines of industry limitations and cultural glass ceilings around race and gender (and their intersection). In and beyond the 1990s, Destiny's Child underwent considerable personnel changes, resulting in highly publicized spats, fights and lawsuits, before settling on an ultimate Beyoncé-Kelly Rowland-Michelle Williams trio configuration. In the process, some critics placed Beyoncé at the unethical, controlling center of that storm, characterizing her barely-concealed hustle to move to the forefront of the group as too ambitious. The story also goes that Beyoncé spent the early phases of her career under the strict management of her manager/father, with whom she acrimoniously split, ostensibly over financial mismanagement, in 2011. In 2016, she made an album, Lemonade, that may (or may not) have been a personal story of how she overcame the trauma of her husband's alleged infidelity and ultimately healed their marriage, finding her own unique voice and a degree of self-determination along the way.
That mercenary drive to succeed underwrites Beyoncé's daffiest role, as the titular femme fatale in MTV's Carmen: A Hip Hopera, directed by Robert Townsend. Based on the 19th century Georges Bizet character, and meant to evoke Otto Preminger's 1954 Carmen Jones, starring Dorothy Dandridge, MTV's Carmen focuses on the story of Carmen Brown, a seductive aspiring singer propelled by an intense career ambition to "make it." She ends up, however, trapped in a doomed situation with three controlling men: Sgt. Brown, played by Mekhi Phifer; Brown's superior, Lieutenant Miller, played by Yasiin Bey, fka Mos Def; and an LA-based rapper Blaze, played by Casey Lee. Billed by MTV as the first "hip-hop movie musical," much of Carmen: A Hip Hopera's dialogue is through-rapped over early 2000s looped beats. Beyoncé memorably sing-raps alongside a bevy of musical co-stars including Da Brat, Rah Digga, Jermaine Dupri and Wyclef Jean. The entire affair is oddball camp, though it was of its time back then.
Prior to Carmen: A Hip Hopera, there'd been an unstated connection between hip-hop's rapid-fire MCing and classical Sprechstimme – think, for instance, of Gilbert & Sullivan's patter tune "Major-General's Song" from comic opera The Pirates of Penzance. There'd been plenty of early fusions of hip-hop and musical theater: everything from Elizabeth Swados' long-forgotten 1980s Rap Master Ronnie and Murray Head's "One Night in Bangkok," from the Benny Andersson / Björn Ulvaeus musical Chess, to George C. Wolfe's tap-rap Broadway extravaganza, 1996's Bring in da Noise, Bring in da Funk. Carmen: A Hip Hopera gets points for publicly mainstreaming the use of the term "hip hopera," for whatever that is worth, and the movie helped make an explicit connection between hip-hop and opera before R. Kelly's preposterous "Trapped in the Closet" series did the same, and years before Lin-Manuel Miranda's juggernaut Broadway musical Hamilton (which is not technically a hip-hop opera, either.) It's worth noting that Beyoncé's debut acting role came in the context of MTV's attempt to create an innovative stylistic hybrid, even if the production itself – to say nothing of the pedestrian, same-y Kip Collins and Sekani Williams score – remains plodding.
Cast alongside a solid crew of black actors including Mekhi Phifer and Joy Bryant, Beyoncé charms the screen as Carmen Brown. Save for Paz Vega in Vicente Aranda's 2003 Spanish film version, Beyoncé has been the only major star to headline a mainstream film version of Carmen so far in the 21st century. It's hard to cheer much for the fiery temptress role, however, as she's bandied about by toxic men and (spoiler alert) tragically destroyed by them in the end (yes, blame the Bizet source material). Shot and edited in rapid-fire MTV style – as if it was a 90-minute video – Carmen feels artificial like Styrofoam, worlds removed from hip-hop's gritty, urban-realist roots. Sorely lacking the grandeur and the pathos of great opera, this Carmen cannot conjure anything other than mundane, histrionic melodrama.
Beyoncé is probably best known for her role as Deena in Bill Condon's surefooted, vigorous movie musical Dreamgirls. Condon's script, drawing aplenty from its early '80s Michael Bennett stage musical source, spins the rise and fall story of the Dreamettes (later the Dreams), a group loosely based on the Supremes. Driven by Henry Krieger and Tom Eyer's original pastiche score, which tracks black popular music developments from the Motown '50s to early '80s post-disco, Dreamgirls buoyantly surges on the aesthetics of power ballads, bring-the-walls-down chitlin' circuit gospel musicals and anthemic, Star Search-style belting.
Beyoncé's Deena starts off shy, meek, passive – not necessarily all that different from the muted "real life" Beyoncé exposed in the PETA hidden-camera video, which went viral the same year. Initially, Deena happily plays second fiddle as a support singer to Jennifer Hudson's gospel-throated, big-voiced, larger-framed Effie. In a manner that suggests Beyoncé's own early off-screen celebrity narrative, Deena is reliant and subservient to label boss Curtis, who also happens to be her love interest (he's played by a sketchy Jamie Foxx). When Curtis tells Deena's mother, Mae Jones, that he wants to make her a star, Mae tells him, "You make her sound like a product." Like some of Beyoncé's other roles, Deena enters the film as little more than an object of men's fantasies, kept on a tight leash.
Deena, however, is driven by a hungry ambitiousness to be something more than she is. Implicitly supported by industry double standards that privilege light-skinned, thinner women, Deena scandalously replaces Effie as the Dreams' lead singer and pursues a path to cross-over superstardom. Promoted and marketed by Curtis, but swindled and betrayed by him too, Deena ultimately has to find her own voice and rekindle her sense of self and connection to community. That sets us up for Deena's in-studio performance of the apocalyptic, Diane Warren-style belter "Listen," announcing the end of the character's initial passivity. Beyoncé, singing her guts out, stresses autonomy by vocally emphasizing the final two words "my own" – which could stand in for Beyoncé's own off-screen maturation and self-determination as well. In 2007, Beyoncé talked to Vanity Fair about playing Deena: "The hardest thing was trying to make sure that I did not see any of my usual performing style in the movie… I treated all of the singing like acting. I acted out the words with my coach, and treated them like scenes. Not like performances. 'Cause it was all the small, intricate things that made Deena stand out. She was very passive, and everything she did was really, really subtle. Vocally, I had to completely hold back. I had to whisper things – I couldn't sing anything in my full voice – and the simpler I sang it, the happier the director was."
Ambitiousness also turbocharges Beyoncé's 2008 performance as Etta James in Darnell Martin's Cadillac Records, a biopic of real-life Chicago-based record label Chess Records. This time, however, Beyoncé transgresses her own carefully cultivated off-screen image of perfection: the film depicts James's heroin addiction, giving us a glimpse into the dark trouble at the essence of James's performative greatness. Co-producer and Sony BMG Music Entertainment chairman Andrew Lack told W magazine at the time: "People will be most surprised that the glamorous Beyoncé allowed herself to be seen in the desperate straits that Etta went through, including her heroin addiction… That's a Beyoncé I don't think anyone's seen yet."
Narratively compelling and darkly rendered, Cadillac Records nonetheless falls apart cinematically: Etta James was much more than simply the drug addict presented here, and the film concocts a twisted love-hate romantic relationship with label owner Leonard Chess, played by Adrien Brody, that by most accounts never happened in real-life. But Beyoncé does her best throaty imitation of an inimitable blues singer, and she provides some much needed feminine energy in a mostly testosterone-driven film about fraternal competition between record label acts like Muddy Waters and Howlin' Wolf. (The film also reunites Beyoncé with Carmen: A Hip Hopera co-star Yasiin Bey; he plays Chuck Berry). Most notably, though, Beyoncé confirms her emerging off-screen autonomy by way of her much-publicized executive producer status. Beyoncé's longtime film agent Andrea Nelson Meigs (who, by the way, deserves plenty of credit for brokering the singer's big-screen achievements) talked to Billboard in 2009 about Beyoncé and Cadillac Records: "But she was drawn especially to her role because of what Etta James represented in the music world, and so she wanted to get involved in a more intricate way – both in development for casting and music. She aided actors with their scripts, shared her thoughts on how scenes should be shot and even got involved with lighting, among other things."
Obsessed failed to slay at the box office, but it served a purpose: to transgress against Beyoncé and Jay-Z's much publicized off-screen marital bliss.
By now worlds away off-screen from the blank, passive characters that defined her early on-screen career, Beyoncé again serves as a producer on 2009's Steve Shill-directed Obsessed. In a generic update on the Fatal Attraction template, Beyoncé plays Sharon, the wife of Idris Elba's business executive Derek, who finds himself stalked and entrapped by Ali Larter's psycho office temp Lisa. Stay-at-home mom Sharon harbors brimming ambition – she wants to go to back to school – but she's patiently put her dreams on hold while Derek pursues his business endeavors. When her marriage goes south and baby son Kyle is kidnapped by unhinged stalker Lisa, Sharon goes on the defensive and fights for herself and the integrity of her relationship. Unfortunately, that fight exceeds the metaphorical: The narrative climax is a ludicrous interracial catfight between Sharon and Lisa that generates unintentional laughs rather than chills and thrills. Obsessed failed to slay at the box office, but it served a purpose: to transgress against Beyoncé and Jay-Z's much publicized off-screen marital bliss. In a way, the film arguably prefigured the relationship cracks and fissures that later became the crucial themes for her groundbreaking 2016 Lemonade.
The Beyoncé acting role I love most is from 2003's The Fighting Temptations, a delightful gospel musical family film vehicle for perennially buzzed Oscar winner Cuba Gooding Jr. Beyoncé plays Lilly, a single mother living in a small town in Georgia. Exiled from the town church for having a child out of wedlock, she's been performing as a local nightclub singer while secretly dreaming of pop stardom. Gooding's New York city slicker/con man Darrin Hill is originally from that same small town: Through a series of narrative incidents, he impersonates a hip-hop producer and organizes a rag-tag gospel choir to compete in a cash prize musical competition that could potentially save him from mounting debts and a dwindling bank account. Darrin casts Lilly as the choir's main soloist, and the two spark up a love affair that becomes threatened as his secrets and lies unravel.
Like Carmen: A Hip Hopera, The Fighting Temptations is also an MTV co-production, and it's full of Sister Act-style clichés about having faith and knowing yourself and coming to terms with your past. But Beyoncé is natural, effortless, stripped-down and anti-glamorous as Lilly. Though it's Gooding's character who eventually coaxes her out of exile and provides the context for her return back into the church, Lilly is never exactly blank or passive. She leads the choir, takes assertive control of the musical arrangements and teaches Hill a thing or two. Just as she convincingly played one of the world's greatest blues singer in Cadillac Records, Beyoncé does a staggeringly good imitation of an anointed gospel singer in The Fighting Temptations, knocking out of the park a string of top-notch musical numbers.
The Fighting Temptations now seems to be from a lost musical era, just like Carmen: A Hip Hopera. The cast is a surreal, WTF mix of intergenerational, cross-genre talent, made up of artists whose musical offerings probably shouldn't be served on the same menu and who no longer seem to circulate in Beyonce's superstar orbit. There's R&B singer-songwriter Angie Stone, neo-soul/jazz singer Bilal (with whom Beyoncé performs a Jam & Lewis-produced duet), gospel powerhouse Shirley Caesar, Bad Boy Records' first lady Faith Evans, Sounds of Blackness belter Ann Nesby and Broadway veteran and disco queen Melba Moore, as well as actors like La Tanya Richardson, Lou Meyers and the Golden Girls' Rue McClanahan.
In many ways, The Fighting Temptations exceeds Dreamgirls' reduced presentation of black music as a relay race, in which one historical genre predictably picks up the baton from the next. Instead, it presents a more complex vision of black musical styles and genres like gospel, spirituals, R&B and hip-hop as intrinsically interconnected, part of a "changing same." The film reminds us that Beyoncé became such an omnipotent transmedia superstar in the 21st century because she performed that exhaustive diversity of genres and styles. In a deft essay called "Beyoncé's Digital Stardom," scholar Eric Harvey argues that in the early stages of her career, Beyoncé "succeeded by threading current musical trends (hip-hop-flavored R&B) with a mainstream-friendly American pop history that… incorporates everything from vaudeville to Ziegfeld Follies, '1920s blues-queen sass,' and icons ranging from Barbra Streisand, Bob Fosse, Michael Jackson, Whitney Houston, and Madonna."
That threading is precisely what The Fighting Temptations dramatizes. Taking account of the film's expansive musical grab-bag, I'm reminded that Beyoncé the solo artist could have ended up pursuing one of many different aesthetic directions, but she strategically shot to the top of the pop stratosphere by moving between, and fusing, gospel, R&B, pop, blues, funk, rock, torch balladry and much more, to utmost advantage. In 2019, many diehards believe the phenomenal Queen Bey can pretty much do anything. If she seems musically omnipotent, that's partly because her early film roles, ranging from the awful all the way to the sublime, were among the first stylistic hints that she indeed just might be.