Kool Lady Blue Reflects on the Golden Age of Hip-Hop and Dance Music
The nightlife entrepreneur and producer behind the famous New York night club, the Roxy, expounds on her role in the early development of the genre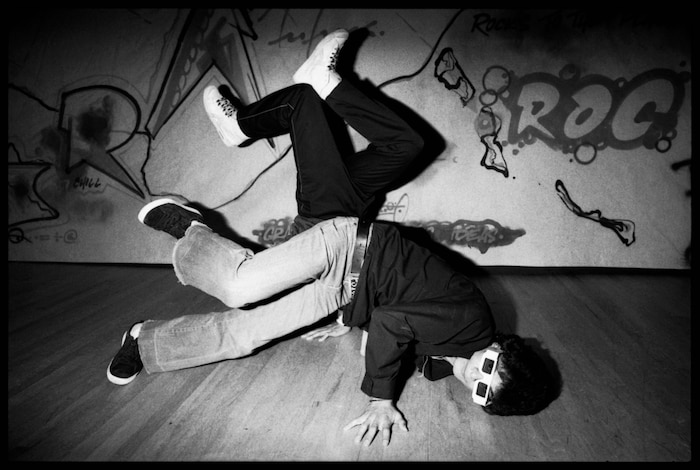 When Ruza Blue, AKA Kool Lady Blue, moved from London to New York City in 1981, she already had dreams of opening up a club. Prior work experience in music and nightlife in the UK eased her transition into the raw, creative landscape that made up the downtown scene in New York, and she soon started managing a clothing shop, working alongside fellow transplants Vivienne Westwood and Malcolm McLaren – the latter of whom introduced Blue to the city's budding hip-hop scene. Blue, mesmerized by the rhythm of the breakbeats, the acrobatic-like skills of the dancers and the subculture's colorful yet ever-evolving aesthetic as it made its way from the South Bronx to lower Manhattan, knew that this was her opportunity to make her dreams a reality.
What eventually would become the famed Roxy nightclub started off as a recurring night at a club named Negril in the East Village. Following its closure in 1982, Blue took a chance on a struggling roller rink, turning it into one of the city's most popular nightlife hubs. Blue went on to co-produce the first European hip-hop tour in late '82 featuring the likes of Afrika Bambaataa, Grand Mixer D.ST, the Rock Steady Crew and Rammellzee, and eventually opened up a DJ management agency, continuing to work with hip-hop pioneers such as Grandmaster Flash. In this interview, Blue describes the downtown scene in 1980s New York, tales from her early days at the Roxy and being at the forefront of hip-hop's development.
How did you end up living in New York and entering the music scene?
In the late '70s I was living on the Kings Road in London where I studied dance theatre and worked in the music and club scene. I got to New York in '81. I was a huge fan of the Warhol music and art scene and lived in the Chelsea Hotel. New York City back then was bankrupt, abandoned and on the edge, but that environment only fuelled the creativity and became an inspiration to all who were lucky enough to be part of its transformation during those groundbreaking years. So much positive energy and expression came from a unified youth culture living in a broken city where anything was possible. Anyway, I fell in love with New York City and initially worked in fashion managing Malcolm McLaren and Vivienne Westwood's Worlds End 2 store on Prince St, but always had this dream of opening up my own dance club in New York City.
What were you interested in musically before hip-hop?
I grew up listening to a musical mash up – T Rex, Ziggy Stardust, David Bowie, Roxy Music, LKJ, Kate Bush, Bob Marley, Aretha Franklin, Stevie Wonder, Gapp Band, the Sex Pistols, The Clash, Siouxie & Banshees, the Stooges, Blondie, Velvet Underground, Lou Reed, Talking Heads, Brian Eno, Kraftwerk, Ultravox, to name just a few.
Can you describe the first time you experienced hip-hop music and culture? What year was it? What was your impression?
The first time I experienced hip-hop was in 1979-80. I'd heard Sugar Hill Gang's "Rappers Delight" and Blondie's "Rapture." Sounded different...not singing but spoken word? Debbie Harry was rapping about Fab Five Freddy and Flash and I was curious who all these characters were.
The next time I would encounter this thing in person would be in New York City at a Bowowow gig Malcolm McLaren had booked at the Ritz in September 1981. He said he'd booked this very interesting opening act…which ended up being The Rock Steady Crew, Fab Five Freddy, DJ Afrika Bambaataa, and DJ Jazzy Jay...I was gobsmacked! It was totally mind-boggling from the unbelievable dance gymnastics and head spinning by Rock Steady Crew to the insane choice of music the DJ was playing…WOW...what the hell was this?
That was the moment the light bulb went on…. So thanks to Malcolm that's how I met this dance and hip-hop (which wasn't called hip-hop). Then, it didn't have an identity and was still morphing into what would become hip-hop culture.
It was the only club where you could experience all the different elements that made up hip-hop culture under one roof each week.
How were the other people around you and in the greater New York music and art scene reacting to hip-hop? Was it the same as your reaction?
The cool downtown music and art scene reacted to hip-hop in much the same way as me once they got to experience it - but that took a while to happen. When it did, a wider white audience saw the various elements of hip-hop for the first time when it was organized and presented in a nightclub environment on a regular basis downtown. And it's debated that hip-hop and all its elements actually came together downtown and were named hip-hop during the early '80s.
The commercial mainstream media were NOT interested in the emerging hip-hop scene – they thought it was a passing fad. The Bronx ignored it too, so this thing had been hibernating uptown for many years.
When did you decide you wanted to open a club, and how did you get connected to folks like Grandmaster Flash?
I decided I wanted to open a club when I was still in London but I wanted to open it in New York City. I loved what Rusty Egan was doing at the Blitz club in London and I wanted to do something with fashion and music but with NY "flava."
When I got to NYC I set out to find my club space. I looked for months but couldn't find anything cool – then luckily found Club Negril in August of '81 - it was a small reggae spot hidden away in a basement in the East Village and frequented by Bob Marley and the Wailers…it was perfect. Around the same time, McLaren had booked Bowowow at the Ritz, I couldn't believe my eyeballs when I saw the Rocksteady Crew and I knew I had to put this very extra-ordinary "dance thing" in to Negril, it was too exciting to ignore and I wanted to show it off to everyone and give it a home downtown!
I met the person who'd hooked it up for Malcolm, his name was Michael Holman and he agreed to bring the crew down to Negril and help out with some of the bookings. I also met Fab Five Freddy who introduced me to even more of this untapped talent in the South Bronx. One night we went uptown to a club called Disco Fever where Grand Master Flash was djaying on a Tuesday night but Flash wasn't very receptive about coming downtown to DJ at Negril, he preferred to stay uptown in the Bronx. Years later when I started my DJ management agency, Grand Master Flash was the very first DJ to come on board.
Can you describe what your first party was like? Where was it? Who played? How was the crowd?
At first I tried doing a dub reggae theme at Negril on a Tuesday night with my friend Nina ...it was low key and cool vibes but not many people were showing up for a Tuesday so we switched to Thursdays and to a new concept.
The first Thursday party presenting this hip-hop vibe was in late September 1981. The line-up was the same as the Bowowow Ritz gig with McLaren – Rock Steady Crew, DJ Jazzy Jay, etc.. but the crowd turnout was very light. We tried it again - the same thing happened, hardly anyone showed up. It wasn't working...I realized that people had come to the Ritz to see Bowowow not this thing about to be named hip-hop and this thing if booked on its own like this would never attract a cool downtown crowd at Negril. I had to close Negril for a few months and make some creative changes to promo and the bookings as well as catch up and pay all the talent. So things were put on hold for quite a while.
Can you describe the first night it worked? How long did it take to get there?
Negril re-opened on January 7th, 1982 and that was the official grand opening night, but this time I changed the entertainment to a mash-up lineup which featured Kosmo Vinyl of the Clash and DJ Scratchy, the DJ for the Clash, as special guest DJs on the bill along with booking Rock Steady Crew, DJ Jazzy Jay and Jazzy 5 MCs.
I placed a tiny hand-drawn ad in the Soho News, DIY style. Fortunately this time the club ended up packed with a cool hip downtown crowd. The mash-up entertainment idea had worked and the Rock Steady Crew smashed it on the dance floor and this thing about to be named hip-hop culture found a new home downtown! The club was jumping with a great mix of people from punks, to NY trendies, NY art scene, to musicians, fashionistas to the South Bronx kids. I can remember David Byrne, John Lydon, Billy Idol, Andy Warhol, Basquiat, Joey Ramone, Debbie Harry, Julian Schnabel, Carolina Herrera, Keith Haring, Francesco Clemente, Madonna etc. all hanging out with the Bronx kids and downtown hipsters. Awesome.
If it fit I would put it in the mix.
How did you start throwing parties at the Roxy?
After Negril closed down in April 1982 I had to keep it moving. I produced a few events at Danceteria thanks to Jim Fourrat and then I found the Roxy. Negril was a tiny club whereas the Roxy was a huge roller rink so it was a big risk for me to take on but the space felt right and my gut instincts were telling me this thing was going to blow up and I wanted to take it to the next level anyway.
It took many frustrating weeks to convince a clueless landlord to let me take over his dying roller rink and turn it into a hot dance club but I was relentless and on a mission and nothing could stop me. Eventually he gave in and I got to work and did massive prep. I hired Phase 2 to design the artwork for the flyer, commissioned a wall of graffiti to be hung across the entire dance floor, booked all the talent and hand drew the ads in the Village Voice and the street poster which I personally postered up all around downtown! The friday night "Wheels of Steel" club production started in June and then completely took over and ruled the Roxy.
Can you describe your favorite nights from the Roxy?
Hard to choose favorite nights as they were all a one-of-a-kind experience. One night I booked an indigneous group, the Thunderbirds, to perform a sun dance in the club. Seven different tribes in full head dress in the place to be – Cherokee, Mohawks, Black Foot, Seneca, etc. It was totally amazing, and the Rock Steady Crew performed after them. Another night, I screened the movie The Great Rock 'n' Roll Swindle which caused a big stir downtown as it had never been shown in New York City before. After the movie Grand Mixer D.ST resumed as DJ. That night was particularly exciting for its musical and cross cultural impact and it was so brilliant to see the New York punk scene hanging out with the Bronx kids in this electrically charged atmosphere.
How did you introduce Malcolm McLaren and Trevor Horn to hip-hop?
Malcolm McLaren decided to make an album inspired by hip-hop called Duck Rock and Trevor Horn was the producer so Malcolm sent Trevor to NYC to get energized. He gave Trevor my phone number and I basically took him uptown to meet the nascent scene and he came downtown to the Roxy. The hit song "Buffalo Gals" ended up on the album and I worked on the video which featured a performance by Rock Steady Crew. I also introduced Malcolm and Trevor to the Double Dutch Girls who I'd discovered on a McDonalds TV commercial and I was booking them regularly at Negril and the Roxy. They loved the Double Dutch idea and wrote a song and made a video about them called the "Ebonettes" which also ended up on the Duck Rock album.
You've said before that hip-hop was never meant to be one form of music. How was hip-hop viewed differently then than it is now?
When I moved this thing from uptown to a downtown Manhattan club on a regular basis it didn't have a name it wasn't called hip-hop and it wasn't defined. These various art forms were out there – like graffitti, break dancing, MCing, DJing – and they were happening simultaneously in the Bronx and in the other boroughs like Brooklyn and Queens. These art forms weren't even connected to each other – graffiti artists didn't hang out with DJs, nor did they hang with b-boys, you had to look for each art form individually, and then piece it all together, so a very exciting sound and visual thing was actually taking shape downtown.
Early hip-hop DJs embraced and played all types of music from dub, reggae, disco, breaks, funk, punk, pop, Motown, electronic, rock, soul, salsa, etc. Hip-hop was formed out of many musical styles which made it that more special and inclusive so that everyone could be a part of it and have a go at doing it, there were no rules. You could pick an art form and just do it your way! You didn't have to play a musical instrument to participate. All you needed was a couple of turntables and some interesting records and your imagination.
For example Paul Oakenfold was a chef when he used to come down to the Roxy and he got inspired there to become a DJ…he was totally into the scene at the Roxy and would fly from London to NYC regularly to attend my parties and even formed his own b-boy crew in London!
At the same time none of the commercial radio stations were interested in this "thing" and the new music channel MTV shunned it saying it was "too street" for them. They couldn't understand it because they couldn't put a label on it. It was viewed very differently back then to how it is viewed now, I think the only person promoting it on indie radio back then was Mr. Magic.
I don't think hip-hop was ever meant to be one form of anything really – it had no borders, it had no rules. When it came downtown it included everyone and included lots of different elements. I think the Roxy was where this cross-cultural DIY phenomena really came together and had a home to be creative in. There was no segregation there, people from all backgrounds came together in peace and unity with a spirit of fun and creative energy.
I wanted the Roxy to be a mash-up club, a cross-cultural experience for all tribes to share – a club for everyone. It was primarily a dance music club and the thing that made it cutting edge and special were all the hip-hop elements and sounds fusing together with the electronic or electro dance sounds. It was indeed the first mash-up club, the first truly multi-racial, multi-cultural dance club in NYC with that hip-hop "flava."
Was there racial tension in the scene back then?
I didn't feel racial tension in the scene back then – I think we were all quite happy and excited to be in the same club together dancing to great music and sharing ideas and busy being super creative. It was cool and respectful vibes.
It was however, important to get an equal balance of male and female artists and audience downtown at the club. I added the Double Dutch girls to the hip-hop scene and I also advised the Rock Steady Crew to add a girl to their crew, which they did, her name was Daisy. I also booked Madonna, the Sequence, Shannon, and lots of other ladies at the Roxy - so there was always a good balance and equality at least back then while I was there.
Who were the regular DJs at the Roxy? How were they spinning different from other club DJs at the time?
I booked alot of upcoming DJs at the Roxy – one DJ that stands out was Grand Mixer D.ST who while DJing at the Roxy landed a gig recording the track "Rock-It" with Bill Laswell and Herbie Hancock in which he incorporated his great mixing and scratching techniques and showed us all how the turntable could be used as a musical instrument. The song won a Grammy. Some of the other regulars were DJ Red Alert, Afrika Izlam, Jazzy Jay, Bambaataa, Whiz Kidd, Grand Wizard Theodore, Charlie Chase etc.
Their DJ techniques were different from most of the other DJs in NYC. They were isolating and mixing break beats, scratching records and manipulating the turntables in new ways. I was also planning to book other DJs from the tri-state area who were DJing in a similar fashion as the guys from the Bronx, some even before them, like DJ Grandmaster Flowers, Pete DJ Jones, the Disco Twins etc.
Can you describe what the actual club looked like? What was the dance floor like – did people battle often? What was the demographic?
The club was a huge 4000 capacity roller rink with a perfect pristine wood floor for the b-boys and b-girls to dance on and lots of very tacky long fluorescent disco lights hung down from the ceiling. There was a long black tunnel ramp entrance which I'd commissioned to be grafittied – this opened up to a small restaurant and juice bar to the right and then to the left was the mega dance floor and upstairs was a VIP area which had a great view of the dance floor.
I placed a huge platform riser in the middle of the dance floor for the DJ set up, which gave them rock star status in the club. I also placed two huge projection screens on the dance floor and commissioned a floor-to-ceiling canvas curtain to be hung along the entire width of the Roxy dance floor which became another wall of graffiti painted by Dondi White, Futura 2000 and Phase 2. Then everyone who came to the club joined in and tagged it like Keith Haring, Basquiat, and I think Warhol did too, etc! B-boy battles happened randomly as part of the dance floor entertainment each week, they were spontaneous depending on which crews were in the house and they came from all the boroughs, not just the Bronx.
How were the parties as a whole different from what was happening at the downtown clubs?
The events I produced at Roxy were different and original because of the mash-up entertainment and the hip-hop elements working together in an electronic dance music environment, and also where the concept of mixing up as many cultures, music, art, dance, fashion scenes and styles and people was possible. If it fit I would put it in the mix. You could only experience this vibe at the Roxy no one else was doing it and we had the hippest cross-cultural crowd New York City had EVER seen before. Everyone who was anyone was at the Roxy on a Friday night, it was the ONLY place to be in New York City.
Were there any other clubs throwing parties like the Roxy, or as involved with hip-hop as the Roxy?
People tried to copy my events at the Roxy but I don't think they were successful. I can't remember the names of those other copycat clubs. The Wheels of Steel night was the first dance music club with an electronic, hip-hop vibe. A lot of musical styles were going on there it wasn't all about one thing or one style…you didn't know what you might hear there or who you might see there next! For example New Edition did their first gig at the club. They were R&B. Malcolm McLaren performed there...but having said that, it was the only club where you could experience all the different elements that made up hip-hop culture under one roof each week.
Did MCs ever perform at the Roxy? If so, what was that like?
MCs weren't so important in the early days, they were used by the DJs to hype up the crowd. The DJs were the main focus back then. MCs did perform at the Roxy, however I kept the performance short to no more than about 10-15 minutes max. For example Run DMC performed two songs, so did Kurtis Blow and the Treacherous Three. [However] I never let an MC free style all night on the mic that was a big no-no. My main concern was keeping the dance floor hopping and MCs were too much of a distraction.
Can you describe the first European hip-hop tour? How did that happen? How was it received?
I co-produced the first European hip-hop tour with a French man named Bernard Zekrit in November 1982. The Roxy was starting to get mad press by then from around the world and Bernard wanted to take the whole "Wheels of Steel"/Roxy club vibe to France and the UK and so we organized the lineup together. We called it "The New York City Rap Tour" which featured about 30 artists who'd never been out of the country before. To balance out the all male line up I added the Fantastic Four Double Dutch Girls. At the first gig in Paris the show wasn't received very well and they threw bottles on stage but when we got to the Venue Club in London the Brits were mad for it, they loved the show. London was the first hip-hop fan base outside of NYC.
How did the parties change after you left?
After I left the Roxy, they tried to continue and copy my events but completely failed and mismanaged everything and it all went down hill very quickly. The scene got totally ruined and turned negative…it lost that peaceful, balanced, good energy vibe. Anyway, after all the hard work it was disappointing to watch what it had turned into so I stepped away from hip-hop. I was pretty much done with it after that…for decades!
It seems like a lot of people weren't making money at first from hip-hop culture. Can you remember when people started making money and how that changed the scene?
In the beginning hip-hop wasn't about making money – it was something kids in all the boroughs did organically. No one thought they would ever get paid to break dance or electric boogaloo or spray paint graffiti. I think it was more about being creative and competitive on the streets DIY style and creating an identity and name for yourself.
I suppose the change started happening when the kids began migrating downtown and "money-making Manhattan" recognized their talent and was happy to reward them for it! Downtown is where the scene caught fire and got exposed in the media and then blew up worldwide. There was this massive explosion of new ideas, new thoughts, new expressions, new values, new fashions, new music, new art, new lingo, new dances, new collaborations – new everything transforming downtown and NYC. Graffiti was making its way into major art galleries, Keith Haring and Basquiat were blowing up, Rock Steady Crew appeared in the mega movie Flashdance and MCs started making records and got involved with the corporate culture machine. Once this happened, the focus shifted away from the DJ to the MC and became more about making the next hit record and how much they were getting paid by the record company.
Were you involved with Bambaataa when "Planet Rock" came out?
I was not involved with Bambaataa and Planet Rock at all but Tom Silverman and Monica Lynch were. They were regulars at Negril and the Roxy and signed him up to their label Tommy Boy Records and I think they pretty much managed his career in the '80s. "Planet Rock" became a huge anthem at the club as did "The Message."
How did you get into managing artists? Who did you manage and what are your most memorable moments from that time?
In the '80s the only artists I was managing were the Rock Steady Crew and I have lots of memorable moments. One of them was when I was hired by film producer Jerry Bruckheimer to pick five dancers to appear in his movie Flashdance. I can remember having to convince five members of the Rock Steady Crew to do it as they refused to be in it at first. Needless to say, the movie Flashdance established break dancing as THE new worldwide dance craze and everyone started a b-boy/b-girl dance crew just like the Rock Steady Crew.
Another was organizing their appearance in Malcolm McLaren's video "Buffalo Gals" and they wore Vivienne Westwood's Buffalo hats and gear (the same hat that Pharrell Williams likes wearing). Another was landing a record deal with Virgin Records and booking them to perform their hit single at the Royalty Variety show in London in front of HRH the Queen and we all got to meet Her Majesty after the show! Later that night we had dinner at Caprice with our label head Sir Richard Branson. And one more very special moment to top the list was booking the Rock Steady Crew to do a private dance performance for the one and only David Bowie on his birthday as a surprise birthday present at Powerstation studios while he was recording "Lets Dance" thanks to the brilliant Nile Rogers! Fun times. Happy days and really amazing memories.
I'm so very lucky to have been a part of it all. The early '80s were truly remarkable times in New York City and to think I was right there in the middle of the most important cultural art form musical phenomena to ever come out of New York City serving as one of the catalysts to help unleash a lot of the energy that became hip-hop culture and to think my club – the "Wheels of Steel" nights at the Roxy – catapulted hip-hop dance music into the global mainstream, WOW, that just blows my mind!
1981 - 83 was indeed the golden age of hip-hop and electronic dance music!