André Benjamin's Got Something To Say: The Evolution of Outkast's Style Maven
Regina Bradley breaks down the fashion epochs of the singular Southern artist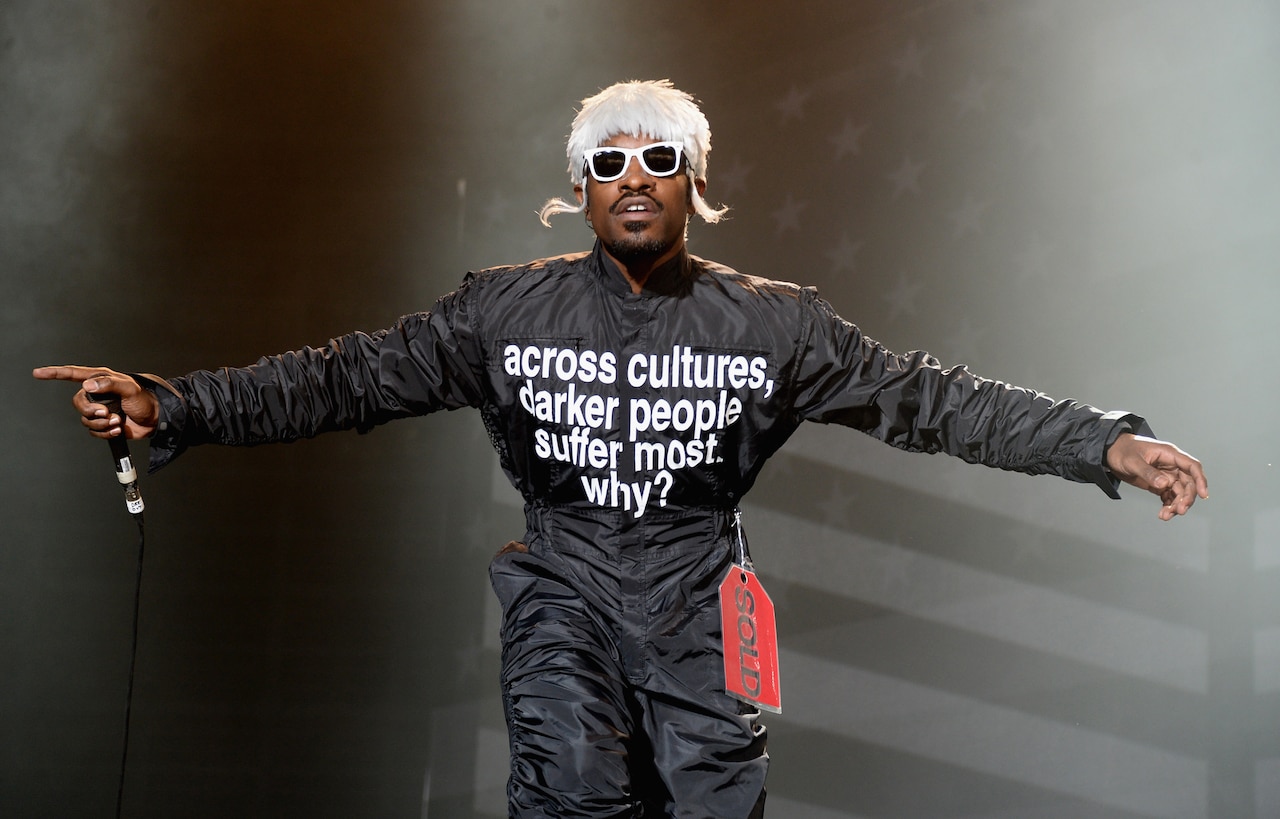 When people think about OutKast's iconic moment at the 1995 Source Awards, they typically refer to André Benjamin's infamous declaration: "the souf got something to say." The "f" here was intentional, both a sonic and cultural reckoning for hip-hop and its biases towards the American South and the black folks living in it. Rapping against bass-heavy and funk-inspired beats, OutKast offered a glimpse into the realities of a late 20th century black American South: a community filled with young people that grappled with the romanticized legacy of the progress stemming from the formal Civil Rights Movement, while speaking their truth to power in the (then) present. OutKast's appearance at the Source Awards was representative of their moniker and mantra of being outcasts, with tension and anxiety boiling over between hip-hop purists in New York and the anti-establishment – and anti-New York – hype of West Coast hip-hop culture. Few in attendance were checking for what the South offered to rap.
Benjamin's fashion choices parallel his rising star as a symbol of how hip-hop could still be countercultural.
Still, Benjamin's emphatic declaration held additional meaning beyond a collective call to arms for southern hip-hop. Benjamin's demand also spoke to his own growing awareness of his place in hip-hop and how he represented himself. Clad in a purple and white dashiki, his choice of clothing meant he wasn't just conscious in the way hip-hop was familiar. Unlike his rhyming partner Antwan "Big Boi" Patton, who donned a white Atlanta "A" hat and Braves jersey, Benjamin's wearing of a dashiki was a sartorial reminder that he was, calculatedly, an outcast, intentionally positioning himself as his own man making choices outside of what might have been expected of him as a rapper. He presented himself as doubly outcasted – both musically and fashionably – and made marginalization the permanent framework for his positioning within the culture. Benjamin's fashion choices parallel his rising star as a symbol of how hip-hop could still be countercultural while in the limelight of mainstream America. Benjamin used clothing as a way to express himself when he could not – or would not – express himself vocally. Whether donning a platinum blonde wig, feathers, surgical scrubs or his infamous parable-laden, black jumpsuits, Benjamin's experimentation with fashion demonstrated how, indeed, he had something to say.
Benjamin's evolving fashion narrative can be grouped into three historical "moments" that reflect his career progression: Dré, André 3000 and the Benjamin Bixby era. The Dré, or awakening era, is young Benjamin starting to examine and establish what kind of man he aspired to be. The André 3000 era reflects Benjamin's full grasp of his personal identity and politics, expertly weaving his avant-garde fashion sense with an equally experimental lyricism and delivery. His final and current phase, Benjamin Bixby, is a testament to Benjamin's achievement of grown-ass man status: a well-earned and worn look into the maturity of both his life and entertainment career.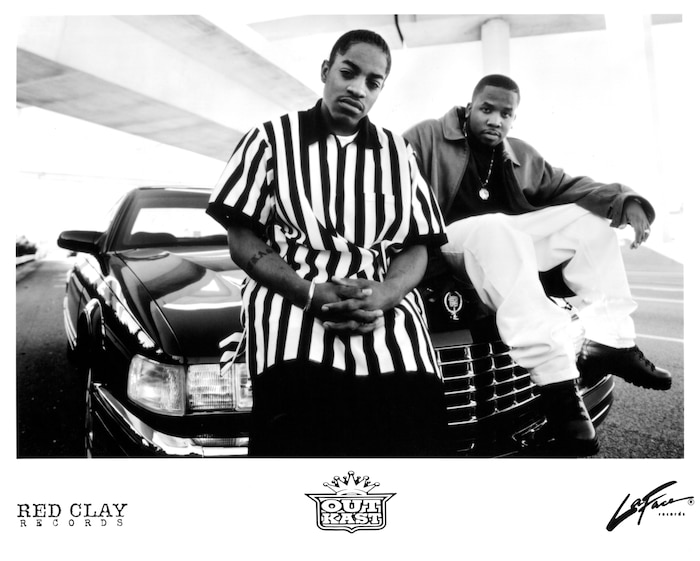 Dré (1994 – 1996)

 The Dré era is the earliest years of Benjamin's career. The majority of his fashion choices largely aligned with hip-hop fashion of the period: baggy jeans, sports jerseys, Kangol hats and the choice Atlanta footwear of flip-flops and socks. However, Benjamin's picture on the cover of Southernplayalisticadillacmuzik features him in a blacked-out shirt and black fedora, his right eye slightly covered by the brim. Even in this subtle buck against standard hip-hop aesthetics, Benjamin positions himself as a mystery. He doesn't offer a view of his entire face or body, suggesting that the young MC controlled what he shared with his audience.
Purple dashiki aside, Benjamin started to venture even further away from hip-hop's center as he became more introspective with his art and image. Contrary to popular belief, Benjamin presented a more conscious self before his relationship with singer Erykah Badu, donning dread locs and even a turban, a look forever emblazoned on the cover of OutKast's second album ATLiens. Wearing a green turban and blue shirt and pants, the image suggested a higher mystical vibration, a stronger sense of self and art symbolized in headwear. Like the music on ATLiens, Benjamin experimented with how he wanted to see himself in the future on his own terms. The turban also foreshadowed the next level of ascension: the emergence of his performance persona André 3000.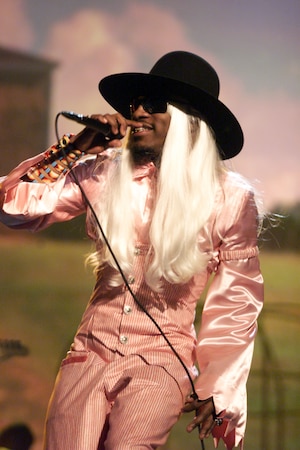 André 3000 (1998 – 2006)
Benjamin's use of the André 3000 moniker indicates his focus on the future, jumping nearly 1,000 years forward in order to be his true self. For example, when Benjamin introduces himself as "André 3000, the year to fear is already here," in the 1999 video to the song "Neck Uv Da Woods," he's wearing a long-haired blonde wig, golden and red-accented headband and loose straw pants. His declaration of 3000 being the year to fear is a warning that he is the one to fear lyrically, and the arrival is announced in flamboyant fashion, stepping fully into his place as a gifted MC.
This transition to André 3000 occurred post-Aquemini, OutKast's perfect third album, which fully demonstrated Benjamin and Patton's perfectly complementary lyricism. The name suggested a desire to continue evolving, a mantra that grounded OutKast's success. Yet Benjamin still grappled with what this upward trajectory meant, leaning into his well-documented fears of losing himself and the adjacent paranoia of the upcoming Y2K scare. In becoming André 3000, Benjamin blended his introspection and society's anxieties of change – a social fear already familiarized by the group vis-a-vis their experimentation with hip-hop as southerners. If André 3000 was from the future, his outward appearance needed to reflect his lyrical futurity as well.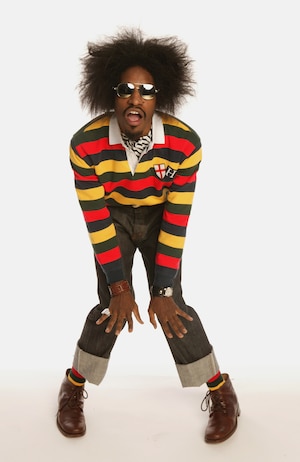 Benjamin Bixby (2006 –present)
Although Benjamin's "André 3000" stuck around, his clothing style moved away from the wild and eccentric into a more subdued yet tailored version of himself. For example, Benjamin's character Percival from OutKast's 2006 film Idlewild reflected this sartorial change in direction. Benjamin started dressing in cleaner lines and constructed clothing to counter against the stereotypical fashion politics imposed upon black men.
Using fashion as a counter-narrative to expected black masculine performance is theorized by scholars like Dr. Monica L. Miller and Shantrelle P. Lewis as Black Dandyism. Hardly a recently phenomena, Miller traces dandyism as a sartorial form of protest from as far back as the 18th century through the present in her book Slaves to Fashion. The performance of dandyism positions Benjamin and other hip-hop culture figures like Sean Combs, Pharrell and Fonzworth Bentley in a larger, diasporic conversation about dressing and black masculinity across the world. Benjamin's creation of the Benjamin Bixby fashion line in 2008, and his 2012 campaign work for Gillette as a "Master of Fashion," solidified his desire to grow outside of hip-hop culture and foray into other arenas outside of hip-hop like film and television.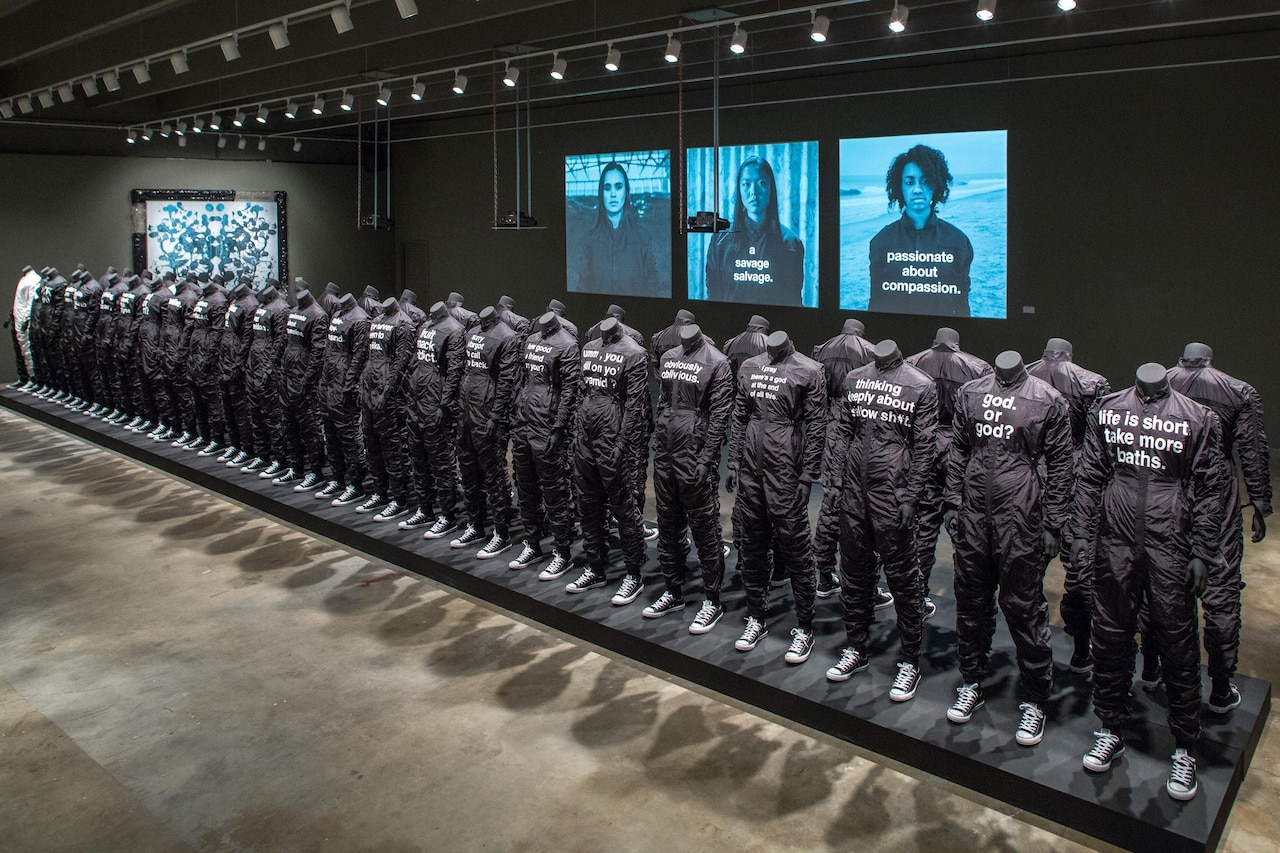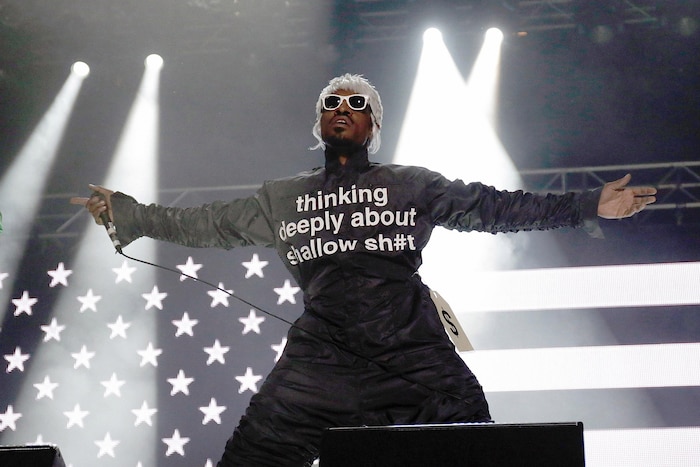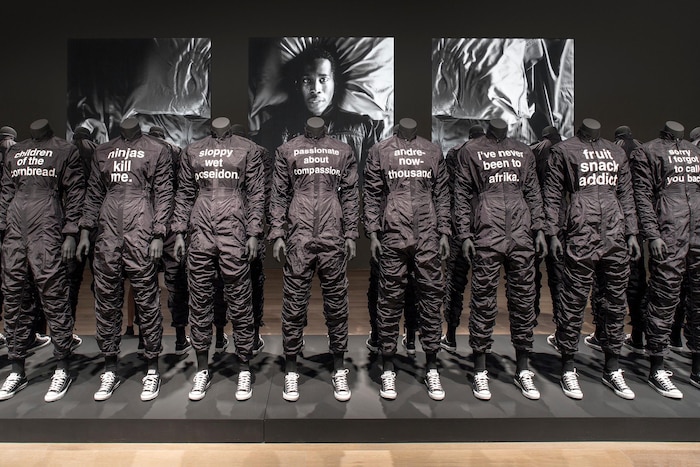 In 2014, Benjamin was brought back to hip-hop in the form of an OutKast reunion tour celebrating the 20th anniversary of Southernplayalisticadillacmuzik. He decided on a tour uniform: black Converse with black jumpsuits, with short, proverbial sayings featured on the front of each. Some of the jumpsuit messages were humorous and lighthearted in nature – "art or fart?" or "fruit snack addict" – while others were biting in their social commentary: "teacher's deserve more," "across cultures, darker people suffer most. why?" and "ok, hand over the cure and stop playing." In these messages, Benjamin wasn't just displaying his inner thoughts as he completed a tour he didn't want to do (he states in an interview with Nicolas Jaar that he "felt like a sell out, honestly"). He was also maintaining control over how he presented himself and his politics: "'My space was just right here,' he said, pointing to his chest. 'Everything had to go here. So I had to squash and edit words.'" Ever aware of the need to control and document his image, Benjamin would go on to partner with the Savannah College of Arts and Design (in collaboration with filmmaker Greg Brunkalla and painter Jimmy O'Neal) to present all 47 of his reunion tour jumpsuits in an exhibit titled "i feel ya: SCAD+André 3000 Benjamin."
Most recently, Benjamin partnered with Swedish footwear company Tretorn for a spring 2018 shoe collection. Forever the fashion chameleon, Benjamin has proven in sartorial and music deeds that the south got something to say.