Mature Ravers Only: The Story of UK Garage Fashion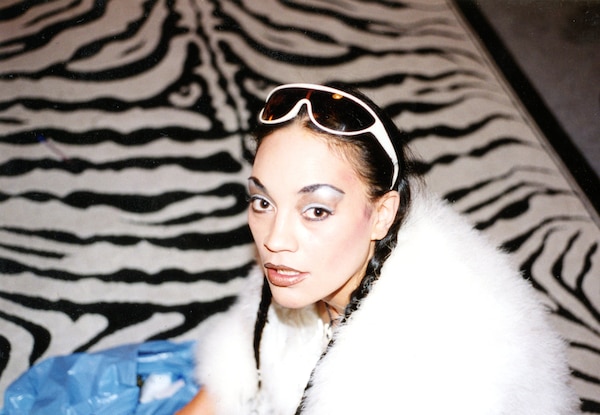 Looking back on the bold style choices of one of the UK's most dressed-up subcultures
If you watch the music video for UK garage crew Pay As U Go Cartel's only chart hit, "Champagne Dance," one of the MCs really stands out – not because of their flow, but the way they look. MCs Major Ace, Wiley and Plague are all there as you'd expect to find them, in a mixture of blinding-white jeans, oversized dark tracksuits, baggy zip-up jackets and, in Wiley's case, an ushanka, flaps down over his ears. Onto this catwalk of 2002 London streetwear struts Maxwell D, perhaps the best-known in PAUG at the time, nonchalantly reeling off his bars about sipping champagne and eating caviar, with a model on each arm and wearing, along with his gold chains and shades, against a bare torso, an extravagant fur coat.
This was a period in which Wiley recalled that he and his East End pirate radio mates were "raggo lads in trackies" – skint, uncouth and hungry. Some of PAUG – in particular MCs Wiley and God's Gift, and DJs Geeneus, Target and Slimzee – would go on to make grime into an underground phenomenon in the year or two that followed. But Maxwell D never quite clicked with grime. In a sense, it came down to attitude and experience – and nowhere was this division more clear than in fashion. Maxwell had had a troubled upbringing, moved from sheltered accommodation to a foster home to a hostel, often embroiled in crime as a teenager, and had just been to jail for armed robbery for 18 months. Now that he'd got his chance to make legit money, and appear on TV, he was going to dress the hell up.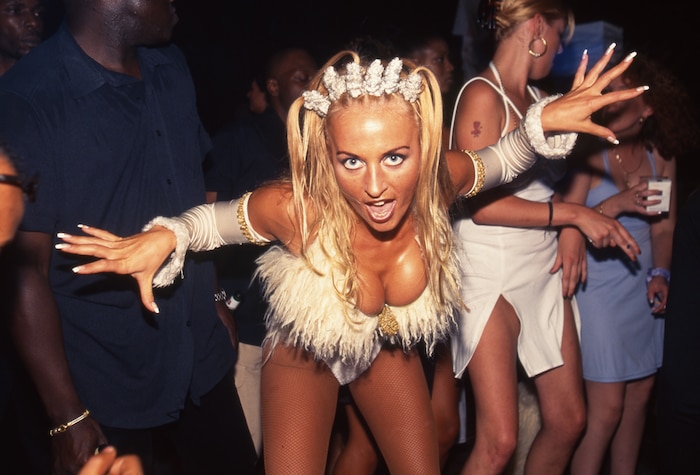 "I had money from the street from selling drugs, and then I went straight into music, and was living like a drug dealer – only this time, legally," he said a couple of years ago. "That's why I stood out a lot in the crew. That's why when people saw me they were like, 'Rah, he's dressed in all these name-brand, expensive clothes.' Even in my music videos I'd say to the stylist, 'Look, I want a fur jacket, yeah? I don't want to wear what I wear in the street.'"
The rest of the crew didn't quite get it. "They were all asking me, 'Why are you wearing a fur jacket?' And I'm like, 'Because it's a music video! I'm going to go all out, I'm going to make myself look like a pimp!' That was the garage style: dress to impress."
UK garage was not only one of the most dressed-up youth subcultures in the electronic era – it was one of the most distinctive, tribal and coherent in the history of street fashion. London-based photographer Nina Manandhar should know: In 2014 she published What We Wore – A People's History of British Style, a book collating the best images from a project several years in the making, of ordinary people's photos of themselves in their youthful pomp, from teddy boys in the 1950s to New Romantics in the 1980s and beyond. It was based, she says, on a fascination with "little time capsules" that tell a story about who we are, or were: "Talking to people about their photos, there's always this passion, as well as nostalgia. The images really meant something to them, and it wasn't necessarily just about the clothes – it was about all the meanings they held, the kind of experiences that they had in those clothes, the groups they belonged to."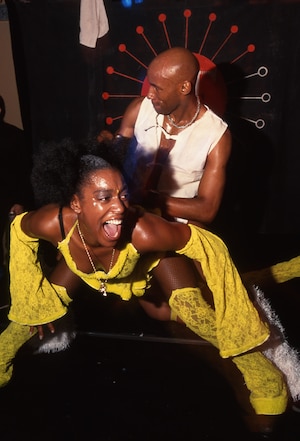 In the UK garage era, Manandhar semi-accidentally ended up with a job at garage fashion hotspot Morgan de Toi, after wandering down London's Tottenham Court Road handing out her CV. "It was where all the garage girls used to go shopping – it was the garage shop, basically." Her female colleagues would roll into work on Sundays after a night out at UKG nightspot Bagley's, and they'd blare out all the latest tunes in the shop.
"It was all about that girly garage look: the strappy dresses, and all-over-print tops covered with the Morgan de Toi logo – in the same way that the Moschino tops had 'Moschino' all over them – and very skimpy little vest tops and minis. The kind of thing you'd think of as being typically girly, and very glamorous, and very preened: that 'dressed up for the club' look, with heels of course."
Manandhar makes an intriguing observation about the gender divide in UK garage fashion – all the more interesting in a genre where lyrics, frequently sung by women, were so often about courtship, romance, love, sex, jealousy and betrayal. "In a sense, the guys were the peacocks of the scene. You have to be quite a specific kind of man to wear a double-print matching suit, you know?" she laughs. "Or a huge cartoon print of Tom and Jerry all over your top. You had to be quite confident, and the guys were more on display than the girls, in a way.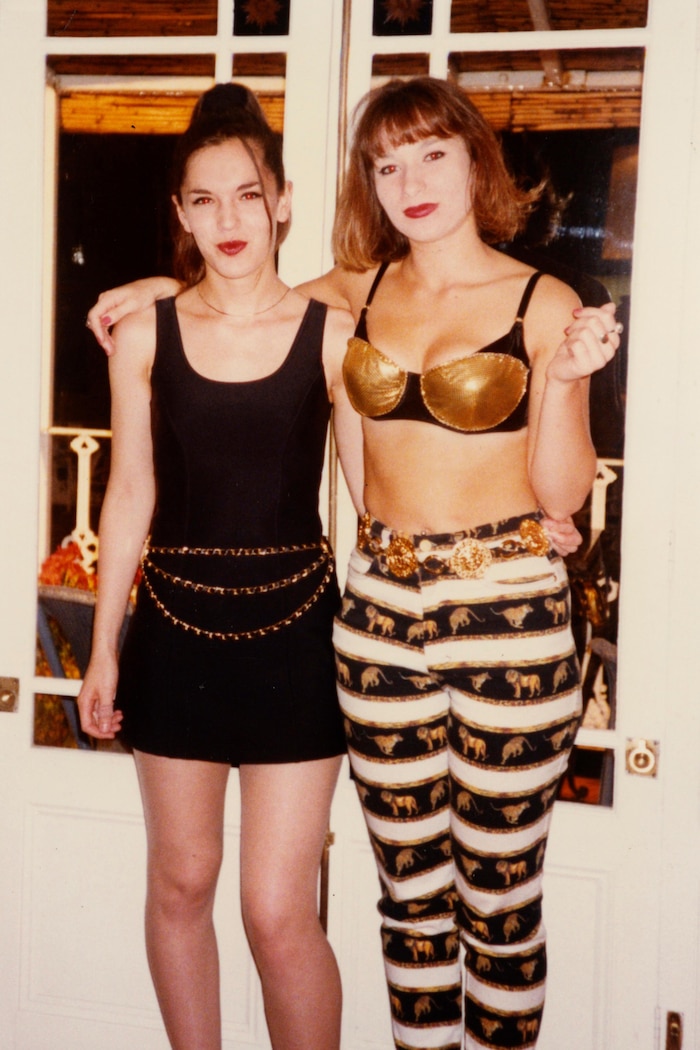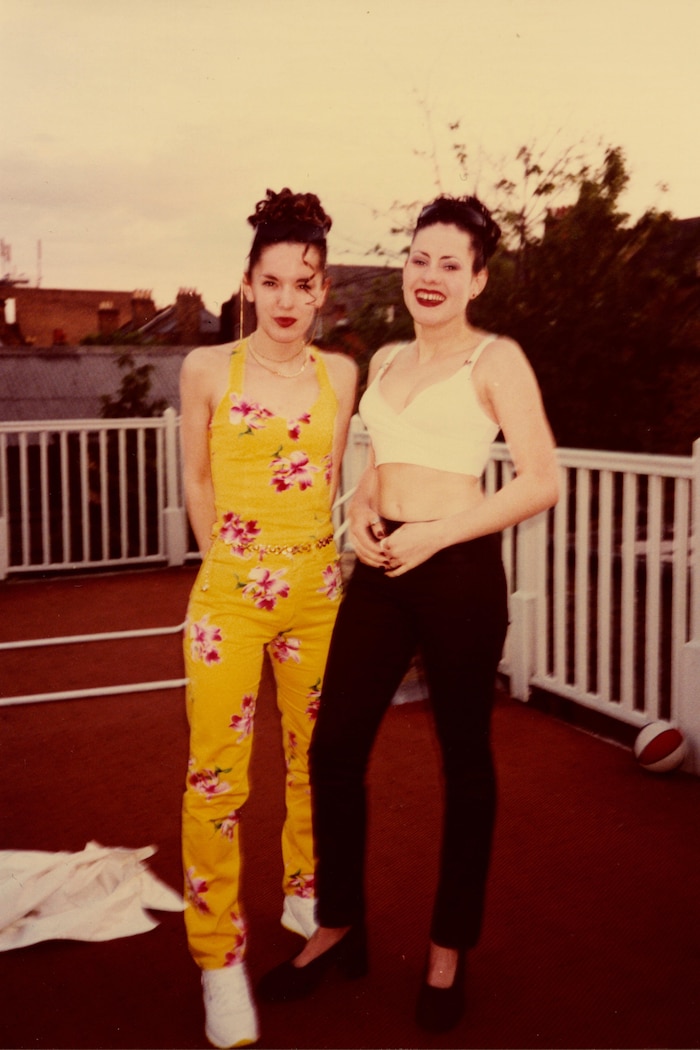 "In the early garage days, for the men it would just be all the really expensive labels, like Versace, Moschino, Patrick Cox loafers, Iceberg History, D&G: the really high-end labels, where they just must have cost a whole pay packet. The women's stuff seemed much more affordable by contrast: it was much more about high street brands, rather than these limited-run, collectible items." It's certainly true that, while unquestionably "stylish and cool / with their clothes on so tight," none of the female dancers in the video for Lonyo's epochal "Garage Girls" match the extravagance of his purple satin suit with pink lining, pink shirt and pink tie.
"I love the ostentatiousness garage had," says Manandhar. "I've got a couple of the Moschino prints, which I just can't bring myself to throw away. Some of those prints are iconic: the ones with the British pound notes, or the ones with the lips, or the Monopoly print. A friend of mine had this really nice cloud puffer jacket, with fluffy clouds all over it, I think that's Moschino. I'm still really drawn to its brashness, and confidence."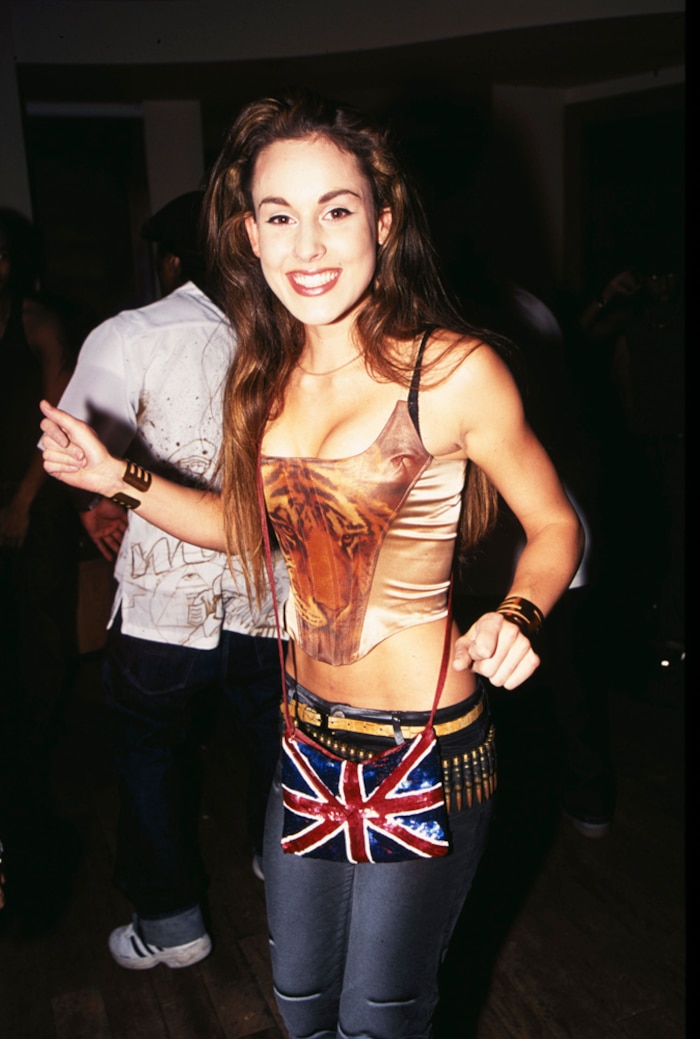 UK garage raves were places to see and be seen, and this glamour also comes through in Ewen Spencer's excellent, albeit quickly out-of-print photo-book UKG. There were often strict dress codes – you can almost hear the booming pirate radio advert voiceover: "Dress to impress. No jeans or trainers, no hats no hoods, mature ravers only!" Stylistically, garage feels like a bit of an anomaly in contrast to sibling genres jungle, drum & bass, dubstep and grime, with their more functional tracksuits, jeans, hoodies and everyday trainers – clothing better suited to dancing in a dimly-lit club.
Fashion, like music, reflects something of the world and time period that gave birth to it. Perhaps the sartorial confidence and grown-up, aspirational swagger of UK garage reflects the fact that latter-day UK club culture was itself growing up, a decade or so after acid house's Summer of Love. And perhaps the late 1990s could be said to be an optimistic period in the UK more generally: New Labor had been elected in 1997, following 18 years of Conservative degradation, rising poverty, social problems and crime. The promise of a new millennium and a new start seemed to offer a chance to start afresh, and aspirational possibilities – it's notable that the bling-laden "Garage Girls" video opens in a totally normal, humble council flat. UK Garage crystallized the idea of social mobility into sparkling four-minute pop songs – or a single, transcendent evening out – and served it with Cristal.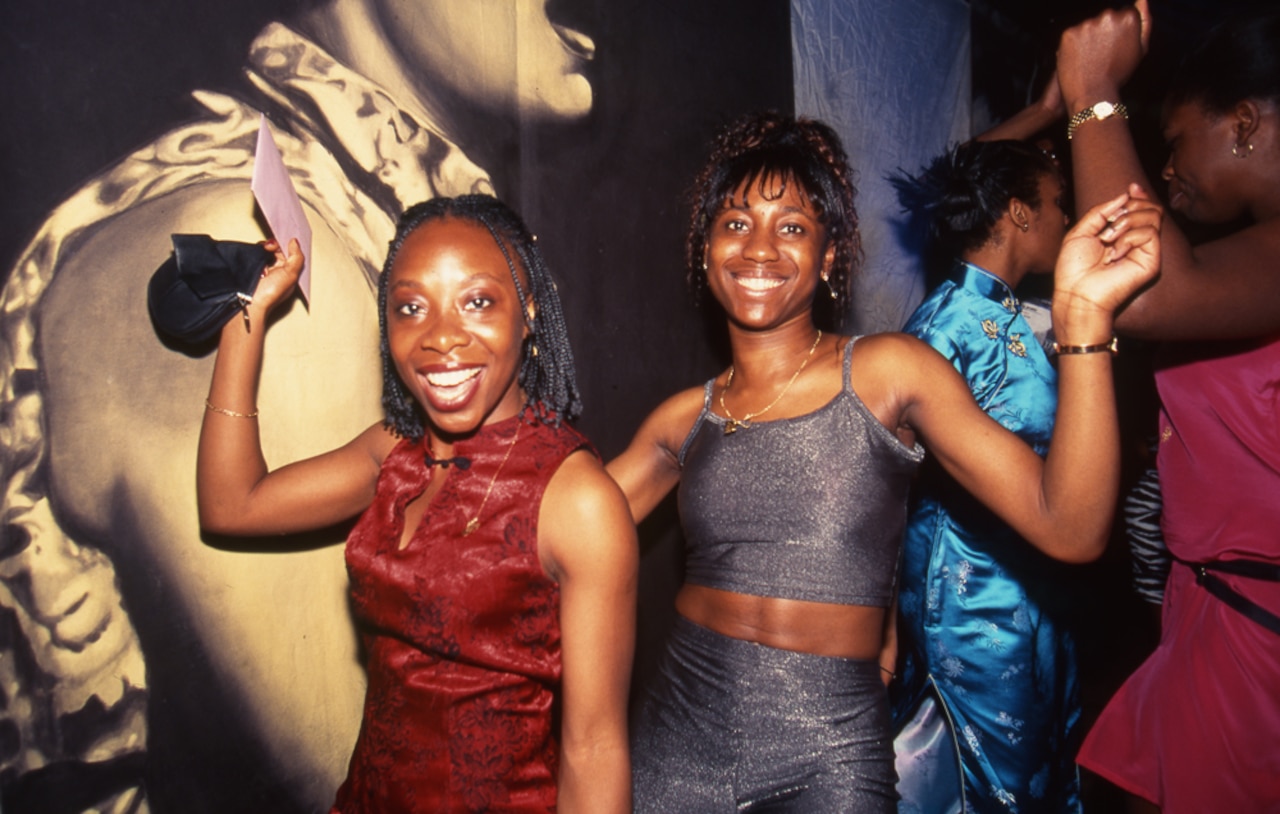 "I think there was a celebratory feeling to garage," says Manandhar, "and a vibe of optimism. That sense of possibility and newness was sweeping the nation, and by the time grime came around and things sort of felt a bit dark and a bit more moody again, the clothes probably reflected that."
Indeed, that shift in mood between UK garage and grime in the early 2000s – and the intermediate stage reflected by PAUG, So Solid Crew and others – is conveyed by clothing. It's often forgotten that early grime fashion was very directly inspired by US hip-hop style: baggy baseball jackets, baseball jerseys and jeans. While it is now associated with Skepta's idea of the "(black) tracksuit mafia," most of grime's foundational MCs seemed to want to look more like Dipset than Lonyo or Maxwell D.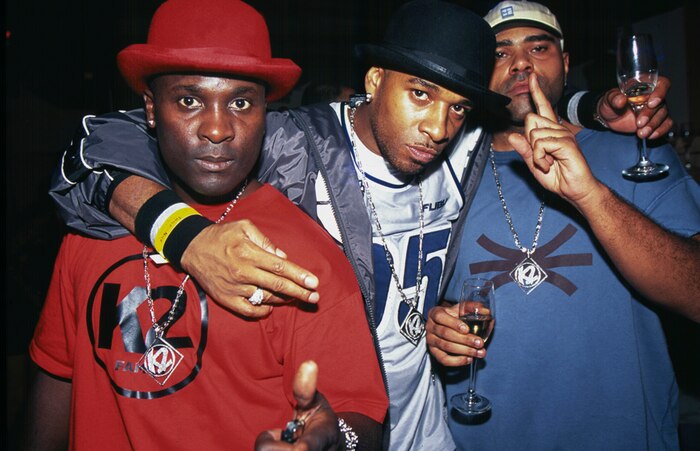 The more "street" wing of UK garage was focused on this largely American-inspired look, too, from New Era 59Fifty caps plastered with stickers and tags to Avirex's decorated, patch-covered leather jackets. Mobb Deep's Prodigy even had a (long unreleased, probably 1990s) tune called "Avirex." In 2017, rising UK rap talent Fekky made an unlikely link-up with So Solid legend Neutrino and grime stalwart Chip to pay tribute to UK garage style – the track, also called "Avirex," sees Fekky namecheck Reebok Classics and patterned Mosch.
Sadly, there are few extensive documents of UK garage subculture from the time. But on an infamous episode of Channel 4's acclaimed, if amusingly dated, 2002 reality TV show Faking It, the straight-laced, middle-class black lawyer George is converted into a UK garage MC, with the help of MC Creed and Pay As U Go. In this clip, "Creed decides to throw him into the hood at the sharp end," as the narrator puts it, and asks three of PAUG to take him clothes shopping and give him a "street makeover": from dour lawyer's garb to a ludicrous Iceberg History Loony Tunes sweatshirt, baggy jeans and layers of glittering jewellery. "Now this is what I call ghetto fabulous," exclaims Maxwell D. At the end of the makeover, Maxwell, satisfied, tells George "you're with us now."
"I think there's been a big shift in the last 20 years," says Manandhar. "I think that clothes had more of an impact about communicating what you belong to – it was much more tribal then, whereas now it's harder to tell about someone's cultural interests from what they're wearing. Clothes can kind of become empty signifiers. And I think style has lost some its power to shock, because some of that UK garage style was quite shocking – not in a punk way; but it was so bold, and brash."

Dan Hancox is the author of Inner City Pressure: The Story of Grime.
Header image © What We Wore / Hoana Poland