Give the Drummer Some: Greg Errico
J-Zone sits down with the veteran drummer to discuss Sly & the Family Stone, sessions with Betty Davis and how rhythm is a language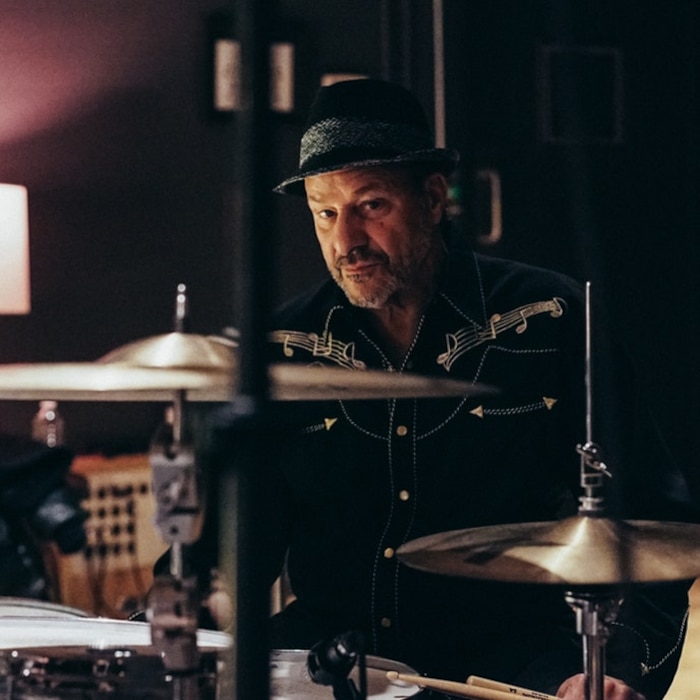 As the original drummer for the legendary Sly & the Family Stone, Greg Errico provided the rhythmic bedrock that bridged "flower power" psychedelia and the nascent funk revolution. Eschewing flash for groove, Greg's pulse on Family Stone essentials like "Sing a Simple Song," "You Can Make It If You Try," "Thank You (Fallettinme Be Mice Elf Agin)" and many others remain studies in steadfastness, virtues that gave his work new life decades later when the likes of Dr. Dre and Snoop Dogg, LL Cool J, Public Enemy and countless others famously sampled his drum patterns.
In this edited excerpt from Red Bull Radio's Give the Drummer Some, Errico sits down with J-Zone to discuss classic-era Sly, producing and playing with the elusive funkstress Betty Davis, gigging with jazz fusion pioneers Weather Report and how the drum is the "first language of humanity."
I always go back to your work as an example of what a drummer should do – which is drive the band. One of the classic rhythms is "Sing a Simple Song." How did that breakdown come about?
Drums used to be a background, incidental instrument and they were mixed as such in the back of a record. Sly loved rhythm, he was inspired by it, so he mixed the drums in front of the record. That was the predominant sound and everything else went on top of that. I always approached it like the band was an orchestra. Even though it wasn't a big band, I played the sessions and I played the drums like I did live and like my passion drove me to.
When did you first hear your drums sampled on a record?
When I had gotten away from playing and I became inactive, more or less, I would hear stuff on the radio and I didn't realize it at first. I'd go, "Wow, that sounds familiar." It caught my attention. But I just kind of let it go. Then come to find out some years later that they were sampling these recordings and performances, and yeah, that was me.
I didn't know what to think at first. It sure would have been nice to get financial reward, but at the end of the day, later on when I started really thinking about it, it was inspiring to know that something you did in the past had enough value to inspire other people to do something with it again. Like I said, it would have been nice to be financially rewarded, too, but it was nice to be part of the new world.
I remember reading somewhere that you learned how to play drums by just playing to records.
Yeah, self-taught. Actually, I was always drawn to music, but I just loved drums in particular. I didn't start playing until I was 14. I had a little job and I saved up some money and I bought my first little drum set at 14. I used to practice to records. I'd listen to everything from Morello and Brubeck, Take Five, JB, Wilson Pickett to Aretha, Ray Charles and Xavier Cugat. Growing up in San Francisco, it was an international intersection, so there was a lot of culture and a lot of music there that I was exposed to.
Was there a distinct musical sensibility in the Bay Area? I've spoken to David Garibaldi and Mike Clark and it seems like there was a vibe going on there with the musicians.
As far as I can remember, growing up, San Francisco always had a unique perspective on things. There was a lot of music and a lot of creativity going on, but it wasn't on the map yet, meaning that, say, in the '50s and early '60s you had to be in New York or LA if you were doing music and wanted to be visible. But San Francisco was always just in the background kind of quiet and it just so happened that the creativity and the spirit which existed in the Bay Area just burst the whole psychedelic music scene: the Grateful Dead, Quicksilver, Janis [Joplin] and all that came out of there. That's where this hotbed of activity was and it started getting the attention of the world.
You say you started at 14, but when you joined Sly & the Family Stone, you were right out of high school.
I was 17 1/2. I was still in my last six months of high school. By the time I was 15, I was playing in clubs and beer joints with older guys. It's just the way I was. I didn't think anything unusual or anything about it. Then I had met Freddie, Sly's brother, I think in my last year of high school, and we started a band and that band went for about a year, and then the following year is when we started the group.
It was December of 1966. I actually went over for a rehearsal with Freddie from Freddie & the Stone Souls. Freddie and Sly had been talking about putting a group together. Sly had made a couple attempts of putting together a group, but he scrapped them all. This was kind of his last swipe at doing something again. He kind of handpicked everybody and that night, we all met for the first time. We talked about what we were going to do, and then the following week we rehearsed every day and night, and then started gigging.
So, when you go to that meeting in late '66, and you look around the room and it's not only ethnically mixed, but also male and female – and you have a quirky leader like Sly – are you thinking, "Wow, we're really on to something different here. We might freak people out." Or was it just, "Hey, these are the local guys."
That night that we first met, we didn't play, we talked. And this is during a time of considerably high racial tension in the country. So it's like, "Wow, this is kind of cool." We all felt really good and uplifted by the thought of this before even playing a note.
Sly let everybody be part of the creative force of what made those records, and that's why I think they were so unique.
How long was it after that first meeting that you got the deal with Epic for the first album in '67?
It was about a year. We played locally, and we had some places we'd play every week. And we used to do afterhours. We'd do a set from 8 PM until 1:30 AM and then take a break, and at 3 AM start an afterhour show to go until 5 or 6 AM.
We developed a scene down there after some months of playing. A fellow by the name of Dave Kapralik, who worked for Clive Davis, had heard about the group and came out to see us. That's when we got signed to Epic and started making records. And that would've been, probably late '67.
Were you really just playing by the seat of your pants a lot? Just coming up with stuff on the fly, and just letting loose?
All that early stuff, I think was – with all of us – approached very unconventionally. Like that first record called A Whole New Thing, wasn't successful back then. When it first came out, it really represented what the band was doing, but there wasn't a commercial voice to it. It had its own place and its own thing. Musicians used to [be the only ones] carrying it under their arms.
What kind of band leader was Sly? Was he like a Buddy Rich, James Brown, driving the band and a workaholic, or was he a little more relaxed?
He was as unique as they come. He wasn't a dictator, I mean, there were some things that he had specific ideas [about], but most of all, he let everybody be part of the creative force of what made those records, and that's why I think they were so unique.
"You Can Make It If You Try" and "Dance To The Music" broke ground when it comes to song structure because everything broke down to just drums. For the hip-hop generation, 20 years later, that was the song structure that most producers were sampling.
Rap is rhythm and rhyme. It's a drum beat, a groove and poetry. That's what rap is. Very few artists, back in the day, did that. Rhythm is fundamental in the universe, and in communication as music. There's no language that speaks to everybody, all cultures, like rhythm.
You guys played Ed Sullivan. Sly opened that show up with "Don't Hate The Black, Don't Hate The White, If You Get Bitten Just Hate The Bite," and that statement kind of embodied what the band was about. Did you ever experience any resistance to what your whole vibe was when you went to other parts of the country, or when you traveled internationally?
In traveling, yeah, we had our challenges on the road. Going down in the South back then, and looking like we looked and representing what we represented, it was challenging. We all had each other's backs and we handled it.
I can remember one heated moment when there were riots going on. I think it was late '67. It was the middle of the night and we had a van with our equipment and a station wagon. We were out of gas, so we pulled off in downtown Detroit. And within a couple moments, all of a sudden, we're pulled over by the National Guard. And within the blink of an eye, we're up against a brick building with our hands on the wall, and there's a row of guys behind us with machine guns pointed at us.
And I can remember Sly, he wasn't the quiet type. So in this kind of a heated situation, he's mouthing off. It was challenging. And we're going, "Shut up, Sly. No, not now. Don't go there." At the end of the day we walked and everything was cool, but it was intense for a moment.
There are drum machines all over the album, There's a Riot Goin' On. Did you have to play with it at certain points?
No, I had left the band at that point. Drum machines back then, they ain't what you've got today. It was just like something you would use if you were a lounge act in the Holiday Inn doing some Pat Boone music or something, or some cha-chas. But Sly, being who he was, he took it and realized, "This is kind of a cool sound, but I don't want this thing that, as soon as you hear it, you identify a Holiday Inn lounge act, I ain't gonna have that."
So he took it and he flipped the rhythm around, meaning that instead of starting on one, he started the one on two, or maybe on three, which inverted the rhythm. It was unorthodox, so it had created this whole other element that it wasn't intended for, but he made it a reality, and that's what started that whole thing. It was incredible.
How hard of a decision was it to leave the band?
You know, at the time, it wasn't a hard decision. We were at the top of our game and a lot of people used to ask me, "Man, how could you walk away from the band?" Looking back at it, it was a little difficult for a while for me, but I had a lot of opportunities to go out and play and continue my career. I left because I didn't see a path or anything that I could bring to the table any longer to change the situation. And it's really a tragedy. No one died or anything like that, but I mean it's tragic that the focal point changed from it being all about the music and our relationship to chemicals.
And when I got to that point, it wasn't hard to walk away and I didn't turn back.
You got a chance to play with a lot of great people in the years after Sly & the Family Stone, and one of them was the Weather Report. How did that come about? It's a pretty different style of drumming.
I took that year off and guys were moving out to the West Coast back then. One of them was a bass player by the name of Dougie Rauch. He ended up living with me for a while, and I had a little studio downstairs where I had my drums set up and I would jam with people and record ideas.
So, Dougie brought a guy named Miroslav Vitous, he was a bass player from Czech, I think it was, and he was with this band called the Weather Report. He says, "Hey, Joe [Zawinul] is looking for a new drummer." And I had heard about the Weather Report, but truthfully, I wasn't familiar with the music. And he goes, "We're going out on a tour, would you like to come out with us?" So I said, "Yeah."
Touring the world with the Weather Report was an unbelievable experience. Weather Report seemed really interesting to me, because it was a whole 'nother area and I had one of the most wonderful experiences of my life. I loved it.
You mentioned you were doing a lot of production. One of the records you produced in that time period was for Betty Davis.
I met Betty through Michael Carabello, who was a conga player in the original Santana band. He was going out with her at the time, and we were working on a project, Michael and I. So he kept saying, "Hey, Betty wants to meet you." And we were in the studio one day and he said, "She's in town." So he asked if he could bring her by and I said, "Yeah, bring her by." And by the end of that day, she had asked me to produce her record – "Anti Love Song" and "If I'm In Luck I Just Might Get Picked Up."
It was really a very cool record. And again, that was one of those records that wasn't necessarily commercially successful, but it still lives this day, as we sit here and speak, around the world. I'll get calls from people wanting to get a hold of her, do a documentary, or to do a story. And the record, it just keeps popping up over the decades – it's just amazing.
So, you were doing a lot of production work, and studio drumming in those years in the '70s, but then in the '80s you kind of kept a low profile. Did you take a break from music?
Yeah, and that's when I started to raise a family and had some kids, so I kind of got out of the scene. In the late '90s sometime, some promoter in San Francisco who's doing this thing called the Funk Festival, had called me, he said, "Could you get some of the Family Stone together, or could you come out and do some of the music, and get everybody you could?" Well, you know, it wasn't going to happen to get the whole Sly & the Family Stone back together, but I did get some. I think I got Cynthia and Jerry and myself, and even Little Sister on this one event that we did.
Over the years, different configurations came and went, and so as the dust settled, it was me, Jerry, and Cynthia that continued to support going out and playing our songbook. Unfortunately, we lost Cynthia last year, and now we've got Sly and Cynthia's daughter, Fun, in the group now, and we're still doing it. I really enjoy it – going out and performing, doing the music still.