From transforming nightlife to making space for new musical genres, seven collectives share insights and lessons from striking out on their own
Between the toils of individual pursuit and the bureaucracy of traditional institutions lies a fertile middle ground – collective action. A notion commonly evoked in the political sphere, collectivism has played a pivotal role in major cultural moments. In Chicago in the late 1960s, the pioneering art collective AfriCobra utilized this resourceful approach to reorient the Black Arts Movement towards bright colors, African-inspired geometry and positive imagery. In the late 2000s, West Coast outfit Odd Future capitalized on shock value and the rapid rise of social media to champion a new brand of alternative rap. In 2019, communities all over the world – both virtual and physical – are paving new pathways in music and nightlife through their own combined efforts.
To learn more about the ins-and-outs of working as a team, I spoke to seven collectives from various corners of the globe: Arabstazy, a multidisciplinary platform based in Tunis, Paris and Berlin; Vibe Music Collective, a global artist-led community co-founded by singer and producer Iman Omari; EA Wave, a Nairobi-based producer collective shedding a light on new East African sounds; SISTER Worldwide, a virtual collective for women and gender nonconforming artists and professionals in electronic music; TRRUENO, a Buenos Aires-based label and crew of musicians and visual artists; Papi Juice, a New York-based trio and party series dedicated to queer and trans people of color; and Moonshine, a Montreal-based label and party collective championing music of the African diaspora.
Arabstazy
When we started the collective there was all this hype around electronic oriental music, which we really didn't recognize ourselves in. The main purpose of Arabstazy was to work on the Arab identity but from a North African perspective. So it was mainly questioning this identity and rather say, in the best words, that it's a mosaic and it's great. From the very start we wanted to be multidisciplinary, and we [also] wanted it to be a way of experimenting around the possibilities of live electronic performance. Even when we have support DJs, it has to be live, and we try [as best] as we can [to have] live videos – not VJing, but real live videos.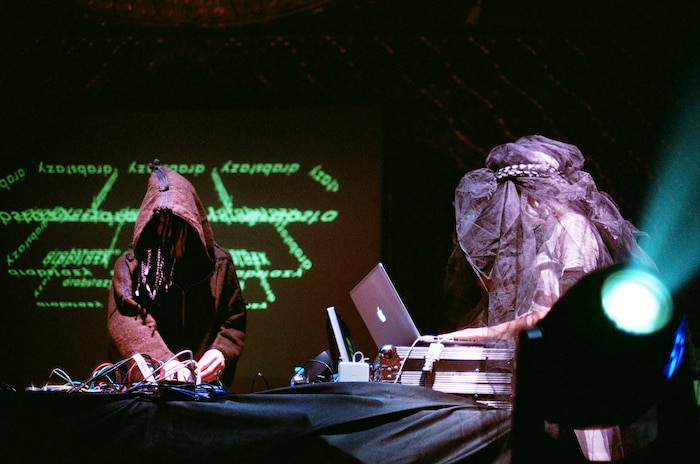 It's what we'd call an intuitive platform, meaning that it is always changing and the projects are [always] changing. One influence was early modern arts and video collectives working in Europe in the '80s that made something that had a certain amount of provocation. Provocation, when it is coming from one person, is often considered a gimmick. When it comes from a group of people that are working together to break boundaries within the arts, we can ask questions like, "What is an electronic live show? What is Arabic electronic music?"
Vibe Music Collective/Iman Omari
When it gets down to how much it might cost for you to do what you do – as a real musician – that can be really disheartening. So Vibe Music Collective was started to create something where that wouldn't be an issue. A place where artists can go and you would be appreciated no matter what you did. If you have a full band or orchestra or if it's just you and the DJ, it doesn't matter.
A lot of the business that goes on in the music industry has to do with just that: business. But too much of it is focused on business to where it has nothing to do with the art anymore. So I wanted to create something that also encompassed and cared about the art as well. Doing things on your own won't get you that far. There's a definite ceiling with that. With a collective, I don't see that there's any ceiling.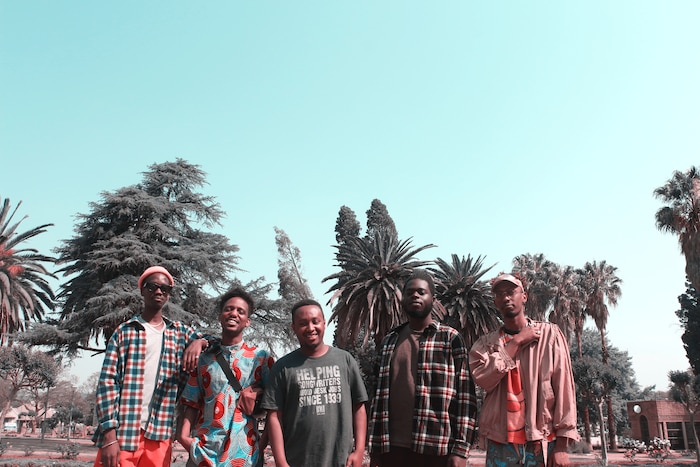 EA Wave
We met on the internet, on SoundCloud specifically. It wasn't a collective per se, it had started out as a musical genre. We basically wanted to create a music genre for East Africans and to have different producers so we could make a recognizable sound. But in the end there were just about five of us that were actually pushing that, so we decided to form a collective.
SISTER Worldwide
It started as a pretty small Facebook group. Originally the group was just like a forum, a place to talk and to share experiences and frustrations in the industry as a non-male person. Also, because there are many initiatives globally of this sort – feminist-leaning, activist-leaning collectives – it has kind of evolved into a place for those collectives to connect with one another globally and cross-pollinate ideas, musicians and scenes bubbling up.
TRRUENO
There was already a network of us collaborating and playing at the same venues and shows. So at some point we thought that it could be useful to help each other out with all the promotion of our art. We decided to create the name as a sort of hashtag for the network that already existed. Being able to know more people in the same scene brought stability to each one of the projects and members.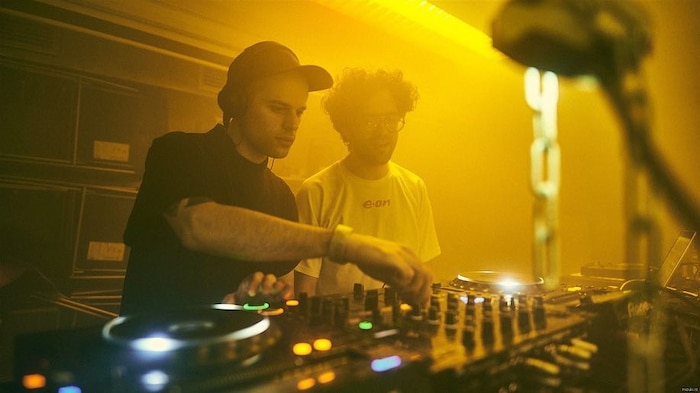 Papi Juice
We were just sort of friends that were doing this thing together. Then we really noticed how much our collaborative practices pushed our presence and our spaces a lot more, and in better ways. We were also really excited to collaborate and learn from each other. So we were like, "Oh, shit, that's kind of what a collective does."
We realized that the work that we were doing felt so much bigger than just the nightlife moment, because we were also dabbling in art and music and fashion in this really unique way. Collective work is very unique, and it's even more unique than an individual artist practice, so it can also be that much more challenging.
Moonshine
We were inspired by the music that we were listening to and we wanted to hear that music out and see more diversity and representation in the local culture. We started in a kitchen a couple years ago, then the kitchen started to feel a bit small. We're actually all childhood friends and everyone's pretty tight for the most part, so nobody thought that it would be something they would do on their own.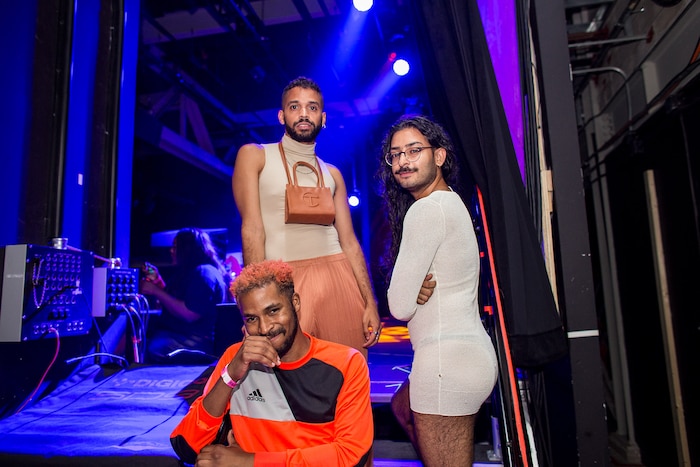 Vibe Music Collective/Iman Omari
At first we were more like a collective, but then we had to be like, no, we're a business, so maybe we should act as a record label and drop things. Or, why don't we have our own store?
The sonic traits that we have are on par with what the Soulquarians were doing. We're on that vibe but we're pushing the envelope. It feels like we're picking up where they left off. We want to continue that legacy of that type of music, because so many people talk about being healed off of it.
TRRUENO
Being underground [in Buenos Aires], it's very hard to have a long-term goal. It's easier when you have short-term goals. However, some goals we have in common are to travel and create more unexpected situations.
Moonshine
We feel like it's not fair to have great music that all our friends here play, but the creators of the music can't come here and play the music even if they wanted to. So we want to collaborate with more artists in Africa and Latin America and really break those borders.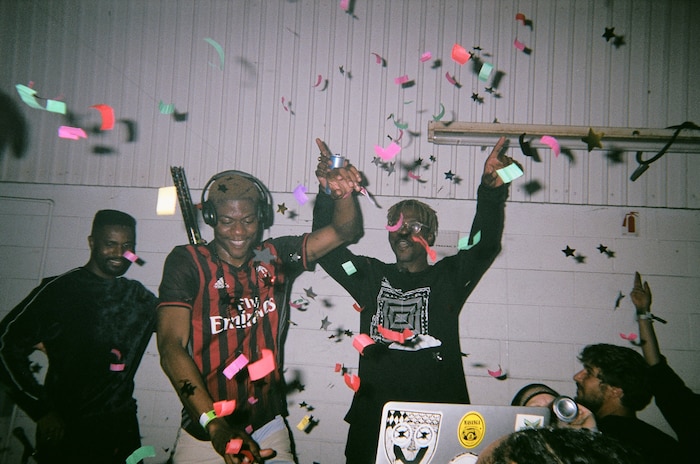 EA Wave
We were probably a bit ambitious trying to pocket East Africa into one sound. Through the years we've noticed how big it is, and that each country has its own sound and its own subgenres. Now we're more [interested in] picking these different sounds and artists who we've met from those regions and giving them a platform where we can play their music and share it with the world.
Arabstazy
The right word is intuitive since our collective work is usually based on our friendships. Eventually what we need from the people is to come with their own projects, to be entrepreneurs of their own thing. Which is great, because they come with merit and they come with a personal sensitivity. But they can also bring trouble because when everybody has their own view, their own way of doing things, their own aesthetics, sometimes it's hard to find the right way to mix it.
Vibe Music Collective/Iman Omari
The most important attribute is real creativity. The only thing that we try to do is quality control like, "Yeah, love the music, but you should put it out like this." The reason for the collective is to let you know that you're doing it yourself but you have help. The best part about that is when artists are done with this they will literally know how to create an album for themselves and they won't have to go look for somebody else to teach them that or they won't have to feel like they need to lean on a major label in order to get this thing done.
Papi Juice
Taking criticism. We've all had to deal with it in different ways and it's been really important for us to learn how to accept and grow from critiques that are coming from our broader community. Just because it's our space celebrating queer and trans people of color, doesn't mean that every single queer and trans person of color would feel at home and would feel free and will feel all the things that we want them to feel in this space.
Also a certain flexibility is a trait we all have. Something as simple as Adam R. having to hop on a deck because a DJ's sound isn't working – that kind of in the moment steadiness is so helpful. We all have either learned it by working in a fast-paced environment or it's just something that we're really good at.
Moonshine
While everybody loves the same music, everybody also has their different strengths and it ends up just working out. Some people are creative, some are good with numbers and they own that. There are just enough people part of the collective with the strengths that are needed to help push our events.
EA Wave
Basically we just wing it. For example, when we're making music, someone will start one song and if someone really has something to add then they'll add on, and if someone feels like they don't have anything to add, that's okay.
We have a Dropbox folder where if someone is making a song, someone can put in their demo and everybody listens to it, but at the end of the day we're also friends. We hang out, so it's just easy because it feels natural, and that's the most important thing.
Each person has to agree for a decision to be made. It takes longer, but at the end of the day as long as everybody is really happy and everybody puts in the decision, that's what keeps the collective really strong and everybody feels like they have a say and a part to play.
SISTER Worldwide
We don't have a Share Music Monday or something, but a lot of the content [in the Facebook group] tends to be personal anecdotes, sharing music and we have a lot of people that say things like, "Hey, I'm doing a mix this week, send me things that are gabber or hardcore, or whatever." So that's cool because it allows people who are producers to send their stuff and get it heard. A lot of people post travel dates which has also been great because people get booked through it. One of the nice things is that it is organic and unstructured, things can grow and develop in their own way.
Papi Juice
We found that before every event or any sort of thing that we're doing together, it's important to have, even if it's just 30 seconds, a moment of us being present and setting this really positive and really powerful intention to do the best we can do. We also have a debrief meeting after every event.
We write down intentions every year when we go on a retreat where we realign. If we have any rules, it might be something like we said earlier, presuming positive intent and staying committed to not only our partnership but also our friendship.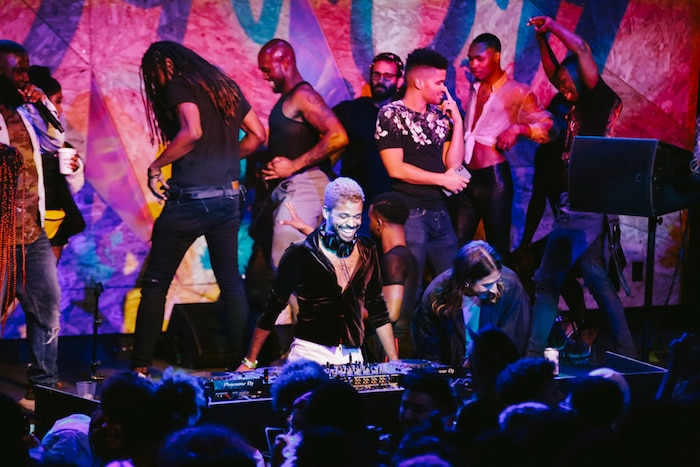 Since we all met on Tumblr, the virtual community will always be a really important part of the way that we build with people. But at the same time, any time that we've gone to a different city we're connecting with people first virtually but then most importantly is personally.
Arabstazy
There is artistic direction but we are not interfering in any way. We're just there to back things up. Meaning, if there is an artist who is good but is lacking a mix, somebody might jump in and help.
Moonshine
Decisions are gonna be made in a living room with some shisha and some tea, versus going through one or two people with the final word.
TRRUENO
Many times one of the members has this strong motivation to make something, and if other people from the crew are cool with that and they want to make something too they fall in and help. We try to trust each other so we don't have to have a leader to guide us.
SISTER Worldwide
The downside is that it you really get as much out of it as you put in. For better or worse – and sometimes things fall by the wayside when you can't put in that effort.
Papi Juice
Maintaining a realized image of our own private practices - which are so informed by our work together – can be difficult and sometimes the line can get blurred. Ultimately though, it always leads back to the same path and so any work that we're doing together is an image and reflection of our own abilities.
Arabstazy
We started the collective because we didn't recognize ourselves in anything...even in the instruments. For example, we built an electric Gombri (traditional North African instrument) because we wanted a specific sound and a more efficient instrument to carry on tour.
SISTER Worldwide
DIY is very much about being autodidactic in a way and really stepping up and saying, "This is a skill I need to learn. How am I gonna figure it out?" And teaching yourself things, and teaching others within a community. That's kind of what's amazing about this era of the music industry that we're working in is that musicians have to be jack of all trades, or Jill, or gender nonconforming.
TRRUENO
The DIY philosophy is not something we are ruled by but it's something that is built into how we work and interact. If you want to make stuff you really want, you have to be DIY.
Arabstazy
There was one particular moment in the beginning. We were in Brussels and we played together. It took half a year to convince the people in Belgium to let us do the showcase and sadly, it ended up being on the same night as the terror attacks in Paris. So we went up on stage and performed and it was quite a sad night, but people stayed and joined with us. Sometimes you have a moment in music when you do the show and it becomes about what you build and how you connect to the people around you. It was quite a night.
EA Wave
It was our first gig ever because we operated online for a year and then we had our first event. The whole community and everybody who was online came for it and it was one of the most beautiful moments because almost everybody in the scene decided to perform for us pro bono. These were really big acts in Kenya and they were like, "We see what you guys are doing and we'll support your gig and play for free, just because we really appreciate what you guys are doing in the scene." So, that was a really big, proud moment.
SISTER Worldwide
The compilation was definitely something we were incredibly proud of because it was awe-inspiring to see the level of talent in the group and just how sonically diverse the sound is. Everyone is really doing something fresh and new that they are very passionate about and that's very exciting.
TRRUENO
A university gave us a huge warehouse space to use for a performance. We did all the lights and visuals and the sound system and everything. We played and we also invited people who played some sort of free jazz with drums and a saxophone. Then we played our live sets and there were also DJs from the crew and guest DJs. It was in a neighborhood that's a bit far from the whole club scene and all the nightlife, but it worked and it was amazing to see it because it looked like some sort of a festival in Germany and it was made by us. We're not mainstream here, but that was a very cool show to see how the DIY scene could be on the same level as something that is made with lots of money.
Moonshine
We're always proud to see people not want to leave the party in the morning, even after the sound is out.
Header image © Johannes Ammler