The Far-Out Futuristic Fashions of Designer Larry LeGaspi
Renowned for his otherworldly costumes for groups such as KISS and LaBelle, the inventive designer almost fell into obscurity – until a famous fan brought him back into the spotlight
From Bob Mackie's outlandish concoctions for Cher to Kansai Yamamoto's Ziggy Stardusting of David Bowie, futuristic fashion and rock spectacle went hand in silver-gloved hand in the '70s and '80s. But one designer took it farther out than the rest, pioneering the use of technologically advanced materials like Thinsulate and producing iconic stage costumes for stars as varied as LaBelle, KISS, Parliament, Diana Ross and Grace Jones. In 2019, thanks to another favorite clothier of rock's elite, Rick Owens, designer Larry LeGaspi is having another day in the alien sun.
Dubbed the "King of Intergalactic Chic" and celebrated in the 1970s for his "Star Trek garb" and wild imagination — no one else could send Eartha Kitt out in a giant manta ray suit, or outfit Patti LaBelle as Barbarella — LeGaspi was also a steadfast craftsman who was able to yoke his fantastic ideas to a deep personal philosophy. "This is the space age," LeGaspi said in an interview at the height of his fame, in 1980. "We've been in the space age for over 20 years. People say, 'That's science fiction, we're not supposed to look like that!' My clothes say, 'Yes, you are supposed to look like that.'"
"When we first did the Mothership Connection album in 1975, I knew that I had to get the costuming from Larry LeGaspi," George Clinton told Vogue in 2018 about LeGaspi's Parliament-Funkadelic work, which included canary-yellow top hats and star-shaped glasses, as well as nine-inch studded platform boots. "That was one of my favorite looks of all time," Clinton said. "It was hard to wear on stage but great to take pictures in. You could pose real good, but you couldn't do much jumping out of spaceships."
Despite his famous clientele and successful prediction that futuristic fashions would ride the New Wave of the '80s, LeGaspi's reputation fell into obscurity well before his death.
"I called him Star Child," said LeGaspi's wife, model, muse and assistant Val LeGaspi. "He was a kind and generous man, who was incredibly driven to achieve these cosmic visions. People gasp when they see his sketches because they always show a piece from different angles. That's how things would come to him, all at once. He would magically visualize how something would move onstage, how the light would hit it in a three-dimensional way."
Despite his famous clientele and successful prediction that futuristic fashions would ride the New Wave of the '80s, LeGaspi's reputation fell into obscurity well before his death of AIDS-related illness in 2001 at age 50. "What Larry LeGaspi did was a huge thing — the way he infiltrated Middle America with this subversive sensibility," Owens said in an interview, describing his obsession with honoring the older designer's influence. This obsession would play a role in the story of LeGaspi's rediscovery, which is almost as fascinating as his visionary forays into uncharted galaxies of glamour and acres of neon pink rayon.
From Moonstone To Mothership
Larry LeGaspi knew from an early age he wanted to design clothing, inspired by Flash Gordon and Katy Keene comics, the Art Nouveau drawings of Erte, H.G. Wells' science fictions and the sparkle of Motown stars. The day after he graduated from his Lakewood, New Jersey high school in 1968, he moved to New York City, scoring a Sears Kenmore sewing machine from the Salvation Army and attending classes at the Fashion Institute of Technology. With jewelry designer Richard Ecker, LeGaspi launched a line called "Mother Superior Clothing" in 1971, which was sold at Manhattan boutique Abracadabra. "It was pre-Jesus Freaks and about two years before Jesus Christ Superstar," wrote fashion journalist Marcia Flanders, "but they did little blouses out of altar linen, tank tops with religious emblems and Cardinal Red handbags and clogs with embroidered red crosses."
After the proto-goth splash of Mother Superior, LeGaspi opened a small boutique called Moonstone in the East Village with Ecker and graphic designer Rob Cobuzio. There, LeGaspi let loose his sci-fi fantasies: silver stalactites graced the interior and the ceiling was a Milky Way of rhinestones on stretched jersey fabric. Moonstone drew a constellation of forward-thinking musicians, hip fashionistas, nightlifers scoping out new dancefloor looks and plenty of curious onlookers. ("They thought I was selling Halloween costumes at first," Legaspi said.) Oh, and interstellar travelers, too. "I actually had a woman, one of those people who thought they were from outer space," he told Mablen Jones, author of Getting It On: The Clothing of Rock and Roll. "And a man and his wife — they ordered space suits because they were going to stay out in the desert to wait for a spaceship to land." He asked they pay in cash.
His futuristic fashions were starting to take off, and it was at Moonstone that LeGaspi developed trademark aspects of his style: cocoon coats, bodysuits, thigh-high platform boots, billowy tops, asymmetrical cuts and inventive use of new and luxurious fabrics like matte jersey in neon and metallic colors. Despite looking beyond the horizon for inspiration, LeGaspi skillfully utilized more traditional elements in his design that were popular in the '50s and earlier, such as trapunto stitching, high collars, sculptural shoulder pads and puffy sleeve caps. Meanwhile, LeGaspi was immersing himself in the theater and music scene, and managed to score his first big clients with famous trio LaBelle.
LeGaspi had been obsessed with LaBelle since age 13, when he had heard their single "Down the Aisle." According to a memoir he later wrote, he had even hopped a bus from his hometown in New Jersey to see the group perform at the Apollo Theater, and found himself the only white teenager in the crowd. Years later, when LaBelle was performing regularly in the Village, he would attend their shows devotedly, finally working up the courage to approach their manager and offer to fashion new costumes for the act for free. The group agreed, and when he asked about their wardrobe preferences, Patti LaBelle said, "Honey, make me anything. I'll be happy to have a new costume."
LeGaspi sewed LaBelle new costumes from matte jersey, an expensive fabric at the time, on his Salvation Army sewing machine. The women loved them, performing in them at Greenwich Village bar The Bitter End – until member Sarah Dash raised her right arm and her left breast fell out. Apologies were made, and LaBelle hired LeGaspi on at $50 per costume. The collaboration proved stratospheric for both parties. LeGaspi's hugely original style allowed each member to have a distinct personality, whether Andromedan peacock or space opera ingenue, and helped propel the group to the top of the charts with songs like "Lady Marmalade."
It also led to a groundbreaking 1974 concert at the Metropolitan Opera House — the institution's first rock concert – themed "Wear Something Silver," for which LeGaspi bedecked Patti in a humongous feather mohawk and Nona Hendryx in a blinding chrome bra designed by Ecker. The concert was celebrated as a breaching of the mainstream bourgeois gates, and it attracted LaBelle's core audience at the time, which Hendryx described to People magazine as, "Bloomingdale's blacks, lots of gay people, young college hippie freaks, some Spanish-speaking people and even some old people like our parents." In 1975, LaBelle sported LeGaspi's designs on the cover of Rolling Stone – making history as the first black female group to appear there.
LaBelle's success pushed LeGaspi into the top tier of rock designers, and in 1973 Bill Aucoin, the manager of KISS, came calling, looking for outfits that would match the group's fire-breathing, blood-spitting antics and replace the cheap S&M gear the members were buying from sex shops. LeGaspi took cues from the band's makeup and stage personas, creating a sci-fi-comic-meets-rock-opera horror fantasia that included a black satin body suit trimmed in monkey fur and leopard skin for Peter Criss's "Catman," leathery bat wings and an enormous tusk-studded jacket for Gene Simmons' "Demon" and a very revealing ensemble sutured together with ball chains for Ace Frehley's "Starman."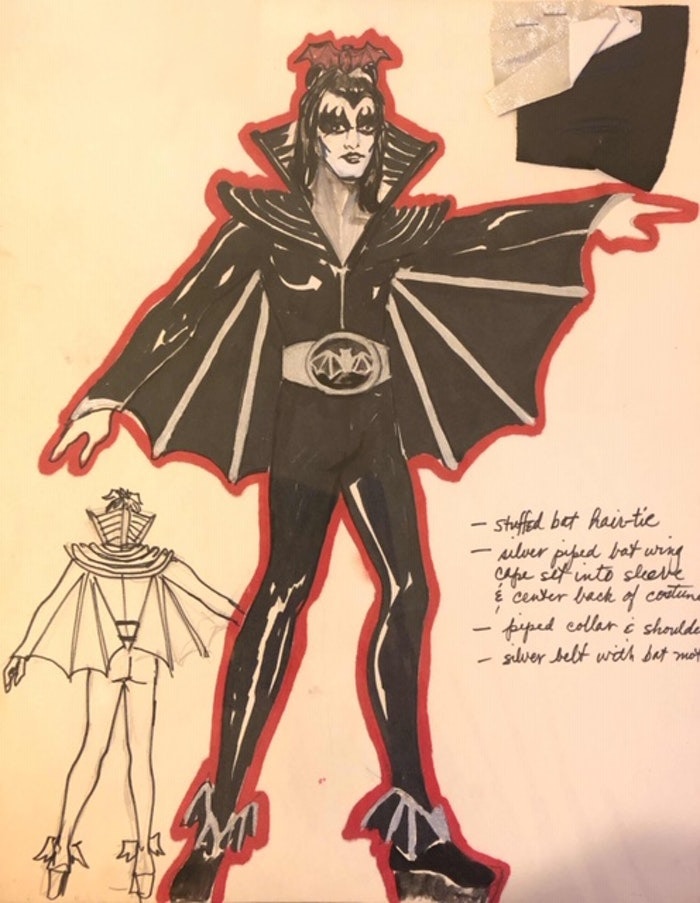 Almost all of LeGaspi's ideas were incorporated into KISS's familiar arena concert costumes, including those for their record-breaking Destroyer tour, and his designs appeared on the cover of the KISS Alive album, which cemented the group in the American cultural imagination. LeGaspi was the main KISS designer through 1978, rejoining the act in 1981 to design costumes for the Creatures of the Night tour. Thomas Hine described LeGaspi's KISS effect in his book on '70s style, The Great Funk: "Kiss built on the glitter rock foundations of Bowie and LaBelle, and it certainly had an element of sexual ambiguity. But its music derived from the crude, loud, hypermasculine style of heavy metal. It was defined nearly as much by its sadomasochistic costuming as its pounding beat. Kiss and some other glam rock bands capitalized on sending a deeply mixed message that allowed their fans to play with androgyny even as the music literally screamed machismo."
By this time KISS was just one of LeGaspi's stellar clients, and he really let his imagination fly free with his designs for George Clinton's Parliament and Funkadelic. For those, he reached forward into gender-bending Afrofuturism, creating such fabulous characters as a cerulean, thigh-high-booted "Unicorn;" a glam "Black Venus" with a cascading floor-length blonde Afro, leopard-print Tarzan leotard, rhinestone butterfly glasses, boar-tooth necklace and ostrich feather-trimmed platforms; and a human-automobile hybrid "Futuristic Cadillac" outfit with a wheel of foxtail-bedecked radio antennas for a headpiece, white leather loincloth and huge chrome studs. The pièce de résistance may have been LeGaspi's "elephant pants," which affixed an elephant's head to the front of gray leather chaps, its pendulous trunk swinging flatteringly. "Larry made all these sci-fi costumes," Clinton wrote in a memoir. "They made us look wild and interstellar."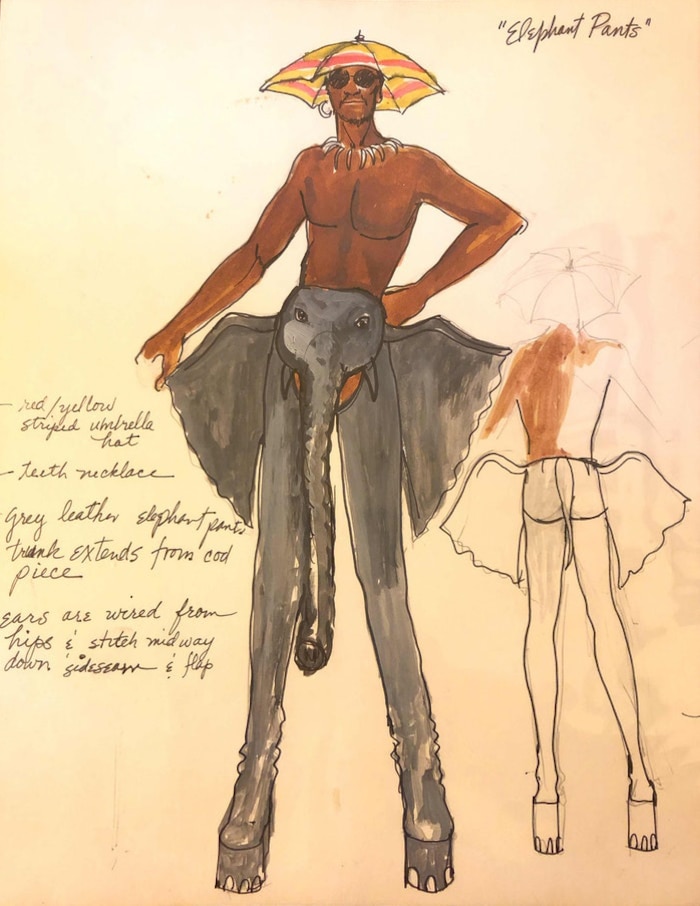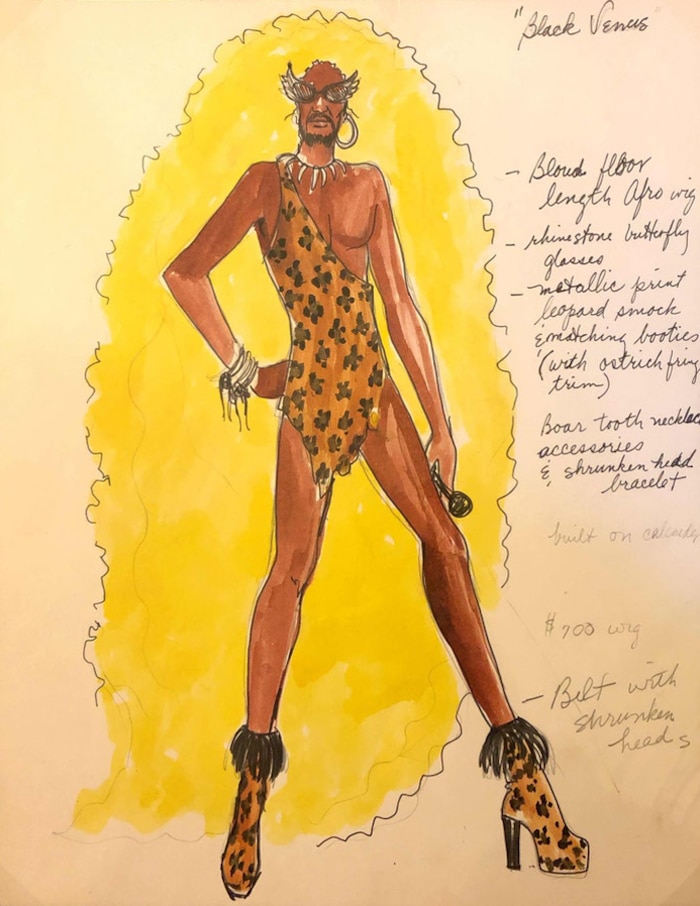 "My design ideas come from my childhood fantasies," LeGaspi said in 1975. "I dream of other planets. I'm always finding myself in very strange places in my imagination... and space seems to be the only direction for me to go."
Blazing A Cosmic Trail
As his client list ballooned, LeGaspi moved on from Moonstone, first opening LeGaspi Studio on Madison Avenue in 1977, and then transferring to the Upper East Side in 1979. He had also met Valerie Arnoff, a Queens-born beauty from a family of designers. She would become LeGaspi's invaluable studio assistant and model, as well as personal partner — they married in 1982. (Her LeGaspi-designed wedding dress was a Victorian sci-fi fantasy, a regal space queen in an ornate hoop dress.) "Larry was very gay, he was always out about that," Val said. "But we had a very special romantic and working relationship. Larry's work was his life. He had a very small inner circle, and only really felt comfortable when he was creating." She continued, "The Madison Avenue studio was such a lovely showcase for Larry's designs. Most of our business was custom or costume, and Larry had it laid out so he could start working with you the minute you came in. We would work around the clock, 23-hour days. If there was a shower in the studio we never would have left – except to go to the disco!"
The duo rented a studio apartment around the corner to avoid having to fight traffic, and poured themselves into the business. Despite their driving work ethic, they were gathering a coterie of close friends – among them fashion photographers Bill Cunningham and Roxanne Lowitt, and Divine, whose penthouse apartment they briefly moved into when the underground drag phenomenon sought her fortune in Hollywood. LeGaspi's designs for Divine, a hilarious and rowdy presence backstage at clubs and shows, included costumes for her stage show Pork: a waffled ice cream cone dress with a cherry-topped double-scoop wig, a pork chop bikini and a hot pink piggy bodysuit with trotter-shaped gloves and stilettos.
LeGaspi was experimenting with space age fabrics like Thinsulate, which had previously been used mostly for survival wear, as well as his favored matte jersey and other materials like Caprolan nylon and rayon. "Thinsulate was a wonderful breakthrough for me," he told the New York Times. For the Met Ball in 1979, he outfitted Val in a balloon-ruched red velvet cape and gown lined in Thinsulate that cost $2,000. "It gives you the warmth without the bulk," he said. At a time when Goretex and Kevlar were just hitting the market, LeGaspi correctly predicted technologically advanced fabrics would eventually become part of everyday wear.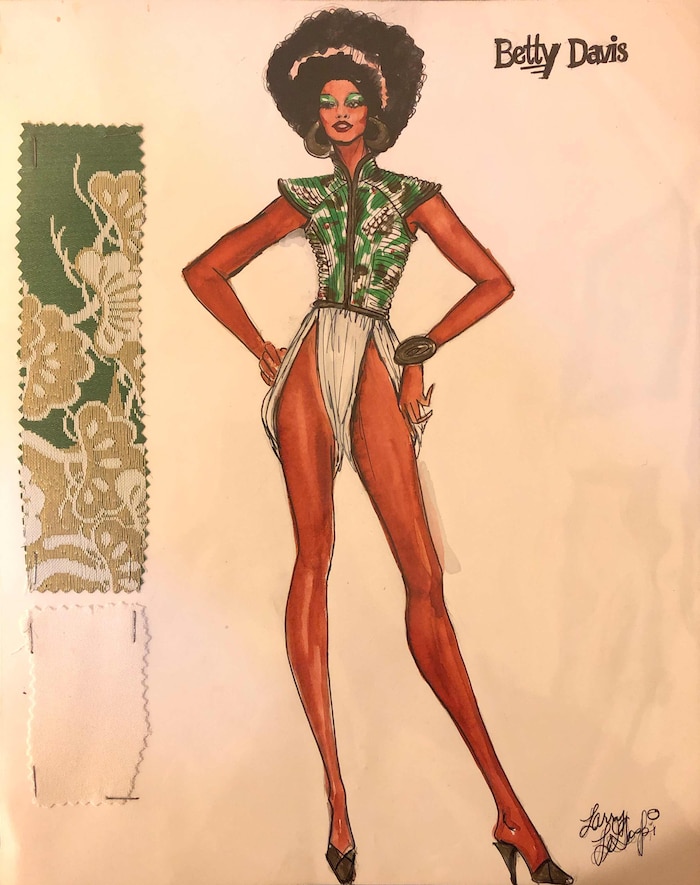 Despite the heavy and sometimes unpredictable workflow of the studio — "A lot of our clients were mostly entertainers or wealthy people," Val said, "So they could be kind of flaky or set very unrealistic deadlines. They also expected a lot of free stuff" — the pair still found time to go out on the town. "Larry loved going to the Met Ball, for him that was one of the most magical nights," Val said. LeGaspi used nightlife and social appearances as not just promotional opportunities – he only did two official runway shows during the 10 years he worked with Val – but also experimental test-runs. "For one fundraising event at the opera, he dressed me in his Queen of the Night dress," Val said, a sweeping, deep purple Mozartean frock with a scalloped, stand-up collar and motorized bats flying around Val's head. "I was in a cinched corset carrying a 20-pound battery pack under my dress. I barely made it up on the stage to show off my dress. Then an opera singer came on and everybody hushed. Well, of course the motor for the bats was very noisy, and there was no way to turn it off. So everybody looked right at me. It certainly made an impression."
Despite the head-turning attention and appearances in Women's Wear Daily, US Weekly and the Times, LeGaspi was never taken seriously enough by the fashion press and backers to become a powerhouse brand — even though he did stock ready-to-wear bodysuits and other apparel at his studio, appealing to more everyday tastes. Established designers like Halston gave LeGaspi and Val cold shoulders on the street, and the press passed over his innovations in favor of European designers like Thierry Mugler and Claude Montana, who looked toward his angular cuts and showstopping creations for inspiration. Despite "LeGaspi" becoming a byword among rock stars and dancefloor fashionistas for astro-chic glamour, LeGaspi never broke through to the commercial mainstream. "He was never taken seriously by the fashion industry," Val said. "That really affected him. But he knew it was partly because he was so ahead of his time."
In 1984, just as America had fully embraced the New Wave look, LeGaspi purchased a home for Val and himself in Glen Cove, New York, eschewing chaotic Manhattan life for quieter days. In the late '80s, he separated from Val and moved to Arizona, then to Palm Springs and Los Angeles, where he still practiced art, but had left the design world behind.
In 2000, LeGaspi realized he was too sick to be on his own and moved in with his sister in Asheville, North Carolina, where he spent several months before he passed from AIDS. "Larry is too much a part of the universe to ever leave us fully," Val said, and she believes Larry is helping to guide his renaissance. Almost immediately after LeGaspi's death, designer Rick Owens, who had never met him, began enthusiastically mentioning LeGaspi in interviews. "There's hardly any documentation on Larry LeGaspi! I'm gonna talk about him every chance I get," he told Plaza Magazine in 2002, crediting LeGaspi with awakening his teenage self to "glory and vice" with his designs. In the meantime, Val was preserving LeGaspi's legacy with the help of her two friends Theresa Sullivan and Sandra Gomez, who had become fascinated with him, and who launched the Instagram account GoFreeMoonstone to document them for the public.
When Gomez saw a press item about Rick Owens' love for LeGaspi, she reached out. Owens replied almost immediately, and, Val said, "suddenly Rick and his wife Michèle [Lamy] were in my closet, digging through sketches!" Rick announced that he wanted to publish a book and honor LeGaspi's aesthetic in a line of clothes. Val saw a parallel between her and LeGaspi's relationship and that of Owens and Lamy, a queer man married to and romantically involved with a woman. Owens launched his fall 2019 line, dedicated to LeGaspi, in January. The show combined Owens' signature elongated silhouette and draped forms with platform boots, dazzling metallic fabrics, puffy accents, New Wave-inspired sunglasses and alien facial prosthetics. "There's exuberance and power and virility and ambiguity and sex and vice," in LeGaspi's clothes, Owens told i-D. "In an era of squeamish conservatism and easy outrage, we could use a bit of flamboyance."
Owens' book about LeGaspi comes out in late 2019, and features a large chunk of his unpublished memoirs, aiming to have the older designer's voice heard, unmediated. Now, with the fashion press all over the world rediscovering LeGaspi's influence, he's enjoying a star moment, wherever he is.
Header image © Tony Palmieri/Conde Nast via Getty Images