Nightclubbing: Nell's
An oral history of the famed "cultural laboratory" beloved by New York City's downtown elite
For a selective club, Nell's had a colossal effect on the musical evolution of New York City. Bridging the gap between seminal clubs such as Paradise Garage and the Loft, and the international explosion of hip-hop, the dancefloor at Nell's functioned as a kind of laboratory. Patrons would hear anything from funk, soul and synth-pop to tracks by the Beastie Boys and Schoolly D. In the early '90s, it was particularly beloved by house music devotees – a perfect place to hear the output of labels such as Strictly Rhythm, Nervous and Emotive. And as rap was taking over the world, cutting-edge DJs and a punishingly exclusive door policy made Nell's the favored hangout of artists and label heads such as Lyor Cohen, Puff Daddy and A Tribe Called Quest.
Nell's opened in 1986. Housed in a former electronics store on West 14th Street, the 250-capacity venue's old-fashioned, supper-club vibe was a welcome contrast to the giant spaces that had dominated the city's nightlife since the Studio 54 era. The club was founded by husband-and-wife restaurateurs Lynn Wagenknecht and Keith McNally, along with Nell Campbell, who played the part of Colombia in the Rocky Horror Picture Show. Campbell also acted as a formidable and flamboyant hostess for much of the club's life. Filled with dimly lit corners, beaded chandeliers and Victorian furniture, Nell's immediately became a hub of the downtown scene, bringing together hip-hop innovators, art-world royalty, writers, skater kids and pop stars.
It was a de-facto living room for stars such as Andy Warhol, Jean-Michel Basquiat, Keith Haring, Julian Schnabel, Jay McInerny, Mike Tyson, Debbie Harry, Prince and Eddie Murphy. Everyone paid a $5 entry fee, whether they held one of the club's exclusive black membership keyrings or not. DJs who played at Nell's attribute the diversity of the club's playlist to the quality of the club's system. Designed by Louis Feldman, a protégé of Richard Long, everything sounded good on it.
When patrons descended the club's stairway, it was all sweat and thump. On the turntables were DJ Jules, a skateboarding Brit who played hip-hop and soul; DJ Basil, who started out working security at Paradise Garage; DJ Belinda, a favorite of Prince's; DJ Clark Kent, who went on to produce tracks for artists such as Jay-Z, 50 Cent and Mariah Carey; Johnny Dynell, a producer and DJ who started off playing at the Mudd Club and went on to release records including "Jam Hot" and "Love Find a Way"; Frankie Inglese, who, in the early '90s, co-founded the mobile weekly party Soul Kitchen; Jazzy Nice, a member of the early '90s institution Giant Step; plus Stan Williams, DJ Dmitry of Deee-Lite, Duke of Denmark and many more.
For most of its life, the club brought people from diverse backgrounds together, in a way that is rarely seen today.
Many former staff and regulars participated in this piece. Jessica Rosenblum, a doorperson at the club, is now a highly regarded hip-hop promoter and manager. Stretch Armstrong is a genuine NYC icon, who co-hosts the NPR podcast What's Good with Stretch & Bobbito. Adesola Osakalumi is an award-winning actor, choreographer and dancer, best known for roles in the Broadway production of FELA! DJ and model Lono Brazil also used to work the door at Nell's. Meanwhile, author, activist and daughter of Malcolm X, Ilyasah Shabazz was a regular patron, as were the music historian and movie producer Nelson George and Gary Harris. Harris – who signed D'Angelo to EMI and was a longtime consultant to A Tribe Called Quest – passed away on January 15, 2018.
In the 1990s, when hip-hop was experiencing a spike in popularity, Nell's became a place to floss and be a boss. Music moguls were crowned and champagne was popped. In 1995, the Notorious BIG shot his video for "Big Poppa" there. Director Hype Williams and Sean "Puffy" Combs had decided Nell's was the perfect location to represent the fact that the genre had truly arrived.
Two years before that, however, Tupac Shakur had visited the club with Jacques Agnant, a high-rolling, Haitian-born producer who could help Tupac gain access to the rarefied inner circles of NYC nightlife. The two were later accused of sexually assaulting a woman that Shakur had a sexual encounter with on the dancefloor. This incident presaged a gradual decline in Nell's reputation. Metal detectors were installed at the door soon after, and toward the mid-'90s, McNally and Campbell left the club.
Nell's stayed open, nevertheless, finally closing its doors on May 30, 2004. The space has seen several different incarnations since, and is now home to a club named Up&Down, owned by Richie Akiva, a former promoter at Nell's. While the clubbing landscape has changed beyond recognition, the legacy of Nell's lives on. For most of its life, the club brought people from diverse backgrounds together, in a way that is rarely seen today. Meanwhile, the musical styles incubated at Nell's, such as house and hip-hop, have evolved into truly globe-conquering movements.
DJ Stretch Armstrong
DJ and former Nell's patron
DJ Stretch Armstrong
I remember vividly the first time I went to Nell's. I've probably been to Nell's hundreds of times, but the first time is indelibly etched upon my memory. We probably bought our clothes at Charivari on the Upper West Side. I think we drank 40s from a bodega, to get a little bit of liquid courage, because we knew that there was [a good] chance that we wouldn't get in.
I remember walking towards the door, and you could see from about half a block away just this mob of people clamoring to get in. It seemed like no one was moving. No one was getting in. Jessica [Rosenblum] was on the door at the time. For some reason – to this day it remains a mystery – Jessica sees us, points to security and creates a path through the people, and we walk right in, like we were special or something.
It was the craziest thing. I felt like some divine force was pulling my strings, and just walked me in. From that day on, I was able to go to Nell's any time I wanted. I don't know why. I wasn't cool. I didn't have money. I didn't even have facial hair. It's hard to express the sensation of being in Nell's the first time. It was magical. The music in that era was the best. New York City was the musical center of the world.
Nelson George
Music historian and former Nell's patron
Nelson George
I can't remember how I first heard about it… it was kind of a transitional period from the disco era, where a lot of clubs were in midtown and various parts of the city. Downtown was becoming the new center of New York nightlife, particularly for any cutting-edge musical movement… it was in that context that Nell's opened.
DJ Stretch Armstrong
Downtown was still a bit of a frontier – particularly to kids from uptown. If you went downtown, you knew you might not get back home.
Lono Brazil
Model and former Nell's doorperson
Lono Brazil
In the '80s New York City was dirty, seedy – it was a scary place. West 14th Street was pretty bad, and the further you went west, to the Meatpacking District, it got worse. Everything was new and exciting: new wave, remnants of punk rock; house and hip-hop were developing. The gay scene was becoming more open to straight people and women, so things were getting super-fun. Everything revolved around nightlife. Music, art and fashion… it all came together at night. This was the time to see it all in action. Nell's was one of the few clubs that was able to merge these worlds in a somewhat sophisticated way. Nell's was a safe haven of sorts. Even though you had the odd weirdo, it was secure and basically safe inside. I don't recall any real problems, like pickpockets or people getting things stolen often. Remember, in the '80s Nell's was a members' club. It was also very selective. If you weren't a member or with a member, entry was not guaranteed, and nearly impossible for most.
Jessica Rosenblum
Artist manager and former Nell's doorperson
Jessica Rosenblum
When I started working at Nell's, there were a couple of hot clubs in New York. Certain clubs had just come to the end of their run. Before Nell's, I'd been to Xenon, I'd been to Studio 54, I'd been to Danceteria, and they all had very strong identities. One of the cool things about nightlife then is that each venue had its own identity. Everybody wasn't trying to do the same thing, the way they are now… Nell's was just different.
Gary Harris
Movie producer and former Nell's patron
Gary Harris
When I first started going there… Run-DMC's Raising Hell and the Beastie Boys' Licensed to Ill had come out, and we were experiencing the success of those records at Nell's. It was really the place where you went and got your props… A big reason for that was that Danceteria had closed earlier that summer of 1986… Danceteria had been sort of downtown's headquarters.
Jessica Rosenblum
One of the things that made Nell's so interesting was the mix of people. This is something I worked very hard on at the door… Nell and Keith wanted it, but it was something that myself, Michael Smith and the two other door people really curated it.
Belinda Becker
Former Nell's DJ
Belinda Becker
The scene was everyone across the social fabric. There were the dancers. There were the artists like Jean-Michel [Basquiat], Keith Haring, Francesco Clemente, Julian Schnabel. There were the musicians; there were the models. There were a few eccentric people. That's what made it fun, because you were just surrounded by all these different people, different energies.
Nelson George
Nell's was the place where you could see the big drug dealer from Harlem, and a thug guy who also did record promotion, and the girl who wanted to be in the music video, but had a little class. I think it was a wholly mixed crowd of high and low… You definitely saw the art world that was really exploding in the area, alongside cafe-society rich folks and kids from the Bronx or from Brooklyn who had some style. It wasn't a place – at least in the beginning – that was really gangster, but it had an uptown [or] Brooklyn flavor to it. Jean-Michel Basquiat kind of embodies that mix, in that he was a painter who was celebrated in the art world, but he also had roots in Brooklyn, and he had street graffiti roots. That spoke to what was going on at Nell's during that time.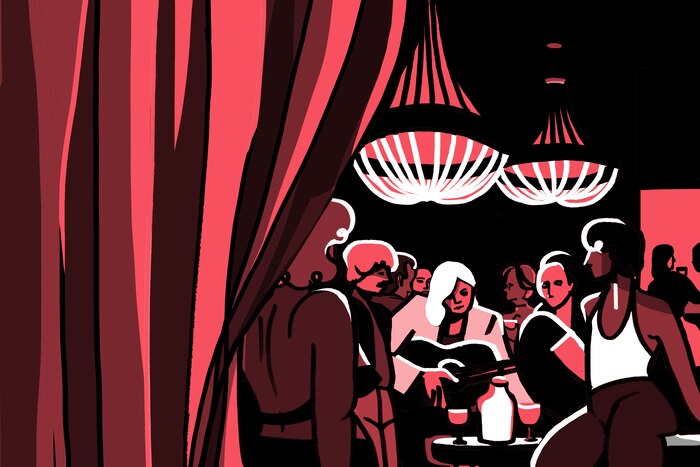 Jessica Rosenblum
If you had to say there was one thing that would keep you out? Bad shoes. I adhere by that policy today. If I'm throwing an event, if I'm doing the door, if you have bad shoes, I don't want you in my party.
Belinda Becker
We didn't have cellphones back then, so people really interacted with each other. I feel like now it's more about networking and Instagramming and whatever. Back then, it was really about dancing, vibing, talking, looking, observing. Sort of absorbing the energy that was there. That's what was so amazing about it.
DJ Clark Kent
Former Nell's DJ
DJ Clark Kent
The crazy shit was how many athletes and rappers and actors used to call me to help them get in Nell's. I used to bring Anthony Mason from the New York Knicks. I'd walk up, go into Nell's, he'd be standing outside at the door and I was like "That's Anthony Mason. He plays for the Knicks. Let him in." They'd let him in. It was just crazy. It was insane, going to Nell's.
Nelson George
I was sitting in the area right off the dancefloor one night, and I got into an argument with this young guy over music. I have no idea what we were arguing about, but he was a young comedian from Brooklyn. It turned out that guy was Chris Rock. I've worked with him now… Jesus… 30 years or something, but the first time we met, we met at Nell's. It was way before he was in the stratosphere. He definitely was one of the guys who didn't get in when he first came to the door.
Gary Harris
Nell's had a 1920s speakeasy vibe to it – the sort of place you'd see on television… the knock on the door, and a peephole would open, and somebody would say, "Who sent you?" and you'd say, "Shorty," and they'd let you in. That was the kind of underground, illicit vibe. It was classy, but it felt like it was a little fast and a little loose.
Jazzy Nice
Former Nell's DJ
Jazzy Nice
Walking in a completely nondescript entrance, no name, just very dark and then a curtain… then, "Wow!" – the curtain opens and there's a jazz band… really good musicians playing… a big bar… as you walk towards the back, there was an actual bistro – it probably sat around 75 people and was always full… then a stairway down [to the dancefloor].
Nelson George
Dancing was still a big part of the club, even though it was a lounge vibe and a cabaret vibe… As time went on the look of Nell's was imitated by scores of clubs in New York and around the world… in terms of the decor of the club, it very much imitated this French, New Orleans bordello thing that you find all over the world. Nell's really put that out there, because the discos had been more gaudy, and then downtown, other clubs had been more punk. Nell's was a place you could wear your nice clothes to, whereas a lot of other spots, you couldn't. You could get dressed up and still be downtown.
Grace Jones came over to me and she grabbed my head with both hands while I'm DJing and she licked my face.
If you came through from the dancefloor, getting a seat at one of the little banquettes or the little leather seats to your right was a key spot. Virtually everyone came in and out of the bathroom at some point. So, if you got a spot in that area, you could hold court for hours and see everyone you wanted to see. It made you feel like you were in the center of everything.
Must Be The Music
Belinda Becker
I first heard about Nell's when I was DJing at Area, because that's where I started. Someone said Keith McNally was opening this new club, and I had to go and audition. I think Keith was more impressed with the fact that I was a woman DJ. That was sort of the big moment of Chicago house. I was playing Joyce Sims, the Isley Brothers, some disco, Evelyn "Champagne" King… It was a mix of everything that I was playing at Area.
DJ Basil
Former Nell's DJ
DJ Basil
You started appreciating all types of music, especially if you [went] there every week, because that's what you got. [Also], back in those days, you've got to remember that a lot of the people who are prominent personalities today in regards to politics, celebrities, entertainment, even sports – a lot of those men and women were just regular club kids hanging out.
Frankie Inglese
Former Nell's DJ
Frankie Inglese
The thing about that time in New York was, the early stages of house music were happening in the mid-to late '80s. When you think of '80s music now, they're playing that stuff that was for MTV or radio. [You wouldn't] even hear that stuff in a club. You heard this really cool mixture of hip-hop, reggae, funk, soul and rare groove stuff that I played later at Soul Kitchen. Then, they had that deep, early Chicago house, and Detroit and New York house… underground stuff that was coming out in the mid-'80s.
Stretch Armstrong
In the '80s, there were very few places to go for club music, underground music. You had mix shows on the weekend, and you were lucky to tape Tony Humphries or Red Alert. You were really going to clubs… Reverence for the DJs and the space.
DJ Clark Kent
You didn't go there going, "We're just going to go hear hip-hop," or "We're going to go to the Garage and just hear house music," or "We're going to go to the Loft and hear something weird." You went to Nell's, and you actually felt like you were going to hear everything and see everybody. [It was] like the playing field was level for everybody to be cool… Just to get downstairs and feel that pitch-black room, where you didn't know who you were dancing with. It felt like you were in a club… everything else was a disco.
DJ Jazzy Nice
The promo guy would come to Nell's with the record in his hand and wait all night until you played it. Of course, you, as a DJ, you don't know what's on that vinyl. You have to peep it, see where it's going to fit into your set – if it will at all… it was exciting. Then you had to not ruin your dancefloor with a brand-new record that people didn't know. I would have a record playing on one turntable and I'd really quick peep it out, check out the intro, go into the middle, and [sometimes be] like, "Wow! This is hot… it has to be played."
Nelson George
In mid-'80s New York, you had this meshing going on. Disco, as we knew it, was gone, but there were tons of little dance labels that were putting out club music – Madonna is probably the biggest example of that – that was kind of a fusion of what had been disco, but was also very contemporary. TR-808s were now everywhere – everyone was using these little drum and bass machines to create records. The cliches of disco music, the hi-hat and the big string things, had disappeared, and you had a more stripped-down, elemental kind of dance music that also was influenced by new-wave music.
You could hear "White Lines," which was influenced by new wave, and you could hear Human League's "Don't You Want Me Baby." You could hear D-Train, a group that had a very soulful lead singer, but all the arrangements were done with keyboards, so they fit in, too. A New York dance record that had a sound that wasn't dissimilar from the sound that you might hear from the Human League. Very electronic, but it wasn't cold. It wasn't techno as we know it, it was much more house, [or] what house would become. You can see the roots of that sound in a lot of what you heard at Nell's.
Show business is like high school, and Nell's was the cafeteria.
Frankie Inglese
The thing about Nell's, [compared to] any club I've ever worked in, I think it was the most community vibe [between] all the DJs that worked there. There wasn't like a lot of like, "I want your night." We had our nights. We knew Belinda was there on Thursdays – you knew that was Belinda's night, and you went [because] you wanted to hear her music… we all learned from each other. Especially with Jules… Jules and I always exchanged ideas and songs. Like, "Oh what's that?" He would show me this new record he found, then I'd have to go find it, and then I show him what I have… It was a camaraderie, rather than competitive in that way. Nell's [brought] that out in us… we all supported each other; I liked that.
DJ Stretch Armstrong
One of the first house records I heard there was "It's All Right" by Sterling Void and Paris Brightledge… Chicago house… I felt like that was the essence of house music. When you think about Nell's in the '80s, there was a real mix of music, and from '90 to '92 it was a real house music club… I heard that record and it revealed itself to me in every way possible… I understood what house music could be in that moment. Also, many of the studios and record labels that were creating [house] music were in that very neighborhood, which meant that the line between record makers and DJs was really short.
Belinda Becker
It was definitely a musicians' and a DJs' club.
One Big Hip-Hop Family
Gary Harris
Nell's was a very influential cultural laboratory… It was a very expansive, creative period for New York and downtown culture and hip-hop. Tribe is one of the bands that came up in that club… Upstairs was usually a jazz combo playing. It was a very classic and classy, Prohibition-era, New York feeling. Downstairs was a very contemporary, cutting-edge music thing where you would hear Eric B & Rakim or even the Smiths…I remember hearing Schoolly D quite often, or whatever the hot underground joint was. That was the place I associate most with the success of Tribe's "Can I Kick It?"
DJ Jazzy Nice
So many producers and rappers and artists were in the clubs. I would later hear the records that I played weekly sampled on their albums. I think we all influenced each other.
DJ Clark Kent
Everybody came: Tribe, Jungle Brothers… Those were the times. It was their time. It was Native Tongues' time. It was early, good rap time, LL [Cool J], those types. Chris Rock was my friend from Brooklyn. He damn near went everywhere, and people really didn't know. Seeing Eddie Murphy there wasn't amazing, because "Yeah, well you're Eddie. We know you. You're from New York."
Gary Harris
By the time D'Angelo's demo made its way to me in the spring of 1992, he represented an amalgam of what was going on at Nell's, Soul Kitchen and Giant Step, as well as a deep church feeling. I took D'Angelo to Nell's. I introduced him to Jam Master Jay the first time I ever took him there, because that was the extended family. Show business is like high school, [and] Nell's was the cafeteria… at that time, if you were introducing someone to the elite New York black music community, you didn't want to go by everybody's house, you went to Nell's.
Ilyasah Shabazz
Author, activist and former Nell's patron
Ilyasah Shabazz
It was definitely a calling for me personally, because I had gone to prep school, and most of my friends weren't into hip-hop. I was very much into hip-hop. I loved Public Enemy. I loved all of the artists. I thought it was a great form of expression, especially listening to the content. It really was speaking about injustice. It was being responsible in an artistic form of expression. It was just something that really touched me, and I enjoyed it immensely.
I liked that when you walked into Nell's, it reminded you of a dim living room. I liked the velvet. I liked the tables. I liked that there were people sitting around socializing before you went downstairs to dance. It was magical. I think it was the beginning of hip-hop defining itself. I remember many people thought that hip-hop was a passing phase. It wasn't. Look at what happened to this music that young people created… If you could go to Nell's, you had definitely not only arrived – you were a participant in defining hip-hop music.
Belinda Becker
All of a sudden, it was all about hip-hop. Everybody wanted to come in and hear hip-hop… It was rebellious. It gave voice to a people that didn't really have a voice before, and there was so much energy around it. It was a little overwhelming for someone who didn't play it. There were DJs who came in on that hip-hop vibe, so they just came in and they were like "Boom! OK, we are ready to go." It was a very male, heavy energy. So yes… Dante Ross [hip-hop A&R] came in, Patrick Moxey [founder of Payday and Ultra Music], Lyor Cohen [co-founder of Def Jam, now head of YouTube Music], Puffy was pushing his artists. They were relentless with their music. "Here you go, here you go…" handing me vinyl. At the end of the night, I would have like ten new records.
Frankie Inglese
I remember when Public Enemy first came out. I remember the first night I threw that on… that changed everything.
WRAPPED IN SOUND
Belinda Becker
What I liked about [DJing at] Nell's was being on the dancefloor, because then you could actually feel what you were doing and how it was affecting the crowd immediately. That taught me how to DJ, because I work off people's energy and you were really close to people.
DJ Frankie Inglese
It wasn't like you were in this far-removed DJ booth. Studio or Tunnel or all these places had these big booths that no one could even really get to you. That was the first club I worked in where I was literally in the room. That's a vibe that I kept going on at Soul Kitchen, or all these other places. I wanted to have that. I still do that. I like to be right in the middle of the room. I think that came from working in Nell's.
DJ Clark Kent
The DJ booth being on the floor made you feel like the DJ was your boy. He wasn't above you. He wasn't unapproachable. He was your man. Even though he's the guy and he's making the music move, if he's at eye level with you, he's one of you. He feels the crowd differently than some guy who's up in a booth locked up with some glass around him, being elite. The pressure of your homies in your ear like, "What you gonna do, B?" is different than when you're up in a box and you can dictate. You got to be one on one with your friends. That's pressure. That's the shit to me.
DJ Jazzy Nice
You were not protected. You heard the room better in many ways than when you played in a huge club and you were off the floor. People would approach you in the booth. Not the way they do now with, "Hey, it's my birthday. Can you play Taylor Swift?" No, they didn't do that… I'll give you an example. I was playing a big house record. Grace Jones was dancing, wearing a scuba hat around her face. She came over to me and she grabbed my head with both hands while I'm DJing and she licked my face. She says, "I love your music." Yeah, that would happen at Nell's.
DJ Basil
The person who maintained the DJ equipment, his name was Louis Feldman Jr., and he actually used to work for Richard Long… Richard Long, of course, was the architect of the Paradise Garage soundsystem and the Zanzibar soundsystem, and Studio 54, and all the big discos back in those day. Lou Feldman was a very, very creative person. Because of the decor of Nell's and [the vibe] Keith and Lynn wanted to [create], he hid a lot of the components – speakers and sub-basses and different things – [so] that the naked eye couldn't see them.
Frankie Inglese
Lou Feldman was the sound guy… he was like this amazing character. He would come in, hang out and talk to us… he just had all these crazy stories he would tell us about the old days. I never heard a system sound that good – it was probably one of the best systems I've ever played. When you walked into Nell's, you heard this bass, and it was perfect. The crossover that he had… you could pull out the mids and do these kind of things that they would do in Paradise Garage.
That's what made that room so special, because it was never loud where it was hurting your ears, but it was loud like you just felt it inside your whole body. You just felt that bass. Lou was always adjusting stuff and working on it, so it was never like they just threw it in there and that was it. And if something went wrong, he was always there.
Jazzy Nice
It also had something that I very rarely see now, which is floating tweeters, which adjust the very high frequency, scattered along the dancefloor. When you took everything out [of the mix], you still had this "tsk- tsk- tsk"… People would just freak out when you do just the highs, then you could bring in the bass again.
DJ Basil
The DJ booth was very small, it was compact, but it did the job. There were only two turntables. There was a stack of amps behind us, all Crown amps, which were, at that particular time, the best in the business. The sound quality in the room was unbelievable and it absorbed the sounds very, very comfortably. The sound was never too loud… The great thing about Nell's, [was that] there was no light show… We had dimmers all around the place and the DJ, from the DJ booth, could control all the dimmers all around the room – even at [each] table – in relation to the ambiance. If the DJ wanted to set a mood, or if he wanted to play something slow, or if she wanted to play something fast, they could turn the lights, according to the mood.
Adesola Osakalumi
Actor, choreographer and former Nell's patron
Everybody Dance
Adesola Osakalumi
Dance was, to me, the engine that made nightclubs pop… A lot of the clubs I went to in New York City at that time, the dancers were as integral a part of the experience as the music.
DJ Jazzy Nice
Dancing in New York has such a history. People knew how to dance. It was somewhat intimidating to go to the Paradise Garage and see these unreal dancers. That came to Nell's. Basil brought a lot of that in – the freestyling dancers, the circle. Yeah, that would just happen, impromptu… As a DJ, you definitely vibed off the dancers.
DJ Stretch Armstrong
The only lights on the dancefloor were the lights from the turntables, so it was dark, and that darkness was so key, because Nell's attracted people that were true dancers. The darkness allowed people that might not ordinarily dance to feel uninhibited, so the dancefloor was crazy. You couldn't really see what was going on, you could just feel this energy.
Adesola Osakalumi
Dancers would go to a spot and try to make a spot theirs… You could say battling, you could say showing out, but in order to do that, you had to be good enough that when you got into the circle, not only were people looking and giving you that nod, but so that the other dancers – well-known figures in the dance scene – wouldn't just jump on you and take you out. If you jumped into that circle and you weren't really up to par, it was pretty ugly. Someone would jump in after you, and you'd get embarrassed – you would get roasted, as we used to say.
Sunday nights, that was known as a dance night. One night, our dance crew was in our little area doing our thing, and Mike Tyson is on the dancefloor, just dancing. He wanted to jump into the circle – you could see him saying like, "OK, I'm going to get in." But he didn't, because I think he felt like, "It's not my world…" At that moment I thought, "Wow, this is incredible – the heavyweight champion of the world, the baddest man on the planet is giving deference, or in some way bowing down to the power of what we have built here on the dancefloor."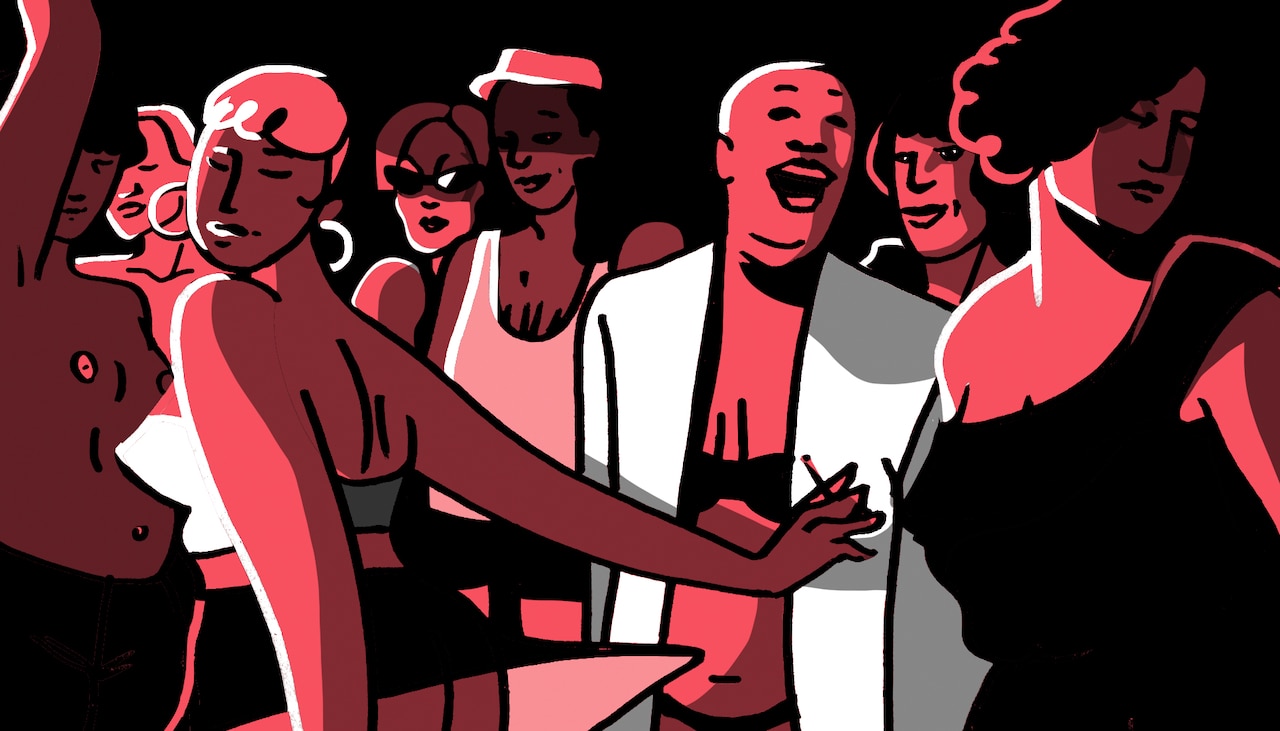 DJ Basil
You had great dancers like Brinton Brewster, you had Voodoo Ray, you had Marjory Smarth, you had Debbie Williams, you had an eclectic collection of so many different vibes and different dancers. The cool thing is that a lot of the worlds combined there, and people actually taught each other a lot – especially, near the coat check…that was one of the favorite areas of the really, really good dancers…it was Adesola's favorite spot.
At The Center Of It All
Frankie Inglese
Upstairs was like a whole other scene going on, and Nell was always in the middle of that. The band would be performing and she was holding court in the booth at the back corner. That was cool to see. She was always involved with everyone that was hanging out… She was the name on the place, but she wasn't just a figurehead. She was definitely more hands-on than Keith and Lynn. They were there, but Nell was running it. That was a good idea, because she did have a certain celebrity about her, being in the Rocky Horror Picture Show… people knew who she was. That was a big part of what brought that cachet to the place, when it first opened.
Jessica Rosenblum
Nell had a really strong personality and she definitely could be [difficult], but she really wasn't with me. I had an important job as the door person, and I did it well. I also have a strong personality, so, being slightly older than me, she was smart enough to know how to manage me well. I think we could have bumped heads, and we really didn't.
I thought I was Madonna. Pretty much every night, when I put my hair and make-up on, I would channel her and hold up her album cover next to me. I had the earring with the heart and the cross, and I had the stud bracelets up my wrist, combat boots and a plaid miniskirt. I stood on a tiny platform outside, so I could see everything, because it would be a sea of people.
Some nights, there could be two or three hundred people on the sidewalk try to get in. One night, a well-known artist, who was very upset with me for not letting him in, decided to drive his red Ferrari up onto the sidewalk. The people had scattered. He didn't drive through the people… [but he drove] through the ropes to make a point with me… There was a little alcove where the front door of Nell's was, and I stepped back into that, so I was flush against it, set back and not actually accessible. It was pretty epic for anybody who saw it. I got love letters. I got hate letters. I got sent dead black roses in the mail. People lost their minds to get into that place.
Belinda Becker
Jessica got a pretty intense reputation for her toughness at the door. Being a woman, having to do the door, I think she did a stellar job, because the bottom line was, who was in the club? That made all the difference. She basically built her reputation from Nell's, and has become who she is based on that reputation. She was tough – sometimes some of my friends couldn't get in and I would have to go and say, "Jessica, please!" – but she was good at her job. People think being a doorperson is easy. It's not. It's diplomacy, it's finesse, it's subtle, it's nuanced – you have to be all of those things, but you still have to say no.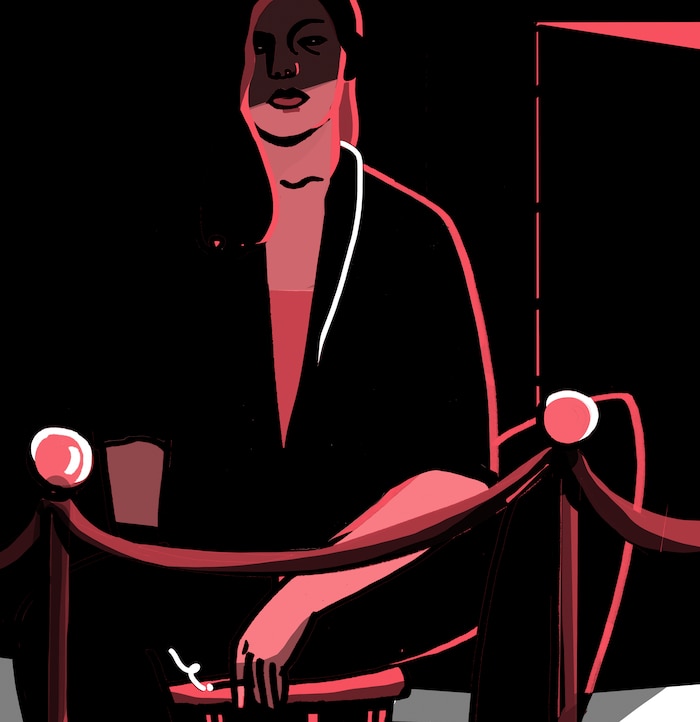 DJ Basil
Jessica was actually the type of person who you liked working with, because there was always clarity whenever she did anything. She was never iffy about anything. If you weren't coming in, you weren't coming in. Period. She didn't try to make you feel like you had a chance.
Jessica Rosenblum
I met so many people there. That's really how I ended up [falling in love] with hip-hop. In the beginning, when I first started really throwing hip-hop events and managing hip-hop DJs, a lot of the more fabulous types from Nell's thought I was slumming… Two years later, they were sweating my balls for invitations to Puffy's White Party.
Purple Reign
Jessica Rosenblum
There are so many incredible memories from Nell's, and one thing that seems to be a common thread among anybody who was a regular is that they experienced Prince in some form there. Sometimes he'd show up very late at night and just hang out, but on multiple occasions, he performed. It was just amazing. You know, it was a small, intimate room. He was doing something he wanted to do, as opposed to a paid gig. I remember standing on the bar, sitting on the bar… he was a couple feet away from me, jamming out. Everybody in that room got to experience that on this intimate level, and I think that also was truly who Prince was… Him performing that way and having this intimate relationship with people responding to the music was really what he was about, as an artist.
Frankie Inglese
Prince was always there… I would be DJing and Prince would just come downstairs… he liked to hear his own music at that time… I remember he would ask me for his Sign O' The Times album… He would come over to me like, "You got 'Housequake?'" … Then, all of a sudden, he just breaks into this crazy dance in the middle of the dancefloor.
It was supposed to be a "secret show," but they let it out that he was playing and everyone knew about it. There wasn't a space upstairs where you could stand… people were standing on top of the tables… I wasn't working that night, but we would still hang out when we knew he was going to play… I remember sneaking up to the top of the stairs and sitting on the railing, so I could see it – the whole place was just going crazy. It was just him on a Fender Rhodes keyboard, a very simple set-up. A bass player, and he was playing drums, that was it. I remember he played "The Ghetto" by Donny Hathaway… that was one of the best things I ever saw and it wasn't even him doing his own music. I'll never forget that night.
Lono Brazil
One night, Prince performed P-Funk songs all night in an unannounced, unpromoted gig. He played the electric keyboard with a three-man band. It was epic…
Belinda Becker
One night, Nell came up to me and said, "Prince is here and he would like to meet you. Is that OK? He wants to come over and hang with you in your booth." I said of course. Who's going to say no to Prince? He came over, very shy. I just remember that he had a very sweet energy about him. He came in the booth. We talked. He asked if he could look through my records… then I think he saw a Funkadelic song. He said, "Oh, can you put this on?" As soon as I put it on, he sort of grabbed my hand and he said, "Let's go dance." So, the first night I met Prince, I ended up hanging with him, talking with him and dancing with him. That spawned a relationship… he came to see me when I was DJing there from time to time. Then I ended up hanging with him in Paris, and going to see him in concert. [He was] just an amazing person and I think he felt very comfortable at Nell's.
DJ Basil
Nell called me up one day and she was like, "Hey, you need to come in because somebody likes the way you DJ, and they requested that you DJ tonight…" I was like, "Well, who is it?" She was like, "Basil, I just need you to come in, darling. Just come in." So, I came in and I'm doing my thing. The next thing you know, this guy comes walking up to me and he says, "Hey, somebody wants to hear James Brown." When I saw the guy, I knew exactly who it was. It was the bodyguard that used to watch Prince all the time… Next thing you know, Prince comes on the dancefloor and he's out there dancing… One of the coolest things about that particular night, was when he went upstairs and ended up doing a spontaneous unplugged, acoustic, grand piano set for everybody in the room.
Big Poppa
DJ Stretch Armstrong
Hip-hop was maturing [in the '90s], making more money, and partying at a place like Nell's meant something. It's like you were entering into a new realm of success and you were in a new social circle, drinking expensive champagne. Puffy would go to Nell's a lot. I think that was the connection to the video [for Biggie's "Big Poppa"]. It's like, "Oh, we've got to shoot this at Nell's, because this is a spot that I go to that's so cool."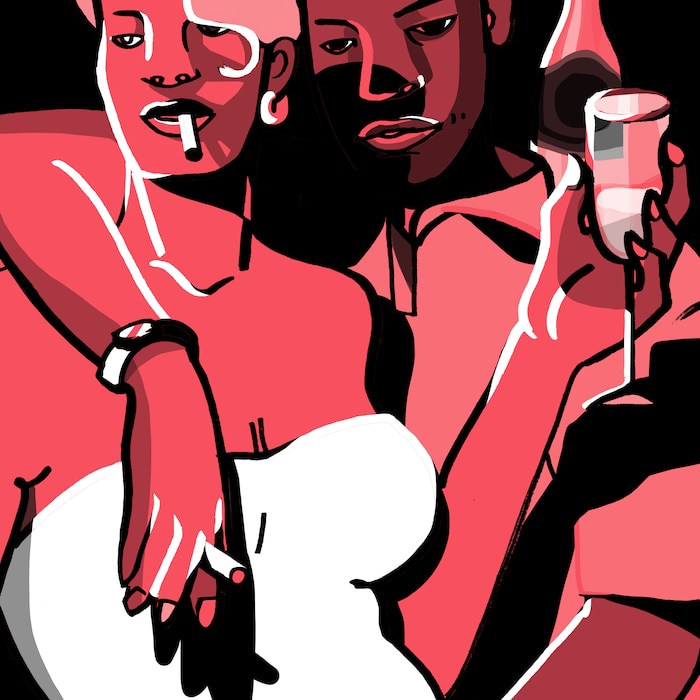 Nelson George
I remember going to a bunch of album-release parties there [with] Andre Harrell [founder of Uptown Records]. I was at Billboard magazine at the time. Downtown had been a white scenester vibe, and Nell's became a place where hip-hop people were comfortable. Nell's had a glamour to it, you know? One of the things that [Puffy]… was very interested in was the celebratory aspect of hip-hop. Sean Combs would become, during this era, one of the bigger party promoters in New York. His idea of celebration was very important to him… The ["Big Poppa"] video and Nell's kind of represented that. Jessica Rosenblum was a partner with him, and they did a lot of parties together. I think that, again, this idea of uptown and downtown meeting, which is one thing that Nell's really embodied, was represented by that video… the idea of ghetto-glamour meeting up with downtown style.
DJ Clark Kent
Nell's was an eye-opener for the kid who was doing hip-hop or for the guy who made a rap video. It was "Oh shit, white people really do like hip-hop." When they're in their coolest element, when they're in their most exclusive spot, where you should not be, they're listening to you. It was almost, "Yeah, we're good now. Rap is really working now."
Gary Harris
It was a place where people who were in the hip-hop business first began to be treated on par with the rest of New York society.
The Last Days
Nelson George
Nell's is my all-time favorite club. It was a place of great possibility. It really represented what I loved about New York: a lot of smart people, who loved music; people with a lot of personal style… I just liked being there, feeling that this was special. There was something magical about that era. It was an intersection of a lot of cool elements of New York. There was a lot of stuff that was on the rise. It really captured a whole bunch of things that were moving forward in New York culture.
Jessica Rosenblum
Nell's was an incredible nightclub, it was an incredible experience, during an incredible period of time. Nobody realized it at the time, but when you look back in hindsight, and you look at the amount of talent and creative, artistic people that were all hanging out in one room, it's pretty legendary.
DJ Stretch Armstrong
Today, if you have money, you can pretty much get in anywhere. Nell's was not like that at all.
Jessica Rosenblum
It's something you wouldn't find today, for a variety of reasons. Nightlife was still sort of like the Wild West, and hip-hop and a lot of the other music played into that. It was all underground. It bred creativity and attracted creative people.
Adesola Osakalumi
In New York, at that time, anything was possible. It was the perfect storm of cultures intermingling with each other. It would be hard to replicate that now… I remember walking through that door the first time and saying to myself, "Oh shit, this is what I'm talking about!"
Header image © Elodie Lascar