Press Pause: The History of Pause Tape Production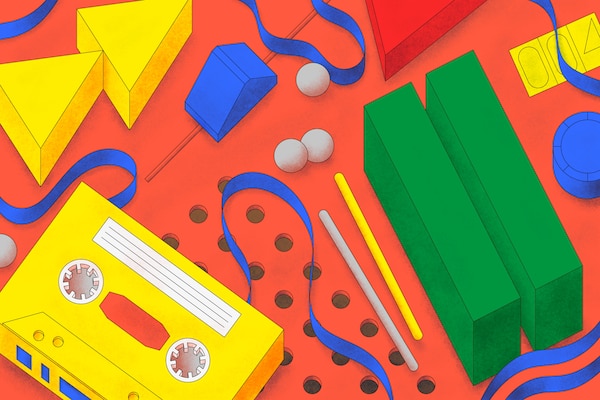 An in-depth look at how Easy Mo Bee, Public Enemy, De La Soul, A Tribe Called Quest and other influential artists changed the sound of rap with their cassette decks
Dutch engineer Lou Ottens likely had no idea that cassette tapes would play a critical role in the evolution of rap and sample-based music when he spearheaded development of the product for Philips in the early 1960s. Originally advertised as a cheaper, durable and more portable alternative to the reel-to-reel, Ottens' brainchild won over the general public when it was first introduced at the 1963 Berlin Radio Show. Following the initial enthusiasm for the pocket-sized sound capsule, mass production of blank tapes began just one year later.
Once in the hands of consumers, cassettes quickly became a popular way to listen to music, and just as quickly part of the music-making process. In an early demonstration of the product's creative value, Keith Richards claims he wrote the Rolling Stones' hit "Satisfaction" in 1965 while he slept with a Philips tape recorder next to his bed. Prerecorded music became available on tape in the United States the same year, and accounted for nearly 30 percent of total music sales a mere five years later.
By 1981, The New York Times reported that boomboxes ranged in price from $100 to over $600, a noticeable drop in price from the $800-$1,000 needed for a mid-range stereo system in 1975. This newfound affordability led to an estimated 7.8 million boomboxes sold globally in 1980. As the means to play and record to cassette become more affordable, boomboxes and stereo components with tape decks became a fixture in American homes. Unbeknownst to the inventors and designers who helped advance cassette tape technology, they had provided an exciting new way for rap pioneers to sample and recontextualize music. "When cassette decks first came out black people took them cassette decks and made pause tapes," Chuck D said in Russell Myrie's 2010 book Don't Rhyme for the Sake of Riddlin': The Authorized Story of Public Enemy. "And pause tapes was definitely the first remix tapes."
A good pause button and a vivid imagination were all young hip-hop enthusiasts needed to create something out of their sense of wonder.
A good pause button and a vivid imagination were all young hip-hop enthusiasts needed to create something out of their sense of wonder. Using a boombox or stereo with dual cassette decks, aspiring DJs and producers would play and record a sample from another tape or record, pausing the tape once the sample had finished its rotation. They would then rewind to the beginning of the sample and un-pause the tape, starting the process again and extending the sampled loop for several minutes.
Although pause tapes used a different form of music media than early hip-hop DJs who relied on turntables and vinyl records, Miles Davis and Alicia Keys collaborator Easy Mo Bee believes 1970s block parties were instrumental in the genesis of early pause tapes. "The two turntables got us thinking and made us wonder," he says. And this pioneering production technique came about well before early samplers like the Akai S-900 or E-mu SP-12 existed, something 32-year production veteran 45 King can attest to. Known for enduring classics like Jay-Z's "Hard Knock Life," "The 900 Number" and Eminem's "Stan," he remembers recording pause tapes as early as 1975 – four years prior to the first "official" rap record, "King Tim III (Personality Jock)" by Fatback Band. This foray into pause tapes started with a thoughtful gift from his dad, long before a vocation in music was even a thought in his mind. "It wasn't a career," he says. "It was my father bought me a radio that has a pause button on it. A Marantz Superscope, and it was one of those pause buttons when you clicked it – it made a click sound so it was on beat. It was a nice box with a good pause button."
The pause button also helped artists create megamixes and DJ-style mixtapes, while those with more advanced set-ups used a 4-track recorder or an overdubbing feature on their cassette deck to layer loops. Layering wasn't for the faint of heart, as it was extremely difficult to get samples to match in terms of tempo and tune, while repeated dubbing lead to tape hiss. But this didn't deter Marley Marl collaborator and Redef Records artist K-Def, who made early pause tapes with a Lasonic boombox and graduated to loop compositions with a Tascam 4-track. "I was so good with the pauses that I would actually record three of the tracks and then bounce 'em over to one track," he says. "And then I would start pause mixing again."
K-Def believes pause-tapes helped inform much-needed skills like editing, time stretching and pitch shifting once he had access to proper samplers. "Most people now, they just want to make a beat, they don't understand audio editing," he says. "And that's a very intricate part of hip-hop. If you don't truncate your samples right and tight, the beat will sound sloppy. That came from pause buttons. You had to be on time with it."
The endless examples of innovation and lessons taught by pause tapes seem to know no bounds. The late J Dilla is said to have taken apart and altered his tape deck so he could further extend samples. Meanwhile, Soul Council member and Grammy-nominated producer Khrysis taught himself how to filter basslines inspired by Pete Rock, Q-Tip and Wu-Tang by adjusting the tone knob on his boombox as a teenager in the mid-'90s. "Just keep going back and forth until I got a good little frequency," he says. "I started getting fancy where it was like songs in the '90s, you would have your high pass and low pass."
In addition to serving as a training ground for many storied DJs and beatmakers, pause tape production played an important role in the first 15 years of recorded rap music. One of the earliest successful examples of a pause tape on record is the 1980 Bozo Meko Records release "Flash It To The Beat / Fusion Beats (Vol .2)." A bootleg party single that has seen many re-releases over the years, "Fusion Beats (Vol .2)" quickly became the in-demand song on the record at block parties and clubs due to the way it extended breaks from James Brown's "Get Up, Get Into It, Get Involved," the Mohawks' "The Champ" and Dyke and the Blazers "Let A Woman Be A Woman And A Man Be A Man." According to the song's creator, Afrika Islam, the entire track was composed on his cassette deck in his bedroom.
As pause looping thrived in and around New York City, it also took off all over the United States. Orlando DJ and bass music icon Magic Mike started making entire mixtapes of pause edits and mixes on his boombox in 1981. He worked his way into a radio DJ slot at age 13 on the strength of his demos, later earning a club residency before his 18th birthday. Even Houston legend Pimp C of UGK, whose skills as a producer are often overlooked, mentioned making pause tapes in a 2007 interview with Red Bull Music Academy contributor Andrew Noz.
To think that people in New York City, Orlando, Port Arthur, Texas, and cities all over the United States were making pause tapes in the early '80s unbeknownst to one another points to a form of collective consciousness taking place during the very early years of rap music and beyond. 2010 Red Bull Big Tune champion 14KT described the phenomenon beautifully in a 2015 Facebook post: "I thought I was a weirdo because I didn't know anyone in Ypsilanti around me who made pause tapes like me when I was young. It was like I got chosen and summoned from aliens. Little did I know, it was an unspoken language across the world."
As the popularity of rap and sample-based music grew, music companies started offering rapidly improving sampling technology. Despite all of the exciting innovation taking place, sampling still remained out of reach for many due to the hefty price tags attached to the machines. Even though Billboard magazine proclaimed that, "sampling for the masses has arrived" in a 1986 article, a highly sought after Akai S-900 would run a bedroom producer close to $2,800 then, approximately $6,260 modern US dollars. For those on a budget, pause tapes remained a viable alternative.
The late 1980s brought about a critical shift in pause tape history, as the production technique moved away from bedrooms and bootleg party records towards demos for official rap releases. It's hard to say definitively which proper release first featured a later iteration of a pause tape beat, but "Public Enemy No. 1" is one of the first documented, high-visibility pause tape concoctions that morphed into something on an official record label. Released in March of 1987, the lead single from Public Enemy's Yo! Bum Rush The Show remains one of the group's most enduring songs over 30 years later.
The idea to pause-loop Fred Wesley and the J.B.'s "Blow Your Head" first manifested when Chuck D noticed that DJs at a local roller rink often dropped the record into their sets, but couldn't extend the loop to his satisfaction. Undeterred, he decided to make a beat out of the sample with his tape deck. And even though Public Enemy later brought Chuck's ingenious pause button production to the studio and re-recorded it with the aid of a tape reel and a studio engineer, their attempts to recreate "Public Enemy No. 1" never felt quite right. "When we tried to make it in the studio for our first Def Jam release, we were able to duplicate it, but Hank [Shocklee] and I considered it too clean," Chuck said in a 2013 interview. "The breaks in the pause tape gave it that funkiness of feel and direction."
The same year "Public Enemy No. 1" dropped, an early Native Tongues' pause button composition took form when De La Soul member Posdnuos looped the sample from the Invitations' "Written On The Wall" with his tape deck. Collaborator and co-producer Prince Paul heard the potential that would make "Plug Tunin'" De La's breakout song when the group presented him with their demo in late 1986. After applying some of Paul's production savvy and a studio re-work, "Plug Tunin'" served as the lead single for their landmark 1989 debut 3 Feet High and Rising.
Fellow Native Tongue member Q-Tip further advanced the artform when he started making pause loops in the early 1980s. Long before YouTube tutorials helped rookie producers understand how to construct a proper beat, Tip sat for hours with his father's jazz records and a cassette deck, sometimes rewinding the desired part of the sample up to one hundred times. "I must be, like, on some other shit, if I could sit here for hours and hours and do this with these records and get these little pieces and just continually loop it like that," he remembered thinking to himself at the time in a 2013 interview with Red Bull Music Academy.
Tip later composed the original versions of many songs from A Tribe Called Quest's 1990 debut People's Instinctive Travels and the Paths of Rhythm when he was only 16. You can hear the heavy pause button influence on tracks like "Left My Wallet In El Segundo," where a percussive loop of the Chamber Brothers' "Funky" constitutes the vast majority of the beat. Though other instruments and scratches are layered into the mix during the song's opening and chorus, 90% of the track is one simple but effective loop that somehow doesn't feel overly repetitive.
Tip's modest means of production didn't prevent People's Instinctive Travels and the Paths of Rhythm from getting a coveted 5-mic review in The Source shortly after its release. And hip-hop activist and media assassin Harry Allen further elevated the album's importance when he wrote in the 25th anniversary liner notes, "In the simplest terms, what A Tribe Called Quest did to hip-hop was help widen its sonic vocabulary." To think that a record largely drafted on a cassette deck expanded the sonic language of an entire genre is a testament to the energy, talent and DIY creativity that went into the first decade of rap releases.
Even after the Akai MPC hit the market in 1988, pause button beats were still prevalent as the decade came to a close. Five years before he produced one-third of Biggie's Ready To Die, Easy Mo Bee remembers using pause tapes and a Casio SK-1 to make demo versions of "Another Victory" and "Calling Mr. Welfare" for Big Daddy Kane's 1989 release It's A Big Daddy Thing. Though the demos were later remade with engineers and a Synclavier, his description of using a cassette deck in tandem with his keyboard is truly remarkable: "Imagine I paused a drum loop and it's going for three minutes. While the tape deck is playing the pause loop that I created, I'm hitting something new from the SK-1 on top of that, but the second tape deck is recording it all. After I record that, take what you just recorded, put that in the play deck, and repeat the process."
Though pause tapes continued to find their way onto releases like Heavy D & The Boyz' Big Tyme, EPMD's Business as Usual, Black Sheep's A Wolf in Sheep's Clothing and the Beastie Boys' 1993 effort Check Your Head, their influence was much more sporadic as the '90s progressed. Due to the advent of cheaper and much improved sampling technology, Check Your Head and Q-Tip's instrumental for Nas' "One Love" represent two of the final pause tape creations that morphed into memorable releases during the remainder of the decade.
Despite the decline in pause tape use, there was still one final generation of producers who flexed their tape deck skills in the middle and later part of the decade before establishing successful careers with more advanced pieces of gear. Richmond, VA beat scene mainstay Ohbliv and aforementioned producers 14KT and Khrysis all point to pause tapes for helping them get their early ideas out. In 2016, 14KT decided to put out a 20 minute compilation of his favorite raw pause tape moments on 20 Years of Beats [1996-2016]: '96-'97 [Pause Tapes]. Setting aside his reservations about the ultra lo-fi sound, KT saw value in letting people hear his unpolished work so they could compare it to his current releases. "I thought it was beautiful," he says. "I think it's important to show how you started, how your developed, and what things you learned on the way. It's embarrassing, but it's actually dope at the same time."
With an untold wealth of pause tapes undoubtedly sitting in many well-known artist's basements, closets and storage units, modern music junkies can only hope more producers will follow 14KT's lead and give people a chance to hear what they cooked up with a pause button many years ago. More likely than not, listeners would find that many other releases in the hip-hop canon have pause tape influences lurking somewhere in the background.
Header image © Benedikt Luft