The New Wave of British Heavy Metal's Independent Streak
Tony Rettman details the hits and misses of a formative scene that would go on to reshape rock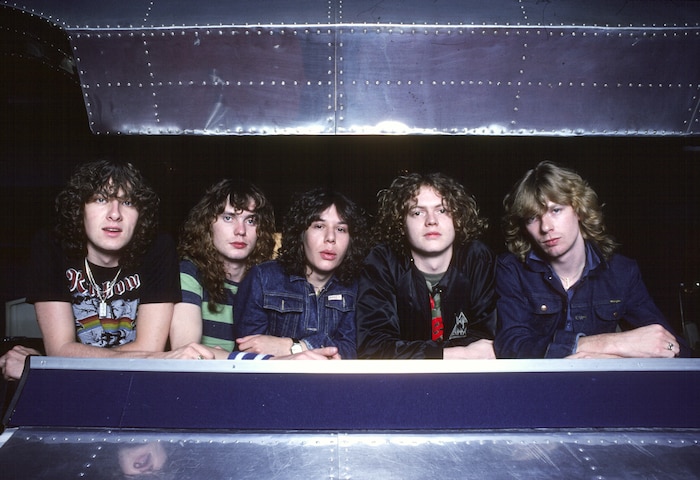 The notion of independence in rock music – the concept of independent record labels, self-reliant bands and a pervading DIY ethos – are frequently attributed to punk rock's explosion. Through a neverending stream of documentaries and books, we've been told how the combination of the sounds of the Sex Pistols and The Clash, with the self-financed release of Spiral Scratch, the four-song debut EP by Manchester's Buzzcocks, caused an eruption of bands and labels to create something altogether new and of their own. But the portion usually left out of this story is the hefty contribution given to this surge of DIY activity via bands with longer hair, longer songs and even longer guitar solos.
While punk was blooming across England at the tail end of the '70s, a new breed of UK heavy metal bands such as Iron Maiden, Angel Witch, Def Leppard and Samson were packing pubs and gaining fans at a grassroots level while forging new ground for the genre, both sonically and aesthetically. A movement was taking shape, but it was only when Alan Lewis, editor of weekly music broadsheet Sounds, laid the title of "New Wave of British Heavy Metal" upon the groups in the spring of 1979 to tie them all together that the scene started to solidify.
The NWOBHM was a crusade similar to punk in that it was steadfast in its ingenuity, independence and determination. Unlike punk, there was no tangible opposition towards the generation of heavy rockers which came before them, nor fashionable elitism. With most major labels tripping over themselves to sign every green haired kid in a black leather jacket, the new school metal bands decided to take matters into their own hands.
Forming bookends at the beginning and end of 1979, Def Leppard's eponymous EP and Iron Maiden's The Soundhouse Tapes were self-financed declarations that NWOBHM could supply its own commodity. When the former received airplay on the tastemaking John Peel radio show on the BBC, and the latter – titled in homage to the Heavy Metal club nights held by Peel's metal analogue, Neal Kay, in a pub of the same name – sold 5,000 copies through gigs and mail order, it made many other bands on the Heavy Metal underground realize a new path to notoriety was available.
"The inspiration was certainly Def Leppard and Iron Maiden, and it showed that anyone could do it if they wished," states John Tucker, period historian and author of many books on the subject including Suzie Smiled: The New Wave Of British Heavy Metal. "I could never see the fascination of punk at all, but the do-it-yourself attitude did show the way in that respect, proving that you didn't need the A&R guys to discover you. Selling a demo tape or self-pressed record was a much better way to get a higher profile."
One band inspired by these actions was North London's Charlie 'Ungry. "We wanted to be part of what had become a different atmosphere in the music industry with Def Leppard and Iron Maiden getting their music out on their own independent labels. We thought it must be worth a try," remembers the band's drummer, Andy Demetriou. Culled from a session recorded in a studio located on a barge off the Thames River and produced by the unusual suspect of Tom Newman - the man responsible for Mike Oldfield's Tubular Bells - Charlie 'Ungry released their own three song seven-inch EP in August of 1980.
Sounding like a stripped-down Blue Oyster Cult, the songs on the EP bubble over with a vigorous drive and desire. Even though it gained airplay on London's Capital Radio from DJ Alan Freeman, the record still warranted no interest from labels, and the band broke up soon after its release. "The group was immature really," muses Demetriou. "We just couldn't face the disappointment of failure in what seemed to be an opening."
An interest in the EP was sparked off sometime in the early '00s by record collectors digging for obscurites and one-offs that got lost in the shuffle of torrent of NWOBHM's boom years. The complete ten song recording session with Tom Newman was released as an LP by Italy's Rave Up Records in 2014 while the EP received re-issuing by Chicago's HoZac label two years ago. "The impact over the last fifteen years or so is really gratifying for all of us" says Demetriou – "but also maddening as we know we could have made a much bigger and lasting impact if we had a management team guiding us along."
We handled all of the distribution ourselves, yet we know for certain that we didn't distribute a number of the EPs that are currently in circulation. I'm not bitter, but I'm definitely wiser.
Unlike punk's London core – a neccessity given its directive to shake the gates of the establishment – NWOBHM's centre of gravity lay away from the capital. Way up in Manchester, the Cargo label released a handful of essential singles, with a couple of them being Turbo's Stallion and Oxym's Music Power on a shoestring budget. Just a few miles down the road, Yorkshire's 7 Year Itch were pegged to release a single with the imprint and soon found out it was run as more of a collective entity than they thought. After much coin collecting, both the label and the band had saved enough to do the recording sessions, albeit ones that had to happen on a graveyard shift to keep the costs down.
Not long after their "I'm Gonna Make Ya" b/w "Oo Ya Ha" 45" was released, the band found out there was another band with the same name and needed to change it quickly. The band ended up switching their name to Wamm and all subsequent copies of the single had the name changed on both the cover and label. Looking back, vocalist Rita Rowe finds amusement in the fact a duo of the same name would skyrocket to fame not soon after they broke up. "I guess the joke is we changed our name to Wamm because we figured no other band would ever want to call themselves that. Little did we know!"
Even further up north in a border called Durham was Guardian Records 'N' Tapes, a label run out of the back of a recording studio by an elusive character by the name of Terry Gavaghan. Through the lens of record collecting fandom, Guardian is that special kind of imprint dripping with intrigue; their catalogue is a wild assortment of arcane and primitive sounding singles by northern acts like Hollow Ground, Battleaxe and Mythra. But up close, it was run in a staunchly DIY fashion too. In 1982, locals Satan might have released their debut single with Guardian's name slapped on the centre label, but it was the band who ended paying for both the recording and pressing of the record and doing the lion's share of the legwork. "There were 1000 made and we handmade the sleeves ourselves," says the band's guitarist Steve Ramsey. "We had them printed by our bass players' brother. They came in solid sheets and we had to cut them out, score them with a knife, then fold and glue them."
Mythra guitarist John Roach echoes similar experiences with Gavaghan when the band did their Death and Destiny EP with him. "We handled all of the distribution ourselves," states Roach. "We know for certain that we didn't distribute a number of the EPs that are currently in circulation – so all we can assume is that Terry printed his own copies and sold them himself without our knowledge. I'm not bitter, but I'm definitely wiser."
Undeterred, Satan plugged along getting rid of the records on their own. "We sold a lot of our singles through an advert we saw for a distributor in the back of Sounds magazine, who sold a lot of them to a record store in Eindhoven, Holland." Ramsey reveals. "It was then we were invited to play at the now famous Dynamo Club in the city". It was there that the band caught the ear of the large independent label Roadrunner Records. Sensing a better deal than what was presented to them by Guardian, the band released their debut album, Court In The Act, in June of 1983 on the label.
By the time Satan signed to Roadrunner, the NWOBHM had already grown beyond being a cottage industry for most of the pioneering bands. Iron Maiden were already on their fourth album for EMI, Piece of Mind, while Def Leppard were in the throes of taking America by storm with their third album, Pyromania. Many of the early Neat signees had moved on to MCA while dozens of lesser bands were snapped up in a buying frenzy similar to the punk boom a few years prior.
Author John Tucker recalls telling Venom guitarist Jeff "Mantas" Dunn how influential his band was on the future of heavy metal. In his thick northern accent, Dunn laughed back: "Aye, I'd much rather have been rich, though."
Perhaps it was bum deals like the ones presented by Guardian or the hustle involved in self-releasing records was too much of a pain in the ass, but these bands were now not about to avoid collecting some major label paychecks. "I think even your most diehard punk would admit that, really, stardom was what they were after," notes Tucker. "I don't think I've interviewed anyone who hasn't admitted that what they wanted more than anything else was that big, fat major label record deal and the fame and fortune that would undoubtedly go with it."
The problem was, the major labels which signed this spate of NWOBHM bands knew little to nothing about them or the scene from which they arose. For every band who got to maintain their street cred like Iron Maiden, there were many victims who were forgotten by both their fans and label soon after the ink had dried on their contract.
"The irony is," thinks Tucker, "had some of the bands got that deal prematurely, they might have just been pressured by the label, split up and forgotten about. So in some ways the relative obscurity and independence of the time gives NWOBHM bands a credibility way beyond wealth, fame and playing Madison Square Garden." That being said, Tucker recalls the story of interviewing Venom guitarist Jeff "Mantas" Dunn for his book Neat 'N' Tidy: The Story of Neat Records and telling Dunn how influential his band was on the future of heavy metal, Dunn laughed back in his thick northern accent: "Aye, I'd much rather have been rich, though".
One band who might have arrived too late to be a part of the NWOBHM, but certainly had the self-reliant spirit was Hampshire's Siege. Formed in '84 and fronted by vocalist Sharon Thompson, the group self-released their scorching 45" "Goddess of Fire" b/w "Don't Punish Me" a year later and gained a strong following on the club circuit due to Thompsons' magnetic stage presence which included a bullwhip as a stage prop.
Sadly, Sharon passed away in June of 2010, but guitarist Al Stringer of the still functioning band has fond memories of her. "When I first met her she was maybe fourteen or fifteen years old and was into stage musicals but still wore a fringed white leather jacket with boots and jeans, looking very much the metal head."
When pressed if the band was treated differently due to having a female singer, Stringer responds: "It was different at the time to have a young woman out front belting it out and she was respected. She was always treated as an equal member of the band – after all, she could sing well, could hold an audience and perhaps most importantly, she wrote great lyrics. Her voice and personality was enough to win people over. At one point we had a manager type of character who suggested that we would be more popular if she performed topless. This did upset her and certainly never happened."
As confounding as that last statement might be, it's certainly not isolated. No matter how many females might have participated in the NWOBHM scene, there was still a misogynistic streak running through the presentation of the music with a perfect example being the record covers by the band Witchfinder General containing bare chested women bloodied and beaten.
"Looking back, it does make me raise my eyebrows a bit," admits Jody Turner, lead vocalist and guitarist of Rock Goddess. "I don't think I really was that bothered, but we were kind of used to it, all the bands were doing it. But I never once felt I didn't have a place in rock music. Maybe it's because of all that I think this way: I won't be knocked down, and I certainly won't let anyone tell me I can't do something because I am female." After a pause, she adds: "Maybe peeing standing up, but apart from that…"
In spite of missed opportunities and a pervading blokiness, there is no denying that the creative boom of NWOBHM's heyday was a liberating moment in time. Some found fame and fortune through it, while some got grifted by small time label bosses. Overall, everyone overcame their obstacles to create an rooted community, and an underground mentality, that did not exist in heavy metal previously.
"It was like a big family of like-minded people making the music they loved not solely for the financial rewards," whimsically states Steve Ramsey of Satan. "The fans were part of the network too and the magazines had to take heed and listen to the smaller voices in the genre as well as the bigger labels and acts." It also signposted the future for heavy metal, in a way that still reverberates to this day: Take the highly NWOBHM-inspired Metallica or any number of American labels and bands that sprouted up in their wake.
Tucker wraps up its impact succinctly: "I'd hazard a guess that the rise of the NWOBHM labels gave impetus to the US independent metal scene, with labels like Metal Blade and Megaforce and the spread of a whole new underground in the States. Independent record labels became a mainstay of the music scene from that point, and many releases were more fan-driven than based on how many units they might sell. No bad thing in itself. The Scandinavian black metal scene links back to the NWOBHM. Thrash metal links back to the NWOBHM. Its importance really cannot be overstated."