The Empire Strikes Back: "Atomic Dog" and the Rebirth of Parliament-Funkadelic in the Early 1980s
Melissa A. Weber traces the rocky road that led to the making of George Clinton's most memorable comeback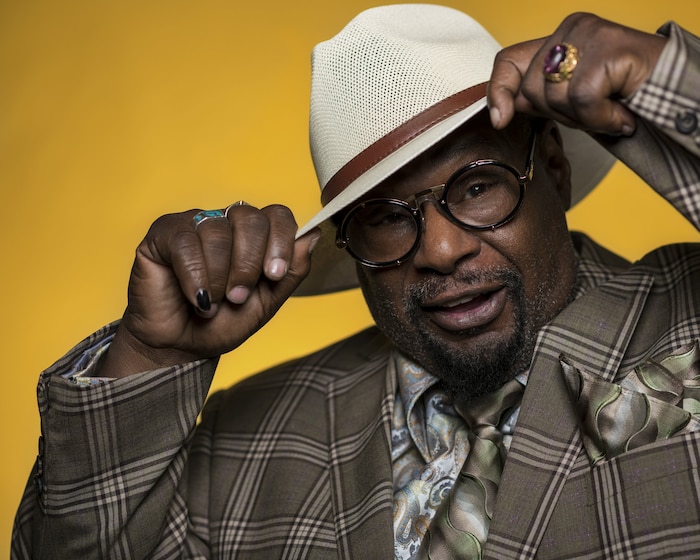 In 2018, Parliament-Funkadelic leader and pioneer George Clinton announced that he would retire from touring in 2019 – or whenever he decides – marking another major milestone in the history of the massive P-Funk empire which he has masterminded for some six decades. At 77 years old, Clinton is not ending his work as an artist, producer, songwriter, conceptualist and overall referee; he just oversaw the recent releases of new albums by Parliament (Medicaid Fraud Dogg, 2018 – the first Parliament release since 1980) and Funkadelic (First Ya Gotta Shake the Gate, 2014). He plans to remain involved, in the studio and on the sidelines, continuing to direct the super-group that he founded and worked hard to keep alive.
The story of P-Funk is a mesmerizing, dizzying and miraculous testament of longevity, marked by rebirths or, as Clinton often described, periods of "planned obsolescence." He told the Los Angeles Times in 1989, "We were hot as fire. But like with anything, there's a planned obsolescence that comes around. When you get to that stage, there's nothing you can do short of a freak situation." While not quite planned, P-Funk's swift ascent in popularity was followed by a series of setbacks at the start of the 1980s, which almost threatened to topple what Clinton's funk army had built in the previous decade. But the empire's triumphant rebirth, under the span of just one year, and thanks in part to the "story of a famous dog," would be the most fascinating strike back of all.
CBS Records never really wanted Uncle Jam Records to succeed in the first place. First, they were terrified because we had just started wearing military gear.
The most common narrative told about the Parliament-Funkadelic legacy is generally concerned with the Mothership. The Mothership spaceship, as a symbol, played an integral role in Parliament's 1975 platinum-selling album, Mothership Connection, which found Clinton and crew partying in outer space, in a fantasy that excited the group's core enthusiasts and attracted a larger audience – then overwhelmingly young and black. The Mothership was also a real, larger-than-life theatrical, and expensive, spaceship prop. Clinton believed in it enough to convince Casablanca Records president Neil Bogart to fund its construction as well as the cost of touring it around the country in massive halls and arenas. The Mothership landing became the live P-Funk show's climax, as the spaceship appears to fly over the audience and then land on stage, with Clinton emerging from its rafters dressed as his character Dr. Funkenstein, who was introduced in Parliament's 1976 album, The Clones of Dr. Funkenstein.
The Mothership rode on for years amid successful tours throughout the late '70s, carrying with it Clinton's slew of projects and spinoffs. They all consisted of the same core members and employed the same production and writing teams with Clinton at the helm, yet were all signed to different record labels. Parliament was signed to Casablanca Records, as was the female-fronted Parlet, while Funkadelic signed to Warner Bros. in 1976 after ending its contract with Westbound. Warner Bros. was also home to Bootsy's Rubber Band and one album from guitarist Eddie Hazel, while Atlantic Records got the Brides of Funkenstein and Fred Wesley & the Horny Horns. Finally, keyboardist Bernie Worrell was signed to Arista Records. Some argued that Clinton's P-Funk empire was too big. Clinton always conceptualized big, so surely his empire wasn't big enough.
On August 21, 1979, Funkadelic released "(not just) Knee Deep," the dancefloor-friendly lead single from the Uncle Jam Wants You album, which would come out the next month in September. The song would reach #1 on Billboard's R&B singles charts and #77 on the Hot 100, propelling its parent album to gold status.
Regarding the album's iconic cover, George Clinton wrote in his 2017 memoir, Brothas Be, Yo Like George, Ain't That Funkin' Kinda Hard On You?, "There's a photo that shows me sitting in a wicker chair, in a parody of the famous Huey Newton portrait. Some people read the image as threatening, or paramilitary, but they were only looking at the surface. He continued, "None of this meant that we weren't trying for some kind of revolution, only the revolution we had in mind was peaceful, hedonistic, and prone to winking at itself in the mirror. At its heart, Uncle Jam Wants You was a recruitment poster for music that was fighting for its life; we were trying to keep dance music alive without submitting entirely to disco." Little did anyone know that in the next year, Clinton's P-Funk revolution would soon be the one to fight for its life.
1980 and 1981 featured a series of events in the P-Funk empire that would suggest implosion. With no recent hit singles from Parliament or Funkadelic, ticket sales slowed for live shows. Mothership landings were replaced with odd experiments, such as a series of concerts at the Apollo Theater in Harlem, billed as "George Clinton's Production of Popsicle Stick," in which a giant egg prop landed on stage and cracked open to reveal not Clinton, but one of the newer group members, vocalist and keyboardist Michael "Clip" Payne. Or Clinton emerging from the Mothership prop completely naked.
In 1980, Polygram Records took over ownership of Casablanca Records. Neil Bogart, Casablanca's original president, departed soon after as the label did not share his enthusiasm for Clinton's vision and projects. Plans for Clinton's own subsidiary label on Casablanca, called Choza Negra, or "black shack," were short-lived, and only saw one release, Parliament's Trombipulation in December 1980, which would be the group's final release with Casablanca. In 1981, Warner Bros. forced Clinton to trim Funkadelic's Electric Spanking of War Babies from a double album set to a single album. The Women Against Violence advocacy group sent protest letters to Warner Bros. over artist Pedro Bell's controversial Spanking cover illustration, and began printing censored versions to replace the originals.
To make matters even more complicated, Clinton's former vocalists and original Parliaments members, Fuzzy Haskins, Calvin Simon and Grady Thomas, released an album calling themselves Funkadelic. They even promoted their album with an appearance on Soul Train. Their LP contained a disclaimer sticker stating that no contributions on the album came from George Clinton. But a 1981 court case squashed the duplicate group's efforts entirely with a ruling that stated, "There is no partnership in the ownership of the Mothership."
Everyone said don't sign George. He was blacklisted at the time because of all the trouble he was having. But I needed him because he had a sales base... And I saw the genius in him.
Despite these difficulties, the ever-persistent Clinton had a plan to reclaim the throne with his own label. Uncle Jam Records, named after the character that he introduced with 1979's Uncle Jam Wants You, would be home to Clinton's new projects, as previous offshoot groups such as the Brides of Funkenstein, Parlet and the Horny Horns had either lost their contracts, disbanded or moved on. Clinton would run the label with his manager Archie Ivy, and it received a distribution deal from CBS Records in 1980.
In an interview that I did with P-Funk vocalist Ron Ford Sr. prior to his death in 2015, he mentioned a meeting with Clinton, Ivy, CBS president Walter Yetnikoff and CBS deputy president Dick Asher. "Dick walked up and whispered to George, loud enough for me to hear it, 'Don't sew your stripes on too tight.' We didn't think anything of it, but they never really wanted [Uncle Jam Records] to succeed in the first place. First, they were terrified because we had just started wearing military gear. We showed up to the meeting in military gear. Before, it was shiny costumes and we were making people say 'Flash Light.' Next thing you know, George is on the album cover like Huey Newton and we play Soldier Field in Chicago with a crowd of 200,000 people showing up in military gear. I guess they were afraid to find out what we were gonna make people say next. I think they were terrified."
Uncle Jam Records, by Clinton's promise, was expected to restore the P-Funk empire to its former glory. The label's first release was the 1980 self-titled album by the Sweat Band, produced by Bootsy Collins and featuring saxophonist Maceo Parker, keyboardist Joel "Razor Sharp" Johnson, percussionist Carl "Butch" Small and other members of Bootsy's Rubber Band. The second 1980 release for Uncle Jam Records was Wynne Jammin by vocalist Phillipe Wynne, former leader of the Spinners. After leaving the Spinners in the late 1970s, he joined P-Funk, notably providing vocals throughout Funkadelic's Uncle Jam Wants You album and on the hit single "(not just) Knee Deep."
The third release to come out of Uncle Jam Records was a proposed solo debut for Roger Troutman, a multi-instrumentalist who already had a record deal for his group Zapp (due to Clinton bringing them to the attention of Warner Bros.). Troutman gained a reputation around his Dayton, Ohio base for being a genius performer who utilized a talkbox with his vocals, and was scooped up by Collins to become a new recruit in the P-Funk army. Zapp's debut album, released in 1980 and produced by Bootsy, was considered a part of the P-Funk family and Troutman was the anticipated star of Uncle Jam Records.
Unlike the Sweat Band and Phillipe Wynne releases on Uncle Jam, Zapp's first single, "More Bounce to the Ounce," became a hit for Warner Bros. The song, which almost didn't happen, was created as an ingenious afterthought by engineer Jim Vitti of United Sound Systems studio in Detroit. His decision to loop 16 bars of a section of "Funky Bounce," which had already been recorded for the Zapp album, spawned the song that became Troutman's signature tune and first chart-topper.
Excitement for Troutman's solo project for Uncle Jam, titled The Many Facets of Roger, geared up and recording was completed, with sessions paid for by Clinton. However, Troutman's solo project wound up on Warner Bros. In his autobiography, Clinton stated, "In short order, Warner Bros. released the album, and it was the exact same album that we had intended for Uncle Jam. It had the same title, The Many Facets of Roger. It had the same cover design. 'I Heard it Through the Grapevine' went out as the single, and it was a big hit, like I thought it would be. It just wasn't a hit for Uncle Jam." The album, released in August 1981, would go platinum, and Uncle Jam Records, unable to recover from the financial loss, would go out of business. Clinton finally decided to give up. In his memoir, he stated, "In late 1981, after a final show in Detroit, I suspended operations for both Parliament and Funkadelic." The P-Funk empire was left for dead.
Enter Ted Currier, a DJ who introduced the style of disco mixing, featuring seamless blends and transitions, to radio audiences in New York City in the late 1970s on WBLS. By 1981, Currier had accepted his first corporate job as the head of Black Music A&R for EMI/Liberty Records. However, as he shared with me in a 2019 interview, the label normally promoted from within. The staffer who wanted his job viewed Currier as an outsider and vowed to not promote any of his artists, in an act of jealousy and retaliation. Feeling immediate pressure to be successful at his new job, Currier's strategy was to find an artist who already had a built-in fan base. At the same time, making its way around industry circles was news that George Clinton was looking for a new record deal. "Everyone said don't sign him. He was blacklisted at the time because of all the trouble he was having. But I needed him because he had a sales base. Before I signed him, I wanted to make sure he was ready, [so] I spent some time with him for a couple weeks. And I saw the genius in him."
One of Currier's first projects was for an R&B group called Xavier. Currier said, "They turned in their album. I didn't hear any singles. And I thought, 'What can I do about this? Maybe I can fix it.' [So] I got George to do some overdubs [and] it worked." Xavier's 1981 single, a funky groove called "Work That Sucker to Death," featured the overdubs from Clinton and Bootsy Collins.
In the middle of the song there is a breakdown, featuring Clinton speaking, which at first listen sounds nonsensical. But with knowledge of Clinton's previous year of traumatic events, the words reveal an artist at his most vulnerable, thankful for this overdub job, and asking for more. He playfully says in the song, "Bootsy, I think we employed now. We workin'. We sure nuff need a gig," while also asking Bootsy if he still has his (music) union card. It is a fascinating moment that, without the backstory, is completely lost on listeners – and there were a lot of them, as the song wound up being an R&B hit. As Currier said about that moment in the overdub, "George was riffing on reality. That was true. And he needed a job."
Clinton's overdubs on the Xavier recording were his first recordings for EMI/Liberty, home to Capitol Records. Clinton was eager to work. And Currier, eager to prove his jealous coworker wrong, set out to help Clinton get a hit song. He said, "One of the things that made me sign him was the title 'Atomic Dog,' which was one of many titles George came up with during those weeks we spent together – but I put that one in my pocket." Currier encouraged a new sound for George, inspired by electronic innovations from the group Kraftwerk and the song "Planet Rock" by Soulsonic Force with Afrika Bambaataa.
Part of this new sound included David Lee Spradley, a young Detroit-based keyboardist whose first P-Funk session, Parliament's "The Big Bang Theory" in 1979, was technically a union session. Clinton enthusiastically invited him to join the group shortly after.
Spradley is credited as a songwriter of "Atomic Dog," alongside Clinton and P-Funk vocalist and guitarist Garry Shider. Currier selected him to be involved with the recording, since he had knowledge of newer synthesizers of that time. About the song, which was recorded over many sessions in Detroit, Spradley tells me, "I did the (first) session on January 25th, 1982. I put down the very first track...(using) the Man in the Box [which] was our nickname for a drum machine that would essentially be our click track, 'cause it was more fun to play to some kind of beat than to just a metronome. I told the engineer, Mike Iacopelli, 'Let's lay six minutes of this down on the 2" tapes, 'cause back then we used tape. You'd get 24 tracks. We listened to it and said, 'Yeah, it sounds good,' and Ted (Currier) says, 'Hey, why don't you try putting the tape up?' I said, 'Are you crazy, man? Then it'll be backwards.' He said, 'Yeah, yeah yeah. That's the thing, man, backwards is the thing.' And, as soon as we did it, we knew. We knew we had something special."
Shider sang co-lead and arranged the vocals. "Back then I was just the guy that played the keyboards, that did the tracks in the studio and I was very shy," Spradley said. "But this particular song, Garry says, 'Come on up, Dave, and sing this with us.' And I got up there and felt it so much, he said, 'Hey, man. You hogging the mic, man. You need to back up a little bit…I'm trying to get a blend here.' On the final recordings, he was exactly correct. I am too loud. But I think Garry, being the genius he was, he could feel my angst in the song so well [and] he wanted that. His vocal arrangement on the song is a masterpiece."
Spradley also created the song's two keyboard basslines, an "A-bassline" and "beat bassline," using Prophet 5 and Minimoog synthesizers. He recalls that Clinton arrived at the studio later, sometime around midnight. "Ted (Currier) told George (earlier) to write lyrics about an atomic dog. And George is a genius. 'Why must I feel like that?/Why must I chase the cat?/Life on all fours/ When you're out there walkin' the street/Makes you compete/Nothin' but the dog in me.' Those are universal lines."
"When (George) got there, he was not, let's say, sober. He was stoned...We all did that," Spradley says. "He started going off (with his lyrics), and Garry and I are looking at each other going, 'We'll just let him go.' He's singing, even though he was talking. But I think what he was doing was recompiling all those lyrical ideas that he'd been digesting in his mind. We got two nice tracks out of him. Two complete takes."
Various sessions and overdubs were added later. Drum takes from Dennis Chambers and Gary "Mudbone" Cooper were both utilized. Drummer Ron Wright played a percussion part created by Spradley on the Minimoog. Vocalists added their parts, under Shider's perfectionist eye. They included Jessica Cleaves, Lige Curry, Ray Davis, Mallia Franklin, Shirley Hayden, Sheila Horne, Jeannette McGruder and more. "One of the most exciting sessions was the panting and Mallia is the one that started that," Spradley said. "She started panting and Garry said, 'Yeah, let's do that.' And we all started panting. We got so dry mouthed it was crazy. Stop the tape. Nobody had any moisture left! That was fun. And we also laid some claps on that night because we always did live hand claps, which is [recording engineer] Jim Vitti's signature sound."
"I think Bernie (Worrell, keyboardist) probably did the last overdub on the track," Spradley adds. "He did the beautiful synthesizer part that sort of leads in. I play my little line, he plays his little line and then we both go off into it. It's beautiful."
The final mix was completed at United Sound by Jim Vitti, in a mixing session that, he tells me, he did solo "from 6 PM to 4 AM." "Atomic Dog," Vitti says, "resurrected George's career."
With that, the P-Funk empire was reborn – not with a stable of artists stretched out among several record labels and not with a string of recent chart hits – but with Clinton, as a solo artist for the first time. He signed to Capitol and worked on his debut solo album, Computer Games. Released in 1982, the album's first single was "Loopzilla, not "Atomic Dog," which Currier received a co-production credit for. Currier said, "I wasn't sure it was gonna be a single. Capitol Records wasn't geared for black music, more for rock & roll. Black music was like a stepchild there. But I had to convert everyone and let them know they were wrong."
Initially ignored and considered just an album cut, "Atomic Dog" was finally released as a single in December 1982, one month after Computer Games had come out. Clinton wrote in his autobiography, "Over in England, I appeared on Top of the Pops with Grandmaster Flash. I was technically promoting 'Loopzilla,' but all anyone wanted to talk about was 'Atomic Dog.' That's when I realized that the song had blown up." A video was filmed, and it won awards for its use of animation by graphic artist Overton Loyd – even though MTV wouldn't play it, as Michael Jackson had not yet forced the channel's hand in playing videos by black artists. The song reached #1 on the Billboard R&B Singles charts on April 16, 1983. It was Clinton's first #1 hit since Funkadelic's "(not just) Knee Deep" in 1979, knocking Michael Jackson's "Billie Jean" from the #1 spot after a nine-week run. "Atomic Dog" would remain in the #1 slot for four consecutive weeks. The empire was back.


Thank you to the following P-Funk members, associates, family members, and/or related participants who provided invaluable stories, support, or inspiration for this piece (listed in alphabetical order): George Clinton, Ted Currier, Ronald Ford Sr., Ronald Ford Jr., Seth Neblett, Pirahnahead, Garrett Shider, David Spradley (aka "David Lee Chong"), Tom Vickers and Jim Vitti.