The Ethiopia-Netherlands Connection of the King Shiloh Soundsystem
Holly Dicker on the history of the Amsterdam-based system and how it's creating bonds across continents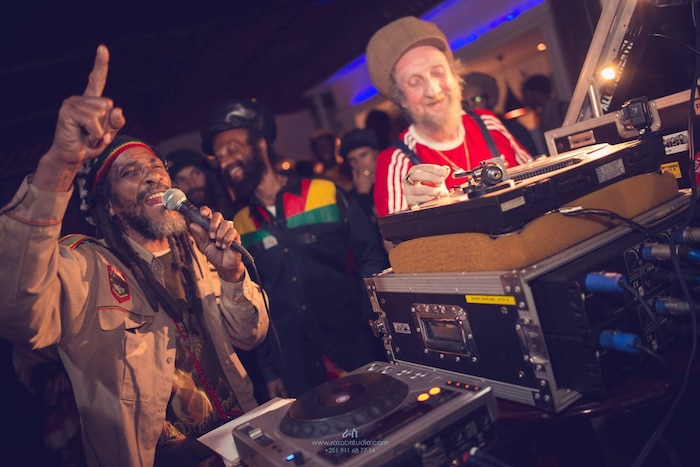 Bredda Neil, "freestyle selector" and operator of one of the oldest and most respected roots reggae and dub soundsystems in the Netherlands, is not a purist to the craft. For one, he is not precious about the secrets which he has painstakingly accumulated over the last 30 years. He is more than willing to share the knowledge – a "moral responsibility," he says – because "a soundsystem is only a tool. What you do with it is the important thing." In recent years, this has lead Neil and his team to working with local communities in Ethiopia – "the promised land."
"When we formed the nonprofit organisation behind King Shiloh, you had to check a list of criterias including what is the goal of the nonprofit. We wrote: It's our goal to go to Ethiopia to take the music to Ethiopia. So it has always been on my mind," says Neil. Over the last ten years King Shiloh have been traveling to the country to connect with local soundsystems from the Rastafarian community in Shashamane, as well as musicians and other people invested in growing a scene in the country's capital city Addis Ababa. "I'd love Addis Ababa to be a big centre for soundsystem," says Neil, which is why they've now built a soundsystem out there, to be run and maintained by locals.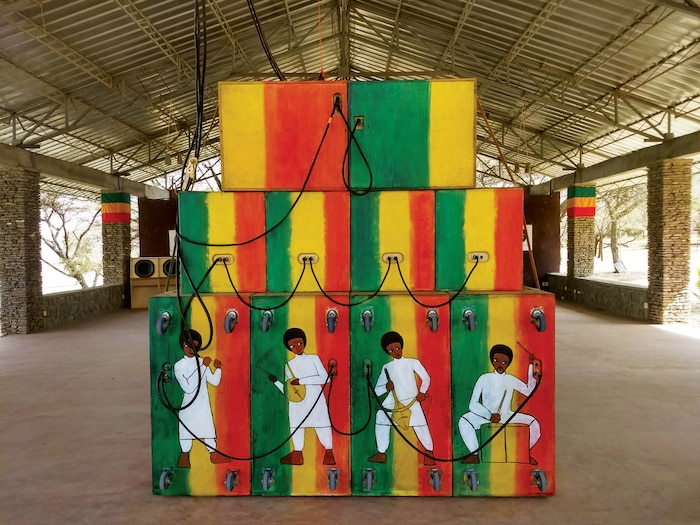 In February 2018, King Shiloh, together with Rastafari Travel, launched the Great Ethiopian Soundsystem Festival on the shores of Lake Langano. The weekender was a testing ground for the newly built Ethiopian Soundsystem as well as a convergence of local and international performers. The second edition took place in March 2019 in Addis Ababa and coincided with the launch of a new regular fixture in the city, Addis Dub Club, a cooperation between Rastafari Travel and King Shiloh along with local dub lovers Ras Kush, Paul Dragon Slayer and Dub:Tera. Local soundsystems, like Ababa Janhoy Sound, and artists from Kenya, Ghana, Shashamane and Jamaica all performed at the festival in March. For King Shiloh, the purpose of the project is to empower locals to build their own scene – "just do our little bit to help," says Neil.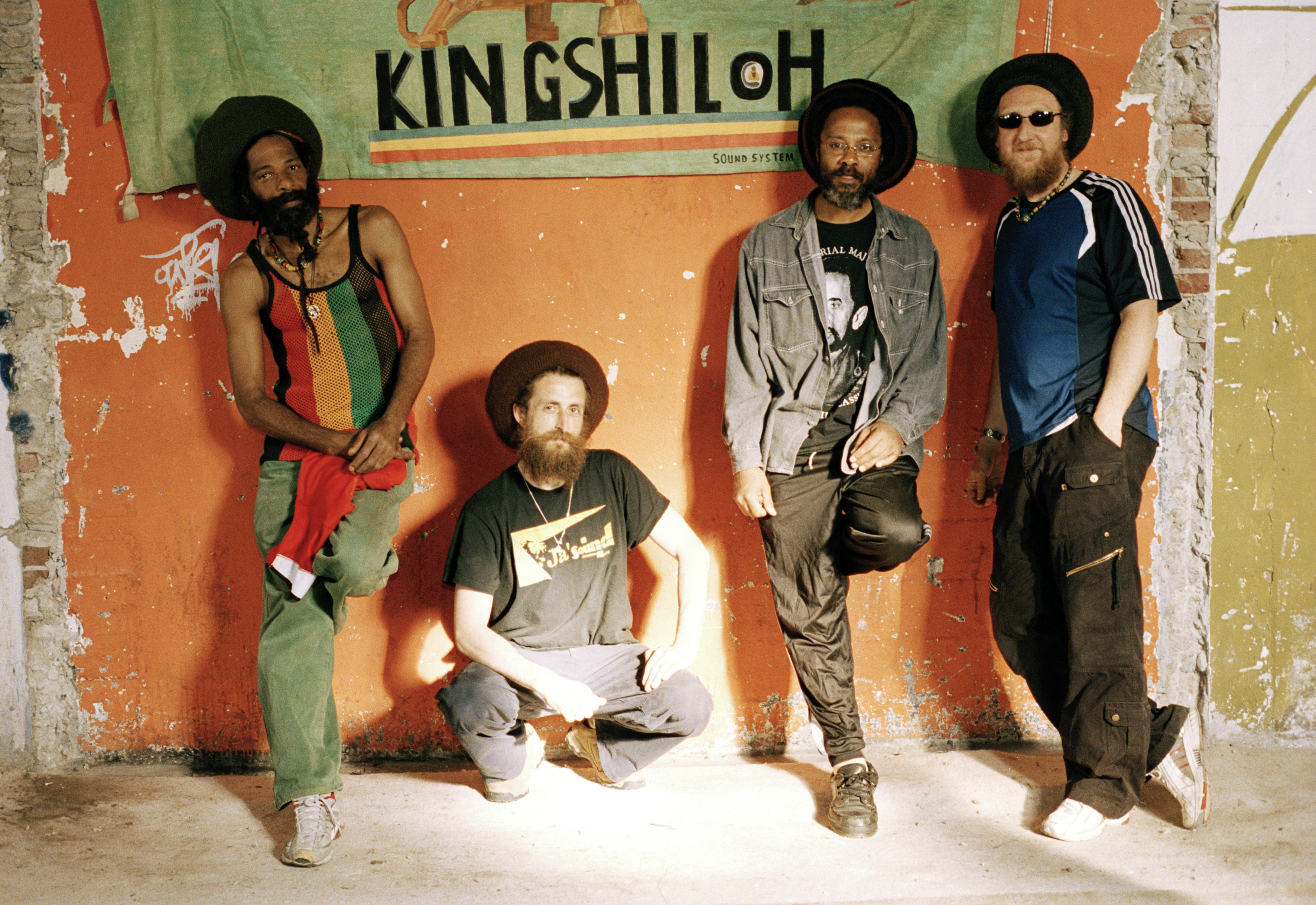 King Shiloh was officially founded in 1991 in Amsterdam. There had been a growing interest in roots reggae in the city since the late '70s – Bob Marley visited Amsterdam for the first time in '76, and many major reggae artists toured through the capital. Paradiso and Melkweg became the main hubs for roots reggae music – live concerts, mostly – where bands regularly played. But the soundsystem scene was very small, underground and shepherded by the city's Suriname and squat communities. Until King Shiloh.
Neil arrived in Amsterdam in 1988. "Music was a calling," he says. "It was only when I came to Holland that everything started to manifest." Born and raised in Bradford, West Yorkshire, a multicultural region in the UK with a significant West Indian population, Neil was exposed to soundsystem culture from an early age. "That is what interested me, the music coming from the West Indies. As a youth I remember seeing big speakers on the street and people playing sound and dancing." He discovered reggae through punk in the mid-'70s, attending concerts at places like Cleopatra's (formerly the West Indian Social Club) in Huddersfield and the Palm Cove in Bradford. "The music just grabbed me," he explains. "Through soundsystem reggae – the hard edge of reggae – I found the same rebelliousness that I found in punk."
After dropping out of Art College in Bradford, Neil wound up in London in the '80s honing his trade as a graphic designer, and collecting vinyl. These were the formative years spent in reggae haunts like Dub Vendor in Ladbroke Grove during lunch breaks, bartering for the latest 7"s from Jamaica. He recalls newly arriving in Amsterdam and bumping into an old friend from Bradford, "Mad Jack" Meynell, another ex-punk living in one of the city's many squats. Meynell had a weekly Saturday night radio show on Radio 100, Amsterdam's premier pirate station at the time. Meynell was playing a broad mix of genres, including hip-hop, when he invited Neil to co-host the show. Meynell eventually stepped aside, and with Neil at the helm it became a dedicated roots reggae show that continued for the next ten years.
During the warm-up, Jah Tubbys' bass came in so heavy that it cracked the newly renovated swimming pool in the floor above.
The radio exposure led to some early DJ gigs at Paradiso and Melkweg, playing before and after huge acts like Burning Spear and Aswad. "The first few times we had to stand in the DJ booth, had to play quiet, don't create too much fuss. After that I brought MC Lyrical Benjie and we played like it's soundsystem. It was a session. That was the start of King Shiloh Soundsystem." The OCCII sessions followed, heaving nights in a former squat turned legalised DIY music venue in Amsterdam's Old South district. "The OCCI was the first place we started to make an impact," says Neil. Then came Dub Club Y2K, a residency at Paradiso that lasted between 1999 and 2003.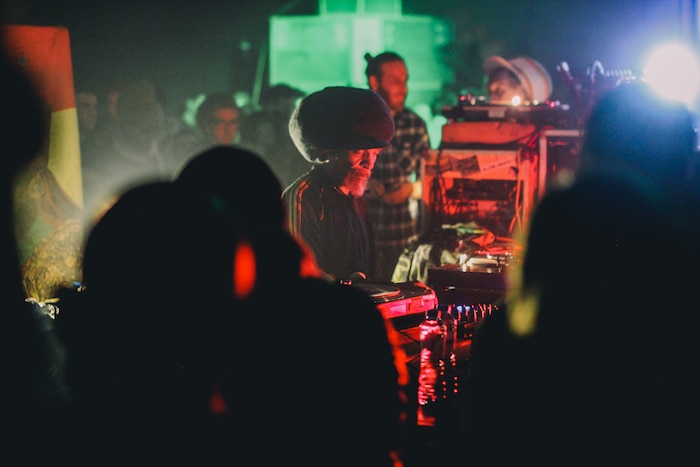 Dub Club Y2K opened up Amsterdam to the UK soundsystem scene by inviting London dons like Jah Shaka, Aba Shanti-I and Jah Tubbys to perform in the Netherlands for the first time. Dub Club Y2K had one rule: artists must bring their own soundsystem – a rule Paradiso paid for in 2001 after Jah Tubbys' seismic debut. "We got 960 complaints that night," Neil recalls, laughing. The following year, on March 1st, 2002, King Shiloh made their London debut as the first foreign soundsystem to perform at the University of Dub – "the time Jah Tubbys broke the ceiling," says Neil, recounting one of the worst and best nights in King Shiloh's history.
That night King Shiloh were literally baptised into "the champions league" of soundsystems. During the warm-up, 30 minutes before the doors of the Brixton Rec were due to open, Jah Tubbys' bass came in so heavy that it cracked the newly renovated swimming pool in the floor above. "Suddenly, I'm soaking wet. Lyrical Benjie next to me is soaking wet. There's wet all over the amplifiers. I'm turning everything off. I could have been electrocuted. I was crying inside. We made all these preparations, it was our big day and we didn't even get to play one record when the doors opened." The session did go through in the end, but at a reduced power – "like one of those silent dances," says Neil. King Shiloh have more than made up for it in the years since, playing many times at University of Dub.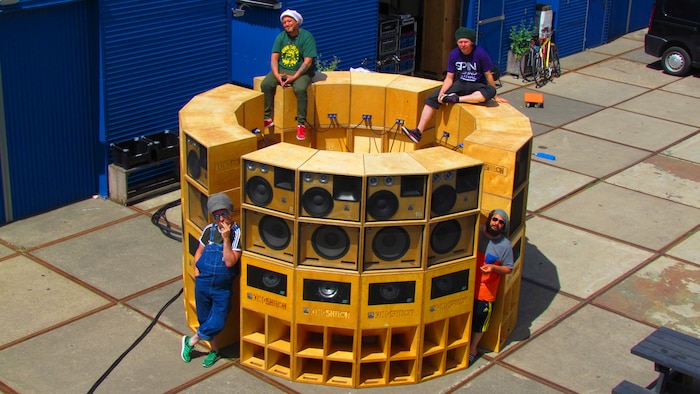 Sound quality is incredibly important to Neil. "Music is a pleasurable thing. It should make you feel uplifted," he says, and being loud isn't the only way to make an impact. The King Shiloh Soundsystem is highly unconventional in its design as a result. Eschewing the traditional mono setup favoured by most roots soundsystems, King Shiloh uses a six-way stereo setup and is formed of unique trapezoid bass boxes "for a more powerful, cleaner sound." These have been designed by Steve Stavrinides from London-based Noise Control Audio, formerly of the UK free party soundsystem Bedlam.
There have been many iterations of the King Shiloh Soundsystem over the decades, which has evolved through a process of trial and error and hands on testing by Neil himself. "I had to know how everything really worked," he says. "I had no knowledge of anything, so we spent a lot of time working things out." He wasn't content with copying other people – "the tradition of soundsystem." He wanted to learn by doing, which meant sometimes doing it wrong. "The first sound we had was a real mishmash of speakers that we put together from PA companies all over Holland. I'd buy these big old bass boxes and we used to put them together in our garage like a jigsaw puzzle. Sometimes it sounded terrible, but we learnt quick."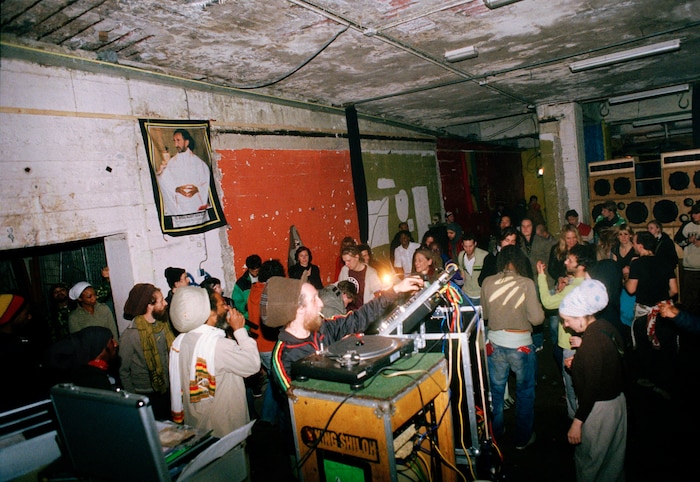 After building a scene at home with Dub Club Y2K, and then a succession of illegal "bunker parties" from their base at NDSM docklands, King Shiloh took to the road – and they haven't stopped touring. They are one of the most well-traveled soundsystems in Europe, breaking ground in the early '00s as one of the first systems to tour extensively through Italy, for example, and bringing the King Shiloh sound and spirit (in lieu of the system) as far as Saint Petersburg and Moscow. "When you're a soundsystem, you're a soundsystem. You carry your system with you," says Neil, and along the way they've inspired a new generation to rise up, advising crews like Jah Marshall from Paris and Island Beat from Crete, in addition to the many that have emerged in Holland since the mid-'00s.
The Amsterdam Soundsystem Weekenders, which King Shiloh have been running since 2012, are a testament to the international community that Neil and his team have created around them and their soundsystem. The Weekenders have become a place of pilgrimage for young European soundsystems to perform alongside veterans in an environment of friendly exchange. King Shiloh have put Amsterdam on the map and fomented a vibrant roots and dub soundsystem scene in the Netherlands, which today includes several systems and crews, as well as regular club nights and festivals happening nationwide.
For Neil, it all comes back to the point of sharing: Sharing knowledge and expertise in order to perpetuate soundsystem culture in its true form has been the driving force of King Shiloh, in all its endeavors. And it's been a "mad life," he says. Ultimately, the future of soundsystem culture lies in the next generation, and if Bredda Neil can help raise that generation then he'll retire a happy man. "I want to watch my kids or some other people doing what I used to do. Then I can have a little smile on my face and say, at least I did what I said I was going to do."