The Influence of Laura Gavoor, the Manager/Agent who Helped Guide Detroit Techno's Rise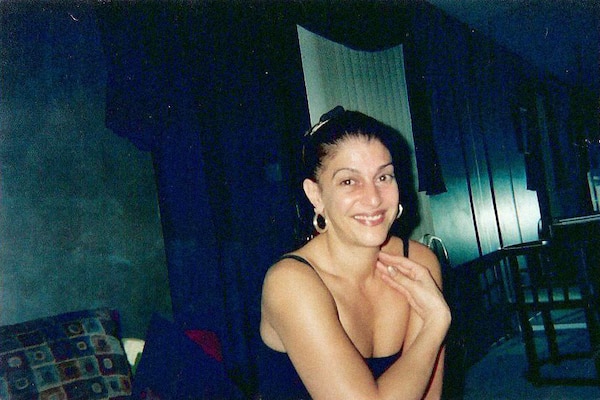 Laura Gavoor worked with every major Detroit techno artist before her untimely death in 2002, and along with several behind-the-scenes players, mostly women, helped build the genre into a global brand, defining and sustaining two generations of artists
Passionate, intense and flawlessly dressed, a bohemian spirit flashing a lightning-streak smile from underground dancefloors when she wasn't working multiple phones, Laura Gavoor hustled hard for Detroit techno at a time when there was no mainstream music industry support and hardly any rules. As manager of Derrick May's Transmat Records in the early 1990s, talent booker for seminal nightclub Motor in the late '90s and head of her own Yin-Sight management company, she corralled the talents, egos and often chaotic lifestyles of Detroit's biggest artists into a viable roster of internationally touring talent, helping to set techno's course for more than a decade.
"Detroit techno is poetry without vocals," Gavoor told the Detroit News in 1998, when the city's mainstream media was finally catching up to one of their biggest exports. "It's really romantic music." Yet her life's work was handling the decidedly unromantic parts, establishing the infrastructure that supported the licensing deals, travel logistics, distribution contracts and marketing programs that kept Detroit competitive commercially beyond its mythic status as techno's birthplace.
"There was a time when if you wanted to book anyone from Dertoit, you had to go through Laura," says Detroit promoter and scene historian Adriel Thornton. "And you had better come in with a strong offer and be ready to deal. She was fair, but she was tough. That's what made her invaluable to techno's development as something world-class."
If Laura were alive, we would all be doing something on a different level, with how things were headed when she passed.
Gavoor's importance as a guiding spirit was so profound that for years after her sudden, tragic passing from a brain aneurysm in 2002, at the age of 44, Detroit's inner circle was still throwing tribute parties and dedicating albums in her honor. "She was a pioneer. She was instrumental in creating what a DJ agency is like right now," says Rick Wilhite, who worked with Gavoor throwing parties at Ann Arbor's Nectarine Ballroom and later brought Gavoor in to help develop 3 Chairs, the supergroup he formed with Theo Parrish, Marcellus Pittman and Moodymann (Their 2004 album Three Chairs 3 bears the inscription, "God Bless Laura Gavoor.") "Look at the music. Where techno has gone, it's amazing. If she were alive, we would all be doing something on a different level, with how things were headed when she passed."
"She took these guys who were making music in their basements and basically got their lives together," says Asya Shein, Gavoor's protegé, who went on to represent J Dilla, Jazzy Jeff, Questlove and others. "She organized and deciphered the business end of things, when it was all very much new ground. She was the mama bear, because that's how you had to be. She just had a drive to see these artists from Detroit succeed… You could see it when she got Derrick [May] licensed to Playstation for Ghost in the Shell in 1997. That was a first for techno. She saw where things were going, how the industry could expand. She would have enhanced Detroit's profile enormously. You would see Detroit techno everywhere, from the internet and AI to videogames and movies."
But it was a long way from Gavoor's origins as a party promoter to Playstation. "Back when Laura started managing, it was a real free-for-all in terms of structuring deals and selling artists," Shein says. "Most people knew who the Belleville Three techno originators were, but who the hell was going to figure out how to book them in Singapore? The technology was totally different, you had to know someone who knew someone in every city. It was all by phone or fax. People don't believe me when I tell them things like how, before email, Moodymann would only communicate via fax. We actually spent time sitting around a fax machine, waiting to see if Moodymann was awake yet."
Joy Santiago was another force-of-nature agent who was equally important to the development of the scene, and whose star-studded roster overlapped Gavoor's. "There was no social media," she remembers. "We were sending out physical DAT cassettes and signing contracts over the mail. We had to plan way ahead. Detroit itself was not that hard to sell – we're the founders of techno – but the younger, emerging artists were the ones having a hard time getting what we now call exposure. We had to figure out how to hype them up, so promoters would give them a chance and the scene would continue its momentum.
"On top of that, we were dealing with personalities and egos," Santiago says. "Laura and I would sometimes get together, and it was like, 'What's wrong with your boy?' But it was important to us that the music got out in the world and that our artists were paid accordingly. It's flabbergasting how big techno is now, and it wouldn't be this way without Laura promoting new talent."
Gavoor's own story is a journey through contemporary Detroit history, experienced as a member of one of the city's rarely-discussed ethnic communities and a woman navigating a turbulent, male-dominated music business. From '50s boom and '60s resistance through the key musical moments of disco, house and techno – right up to the current civic renaissance period symbolized by the Movement Festival, which she helped shape – Gavoor witnessed the defining moments of the city's restlessness, invention and commercialization.
Beating a Different Drum
Laura Ani Gavoor was born on May 19th, 1958, into a highly respected Armenian family, deeply rooted in tradition and community while embracing the love for music and partying endemic to Armenian culture. She was the third of four children. Her father, Sonny, a banker and fiercely competitive athlete, moved with her mother Violet from Boston to Detroit in the 1950s, to take advantage of the booming job market. Violet was originally from Detroit, a graduate of Southwestern High School, and her family welcomed them into the community. They settled on Fenkell Street in Northwest Detroit, in one of the few neighborhoods in the city without an official name. Their lives revolved around nearby Saint Sarkis Armenian Church in Dearborn.
Detroit was then a melting pot of various cultures, and it was easy to get exposed to different musical traditions. "Our home was full of music," says Nancy Gavoor, Laura's older sister and a retired track coach and dance instructor. "My father would listen to Greek, Arabic, whatever ethnic music was on the radio – you would hardly ever hear the Beatles in his car – and it wasn't odd to come home to my mother ironing to 'Drums of Passion' by Baba Olatunji. Our family has some African history, so that artistic aesthetic was a big part of us growing up. And our house was filled with musical instruments – carved flutes, a dumbak drum, every kind of stringed instrument: mandolin, oud, guitar. My brother ended up playing viola with the Detroit Symphony Orchestra."
Armenian was the language they spoke at home, and the girls went to school seven days a week, including Armenian culture and dance classes on the weekend. Their aunt, a professor of dance at Eastern Michigan University, led the dance group. "Laura just loved to dance," Nancy says. "She was a dancer. And she learned how to throw parties very early. There were fundraising Armenian Youth Foundation parties after church on the weekends, big community dances, and Laura was taught how to sell and take tickets, how to count a cashbox, how to give change. We would make flyers and posters to promote the parties, too." When their brother started an Armenian wedding band, the girls would dance back-up.
But the family was soon caught up in Detroit's urban unrest. "When the Detroit Uprising happened in 1967, it really affected Laura. She was nine years old at the time," says Nancy. "The uprising started happening a little further down 12th Street, and suddenly there was a tank driving down our street. Our parents were away at the time, and Laura hid on the porch. She saw marines with machine guns stationed six doors down the street, heard them given orders to shoot anyone on sight. It was traumatic. Then, two years later, on the night Dr. King was shot, my mother was attacked in our driveway, by either a white supremacist or a sexual predator looking to take advantage of the chaotic situation that was unfolding. After that, my father had enough." The family relocated to outer Livonia – so far away from the city that their neighbors ran horse farms – although they remained a bedrock part of the Saint Sarkis community.
"Laura never lost her love for the city," Nancy says, and soon they were discovering Detroit dance groups of a different kind. "When I was growing up the drinking age in Michigan was lowered to 18 for a few years. It was a big social experiment that was perfect timing for me – right when I turned 18, and right when I discovered gay clubs. The first discotheque I went to was Menjo's in 1974, and from there I went to Backstreet and several others that popped up around town. I would sneak Laura in when she was 16, and we would dance all night. That's where we learned about disco, and because it was the gay scene we were way ahead of the curve.
"We would lose our minds to Chic, Cerrone, Giorgio Moroder, Don Ray. And we could sense how popular disco would become. So when "Stayin' Alive" hit, we were ready. We taught disco dancing four hours a night, four days a week through the Livonia Community Education program at Livonia Junior High. 40 dollars an hour with 40 people in class: We really cleaned up."
After she graduated Stevenson High School, Laura studied English Literature at the University of Michigan, Dearborn. She couldn't stay away from the Detroit scene, however. She befriended dancers on from The Scene, Detroit's electro-driven answer to Soul Train. She promoted parties, handing out flyers and working the door at Leland City Club, St. Andrew's Hall and the Shelter. She worked it out on dancefloors when Detroit DJs were forging new wave, electro, and European beats into something expansive and new: the proto-techno progressive sound. After every ecstatic night out, she would spend two or three hours writing poetry, "continuing the cleanse" of her soul, as she put it in her journals, riding out the party buzz.
All kinds of things were happening on and off dancefloors. Laura was bringing all these ideas to it. People were taking notice.
"Laura grew up with free-format radio," Nancy says, "back when Detroit radio was an art form. Nothing else sounded like it, there were so many different types of music. She loved Electrifying Mojo on WJLB. That compelled her to get a job in the programming department there in the mid-1980s, where she met Jeff Mills, AKA the Wizard. She was ecstatic."
Mills took Gavoor under his wing and began to introduce her to the DJs and artists that were coming together to push the techno sound, especially the Belleville Three – Derrick May, Juan Atkins and Kevin Saunderson – and Eddie Flashin' Fowlkes. More DJ introductions followed: Richie Hawtin, Dan Bell, John Acquaviva, Mike Banks.
Stacey "Hotwaxx" Hale was a DJ at WJLB then, and had grown up with Gavoor, taking dance classes from storied Detroit instructor Beverli Varner, who specialized in teaching gifted young dancers of color. "It was so strange because our paths diverged after that, and suddenly here she was again in my life, doing her own thing," remembers Hale. "It felt like Detroit really was that small. To me, she was an incredible dancer, a real dancer. But here she was, meeting everyone and making her own thing happen. And I was like, 'OK. She's building something. Let's see what it is.'"
Around this time, Gavoor put out one of the only two records she appeared on, despite a life steeped in music. She provided vocals for Eddie "Flashin'" Fowlkes' acid-tinged track "Goodbye Kiss," which appeared on The 90 Dance Detroit Dance Compilation 1, a 1990 techno compilation on Buy-Rite store owner Clifton Thomas's Express label. On the track, she plays a ghosted lover, her agile, looping voice demanding justification for her partner's absence. She's the one kissing them off, not the other way around. You can hear Gavoor blossoming here, as the take-no-shit negotiator who brooked no weakness when it came to fulfilling your side of the bargain.
"Laura had been doing some parties here and there, but she was really thrust into management with Derrick May," says Shein. Laura met May through Mills, on a dancefloor. May was known as a larger-than-life artist who didn't always click with everyone, but they became close. "He had made these huge records and was flying off to Europe, but Laura recognized that he needed some professional management really badly. So Derrick decided to give her a shot managing his label, Transmat."
"Watching Laura at Transmat was a trip," says Thornton. "At that point she knew pretty much everyone on the scene, and she was bringing all these different aspects to what they were doing. It wasn't just, like, 'Oh, we're going to fly you here for the night and then you'll come home with an envelope of money.'" The market was exploding overseas, with Detroit techno labels moving into an era where people who had once been happy to see their record carried in a little Chicago store were now using terms like "Asian market" and "non-exclusive distribution agreement."
Love is the Message
Laura still despaired over the erasure of techno's origins as "black secret technology," a phrase she used in Detroit techno documentary High Tech Soul as it went global. As she told the Metro Times, "As has happened in the past with rock and soul music, the true beauty of real and/or innovative music will find the road to expression increasingly more and more difficult to traverse."
It was into this atmosphere that Gavoor released her second record, a classic that was both a sly commentary on the state of techno and a very personal statement. "Love is the Message (For Those Who Didn't Hear It)" from 1994 is literally a mission statement: "What is my mission," Gavoor asks rhetorically, the unmistakeable flatness of her native Detroit accent softened into a robotic deadpan, before wagging a finger at those who haven't been paying proper attention to the legacy of dance music. "Love is the mission," she sighs with a trace of frustration at having to say it again, a disappointed techno dominatrix willing to give you just one more chance to get it right. Anyone familiar with party hotlines and radio/mixtape callouts from the time knows this particular female Midwestern inflection well.
The track, released under Gavoor's alias Ani, brought the timeless Philly soul sentiment of its famous namesake, 1973's "Love is the Message" by MFSB, into the techno era. "The story is old, but it's being retold," Gavoor intones.
Love was indeed in the air in the rave years, even as Europe continued to usurp Detroit's techno primacy in terms of commercialization, harnessing an eager network of radio stations and established record labels to cash in on the sound. UK outfits LFO and Love, Inc. had released their own big-room hits called "Love is the Message," and the phrase was a slogan of the UK's Second Summer of Love.
Gavoor, however, was guiding the message back to the underground dancefloors of the US, in particular the Midwest. Written with Ron Trent and Chez Damier, the track's sloshing churn paired with Gavoor's calls to "dance in the light with your brothers and sisters" melded house axiom to techno abstraction in a way unique to the time. This was Gavoor as the headstrong uniter, the passionate and professionally trained dancer who ignited floors and broke down genres, whose admonishment to respect the roots of electronic dance music remains a DJ staple.
She had a vision of booking Detroit DJs all over the world, and bringing people to Detroit, too. And this was a time when there were so few women doing this!
Now, with potential clients knocking on her door, Gavoor began gravitating exclusively toward booking and management, moving to open her own agency. She and Santiago had talked about teaming up, but instead Gavoor founded the Yin-Sight Management, the name a play on seeing the other side of any situation. "Derrick gave her the money and equipment to start her own agency around 1994," Nancy Gavoor says. "And she finally felt in control of her own destiny. She had the love of her many clients, and by sending them out in the world, she was learning more about the directions she could move in. There was a mentoring on both sides going on."
"We had two desks, two phones and a fax machine, and we were working out of her two-bedroom condo in Farmington Hills, way outside Detroit," says Shein, who assisted Gavoor at Yin-Sight from 1996-1998. Shein was a 17-year-old clubber from Toronto who had just arrived in Detroit when Gavoor swept her up, perhaps partly as a protective gesture, although Gavoor immediately recognized Shein's talent. "She asked me if I could type proficiently, and if I knew email and the internet. I said yes, and she hired me. The learning curve was crazy. I loved it. We were booking the Belleville Three and tons of people from Detroit, but we had gone international as well, with Laurent Garnier, A Guy Called Gerald, Goldie and Metalheadz – Laura loved drum & bass, and she was trying to turn Detroit on to it.
"Laura was authentic, loyal and extremely hard-working, with her pager vibrating all the time and her all-night work sessions. You had to stay up, because people would be calling from Kuala Lumpur at 3 AM. It was the business. But Laura was Laura, too. To say she was meticulously clean is a massive understatement. She would actually follow you around the house, combing out the white carpet where you walked in your socks," Shein laughs. "She was intense. She would grab your hand, if she had a sudden idea or something to say. I had little bruises up my arm from when she would grab me. I got yelled at a bunch. It was all out of love, but it could be shocking."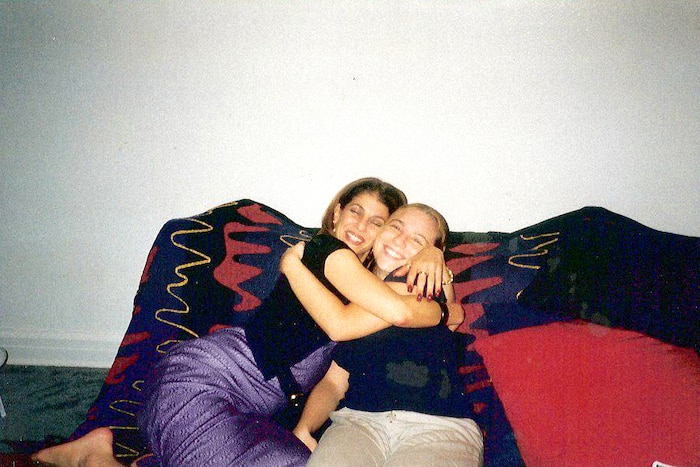 "She was a down-to-earth go-getter, a very strong personality who went out there and educated herself on what needed to be done," says Hale. "She had a vision of booking Detroit DJs all over the world, and bringing people to Detroit, too. And this was a time when there were so few women doing this! There was me, and her, and a few others working the industry side of things and trying to be successful. It was men throwing the parties and men running the labels, and guess who they were booking and signing?"
"There were almost zero women on the scene at the time," Thornton adds. "Laura had a reputation for being really hard, but that was more of a response to the misogynistic motherfuckers she had to deal with, especially running a label and doing bookings as a woman. We were very close – we would spend hours dancing together. She would open up to me sometimes and say, 'I have to be the pit bitch in this industry, because that's the only way to deal with these guys.' It exhausted her. Before she started her own company, she was frustrated having to work for men, and put up with constantly being hit on or talked down to. She learned to clap right back. Techno was and still is a man's world. But look at who was behind it. It was women."
The city of Detroit is just starting to recognize the importance of the business end of techno, including the fact that it was comprised mainly of women. During 2018's Movement Festival, the Detroit City Council officially honored "Women of Techno," including Gavoor and Santiago, Traci of Moodymann's Mahogani Music, Underground Resistance shipping head Bridgette Banks, Detroit Techno Militia's Angie Linder, DJ Minx of Women on Wax, and Hale, known as the Godmother of House. Other women were essential in the early days: Shein, Meredith Ledger of Planet E, Norma Jean Bell, Kelli Hand and more were all building the business by instinct and drive, while also fighting for a foothold on the male-dominated production side.
The Nonstop Engine Driving Motor
"I knew Laura from years earlier, when I would run into her working at St. Andrew's Hall and the Shelter," says Steven Sowers, "But I had seen what she had done since then, and when I needed a booking agent to work with, she jumped into my mind." Sowers, along with Dan Sordyl and Carlos Oxholm, opened Motor in Hamtramck in 1996, Detroit's first massively successful techno club. (Before that, one joke at the time was that Detroit's only good techno club was Tresor, in Berlin, which hosted more Detroit DJs than anywhere else.) He hired Gavoor on as Motor's booking agent.
A sharp businessman who had previously owned a line of hair salons and a nightclub, Sowers was eager to grow Detroit's global footprint. "There were so few clubs in the States that were doing what we were doing with techno: Twilo in New York, Chicago's Smart Bar, Industry up the road in Pontiac. Techno was nothing in the States, and house was only a fledgling. We wanted to give this native music a worthy home." As Motor became more internationally known, however, the disparities in pay and opportunity between American and European techno artists yawned precipitously. "There was a saying. 'American DJs play Europe, but European DJs don't play the States.' People like Derrick were pulling in tens of thousands for gigs across the Atlantic.
We were walking down the street during Love Parade in Berlin, and Carl Cox parted the crowd and came right up to Laura to give her a hug.
"Motor could only fit a couple thousand people and there was no way we could charge a cover over $10 for a hometown guy. We couldn't even afford our own DJs! That's almost a testament to Laura's success as an agent for these guys. And forget about bringing in any European acts. There was no way. So that's where Laura's genius came in. She knew everybody. And she worked it. I remember we were walking down the street during Love Parade in Berlin, and Carl Cox parted the crowd and came right up to her to give her a hug. She introduced me, and he said, 'Why don't you book me at your club? No one ever brings me out to Detroit.' And I said, 'That's because we can't afford you!' Well, he looked at Laura and told her to work out an offer, which let me tell you was less than his usual fee by a magnitude of a lot.
"Laura was like that. She could go somewhere like the Miami Winter Conference and come back with people begging to work with her. Soon we were getting people like Goldie and Grooverider and LTJ Bukem, expanding our sound. Fatboy Slim kicked off his tour at Motor – this was a guy who could sell out arenas overseas. Laura and I branched out. We had Jeff Mills play the first Wizard set in ten years in 2001 at the State Theater, and Eminem showed up. She was friends with Bjork."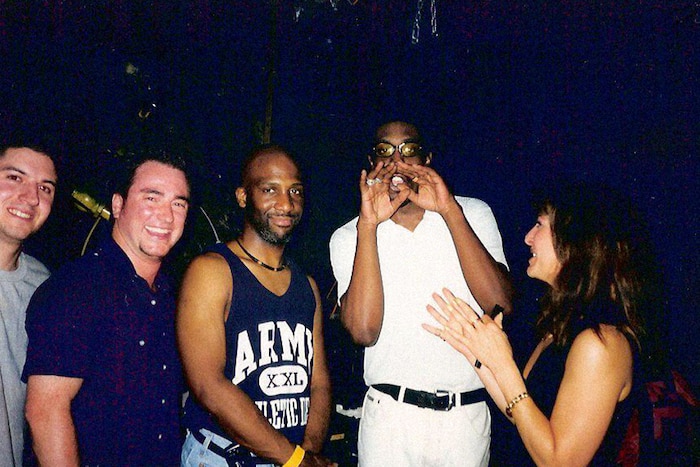 Laura seemed to be having a banner year in 1999, when she helped license Juan Atkins' classic "No UFOs" for a hugely hyped launch for the Ford Focus car. But in truth, Detroit techno was going through a lull at the end of the '90s. The artists seemed exhausted. Other electronic styles like breakbeats and "electronica" were dominant, and new technologies were challenging, and in some cases pushing aside, the record bag-toting giants of yore. "In the early 2000s techno was dying," Shein says. "Even though the Detroit Electronic Music Festival had been a surprise success, nobody on the booking circuit really cared about the older techno guys at that moment. Laura had moved more toward working with house artists like Moodymann and Theo Parrish. Then 9/11 hit, the business really tanked. So many tours were canceled, years of work lost. Laura used it as an opportunity to rethink things. I had moved to Los Angeles in 2000 to work with Hollywood clients, and she started making plans to move in with me in 2002. She wanted to get more into licensing deals, and music in movies.
"But she was having these awful headaches. They were lasting for days. She would mention them on the phone to me. I told her to quit smoking, but she said she was too stressed."
"Laura was working harder than I ever saw, just pounding on things all night long," Sowers says of Gavoor in the summer of 2002. "She had an office in the Underground Resistance building. She was still pushing so many artists. We were worried about her, but there was no way to stop her."
"She was moving and grooving, her phones were ringing that summer," says Wilhite. "3 Chairs was cooking, she had these deals she was working on all the time."
"This one at the end of September was a week long – it was more than a migraine," Nancy Gavoor says. "We took her to the doctor, we took her to the chiropractor. But it was way beyond that. We didn't recognize the early signs of stroke.
"I'm the one who found her. She wasn't answering her phone. I had the A&R representative from Death Row Records visiting me, and he went with me to her house. We kept pushing her buzzer, her phones were all off the hook and dead. We got in and transported her to the hospital. My family quickly assembled. We got the diagnoses that it was a brain aneurysm. This was Sunday evening. She was still awake and you could talk to her. But then they sedated her, and by Tuesday morning, October 3rd, she was dead."
"I just so happened to be at the hospital for someone else," says Sowers, "when I saw Nancy outside, looking really upset. 'She's really bad, it's bad,' Nancy said. She took me upstairs, but Laura was already under. And then she died. I couldn't believe it. I thought, 'You can't leave, we have so much to do.' I fell apart for a year after that. I walked away from my business, just went into a tailspin. She was my best friend."
Yet almost immediately after Laura Gavoor's passing, the glowing tribute parties began. Underground Resistance, 3 Chairs, Juan Atkins, Ron Trent and more headlined parties that enshrined her electric energy and Detroit soul. Memorial parties became an annual tradition around the Movement festival, bringing globe-trotting artists who rarely saw each other together to honor the "real" Detroit. And inside Exhibit 3000, the techno museum housed in UR's Submerge building, a poster still hangs immortalizing Gavoor as "defiant, relentless, unbowed and unbroken."
"Her passing was such a huge and sudden thing that I think it took us a few years to really absorb and acknowledge it," Wilhite says. "I think that would have been something she appreciated."
Now, with Detroit techno again priming parties around the world, and a new generation of Detroit artists unafraid to be challenging and authentic – not to mention even a few women being booked into Movement – Gavoor's fierce, loving legacy of interpersonal connection and professional boosterism seems more foundational than ever. As Gavoor herself told the Detroit Free Press in 2000, "We're a city of freaks and fighters. Detroit is the birthplace of people who've changed the world. It could have been nowhere else. Underground, we have a worldwide family. Out in the world, there is a lot of respect for Detroit. In our own way, we're Detroit's unheralded diplomats."
Header image © Courtesy of Asya Shein