Don't Stop Now: Revisiting the New Dance Show of Detroit
Vivian Host sits down with host RJ Watkins and dancers Lawanda Grey and Kiki to celebrate the Motor City's legendary techno-rap dance show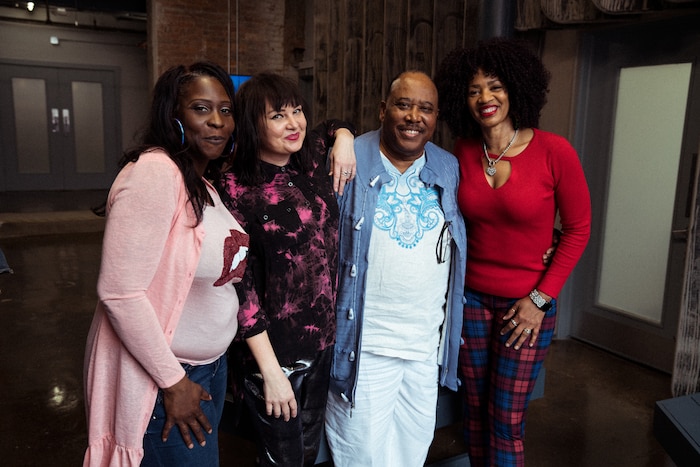 The New Dance Show was a popular local Detroit television show that ran from 1988 to 1995 on WGPR-TV 62, the first US TV station to be entirely black-owned and operated. If you tuned in back then between 6 PM and 7 PM you could catch a selection of the Motor City's best dancers, coolest dressers, wildest rump-shakers and unforgettable characters getting down to the dance music of the day. In the vein of Soul Train and its more disco-oriented predecessor The Scene, The New Dance Show introduced several generations of Detroiters to the local underground's rapidly changing musical palette, evolving from funk and disco into the first strains of Miami bass, new wave and then techno and electro.
Hugely influential, the show has been referenced in music and videos by the likes of Black Milk, Hercules & Love Affair, Moodymann and Osborne, and archival YouTube clips continue to stun anyone who can't imagine high-speed Jodeci and 2 Live Crew being mixed back to back with Cybotron and Aux 88. In this edited excerpt from Red Bull Radio's Peak Time with Vivian Host, host RJ Watkins and popular dancers Lawanda Grey and Kiki take a trip down memory lane, revisiting the songs and stories of The New Dance Show.
RJ, what were you doing prior to The New Dance Show, and what made you want to get into this enterprise?
RJ Watkins
The love started really with Johnny Carson, late-night entertainment. That was my love: to do a talk show, urban talk show, like Johnny Carson. And from that, I ran into Nat Morris, and Nat Morris received the contract to do The Scene independently. [The Scene was a Soul Train-style live dance show that pre-dated The New Dance Show, and was more oriented towards disco and funk.] And Nat loved my energy, my drive, and he asked me to come in and help him. That's how it started. I started helping with The Scene, and as you know, The Scene did great numbers. To this day, it's still unreal.
When did The Scene start? That was more like a disco and funk thing, funk era.
RJ Watkins
'70s. And not only did it do the funk, it did the techno, and that really introduced techno. We just picked it up and ran with it.
Lawanda
Yeah. There's a video now that's viral, it's been shared over 600,000 times, with us coming down the dance line, dancing to Kraftwerk. That's a big deal: 600,000 shares of a video with me on it.
Lawanda, how did you end up dancing on The Scene? What was the casting process, so to speak?
RJ Watkins
You can't tell her that.
Lawanda
What? Boy, you better get out of here! No, my neighbor danced on The Scene, and of course I watched it all the time and wanted to go on, but didn't really know how to go about getting on. So when I asked Randy, my neighbor, I said, "I want to go down." He said, "Well, it's a big deal. You've got to sit in the lobby, and they might not pick you." And I walked in and sat all of two minutes, and Montez Miller came out and said, "I'll take you." Did it like that, they looked at what you had on. You presented yourself when you walked in, and so they left him sitting in the lobby and took me to the back.
Do you remember what you had on that day?
Lawanda
Blue mini-dress, because I had these good legs. So I figured if I wear this short dress, they'll see that. I am six-feet tall – you've got to do what works for you, honey.
What was your reaction when you first started hearing the techno and electro stuff come in, after the disco era, and you started to hear this stuff on The Scene.
RJ Watkins
For me, being a director, it was easy: Counting. I could count. Coming up, I wanted to be a singer, I wanted to be a Temptation. And my music teacher, Mr. Harris, gave me a scholarship to go to college. I said, "Mr. Harris, I'm not going to college, I barely got out of high school. I'm going to be a star." He taught me how to write and count music, then Mr. Harris also involved me into modern dance. I said, "Modern dance? Mr. Harris, that's for girls. Stop it." And he says, "No, no." So he convinced me to go to modern dance, so I thought, "At least I could teach my group different moves." And what it really taught me was how to count. And if you watch the show, people don't really understand, but I'm counting. I did the directing.
So you sat with the editors, and you said, "Listen, when this beat changes, change this."
RJ Watkins
I would lay it down that way, and then what I'd miss, the editor would correct or clean up. But I laid it down live, and I laid it down on tape. So it's one, four, eight, 16, and sometimes I'll slip in something. And the dancers learned how to love the camera, and move with the camera, and they got to know what I was going to do, especially if they gave me something to work with. If you're not giving me anything to work with, as a director, I'm not taking it, unless I just need some extra stuff to fill in until I get to something.
But the dancers are giving you something to work with. I could tell you these secrets, but you've got to know what to do, to do what you know. Lawanda was one of the greatest. She learned what to do. We didn't have a class per se, but after you watched a tape, and the dancers – I call them my first-string dancers – would know what to do. And the second or third-string dancers, and the extras, would catch up and catch on.
We're the only city that does that type of dancing to that style of music. It was like it was homegrown into us.
Lawanda, who were some of the memorable people that were on the show with you?
Lawanda
Yvonne Gooden, because she was good at inventing dances that caught on. I even saw somebody doing one of her dances on Soul Train. You had JB, who people didn't know if he was James Brown or Dracula. He was coming on as James Brown, because he would slide across the floor, but that cape, people said, "OK, that's the Dracula guy."
RJ Watkins
Terrance Lee, Michael Robinson.
Lawanda
Yes. Great dancers, really good characters. Fast Freddy, known for dressing and modeling as he danced. I hate to start naming people: "You didn't say my name." That's how that goes. Great characters on the show.
What area of town was your studio in?
RJ Watkins
We've got several studios, from Reggie's Nightclub, Brotherhood Club, we had our own. We had three of our own studios, four to tell you the truth. 7 Mile and Telegraph. Woodward and Highland Park. Then we had the nightclub, I can't think of the name of it right now. But then we have our own studio now, 160 Victor, Highland Park.
Lawanda
It's a beautiful studio.
You are both still broadcasting to this day. It's pretty notable, because The New Dance Show was on WGPR-TV 62, which was an all African-American-owned and operated station. And many say, the first in the US.
RJ Watkins
Yes, exactly. We're a part of history.
We also have Kiki here, one of the other dancers from The New Dance Show. Kiki, what are some of your favorite memories of being on The New Dance Show?
Kiki
Just getting to know the dancers. Coming as a newcomer in to The New Dance Show in the '90s, they taught us, "You've got to come in and battle." And that's what I loved about it, they taught us how to come, because I was a softie. They said, "You've got to come in and battle." And I said, "I'm coming to battle now." And I just loved getting to know all the dancers that were on the show because really, it's like a big family.
I know the show ran '88 to '96. So that's a good long time, and things change really fast. The clothes changed, what styles are in, the music. At some point, the music starts getting faster and faster, right? Tell me a little bit about what that was like for you guys as dancers.
Lawanda
You get the feel for the music. A lot of the girls, and some of the guys too, were able to do almost acrobatics, dancing. The splits and the holding the leg up over your head, the whole thing. All of that. To keep up with the changing music, your dances changed up. You had your people that would stand and just look really pretty in the camera, but when it was time for the mix and the battle, they were just over there standing. Because dancing went on then, some real dancing.
Kiki
With the type of music, I think it's just a [Detroit] thing, because we're the only city that does that type of dancing to that style of music. It was like it was homegrown into us. When you heard a mix, no matter where you went, to the Dancery, no matter where you went to, if you went to Maxies, you got out there and you slayed. And that was just the way... that's just like the Motown.
What were some of the dances that you felt like were your signature, or the ones that you were best at?
Lawanda
Well, I'm going to kick. Everybody knows I'm coming down the dance line, I'm going to kick the leg. The Rockette of the Dance Show.
Kiki
I got teased for doing this hip-lock thing, so I came on doing the hip-lock. So that would be my signature.
RJ Watkins
I never danced on the show. I threatened to dance.
Lawanda
You put that hat on that one time and they put on that music and you came out and did the snake. There's proof out there somewhere. There's proof. Thank god for YouTube.
Speaking of moments of The New Dance Show, did Eazy-E show up one time?
RJ Watkins
All the rap stars.
Who else did you have in there?
Lawanda
He's got video of everybody. Tupac. The Wayans Brothers.
Kiki
Snoop Dogg
RJ Watkins
I met them all back in the day.
Back then, every radio host or late-night host had their signature thing, that you knew that it was them. What were some of your catchphrases, and where did those come from?
RJ Watkins
You don't want to know.
Kiki
Yes, she do. Tell it, tell it, tell it!
RJ Watkins
Well, one of my favorites was: "Talk to me quick, you'd be surprised what you might get. This is RJ Watkins saying, 'Talk to me.'" And that's where we're going to leave that at.
What was the thing you always said at the end of the show?
RJ Watkins
Don't stop now.
Lawanda
Yep. That was it, and then everyone would chant it. God, I miss those days. I'm feeling nostalgic right about now.
Was it weird sometimes, having other jobs outside of this and then being on The New Dance Show?
Lawanda
Yeah. I taught school for 31 years. I just retired. And in the beginning of dancing, I used to get flak. But being an excellent teacher, there was nothing you could say about what I did after three o'clock, because I made sure I took care of business there. And after a while I was the popular teacher. I mean, it's teaching and dancing and I'm an entertainer and I'm in a band.
RJ Watkins
My mother looked at me, and I told her I was going to do television and she says, "You're strange. You're weird. What do you mean you're going to do TV?" Because when we grew up, black people were not on television that much unless they made the news. True story. But anyway, I got on television and I told her I was going to get a production studio. And she says, "Boy, you're on TV. What are you talking about?" Then I said I was going to get a television station. She said, "Why don't you just get you a real job and stop this mess?" But that turned out to be my real job, I guess is what I'm saying.