The Making of Minimal Nation, Robert Hood's Techno Masterpiece
Ethan Holben gets a track-by-track breakdown of the classic LP from the Detroit producer on the occasion of its 25th anniversary in 2019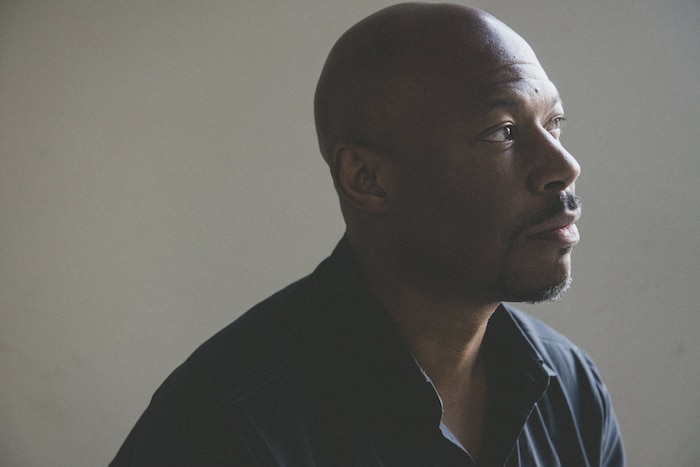 Nearly a decade before the tech-house bounce of "minimal" grabbed electronic music fans by the v-neck t-shirt, a small group of producers based in Detroit were experimenting with breaking techno and house down to their core elements, as a reaction to the increasing tempos and sample-driven, derivative sounds they were hearing in the early '90s rave scene. This approach revisited jacking drums from Chicago house, restrained the melodic sensibilities of Detroit techno and injected the soulful syncopation from Midwest funk bands of the prior decades while removing extraneous instrumentation and simplifying song structure. The result was a new sound forged not through addition, but subtraction. Motifs were often only a single bar, percussion could be as simple as kick drum and a hi-hat, and the spaces in between the notes were elevated to the same importance as the notes themselves.
Robert Hood's Minimal Nation wasn't the first record featuring this stripped-back style to be released. Nevertheless, it served as a blueprint for the burgeoning sound, and may have inspired the "minimal techno" genre label. In the 25 years following the release, the power of the album has never faltered, and in many ways the extent of its influence has never been more clear. The thundering kick drums, ticking hi-hats, hypnotic patterns and sense of space that Hood introduced and mastered continue to be hallmarks of modern techno. Specific techniques such as alternating higher and lower-pitched kick drums, or using ride cymbals to introduce transitions, have become protocol. Minimal Nation could be held up against Public Enemy's It Takes a Nation of Millions to Hold Us Back, My Bloody Valentine's Loveless, or Miles Davis's Bitches Brew as albums that, upon release, seemingly changed the sound of the genre.
Immediately I knew there was something special about this record, that it was different.
Initially composed in the fall of 1993, and completed over a record-breakingly cold winter in early 1994, the songs that later coalesced into the album were conceived in hardship. Hood recounts that at the time he was living in between downtown Detroit and the city's West Side neighborhood, and describes his life as being "one step away from being homeless. In those days, with the little money I had in my pocket I had to decide whether to get a bottle of beer or a hot dog, you know? I wanted a bottle of beer to drink my troubles away, but I needed to eat. It was really a time of struggling for me."
The record itself was produced with a set-up that was meager even by 1994 standards, cobbled together on secondhand machines that had already passed through the hands of other active Detroit musicians – sometimes to their annoyance. "I would borrow different pieces of equipment from Blake Baxter," Hood remembers. "He let me borrow a sampler and a keyboard, and I accidentally erased the bassline to his classic record 'When We Used To Play.' He was pissed!"
This accident spurred Hood's next purchases: "I said, 'I've got to get my own equipment.' I didn't have any money. The equipment I had was pawn shop equipment that I got for like $100, $125 dollars. I found a blue [Roland] SH-101, a [Roland] Juno 2, and I bought a [Roland TR-909] from one of the guys from Drexciya [Gerald Donald]."
That gear was soon accompanied by a Yamaha DX100 digital synthesizer borrowed from Jeff Mills, as well as a pocket-sized Yamaha QY series sequencer and a four-channel mixer. There was no reverb, compression or additional effects used when recording the record – Hood simply didn't have the necessary equipment. However, he did have some help from renowned mastering engineer Ron Murphy.
"A lot of people may not know this, but Ron had the foresight to add a little reverb here and there where it needed it," Hood says. "I didn't know what I was doing, to be honest with you. I just knew I wanted to make beats. That was the genius of Ron Murphy, to suggest he heard something that it needed. I'm forever grateful to Ron Murphy. I have a tear in my eye right now as I think about his wisdom and his insight, and his direction, and the talks that we had. He was a big part of that record."
Murphy's touch on a record was heard, felt and seen in other ways. Beyond being cited by generations of Detroit musicians as the sole reason their records sound professional, Murphy introduced innovations to the local scene like locked grooves, double grooves, records that played from the inside-out and inscribed messages in the runout grooves. Minimal Nation's own runout groove reads "music for the progressive," and a lingering question amongst aficionados was whether this was a reference to the music itself progressing, or an insider tribute to the proto-house and techno music which was labeled "progressive" in the Motor City.
Hood is quick to confirm the double meaning: "It's both. Underground Resistance was about being progressive and it was a throwback to the progressive roots of Detroit techno, the underground parties that the world doesn't necessarily know about from back in the days with DJs like Ken Collier, Al Ester and Dwayne 'In-the-Mix' Bradley; lesser known DJs to the world. Definitely paying homage to our progressive roots, and at the same time reaching forward."
The intention for the minimal sound was there from the beginning, but the name itself only came later. The working title for the collection of music was Axis Authorized Repetition, which Hood describes as "something really unnecessarily long." The lightbulb moment came during a conversation with Jeff Mills about minimalism. "I said something like, 'The minimal nation is rising.' And Jeff said, 'That's it! That's what you need to call this project. That's what you need to call this record!' And so we changed it to Minimal Nation."
With the name in place, in early 1994 Axis Records distributed a five-song EP to gauge the reaction. "Jeff and I pressed maybe a hundred copies of test pressings on a blue label and I just scribbled something on it, my name and Minimal Nation, and I just started handing them out. I took a few of them up to Record Time – Claude Young, maybe Anthony 'Shake' Shakir and Mike Huckaby – and I remember giving Record Time, I don't know, ten or 15 copies to just start generating the buzz. They were like, 'Yeah, let me have that.'
"People were excited about this record. Immediately I knew there was something special about this record, that it was different. My idea behind it was to do something that was a departure from what I was hearing in festivals, as well as clubs and at these rave parties."
This encouraging reaction in Detroit prompted Axis to officially release Minimal Nation as we know it today, removing "Self Powered" and "Sleep Cycles," and adding "Ride," "Acrylic," "Unix," "Rhythm" and "Station Rider E." In the decades since, Minimal Nation has gone through multiple iterations, with several tracklist changes, double-CD and triple-vinyl editions and a mixed-through version of Hood DJing the album material in his inimitable fashion. No matter which of the multiple versions you listen to or what tracklist you hear, the music is as potent as it was in 1994. In reducing techno to its essence, Robert Hood created a timeless minimal masterpiece that's still played both in the darkness of Berghain and in the sunshine of mainstream music festivals.
To celebrate the 25th anniversary of the release of Minimal Nation in 2019, Hood shared a track-by-track breakdown of the record, following the running order of the 2015 M-Plant reissue and including the deleted tracks from previous editions.
"One Touch"
"One Touch" was about putting the humanistic dimension back in techno music. The rave thing was becoming so sample-driven and so machine-driven that I wanted to put the human element back in. The way I recorded and mixed the record was indicative of that – everything was punched in live on my Yamaha QY pocket sequencer.
"Museum"
"Museum" was actually the first track that I worked on [for Minimal Nation], and it was my approach to sort of blending Chicago house with Detroit's progressive techno attitude. I knew right away that this was something – this was sort of going back to basics and saying, "Hey, this rave thing is getting out of control." But it reminded me of downtown Detroit and how it was standing still like a museum, and the buildings were becoming statues and works of art.
"SH.101"
I thought at the time maybe the ["SH.101"] tempo was too fast, and that it wasn't fitting with the rest of the tracks. I wanted everything to be really cohesive, and so I remember saying to myself, "I want this to read like a story, like chapters of a book, and so this chapter, this chapter here, I don't know if it necessarily fits. Let me just sit it on the shelf for a later time."
"Rhythm of Vision" / "Rhythm of Vision (Original)"
That groove is from the Juno 2. It was sort of what I call the "grey area sound." I had never heard a sound like that.
I remember, I hooked up with King Britt and I was driving him around with no drivers license, just kind of showing him around Detroit, and we got stopped by the police. And the police just, the guy pulled me over. It was just rough, man. The police ended up just letting me go with no drivers license, no proof of insurance. And so I had King Britt over at my apartment listening to some tracks, and I remember him saying, "Wow, what you're doing with this Juno 2 and all that – it's just different. You got something good with this. This is your sound."
And so it became, this is my rhythm, "The Rhythm of Vision," because "The Vision" is what I was called when I was with Underground Resistance. So, it just fit with that sample and that groove, it just all made sense.
That's always been my sort of unspoken mantra: Take your time, and get into a groove, and get into a rhythm, and stick to it.
"Unix"
I knew instantly when I recorded this track that this is taking this rhythm [of "Vision"] a step further. I could envision "Unix," or really the whole EP, standing the test of time, and still being around somehow in the future, where everything is sort of faded away.
This music reminded me of just a desolate world, a Mad Max-type of situation… struggle and survival, and that's what I was living. Somehow, living through chaos, confusion and uncertainty, but somehow there's this rhythm... this pulse that's keeping me moving forward. That's the drive of the record, to still somehow being progressive and pushing forward, despite the circumstances.
"Ride" / "Station Rider E"
They're closely related. You know, they're derived from one another. They remind me or put me in the mindset of "Trans-Europe Express". At the time, I was beginning to travel and see the world, and so I remember listening to "Trans-Europe Express", and imagining what it's like to ride a train in Germany or France and just see the countryside... This put me in my imagination: I'm going some place, seeing the world from this watcher's perspective. It's like a lone rider on a bullet train, not knowing the destination.
"Self Powered"
"Self Powered" is about discovering what abilities that I have, kind of like Neo in The Matrix, discovering the strength and the power and the resilience that I have within myself.
I remember that Mike [Banks] and Jeff [Mills] had talked about them producing an album on me, but at the time they were really busy working with the singer Yolanda Reynolds and solidifying their production team and the label. They came over to my apartment and said, "Rob, you know, look, you've been doing a lot for us." Because at the time I was kind of their gofer. I was doing artwork for them, helping with the label, and answering phones. They said, "Well, look, we can't produce an album on you right now. They best thing you can do is start to produce yourself, and to get equipment, and to learn how to produce yourself if you're serious."
That was the best thing that they could've done for me. I remember thinking, "Wow, I'm at a crossroads." I have to dig deep and I don't know any of this stuff. I have to start thinking with a producer's mindset, and become self-powered.
"Sleep Cycles"
I think that was recorded in a basement in the house I was living in on the West Side [neighborhood of Detroit]. I remember having to be really quiet, because of neighbors. "Sleep Cycles" was very important for me, because [I was] one step away from being homeless, and I didn't have tranquility, I didn't have peace. I was really bankrupt of being grounded and having that peace.. that record was indicative of my struggle and my need and want and longing for peace.
"Acrylic"
"Acrylic" was a hectic record. It was my approach at making acid without a [Roland TB-303]. I had never used a 303 – it was with a Roland Juno 106. I wanted the record to kind of read like a book or a movie... I didn't feel a connection that fit with the rest of the story, and that's why it was later removed [from the M-Plant editions].
"The Pace (Original Version)"
My idea was, you know, don't run yourself out. Pace yourself like a turtle, you know? The race is not won by the swiftest or the strongest, but the one who endures until the end. That's always been my sort of unspoken mantra: Take your time, and get into a groove, and get into a rhythm, and stick to it.
"The Pace," that was on the original pressing [of Minimal Nation] and it was never re-released. Later on, I think around '95, or maybe '96, I did another version of "The Pace" [released as a 12" on M-Plant]. I decided, OK, well, let's not, let's take away this "Pace" [from Minimal Nation], because it was really raw, and really gritty. I wanted to sort of polish it up a little bit, but still keep it kind of grungy and gritty.
"Grey Move"
"Grey Move" was just reintroducing the record [on the first M-Plant reissue], and updating where my minimal mind was at that time in '99. I wasn't sure if I mas ever going to repress that record. It was so special being on Axis along with the H&M projects, but it was imperative after Jeff and I split ways and Watts Music distribution went under. I said, "You know what, I need to really reactivate this piece of music." It was just so important that I keep this piece of history relevant, and adding some new tracks was my way of keeping it relevant and helping to reintroduce it to a younger audience.