Even the Earth Gets Dizzy: The Career and Collaborations of Ari Up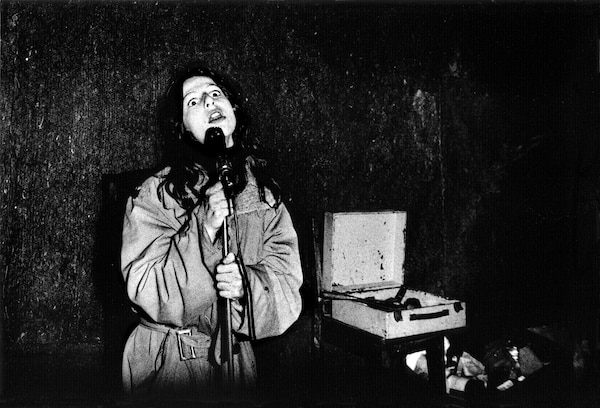 Chronicling the circuitous artistic path of the German-British vocalist, from her time in seminal punk band the Slits to becoming a dancehall queen in Jamaica
There are some natural forces that resist definition, even after their earthly form has departed and left a finite trail in space and time behind. Every time I spoke to someone about the late Ari Up, another dimension of her personality emerged, yet there are still areas of fog hovering over parts of her life and work. Having died tragically young, just 48 years old, the self-proclaimed "world citizen" was many different things to many different people, musically and personally.
Born Ariane Forster, Ari Up is best remembered for fronting the groundbreaking group the Slits, a first-wave punk band with creative ambitions far beyond the relatively simplistic rock & roll noise that came to define the genre. By the time they recorded their debut album Cut in 1979, their fiercely original stew of dubby basslines, angular guitar chops and dexterous, expressive percussion pinged them out into uncharted territory. Alongside the incredible musicianship, one of the most striking things about the Slits was Up's dazzling vocals. She fused a primal avian chatter with Broadway bombast, filtered through a German-English inflection with a dash of Jamaican patois – beguiling when it first hits your ears, but once it hooks you, as addictive as "televisena" or "footballina," to quote two made-up drugs from the Slits "Newtown."
While history tends to focus on her work in the iconic band, Up was continuously writing, recording and collaborating across continents. "The mission was always to be anti-establishment," she once said. "Not really in a political sense but more in the culture. To fight for freedom in a way of music, expression, clothes, style, philosophy. It's a mission that needs to continue."
Build It Up From the Foundations
The well-worn trope about punk is that musical skill (or lack thereof) wasn't a barrier to entry. The Slits embodied this philosophy when they first tore onto the live circuit – when interviewing them for ZigZag magazine in 1977, Kris Needs wrote, "They're raw and can only get better – they know they've got to and will, but they deserve every chance they can get." The band improved in leaps and bounds, as the searing brilliance of their first Peel Session attests, but the 14-year-old Up wasn't stumbling into punk as an untrained upstart.
"Ari's upbringing had been with [her mum] Nora," says Adrian Sherwood, famed UK dub producer and Up's long-time collaborator. "She'd had piano lessons, and Ari was really into musicals. She'd been brought up with 'the hills are alive with the sound of music' or whatever, and if you listen to her songs, they've got an element of old musicals in them."
When they lived in Munich, where Up was born, Nora was a promoter and musicians were part of the fabric of the family home. Up's birth father, Frank Forster, was a famed schläger singer in Germany. Jimi Hendrix supposedly once sang Up a lullaby to get her to sleep, while Barry Gibb of the Bee Gees was a regular visitor.
After they moved to London, when Up was eight, her one-time stepfather was guitarist Chris Spedding, who introduced Nora to her future husband, Sex Pistols' John Lydon. Nora's home became a hub for the nascent punk scene – Joe Strummer allegedly taught Up to play the guitar. It's no surprise Up emerged from this environment with a creative instinct, but she didn't seek to recreate the moves of the rock establishment that had come before her.
Ari would have a bunch of hardcore dreads standing around her gawping in amazement, kind of gobsmacked, at her fierce warrior moves.
"Ari… had a lack of self-consciousness that not only rivaled Johnny Rotten or Tina Turner… but absolutely exceeded it," Viv Albertine told Kate Mossmann in 2016. She was recounting the first time she saw Up on stage before joining the Slits as the guitarist. "This girl, 14, from Bavaria in Germany, was like a Kaspar Hauser type, she was self-imagined. She still had posters of ponies on her wall. There was no wanting to be David Bowie, wanting to be Suzi Quatro for Ari, she had invented herself from scratch. Looking at animals and listening to birds and seeing something on the street or hearing a car go by, that's how she made up her vocal style."
The Call of the Soundsystem
A great deal of the Slits' unique sound would come from their embrace of dub and reggae. Don Letts' DJ sets at the Roxy are credited as one of the key sparks in the infamous "punky-reggae" crossover that Bob Marley sang about, which the Slits were among the first to pioneer. Soundsystem culture had bloomed amongst Afro-Caribbean communities in the UK, and the music struck a chord with key players in the punk scene. Adrian Sherwood recalls that Up, as well as John Lydon and others, shirked punk night at the 100 Club in favour of the famous London basement venue's Thursday night reggae sessions.
"Ari got immersed more and more in the reggae thing," he says, "You'd see her dancing like crazy in the crowd. She totally got it. She was a fantastic dancer."
"[Ari and I] were dancing partners," recalls Mark Stewart from the Pop Group. "We were often going to the Jah Shaka soundsystem together at the Bali-Hai club on Streatham High Street. Ari would lead the warrior dance whilst my head would be stuck in the bass bins!"
"We used to be Shaka followers," agrees music journalist and post-punk icon Vivien Goldman. "Ari would have a bunch of hardcore dreads standing around her gawping in amazement, kind of gobsmacked, at her fierce warrior moves."
After the Slits cemented their affinity for reggae by recording Cut with fabled dub producer Dennis Bovell, they further elaborated on their belief in cultural crossover by putting together the Simply What's Happening tour in 1979. Instead of drumming up a clutch of upper-tier punk bands, they chose to invite Jamaican firebrand Prince Hammer (backed by Creation Rebel) and jazz fusionist Don Cherry. Cherry invited his stepdaughter Neneh along for the ride, sparking a life's journey in music for the bold, individual teenager with bright orange hair. It took until the end of the two-week tour for Up and Neneh to connect, but when they did a deep bond was formed.
"I think for Ari I became both like a little sister and a big sister," says Cherry. "I moved into her house and we were instantly sharing clothes and introducing each other to different things. That was the beginning of my journey, and Ari was a huge part of that."
Stepping Into the New Age
Up was the Slits' vocalist first and foremost, but there were occasions when she displayed her ability as an instrumentalist as well. When Slits bassist Tessa Pollitt was unable to attend a studio session with Sherwood, Up jumped in on bass, without any prior experience, for their first recording of John Holt's "Man Next Door." According to her Discogs entry, she also played congas on "I Zimbra" and "Life During Wartime" from Talking Heads' Fear Of Music. Up's backing vocal credits from this period are numerous, too – in particular alongside Vivien Goldman, working with Prince Far I.
"I did a lot of harmony work with [Ari]," says Goldman. "She was very bossy, but that was part of her drive. I don't mean that in a negative way, she just was sure of a note she wanted to hit."
Of Up's myriad collaborations and guest spots that emerged from the post-punk stew of the late '70s and early '80s, one of the most significant was New Age Steppers. Helmed by Adrian Sherwood, the project came together in an offhand fashion that reflected the open-ended spirit of independent experimental music at that time. Mark Stewart and the late Bim Sherman were among the guest vocalists on the self-titled debut album, but it was Up that gave the project its name, not to mention its most memorable songs. Her takes on Junior Byles' classic "Fade Away" and Sherman's own "Love Forever" still shine to this day, even with both recorded together on the same day in the slapdash manner that typified Sherwood's approach at the time. (He admits he was desperately trying to clear studio debts by releasing more records.)
The second outright New Age Steppers record, Action Battlefield, was arguably more focused, with Up's vocals a more consistent presence. Meanwhile, the Slits had evolved into a broader, more familial affair, with Bruce Smith on drums and Steve Beresford playing percussion and keys – given their closeness, it was no surprise Neneh Cherry became part of this collective as an onstage sparring partner with Up.
"As [the Slits] were growing they wanted me to be an extra member," explains Cherry. "Ari was doing New Age Steppers stuff on the side, and I was hanging out with her going to a recording session at Berry Street Studios one day. On the way in the cab she's like, 'You should sing on this tune with me.' We got out to go in the studio and she was showing me the harmony to the tune "My Love," and I was like, 'Nah, I'm not sure I can do it!' She said, 'No, it'll be fine. You can definitely do this,' and we did. That was the first time my voice was ever recorded."
It wasn't long after the release of Return Of The Giant Slits later in 1981 that the Slits disbanded. Amongst the creative forces and strained relationships at the core of the band, there were bigger life changes afoot. Up had entered in a relationship with Glenmore "Junior" Williams and became pregnant with twins, and soon after they announced they were moving to Jamaica.
Madussa Rising
It's no surprise Jamaica became one of the defining places in Up's life, given her devotion to the musical culture emanating from the island. She initially moved there with Glenmore Williams' family, although Sherwood suggests their more traditional values conflicted with Up's wild and free nature.
"She was going out to [infamous Kingston nightclub] Skateland and places like that all night, and the relationship soon broke up," he says. "She left Junior, cleared off to the jungle with the kids, and I didn't speak to her for many years, 'cos it had all gone horribly wrong, to be quite honest. Then she eventually came back to Jamaica."
Up only spoke briefly in interviews about her experiences in the jungles of Borneo and Belize – she called it a knee-jerk reaction to the increasing materialism of Western culture. The exact chronology of events is hazy at best, but there is one piece of evidence that suggests she was living a more rural existence when she returned to Jamaica in the late '80s. The Medicine Man meets New Age Steppers 12" is a curio from 1989 that features a large family on the cover – future Ari Up collaborator Ira Heaps asserts this was a family she lived with in Jamaica.
Up had already made herself busy before this mysterious 12" though – her Baby Whitey alias is tightly bound with the equally shadowy and somewhat collectible Jungle Royalty label that operated out of Kingston. The small catalogue of 7"s feature a lot of Baby Whitey production and arrangement credits, while she also voiced tracks such as "Rent-A-Dread" and "Woman Wheh Yu Pride." There's not a great deal of information about how these recordings took place and who else was involved in Jungle Royalty, but among the artists participating were Sugar Minott and Wayne Wonder, and other producers credited included Clevie Brown.
Beyond these early forays into dancehall, Up also found time to dip her toes into hip-hop in New York in 1993. The Keep It / Me Done 12" is the sole release on Original Jazz Recordings, with production credited to intermittent DJ/producer Peter Marriott, and the fusion of Up's fierce patois-inflected tirades and rugged East Coast beats makes for a potent brew. There was even a charmingly low budget video made for "Me Done."
Up's adoption of aspects of Jamaican culture is contentious in the modern age. Many view white people with dreadlocks or speaking in patois as unacceptable cultural appropriation. Others, including some of Up's contemporaries, consider the embrace of cultural traits across ethnic boundaries a positive, or believe that the issues around the hairstyle are less about who is wearing the locs, and more about society's reaction to them.
Her voice was so impressive, swooping from songbird to speaking in tongues via operatic patois and punk rant. She was electric.
"An interesting thing happened when I was teaching," says Vivien Goldman. "An American student of Caribbean descent said, 'How dare she have dreadlocks?' [Ari] found herself in Jamaica in a way that is very controversial in the current intellectual climate. We were more from a one-love generation and believed in a sort of unity, whereas now there's a lot of move towards separation. There's a big debate attached to what Ari fought for and seized as her right, to be a trans-cultural person. She would speak in patois, and some people now find that pretentious to the point of offensive. But to us it represented more of a universal understanding and trying to overcome these barriers of race and culture."
"When she was living in Jamaica she was like a Jamaican," says Sherwood. "If I went to Jamaica and spoke like I'm talking now they wouldn't understand me. If I started speaking in a fake Jamaican accent, which I always refused to do, they'd understand me. But Ari could switch and suddenly speak so everybody could completely understand her. She was known everywhere in Kingston as a dancer."
Parallel to her forays into dancehall music and hip-hop, Up pursued her instinct for dancing, first displayed on stage with the Slits or in front of the soundsystem stack in London shebeens, into the intensity of Jamaica's '90s dancehall scene. She was given the nickname Madussa, thanks in no small part to her snaking dreads, and her bold, outgoing presence.
"I think it's shit, but they gave me that name because my hair reminded them of the Greek snake person," Up told Lorraine Carpenter in 2005. "Instead of Medusa, I made it Madussa, being that I'm considered crazy anyway. But it's good to be mad in Jamaica because no one fucks with you."
The exact details of her life as dancehall queen Madussa are vague. Interestingly, an obituary posted on a Jamaican website left a trail of clues, primarily from people who were surprised to learn of Up's life as a punk trailblazer. She was best known as the wild white girl seen dancing from the start 'til the end at the Passa Passa street parties, or cropping up in VHS tapes of mid-'90s dances. Comments suggest she followed the Stone Love Movement soundsystem, and that she was a fashion designer aligned with Ouch Crew, known for their provocative S&M-inspired couture. The glimpse of Up in the first 10 seconds of this video from 1996 certainly places her style alongside Ouch Crew's.
Up's engagement with dancehall culture also chimes with her sexuality. There is much discourse about the role of women within dancehall, especially from the point of view of the dancers, but Up seemed to embrace this aspect of the scene and the empowerment it can be seen to give women. The footage of her dancing at "Ninjaman's B-Day Bash 1996" is highly charged, but to a woman who dealt with the aggression and intensity of being a female lead singer in the late '70s punk scene – where she was stabbed on two separate occasions, no less – life as a dancehall queen was probably no more intimidating.
"Ari was an unswerving advocate for women's empowerment and women's rights," says close friend Aram Sinnreich. "She had her own definition of feminism. She was very much an essentialist. She thought that women possessed a fundamentally different power than men, and that power was being systematically crushed when it should have equal role in shaping society."
Up's life in Jamaica wasn't without drama. She had another son, Wilton, whose father was killed in the street outside their home on the edge of the notorious Waterhouse district.
"He was like a gangster," says Jamaican dancehall artist and Up's friend, L.A. Lewis of Wilton's father, "'cos she kinda liked that kind of people. She liked rough kinds of people. She wasn't scared, and she wasn't prejudiced, and that's what I liked about her. She hanged out with the rich, she hanged out with the poor. They call her a obeah one. Jamaican people call spiritual people obeah one, 'cos she wasn't just a dancer and an artist, she was also a soul."
Jamaica was not just a place of work and play for Up – it was also partly where she raised Wilton. This touching video of her dancing with her son and local kids from the area on the roof of her home shows the calmer, more maternal side to this whirlwind personality. However, in the '00s as much as any other time, Up was on the move.
True Warrior
Up also felt at home in New York, and in particular Flatbush, Brooklyn. Parallel to her presence in the Jamaican dancehall scene, around the turn of the millennium she started to make moves to reconnect with the punk and alternative music world she had first emerged from. Her challenge was finding a band that matched her exacting vision – the punky-reggae fusion she and her original bandmates had pioneered more than 20 years prior.
She initially teamed up with a group from Woodstock she nicknamed "The Stockies" to form Ari & The New Crew. This configuration gigged primarily around New York, appearing on a number of occasions at Wetlands Preserve in Tribeca. Through a connection with Victor Ruggiero of ska band the Slackers, Up started working with Ira Heaps, a bassist and owner of reputable Jamaican music store Jammyland Records.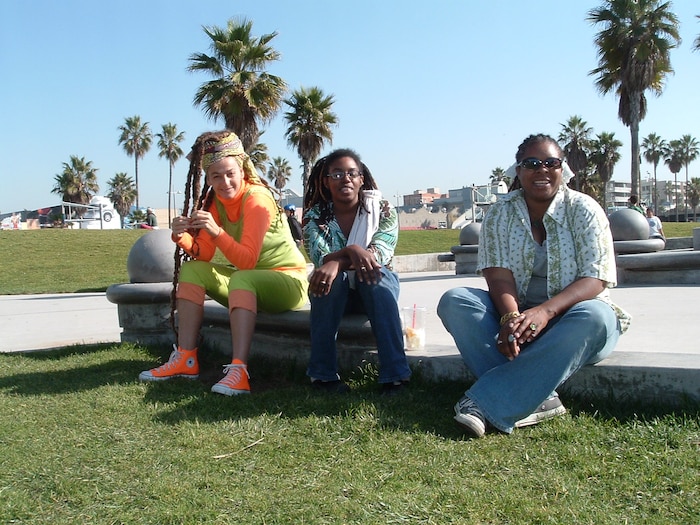 "[Ari] wanted to get something going on, and I was interested," says Heaps. "Jamaican music was a huge part in Ari's life, and one of the things we connected on greatly was the fact that we both really knew Jamaica, the culture, the language."
Heaps wound up as the bandleader for the True Warriors, whose repertoire spanned Slits classics as well as songs Up had subsequently written over the years. Many of these tracks had been written around a rudimentary digital backing, in line with Up's dancehall work in Jamaica, and so they were adapted to fit the more organic live band approach of the True Warriors.
"As much as I wanted to strangle her with her own dreads many times, Ari really was extremely talented," says Heaps. "I arranged a lot of the True Warriors tunes, but she would come up to me as the bass player and hand me a bassline. She'd pick up my bass and play it: 'This is what I want you to do.' She would get behind the drums and say, 'No, play it like this,' or she would pick up the guitar and play it for the person. Sometimes it was a little rudimentary, but she was able to do that."
After picking up a range of gigs in the US, the True Warriors scored their first tour in the UK in 2003, which brought a range of mixed emotions for Up. She confided in Heaps she was nervous about returning to the UK after a long time away, and how people were going to react to her music, but her drive to be onstage performing her songs was always at the forefront. Heaps commended her readiness to work, but it wasn't always plain sailing steering the ship.
"She could get quite demanding with certain musicians," he says. "She used to single individuals out and some of the musicians used to get really pissed off at her because she would do it on stage. She didn't come across with great tact yelling at the drummer mid-performance, telling him that he sucks."
Up was certainly known to blow up where others might choose to tread lightly. Sometimes this made her difficult to deal with – many of her bandmates would testify to that.
"After working with her for several years I figured out all that creating-a-scene stuff was not Ari being crazy or eccentric," says Heaps. "It was Ari's way of dealing with a situation. It's like, 'I want to escape out the door so I'll set a fire over by the window. Everybody will run to the window and I can go out the door.'"
In many ways, starting Ari Up & the True Warriors was like starting from scratch – Up, Heaps and the rest of the band had to work and tour hard to build up a reputation. There were numerous stories about mini-buses breaking down, cold nights in student accommodation, getting turned away from hotels due to Up's livewire behaviour, and more besides. But over time, the True Warriors gelled into the natural fusion of reggae and punk that matched Up's spirit and songwriting. At times, if she recognised it was a high-profile gig, a set list might be planned, but many of the shows were off-the-cuff sessions where Up would take requests and invite the audience onto the stage.
"'I'm not here to perform, I'm here to party!' – that was her line," says Heaps. "She vibed off the audience so much. There would be times when we couldn't see each other because she brought so many people on stage."
With the tours getting progressively more successful and the band getting tighter, the True Warriors went into the studio to record some original material based on Up's self-produced electronic tracks. Before this next stage of the band could be developed, though, Up changed course as she forged a connection in a different corner of the music industry.
"Ari had one thing on her mind, to get herself out in front of people on that stage," Heaps explains, "and she would walk up to anybody and be like, 'I'm Ari Up, make me a star...' She wouldn't say it like that, but she would switch gears like the changing of the wind… One of the first people she brought in, who didn't do anything except break up the band, was this guy from Germany, and he convinced her to put out all her electronic stuff. I said, 'Ari, you really don't want to put this out there. You have no identity as a solo artist yet. Do you really want these digital tunes to represent Ari Up?'"
Dread More Dan Dead
In 2005, Up released Dread More Dan Dead, which became her one and only solo album. While the True Warriors were doggedly gigging, a German producer, songwriter and manager by the name of Tanju Börü came forward to see if he could be of assistance to Up's career. More widely known as Tan U Sound or Tan LeRacoon, Börü had been a lifelong fan of the Slits, and had his curiosity sparked when he noticed Up contributing guest vocals to German electronica project Terranova on the 2002 album Hitchiking With No Particular Destination.
"I thought maybe I should get in touch with Ari and see what she's up to," explains Börü. "After a few phone calls I got through to her in Jamaica, and we hit it off right away about ideas and who we liked and didn't like in reggae. We have similar family stories behind us, and so we became good friends really quickly, and decided to work together."
After meeting in person at a True Warriors gig at counter-culture bastion OCCII in Amsterdam, Up and Börü hatched a plan to pull together Dread More Dan Dead. As the liner notes of the CD reveal, the album was the result of disparate recordings Up had been amassing working with different producers in different places over the years. Börü even spoke of a prior, strictly reggae solo album that Up recorded in the '90s, but never released.
There is a patchwork quality to Dread More Dan Dead, but it reflects Up's fusionist sensibilities and offers a snapshot of the more electronic side to her music taste. The tough breakbeat hip-hop of "Me Done" from her 1993 12" as Babi Ari sits alongside L.A. Lewis collaboration "Bashment." "Young Boy" cheekily echoes a moment in the seminal Slits Peel Session where they scanned the airwaves at the end of "F.M." and happened across Gary Puckett & the Union Gap's questionable '60s hit "Young Girl."
She came back into my life with such a force and made me believe in myself again, that I had some kind of treasure that's really precious.
Considering the volume of writing and recording Up did in her lifetime, many agree her discography doesn't accurately represent her musicality. Börü commented that "she should have had at least six records out." The trail of breadcrumbs Up left behind on her global adventure leads to some interesting, and sometimes unexpected, places. One such example is the Bug's incendiary "Valentine's Day Massacre" Breezeblock session for BBC Radio 1 in 2006, where he pitted an all-star cast of MCs including Flowdan, Ricky Ranking, Warrior Queen, Roger Robinson, Spaceape and more against each other in a freestyle throwdown over a hellscape of firebomb dancehall. In typical fashion, Up was incongruous in the mix of mic talent.
Kevin Martin, AKA the Bug, met Up in a studio on Brick Lane through former Slits member Steve Beresford. Beresford had given Up a glowing recommendation about Martin's skills as producer, and Up suggested they link up to record something.
"I was a bit reluctant as I'm basically a control freak in the studio," admits Martin, "and I immediately saw [Ari] was a pretty eccentric character, albeit a very lovely person with a mad twinkle in her eye. I needn't have worried. In the studio she was totally on point, and absolutely up for suggestive coercion on vocal and lyrical ideas. Her voice was so impressive, swooping from songbird to speaking in tongues via operatic patois and punk rant. She was electric."
The track they worked on together, "Dancehall Veteran," never saw the light of day, as Martin found it too nostalgic and not radical enough for his exacting tastes. However, they linked up once more when Martin invited Up to jump in on the raucous Breezeblock session with a wild bunch of grime, hip-hop and dancehall MCs.
"I distinctly remember how suspicious people like Flowdan were of Ari," recalls Martin. "Flow and Ricky Ranking were all like, 'Who is this crazy white gyal motor-mouthing heavy patois?' But she was not inhibited at all by being surrounded by so many wicked MCs. In fact, it made her step up all the more intensely. Warrior Queen dug Ari's yard-style swag. She kept shaking her head laughing at the 'crazy white gyal,' but adding, 'she wicked.'"
While she still had True Warriors tours taking place, as well as these intriguing forays into electronic pastures, it wasn't long until Up switched things up more drastically, as she set the wheels in motion for a reunion of the band she made her name with.
Love Forever
The reformation of the Slits first hit the public in late 2006 with the release of The Revenge Of The Killer Slits, a 7" single featuring new recordings, "Slits Tradition," "Number One Enemy" and "Kill Them With Love." Up and Tessa Pollitt had the same idea about reviving the group, although Viv Albertine was less keen and only joined them for one reunion gig. The first recordings were with Marco Pirroni and featured Paul Cook from Sex Pistols on drums, but eventually they fleshed out a lineup that included drummer Anna Schulte and future reggae star Hollie Cook on backing vocals (although there were personnel changes throughout this period). While this new iteration of the Slits of course indulged in the classics during their gigs, they also forged ahead with new material, as well as songs Up had been working on solo or with the True Warriors.
In 2009 they released Trapped Animal, an album that once again reflected the many dimensions of Up's meandering life in music. It featured outright dancehall with a pop sensibility on "Lazy Slam," angular post-punk theatrics on "Reject" and low-slung dub on "Babylon," but there was a lot more thrown into the pot, too. It's hard to measure up against the totemic original Slits material, but it's certainly a defiant refusal to simply trade on former glories. The likes of Tanju Börü and Ira Heaps were incensed about the reunion for the impact it had on the projects they were developing with Up, but as it transpired, Up had little time to waste and a sense of unfinished business hung over the band. "Ari was so convinced the Slits still had something to say that wasn't said yet," explains Börü.
Up was diagnosed with breast cancer in 2007. It was widely acknowledged that she shunned conventional medicine because, among other reasons, she didn't want to lose her dreadlocks, but she continued to work tirelessly right up to 2010 when she passed away. In 2007, Adrian Sherwood went to visit her in Jamaica to work on one final collaborative project.
"I knew she was ill," Sherwood explains. "I took my engineer Brendon Harding out there and we made an album in her kitchen. We just had a little drum machine and she played all the keyboards on this crap Casio-type thing."
The resulting tracks ended up coming out posthumously as the final New Age Steppers album, Love Forever. Released nearly 30 years after the last album, it echoes Trapped Animal in its modern finish and departure from the original sound of the project, undeniably inhabited by Up's untameable spirit.
"I just wanted to complete the circle really," says Sherwood. "I could have put it out as Ari Up but, to start with, New Age Steppers was Ari's name, and we always used to sign off 'love forever' on our messages."
The True Warriors played gigs up to 2008, while the Slits embarked on a number of tours before and after the release of Trapped Animal including one final run in 2010. As captured on the documentary Here To Be Heard: The Story Of The Slits, released in 2018, that final tour was marred by Up's increasingly erratic and irritable behaviour as her condition deteriorated. For the most part she kept her illness a secret, telling just a few close friends.
"The last time I remember seeing her was at the wake of Moki Cherry [Neneh Cherry's mother]," says Vivien Goldman, "but she didn't want people to know she was sick. She was very poised. And I gave her the respect of working with her, doing it her way."
"She was really regal at my mother's memorial," recalls Neneh Cherry. "She came the next day and we had a beautiful day together. She always kept journals, and she'd written down lots of conversations she'd had with my mother over the years. She'd copied them out and gave them to me, and that was the last day we spent together."
Up often spoke of being on a mission, such as in this short film for Punkcast in 2007. One gets the sense Up had unfinished business, and that her fate forced her hand on some creative decisions in her final years. It wouldn't be surprising if previously unheard material slowly finds its way to the public – "I'm not here to be loved, I'm here to be heard," as she once said.
Slits Family
"I think Ari was questing for what she perceived to be a more genuine, caring way of being," says Vivien Goldman. "The Slits were maybe a tribe. She found the people in Belize to be a very kind, giving people. Maybe she was projecting onto people she would conceive of as less Babylonian."
There's a trail of people around the world who share deep, meaningful memories of time spent with Up. A unifying factor in this loose-fit tribe of distinctive, highly creative characters spanning decades and continents is one of realised potential. Hollie Cook spoke in Here To Be Heard about the confidence Up coaxed out of her on joining the Slits, while Tessa Pollitt poignantly reflected that, "She came back into my life with such a force and made me believe in myself again, that I had some kind of treasure that's really precious."
"I think what really united us from the beginning was that she, like me and Dunia, is fundamentally utopian," says Aram Sinnreich. "She believed in the capacity for the human race to build a paradise together on earth, and she dedicated her life to that, to truth and beauty. Part of the reason she was always rushing around the world was she was always looking for the best thing. She didn't want to settle down into a comfortable groove. We'd go to a show with her, and afterwards she'd be like, 'Where's the afterparty?'"
"History always treats her like this kind of crazy, force of nature, whirlwind, hot mess," he adds, "and she was not that. She was a fucking philosopher who lived what she believed, and fused it into her art, her social life and her family with a depth and integrity that I've never known anyone else come close to."
Up's pursuit of music and meaningful human interaction was tireless. The sheer range of people deeply affected by knowing her is testament to that. Someone who lived with such vigour is never going to have a simple existence, but she kept moving forwards, and largely on her own terms. She complained of having to fight hard for her freedom against repressive forces in the world, but she was less of a 'trapped animal' than most.
"It's not about achieving happiness, it's about achieving a mission," she proclaimed in the aforementioned Punkcast video. "I was born with a vision of a mission to fulfill, to not be forgotten, make your mark on earth."
Header image © Julian Yewdall/Getty Images