Crime Mob's Crunk Camaraderie
Christina Lee traces the enduring legacy of the Southern hip-hop group, from college campuses to the Met Gala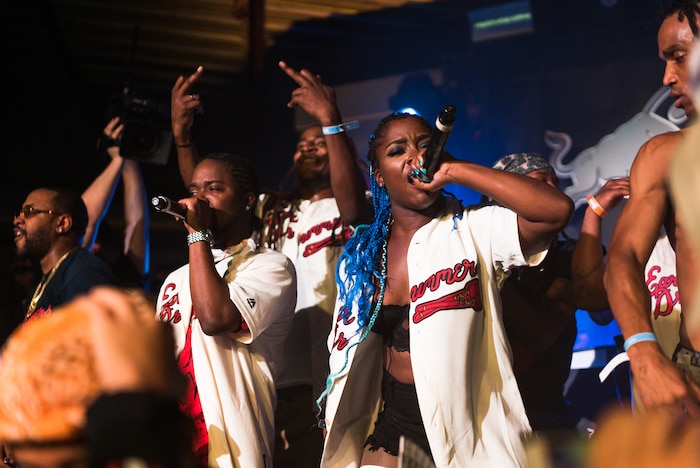 Food flying past them inside the cafeteria. Whatever spat started at the pep rally. Folks yanking each other's hair in the hallway. What the members of hip-hop group Crime Mob remember most from attending Cedar Grove High School in Ellenwood, Georgia, was the fighting. But while some of their peers transitioned from class time to petty crime, Crime Mob would head home after school and relay what they saw into a microphone dangling from a hanger inside a closet.
"By the time you get off the bus you're still talking about it," says rapper and member Venetia "Princess" Lewis, "and then you go to the house or studio and recreate that energy. You still remember seeing who was fighting, how during the fight everybody was chanting something. We made those chants into songs. A lot of our hooks and energy came from what was happening at school and the lingo at that time."
Some Cedar Grove students before them, like Trillville and Lil Scrappy, had figured out how to channel their aggression into music while signed to Lil Jon's BME. Meanwhile, some critics thought Crime Mob's efforts, while its members were still in high school, didn't come soon enough. They pegged its 2004 self-titled debut as the end of crunk, comparing its then-disappointing sales (shy of 300,000 copies) to Lil Jon's crossover success with Usher's "Yeah!" and those Chappelle's Show imitations. In reality, those initial sales marked the beginning, not the end, of an era.
Over the past 15 years, Crime Mob's debut has found new life by way of college traditions, viral dances and even the Met Gala. Its crunk camaraderie has proven to be timeless.
"Knuck If You Buck"'s bells still have a Pavlovian effect today, transporting crowds back to when crunk first felt like a rush to the head.
Crime Mob's DIY spirit was inspired in part by Atlanta's first independent rap label, Big Oomp Records. Oomp Camp, as the roster was known by its producer tag, "were like Atlanta's No Limit, our home team," says Alphonche "Money Blac" Smith. Oomp Camp producers and DJs Jelly and Montay would work on Crime Mob's "Put Yo Hands Up." But the bulk of the group's production came courtesy of Fruity Loops 3, before Fruity Loops' widespread acceptance across genres, when the music industry still thought of the at-home workstation as too rudimentary for widespread use.
"All the producers established in the game, they didn't respect people using Fruity Loops to make music," Money Blac says.
"Like we were cheaper artists or something," adds Jonathan "Lil Jay" Lewis, Princess's sibling and Crime Mob's resident producer.
Lil Jay couldn't actually save his work onto his father's Windows 98 PC, since he only had a demo version of Fruity Loops. So he'd have to sketch out the interface on scrap paper and notate his beats with "tally marks for where the claps and the hi-hats and the bass had to go," he says. Better that, he figured, than to beg his parents for some "thousand-dollar piece of equipment" like an MPC. Besides, Crime Mob worked under even tougher lyrical constraints. Since Princess and Lil Jay were raised Christian, the group would wait for their parents to leave for the grocery store to record any explicit verses.
Originally, Crime Mob was also a no-girls-allowed zone. When Princess asked Jay if she could join his rap group, he said no; as his younger sister, Princess was always trying to trail behind him. So Princess formed her own group, Ghetto Misses. "That didn't really work out, because one of the girls couldn't never come outside or anything," she says. Ghetto Misses still had Brittany "Diamond" Carpentero, though over the next few months, Lil Jay eventually relented and let Princess and Diamond fold into Crime Mob. Recording ten versions of breakout hit "Knuck If You Buck," and finding a clear winner, confirmed this decision was the right one: "The one with the girls really stuck out the most," Princess says.
Another Crime Mob classic, "Stilettos (Pumps)," came courtesy of Diamond's friend Miss Aisha, who raps its second verse. "St. Lunatics got their 'Air Force Ones,' and you know how we wear our stilettos," Miss Aisha told Diamond. Diamond says by that, Miss Aisha meant, "I done paid money for these shoes, so you're not going to step on these shoes. That was the crunk era."
Not that Crime Mob, also featuring Jarques "M.I.G." Usher and Christopher "Killa C" Henderson, needed to be reminded of that fact. The more headlining gigs the group scored, from its first show on September 1, 2001 at the Atrium onward, the more "kids would fight us to try to headline," Diamond says. This foreshadowed how in the aftermath of Crime Mob's emergence, their music was getting blamed for stoking violence in nearby schools and teen clubs. People showed up to their gigs brandishing protest signs. Lyrics like "I ain't no bussa, so don't try me like no Urkel nerd" could have played a role, sure. But "Knuck If You Buck"'s bells still have a Pavlovian effect today, transporting crowds back to when crunk first felt like a rush to the head.
Crime Mob maintains that the group never meant harm. "In school, we were dealing with peer pressure and getting bullied. No matter what you look like or what you have, we all experience that," Diamond says. Crime Mob made music in hopes of transcending all that – to feel as if they could stand up for themselves. "Everyone in the group was under the age of 18," Money Blac says.
Unfortunately, after Crime Mob signed to Lil Scrappy's Crunk Inc. and Lil Jon's BME, with Warner Brothers handling distribution, the group quickly felt powerless against the music industry. They wouldn't realize until later that manager Tommy Phillips, who also oversaw Scrappy's career, was holding royalty advances from them; each member only received $1,000, as they told the Nod.
With a $230,000 studio budget to polish up its debut for a major release, creating music suddenly wasn't as fun or cathartic as it used to be. For nearly three weeks, Crime Mob clocked in 12-hour workdays at Patchwerk Studios, from 5:30 PM to 5:30 AM – the most arduous after-school activity it could imagine. Phillips, who also oversaw Scrappy's career, became overly controlling of every artistic decision.
"Our first manager had all the creative control," Lil Jay says, over which producers to feature, the final tracklist, even the album title itself.
"But the hits were already made: 'Stilettos.' 'Knuck.' 'I'll Beat Yo Azz,'" Princess says.
These were songs that Lil Jay initially felt too shy to release before the deal. "Put on the record that Jay didn't want those songs to be sold in the beginning," Princess adds.
That seems especially hard to imagine now, with how Crime Mob's music has leaped out of the teen clubs from their youth to remain the life of every party. For years, "Knuck If You Buck" has been thoroughly ingrained in the marching band and Greek life culture of historically black colleges and universities, particularly in the South, from Jackson State to Florida A&M. Funny enough, this was the future that Crime Mob predicted not long after their debut, with the college-themed video for 2006's "Rock Yo Hips." ("A reason for higher learning," an opening screen reads.)
No one in Crime Mob expected that "JuJu on That Beat (TZ Anthem)," Tay Hilfiger and Zayion McCall's 2016 viral dance hit sampling "Knuck If You Buck," would become a top ten pop record certified two times platinum. That would be a former teen act underestimating another. "At first I didn't really think nothing of it, because it was on the internet," Money Blac says. "You know how they have little clips of different stuff. I didn't think nothing of it until a friend called me and said, 'Y'all can probably get a check out of this.'"
Crime Mob also didn't foresee that Princess would receive two cryptic emails from Solange's camp in early 2019. The first asked if Solange could sample – well, not the platinum-selling "Knuck If You Buck," or Crime Mob's Creed II song "We Can Hit" with Mike WiLL Made-It and Slim Jxmmi, but Princess and Diamond's voices. "Can I Hold the Mic (Interlude)," off Solange's album When I Get Home, features a mock interview between Princess and Diamond from 2009, where they are sitting in the backseat of some car and waiting to get inside Atlanta strip club Onyx. All because Solange wound up in a Crime Mob rabbit hole on YouTube. "I actually love y'all," she told them.
Crime Mob was also supposed to perform during Solange's 2019 Coachella set, before she pulled out of the festival. Instead, Solange asked Princess and Diamond, who left the group in 2007, to reunite and perform at her Met Gala after-party in May. They hurried to Indian restaurant Panna II Garden in New York. They saw how they could barely stand up inside, with how Christmas lights and baubles dangle from its already-low ceilings: "We actually had to bend over," says Princess. "We were like, how are we going to perform in here? I thought we were getting punked." But with the first "Stilettos / pumps / in the club," Princess saw that Solange knew exactly what to do: "She just lit up and sat down Indian-style on the floor."
During its mainstream rise in the early aughts, crunk often got pegged as a polarizing rap subgenre that had a short shelf life before trap music's impending takeover. Diamond argues that Crime Mob's version of crunk is in conversation with a Southern hip-hop lineage that went further than that, beyond even the Atlanta area.
"The Gangsta Boos, the La Chats, the Three 6 Mafias with 'Tear Da Club Up' – those are the people that raised us. The OutKasts, that's another. Hip-hop is bold. It's free. It's about representing your hood and your community," she says.
Meanwhile, the mental image Diamond gave in "Knuck If You Buck" of her coming in the club, shaking her dreads, lives on for yet another hip-hop generation.