Tape Packs: UK Rave's Essential Time Capsule
Cassette bundles transported the raw essence of raves far and wide – and were a cash cow for those savvy enough to professionally capture the carnage
"How important were tape packs?" DJ SS repeats the question, searching for the right words. "Tape packs were pivotal. A thousand percent. They were the pivotal part of the industry for spreading our music."
The packs SS, AKA Scratchenstein, AKA Leroy Small, refers to were the conduit of '90s UK rave culture. These were unloveable plastic boxes, oversized and awkwardly moulded, with wraparound covers based on the flyer from the party in question they commemorated. No matter the musical focus of the event, the design usually landed on a futurist collision of airbrushed surrealism and cyborg softcore – either coming from the pen of, or aping, designer Steven Perry, AKA Pez London.
Each pack contained up to 12 cassettes, featuring live recordings of the DJ sets, crowd chatter and general ambience of whichever rave they were documenting. They were stark in their honest reproduction of the night – no overdubs, no edits, every MC stutter and needle skip left in for the world to hear. "That's the beauty of it," SS enthuses. "The raw element, with the MCs: It was like hearing a band live playing a full set. When you hear a band live, sometimes it's not in time, it's loose. I liked hearing a man just pushing a mix so he's got it in place, it was organic."
Developing as a crucial point of access during the early days of hardcore, hitting a fever pitch in the mid-'90s heyday of jungle and garage, and even seeping into the grime scene with the Sidewinder packs of the early '00s, tape packs sold by the thousand, a vast underground economy servicing a scene that the mainstream rarely bothered to try and understand. Peddled by the behemoth rave brands that dominated in the last decade of the 20th century – the likes of Slammin' Vinyl, One Nation, Vibealite, Garage Nation, Telepathy, World Dance, Helter-Skelter, Dreamscape and more – they carried the music direct from the raves to the specialist record shops to the punters eager hands. Once bought they could be played over and over on car stereos, Walkmans and ghetto blasters, endlessly bootlegged and shared, ensuring that a rave could live far beyond its magical eight hours.
"You didn't realise that people would take them home," SS remembers. "They'd listen to them in their bedroom, then their young brothers and sisters would copy them and listen to them, they get older and wanna come see you live – and you've created a different cycle. What the tape packs did was expose DJs to different generations."
If you're talking about people well placed to judge the legacy of the tape packs, DJ SS is pretty much top ranking. Alongside some 30-plus years in the booth, he's also steered the iconic hardcore and jungle label Formation Records, promoted the many associated Formation raves, ran the 5HQ Recordings shop in Leicester and written hundreds of tracks – including one of the all-time greatest jump up drum & bass tunes in "The Lighter." He's in a rare position of having played on tape packs, made his own and sold both varieties in a brick-and-mortar store.
"Because I had the shop," he says, "I knew how much they were making! We were charging upwards of 15 quid a pack, and we'd easily do 50 to 100 tape packs of every decent dance. At one time my business was surviving off the tape packs alone. Record sales were down; a new tape pack would come in and we could sell more than 100 at £20 a pop. The promoters would drive around the country with big boxes and drop them off in person, they'd collect the cash. We'd put out a tune and spend all this money on PR – and someone would put out a tape pack and it'd sell with no promo at all."
SS puts this thirst for tape packs down to two things: Nostalgia, in that people would want a memento of the rave they'd been at; and the simple fact that it was hard to hear cutting-edge rave music anywhere else. This is an idea supported by Steve B., former A&R at Renk Records – home of M-Beat's smash "Incredible" – and one-time staff member of Remix Records, the shop owned by Slammin' Vinyl promoter Jimmy J.
"Mixmag and DJ Mag, they only cared about house music. Ministry of Sound were only booking those American house DJs that they'd pay 20 grand for a set. The media totally ignored us. Every year they'd say in the press, 'hardcore's dead, jungle's dead,' and I'd say, 'Look at the parties! Dreamscape, World Dance, Slammin' Vinyl – they're fucking huge!'"
Whilst the scene was built on an image of nutty ravers and chaos, the events themselves were logistically staggering. They gave rise to an organised generation of promoters, some of whom also unlocked the means to rake in major cash.
With such a gap between what the media were covering – not only the mainstream media, but established dance media as well – and what thousands around the country were devoting their lives to, it was little wonder that sharp promoters spotted an opportunity. Steve laughs through a story to illustrate the thirst promoters had for selling rave adjacent merch: "I remember once this guy came into the record shop and he had three fucking huge boxes. I said, 'What you got there mate?' He says: 'white gloves…' I nearly ran the geezer out the shop! But Jimmy said, 'No, no, come back here' – he bought them off him dirt cheap, slapped the Slammin' Vinyl logo on them and sold them two quid a pop. They made a killing. You got to remember it was a pretty Wild West time back then."
With this kind of talent at making profit from merch, tape packs were inevitable. The question of who started doing them first, however, is disputed. Active old skool forums on Facebook have produced over a hundred answers as to what the first tape pack was; their activity largely centers around similar topics of chronology. General opinion coalesces around Eclipse and Obsession doing early single-tape recordings from their parties, whilst Dreamscape, if not definitely the originator, were at the least the promoter who spurred on the idea of trying to sell a recording of an entire night.
A contemporary of the Dreamscape crew, the promoter Alekos Faccas, man behind the legendary Dance Paradise events, remembers the way things spread out: "The Eclipse boys from Coventry were the first outfit to properly distribute live DJ mixes from their nights in an organised fashion around late '91 or early '92. If, however, you're referring to the blow-moulded multi-packs – with four, five, six, eight or 12-tape packs – then the first pack was released by Murray Beetson and Dreamscape in the summer of '93. It was a five-pack. I know this because I released my first (more traditional) double pack at the same time and wound up quite distraught as I dropped a huge personal investment off all of the rave shops, only to see a product which all but guaranteed zero potential sales of my product being delivered at the same time. In response I released the first six-tape pack about six weeks later. The rest, as they say, is history."
Faccas describes a serious operation that illuminates one of the paradoxes of original rave culture; whilst the scene was built on an image of nutty ravers and chaos, the events themselves were logistically staggering, regularly drawing thousands, often with enormous light shows, hordes of hired dancers and theme park attractions. Successfully running this kind of circus-sized operation gave rise to an extremely organised generation of promoters, some of whom also unlocked the means to rake in major cash.
To illustrate the thoroughness with which the operation was run, Faccas recalls how he made sure that the tracklists were being recorded: "I used to have someone standing next to the DJ who logged every record played. So did Murray. I believe Dave from Helter-Skelter and Chris from United Dance did too. Once we realised how important the tapes were to our businesses we set out to legitimately produce them until we could properly transition to compilation albums. The World Dance boys stopped doing tapes before then and most of the others were fly-by-night pirates anyway so they weren't as worried about the overall well-being of the scene as we were."
"I can't speak for the others but, for me, getting them correctly licenced, manufactured and in the shops within a week of the event was important – not to mention a task and a half. The average compilation album takes months to put together and only has 20 or so tracks, whereas a live recording of an entire Dance Paradise spread over eight tapes contained over 200 tracks and was in the shops (and licenced) in less than a week. It puts things into perspective. Some labels asked us not to release their music, so we didn't; unfortunately for them though, given the time constraints, that meant that their music couldn't be played at our events, greatly minimising their exposure. This had more of an adverse impact on their revenue than the pirate tape packs ever did, so I guess an argument could be made that they were actually good for the labels."
Kano, Dizzee Rascal, they all listened to Skibba, Shabba and Det. They'd rewind it to listen again and again. They then went out and put that down on vinyl.
They were certainly good for the promoters and record shops. Nicky Blackmarket – the driving force behind the namesake drum & bass shop Blackmarket Records - chuckles down the phone when remembering the kind of numbers tape packs would shift: "All I know is we sold shitloads."
"They were crucial in spreading the music," he continues. "Toronto had a massive jungle scene, and that originally started from the Canadian shops themselves bootlegging everyone's tape packs from over here. A lot of people became big from those packs!" This promotional element was especially crucial for those on the mic. Stevie Hyper D utilised the medium to blaze a fresh path into the collective consciousness, becoming the first outright star MC of the tape pack era. His sparky cadence and phrases would ring as familiar to anyone with even a passing interest in UK dance culture: "Junglists are you rea-a-ady" became an instant staple, even though Hyper himself is no longer around to air it. He died in 1998 of complications surrounding a bloodclot.
In spite of how far their bars, ad-libs and tics travelled, there was very little precedent for rave MCs to release records to any great success until MC Luck hit the UK charts at the tail-end of the '90s. To this day, the likes of Skibbadee, Shabba D, Det, GQ, Moose, Five-o, Fearless, Foxy, IC3 and many more have a lopsided recorded history. They appear – at best – on a smattering of studio recordings on the one hand, and hundreds upon hundreds of live performances accessible via tape packs on the other.
Their careers were built from a constant drip of high-wire performances, bars spat out off the cuff, repurposed to fit with whichever way the DJ wants to go. It's a different kind of energy; what Paul Gilroy calls "kinetic orality" – tone and flow designed to impart pure physical motion to crowds of thousands. It's a skill that has proven near impossible to translate to studio situations, but one that is potent enough to ensure the big names have been running the mic every weekend for nearly three decades.
SS, who has appeared side-by-side on reproduced rave recordings with every MC worth their salt, has a theory as to why an MC can be legend in the dance without a recording career to match. "When you're putting out your own music you're being judged. But when you're on stage just spitting bars, MCing over the next man's song, you're entertaining – you're not being judged in the same way. But what you are doing, putting out your own bars, is opening yourself to being criticised. So the packs were valuable. They spread the names of MCs. The MCs who came after them listened to those tape packs to hear what the MCs were doing, they'd rewind it to listen again and again – 'Oh, Skibba's doing this!' Kano, Dizzee Rascal, they all listened to Skibba, Shabba and Det. They then went out and put that down on vinyl."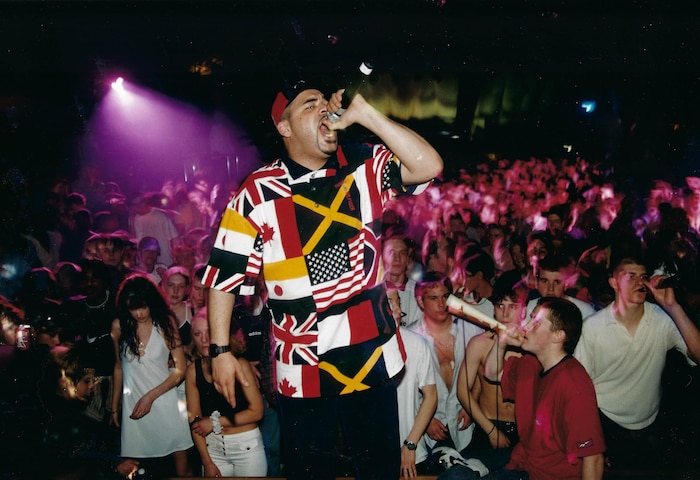 In the end, tape packs were finished off by technology. It was a two-stage process. First of all came concerns of fidelity. As the promoters switched to higher-end recording equipment, and started releasing the packs as CD sets rather than the notoriously crunchy cassettes, labels started to distinctly feel that their music being available in such high quality, often before it was released on vinyl, was impacting their sales.
"Originally the recordings were a little bit raw," says SS, "but then the promoters started getting professional people in to record it with a multi-track – the quality was better and it became a different argument, because we were also trying to sell tunes on CDs. We weren't getting paid and our releases were getting affected. It got so bad they stopped doing it."
Fatally, the internet arrived in serious fashion. With the open opportunities to stream and bootleg the web offered, shelling out 20 quid for a tape pack you could grab off Limewire for the price of your broadband was no longer an essential for the ravers of Britain. Hard-won loyalty for promoters and DJs waned in the face of free and easy access.
Today, rave tape packs remain a fascinating '90s time capsule, perhaps a perfect embodiment of both the raw energy of rave and the geezer-ish entrepreneurism that helped take that energy to market on a national scale. The tape packs were never eligible for the charts and only fleetingly covered in the press. The medium's influence went significantly deeper, though: They kickstarted careers, boosted the mythology of underground dance culture and sculpted the listening habits of a generation.
Header image © Steven Perry / Pez London