Sun Ra: The Philadelphia Years
John Morrison recounts how the Arkestra embedded itself into the city's cultural fabric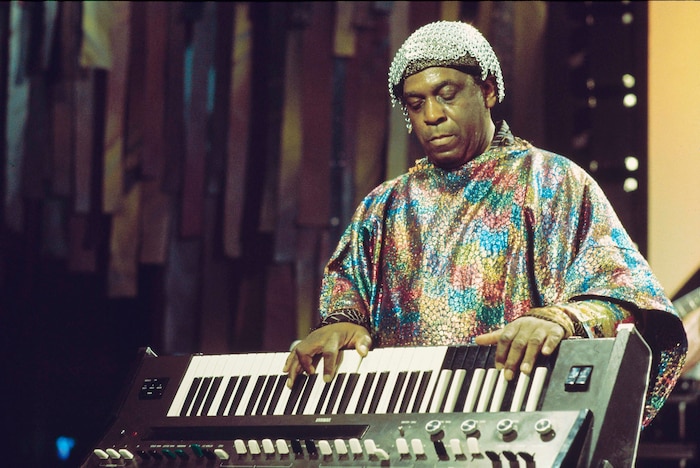 In order to save the Earth, I had to go to the worst spot on the planet, and that was Philadelphia, which was death's headquarters.
In the fall of 1961, jazz pianist, composer and future-seer Herman Poole Blount, AKA Sun Ra, moved his Arkestra from Chicago to New York. Since World War II, New York had been an epicenter of modernity, the launching point for many major advancements in art, music and literature – from the Abstract Expressionism of the '40s and the Beat poets of the '50s, to Warhol's Factory in the '60s. For most of the latter decade Sun Ra and his Arkestra lived in New York, navigating "high art" cultural circles while struggling against the constant threat of poverty that many black experimental musicians have come to know so well. During this time, Sun Ra came into contact with the poet and activist Amiri Baraka and the cadre of young poets and artists that formed what would come to be known as the Black Arts Movement. The elder Ra would take up the role of mentor, philosopher and high aesthetician-in-residence, hosting concerts and performing experimental plays on Tuesdays at the Movement's Black Repertory Arts Theatre and School, located in a brownstone on 130th and Lenox Avenue.
In his 1984 book The Autobiography of LeRoi Jones, Baraka explains how the Black Arts Movement and the Arkestra would bring this new black aesthetic to the community: "We brought street-corner poetry readings, moving the poets by truck from site to site. So that each night throughout that summer we flooded the Harlem streets with new music, new poetry, new dance and the sweep of the Black Arts movement [was] recycled back to the people. We had huge audiences, really mass audiences. That's why we knew the music critics that put down the music as inaccessible were full of shit. People danced in the street to Sun Ra and cheered [Albert] Ayler and [Archie] Shepp and Cecil [Taylor] and Jackie McLean. It was a great summer!"
Much like he had done during his long stay on Chicago's southside, Sun Ra embedded himself within Harlem's black community. He would carry this practice with him once it became time for his Arkestra to leave New York and settle in Philadelphia, in 1968.
Sun Ra and his Arkestra spread their message throughout the city's non-traditional performance spaces, jazz bars and nightclubs.
To get a bit of insight into why Ra may have thought of the city as "death's headquarters" and not as the city of brotherly love, it's important to consider the racial and social tensions that existed in Philadelphia at the time. From police commissioner and future mayor Frank Rizzo ordering the Philly chapter of the Black Panthers to be handcuffed and publicly stripped naked outside of their headquarters, to the wave of violent youth gang wars that swept through the north and south of the city, Philly may not have been the worst place on Earth, but when Ra got there it clearly wasn't the most pleasant.
With all of the turmoil and general bad vibes that were coursing through the city's veins in the late '60s, it would be romantic to think that Ra came to Philadelphia for purely altruistic reasons, bringing his music and liberatory philosophy to a city that needed it. That may have been partially true, but as Irwin Chusid, manager of the Sun Ra estate, explains, economic necessity also played a big part in Ra's move from New York.
"Sun Ra needed to move out of New York City in 1968 because rents were increasing beyond what they could afford. According to Marshall [Allen] and Danny [Thompson], the band acquired the Morton Street row house [in Philly's historic Germantown neighborhood] from Marshall's dad in 1968. Some members of the Arkestra moved there immediately, but Sun Ra apparently moved his belongings there a little at a time over the course of multiple visits between 1968 and 1971. They said it was three years before Sun Ra became a full-time resident of Philadelphia."
Once Ra had settled into the city with his Arkestra, he set upon the mission of ingraining himself within its thriving and historically rich jazz community. Homer Jackson, a historian, organizer and founder of the Philadelphia Jazz Project, explains how Sun Ra increased the ranks of the Arkestra with locals: "When Sun Ra left New York, he shed some of the people who wanted to stay in New York, so his band started to include Philadelphians from Germantown or elsewhere who were under his tutelage. That was how the Arkestra worked. He had the core group and he had these additional troops that he would pull in from wherever he played."
Jackson also recalls seeing an early performance at a Temple University-sponsored concert and the Philly jazz community's initial response to the Arkestra. "Temple University used to do concerts at McGonigle Hall [in North Philly]. I was nine or ten years old [when] we saw the Sun Ra Arkestra... Apparently some people in the community were excited to see this artist who was making inroads in New York come to Philly. This was in the time period after which Amiri Baraka had been giving Sun Ra a lot of ink. He had a media aura about him even if he didn't have real significant financial and venue support."
As the '60s gave way to the '70s, the Arkestra grew as an organization, bringing in new musicians and establishing working relationships with local artists and venues. From the concerts at Temple to dates at Geno's Empty Foxhole, a club with psychedelic light projections built in the basement of St. Mary's Church off 40th & Locust, the Arkestra spread their message throughout the city's non-traditional performance spaces, jazz bars and nightclubs.
When first seeing Sun Ra as a child, I thought they were superheroes... Capes, sequins, glitter, cosmic rays, otherworldly sounds. This was the experience I didn't know I needed as a youth.
By the mid-'70s, Sun Ra had locked down several residencies throughout the city. This included a weekly engagement at Prince's Total Experience on Broad Street and Hunting Park Avenue. The defunct, black-owned club is now the site of a beer distributor, but it once hosted soul legends such as the Delphonics, Harold Melvin & the Blue Notes and Billy Paul, as well as the Arkestra.
"In the summer of 1975 Sun Ra used to do these 'takeovers' of Prince's Total Experience at Broad & Hunting Park Avenue," recalls Jackson. "It was a nice, chill bar and they would allow Sun Ra and the Arkestra to come in and do their thing. He was there for weeks, either Mondays or Thursday nights."
Throughout its lifetime, the Arkestra existed as equal parts formidable live act and prolific recording machine. Many of the band's recordings were released through their own independent label, El Saturn Records. Arkestra members would hand-paint and package Saturn releases to be sold in stores. When Sun Ra got to Philly, he came with several copies of recordings already pressed onto vinyl that hadn't been packaged in jackets yet. In need of some original artwork for the record jackets, Sun Ra called upon visual artist Leroy Butler. The 90-year-old still lives in the Germantown neighborhood where he met Sun Ra, not far from the house that the Arkestra still uses as a homebase.
A skilled and imaginative artist, Butler designed the covers for the albums A Fireside Chat With Lucifer and Sun Ra & His Arkestra featuring Pharoah Sanders with pen and ink drawings. Speaking from the home he shares with his daughter, Butler remembers first meeting Sun Ra after an Arkestra member invited him to a practice session at the house on Morton Street.
"I think somebody took me around the house and they were getting ready to rehearse. They rehearsed on Saturdays. So I say to Sunny, 'Play a little something for me.'" So he said [hums the 19th century folk song 'Shortenin' Bread'], so he played that and I think John Gilmore picked it up and somebody else picked it up and next thing you know we had a full session... on 'Shortenin' Bread!'"
After being accepted into Sun Ra's orbit, Butler immediately began to work, articulating the visual component of the Arkestra's musical output. Their working relationship was tense. Butler felt unappreciated by Sun Ra because he directed Arkestra members to "complete" the album covers by coloring in Butler's meticulously crafted drawings. This angered Butler and caused him to quit working with Sun Ra, despite the two of them being very fond of each other personally.
"We didn't get along because he didn't care anything about my art. If somebody did to his music, what he did to my art, they'd be out on the street! That was the basis of our misunderstanding, but I liked him. I liked to hear him tell stories. Wonderful sense of humor but… hard-headed."
Throughout the '70s and '80s, Sun Ra and his Arkestra established themselves as a full-fledged institution and an integral part of the city's cultural fabric. During this time, the Arkestra founded the Pharoah's Den grocery store located at 5657 Heiskell Street in East Germantown. The store's shelves were stocked with fresh produce, candy and Saturn/Arkestra records on vinyl. The store was managed by baritone saxophonist and flautist Danny Ray Thompson, who is still with the Arkestra today. In Robert Mugges' classic 1980 documentary on the Arkestra's time in Philly, A Joyful Noise, Thompson can be seen manning the store as a swarm of neighborhood kids bustle at the counter. In this scene, he explains that a part of the store's purpose was to have a space in the community where he could impart Sun Ra's mythology and ethical principles onto the neighborhood's youth: "The store was started because I felt something needed to be done in the neighborhood for the ones who will listen, the young ones who will listen. Right over there you see I got a sign that says 'space is the place,' so I try to teach the children about space, outer space."
Philly-born DJ and producer King Britt remembers the impression Sun Ra made on him while spending time in Germantown with the Arkestra: "When first seeing Sun Ra as a child – my mom took me to some rehearsals and shows – I thought they were superheroes, which they turned out to be. Capes, sequins, glitter, cosmic rays, otherworldly sounds. This was the experience I didn't know I needed as a youth."
As the '80s gave way to the '90s , Herman "Sunny" Blount was midway through his seventh decade on planet Earth, and his health was failing. Too sick to perform, the Arkestra had begun to cancel prior engagements, and by the fall of 1993, Sun Ra had been hospitalized with a stroke. He left Philadelphia, opting to return to his childhood home of Birmingham, Alabama. "It was like paradise in a sense," he said of Birmingham, "because that's where I developed myself musically."
After multiple strokes related to circulatory issues, Sun Ra passed away at Princeton Baptist Medical Center on May 30th, 1993, one week before his 79th birthday.
In an obituary published one month after his death in Philadelphia-area paper The Wilkes-Barre Times Leader, historian David S. Rotenstein captured the spirit of Sun Ra's music, and his final years building his bizarre but endearing community in Germantown: "Since 1970 Sun Ra lived in the Germantown section of Philadelphia. Over the past two decades scores of would-be musicians had shown up on his doorstep looking for inspiration and a place in one of the artist's bands, 'arkestras' as he called them. His music, he said simply, was 'about creativity. It comes from sincerity, from the universe.'"
In the years immediately before his passing, Evidence Music, a small jazz and blues label based out of Conshohocken, Pennsylvania, a small suburb about 15 miles outside of Philadelphia, had begun the work of compiling much of Sun Ra's massive discography. For the first time ever, Sun Ra's expansive back catalog of music would be made available on CD. Supersonic Jazz, Atlantis, Lanquidity, the soundtrack to his landmark experimental film, 1974's Space Is The Place and nearly two dozen more works would find their way to a new generation of listeners. Since the early '90s, the seeds of influence let loose by his death and subsequent rediscovery have spread far and wide, cross-pollinating and nourishing many creative fields of visual art, film, literature and popular and experimental music.
Today, Sun Ra's spirit lives deeply embedded within the cultural life of the city of Philadelphia. The Arkestra continues on under the direction of saxophonist Marshall Allen, touring the world with a cast of young musicians upholding this honored legacy. Trumpeter Heru Sabaka-Ra, who plays in the Arkestra, as well as his own ensemble Sirius JuJu, spoke to Allen's mentorship and the sense of tradition and craft, passed down in a continuum that extends from an ancient past through Sun Ra and Allen and onto the new generation of players.
"This has been my only real music school. Whereas Donald Byrd initiated me into tradition, I actually learned how to really do it in tradition from Marshall. The best and most important part of it all for me has been the time spent with Marshall. At the house, at shows… He is the eldest jazz musician still working and his wisdom comes down like Yoda's, with all the wit and humor and crankiness all there."
From the Philadelphia Jazz Project's Satellites Are Spinning, a city-wide, eight-day concert series celebrating the legacy of Sun Ra, to the sounds of experimental acts like Sirius JuJu and the literary work of the Metropolarity sci-fi collective, the music, philosophy and aesthetic that Sun Ra brought to the city of Philadelphia has blossomed. Philly-based poet and musician Moor Mother, whose 2014 EP ASUNRA SUNYA SIFR was composed as a tribute to Sun Ra, says that to her, the spirit of Sun Ra and the Arkestra is in the independent spirit of Philadelphia's black community.
"These free concerts, especially during those times, when he first came to Philadelphia, how important that was to the black community. That's like the true Philly, DIY spirit, like 'Fuck it, we gone have a concert in the park.' It's just like this hardworking musician vibe here that I even experience myself. I'm trying to find a place to play, we do it by any means necessary to get it going, you know?"
In a 2017 interview with Radio Panik in France, 3,700 miles away from their home in Germantown, Thompson and Allen more or less summed up the group's relationship to their home and the city they've always come back to. "Every band needs a place to rehearse, 24 hours if they want," Allen remarked. "We were lucky to live next door to neighbors who listened and didn't complain about keeping 'em awake all night. Every band needs a place for the musicians."
Thompson continued: "You need a base and that was Sun Ra's base... for space."