Roundball Rap: The Hip-Hop Evolution Of Sports Library Music
Christina Lee charts the transformation of TV sports soundtracks from jock rock to jock rap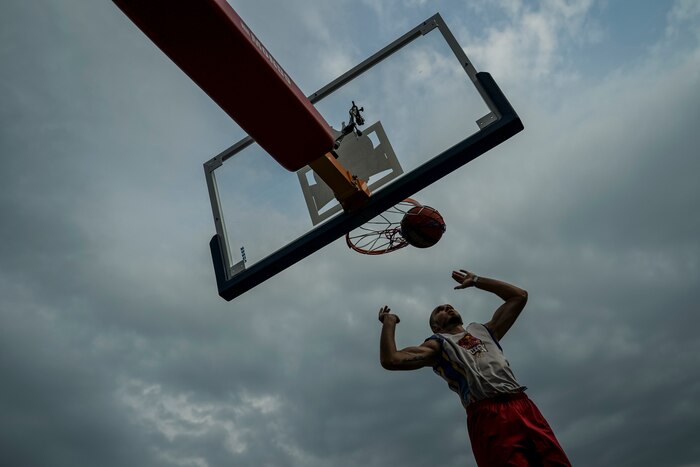 John Tesh figured that he made an offer Disney couldn't refuse. In 2001, ESPN and ABC Sports won the rights from NBC to broadcast National Basketball Association games with its nearly $1.6 billion bid. With that, Tesh says, the network could have also inherited "Roundball Rock," perhaps the most iconic sports theme in US history. As NBC on NBA's theme from 1991 to 2002, "Roundball Rock" was the riveting soundtrack to a golden age in basketball, including all six of Michael Jordan's championships with the Chicago Bulls.
Since Tesh owns the rights to "Roundball Rock," he offered to have one of his famous friends, like Elton John or Billy Joel, re-record his song for the network change. To his surprise, Disney said no. NBA on ESPN needed its own identity, down to the theme. Scott Reinwand remembers that decision. By 2001 he was at Non-Stop Music, the production music label Disney hired to compose the new NBA on ESPN theme. (Today he is vice president of production at Warner Chappell Production Music, which acquired Non-Stop in 2007.) "It was the first time, at least on my end, when I noticed this seismic shift from those producing the sports programming: Hey, we want something that is hip-hop."
Disney didn't want a full-fledged rap anthem. In fact, by today's trap-informed standards, the hip-hop influence on NBA on ESPN is hard to detect aside from the modern, driving production. Reinwand agrees: "You listen to it now and figure it's pretty cheesy. But back then, it was really edgy to be adding an 808 beat under these orchestral horns and strings and electric guitars." The NBA on ESPN theme might not conjure up as much visceral nostalgia as "Roundball Rock." But it predicted today's reality – instead of timpanis, stock music libraries toy with the likes of 808s to illustrate the dramatic stakes. Even the background music during sports games reflects how tastes have changed: Jock rock is out, while jock rap is on its way in.
Any initial hesitation to reflect this shift may be due to what marketers calls "sonic branding." While themes like "Roundball Rock" and "One Shining Moment," with all its '80s schmaltz, occasionally get sleek updates, the music also should reinforce sports broadcasters, leagues and teams as legacy brands.
The golden standard for sports music has long been NFL Films, which was touted for how it deviated from cheery marching band tunes to sound as cinematic as British television and the most renowned film scores. But as ESPN's viewership dropped from 100 million in 87 million in six years, the sports viewing audience, across almost all leagues, was aging. The rare exception was basketball: Sports Business Journal found that by 2017, ESPN and Turner Sports saw folks tune in at the same rate as when Jordan led the Chicago Bulls to the 1998 NBA championship, while the average viewer age was 42. A separate Nielsen study found that 43 percent of the NBA's audience was under 35, making for "one of the youngest fan bases in all sports."
The NBA hasn't always been hospitable to modern tastes. In the '90s, commissioner David Stern implemented a courtside dress code that targeted the rap-inspired fashion of that era: No XXXL t-shirts, baggy jeans or Timbalands. But we are now in a time where Atlanta Hawks organist Sir Foster plays Gucci Mane and Drake's "Both" during games, and LeBron James A&Rs 2 Chainz's fifth studio effort, Rap or Go to the League. Production music companies regard the NBA as a tastemaker: "The NBA is always going to be more so pushing the boundaries," says Whitney Arnold, vice president of Stephen Arnold Music.
Despite how distinct hip-hop's own regional sounds can be, jock rap reminds of how trap hi-hats, distorted bass lines and a detectable swagger have become this universal language that can be produced from anywhere.
Other leagues have been following suit. Last summer Major League Baseball released its PlayStation game MLB The Show 18. The soundtrack, by Stephen Arnold Music, was inspired by Southern hip-hop's now de facto uses for 808s. "Guys like Metro Boomin and Sonny Digital, Future and Young Thug, were references we were working off of," Arnold says. In July, Manhattan Production Music vice president Ron Goldberg helped judge a contest for sports video content at the annual Information Display and Entertainment Association (IDEA) Conference. Around 500 submissions came from the folks behind the videos that pop up on scoreboards and occasionally online: lighthearted player and cheerleader interviews, skits starring the mascots. Goldberg estimates that "about 80 percent of them on the hockey side – well, 90 percent – were using hip-hop." This is despite the fact that the average National Hockey League fan has been aging fast, from 33 on average in 2000 to 49 by 2017, according to Sports Business Journal.
Leading production music companies have been creating more hip-hop stock packs to accommodate the growing demand. Warner Chappell, with past placements including the British Open and the 2014 World Cup, features songs like "Fight Night" (not to be confused for the Migos song) in Gridiron Grooves. Manhattan Production Music suggests Dramatic Hip-Hop for extreme sports as well as concert films. APM Music already boasts the Monday Night Football theme "Heavy Action" and the NFL Films library, though its catalog also features Cinematic Hip-Hop for sports programming.
The industry is discovering how this music can heighten the excitement and stakes in any sports footage, for an audience increasingly likely to catch highlights online. "I just think it resonates with the younger audience: parents and kids and whoever goes to these games," Goldberg says. "And it works great with the visual. That's really what it is."
Reinwand suggests another interpretation of this trend. "For me, that's been the biggest change: Not even the rise of hip-hop, but the decline of sports rock," he says.
Sports music once defaulted to electric guitars to sound edgy, as Jim Colby did in 1987 for ESPN's Sportscenter theme and its three identifiable notes ("Da... Da... Da!"). Meanwhile, over the past 30 years, sports arenas have consolidated Gary Glitter's "Rock and Roll Pt. 2," Queen's "We Will Rock You," Ozzy Osbourne's "Crazy Train" and Todd Rundgren's "Bang the Drum All Day" into a single genre: jock rock. Jock rap has a similar effect. Despite how distinct hip-hop's own regional sounds can be, jock rap reminds of how trap hi-hats, distorted bass lines and a detectable swagger have become this universal language that can be produced from anywhere.
Stephen Arnold Music has partnered with Anno Domini Nation, whose chief producer Adrian Boeckeler is from London. An Atlanta United promo features "Big Dreams," off Warner Chappell compilation Groove Addicts, by Cleveland hip-hop artist DJ Scrilla and Australian producer Dan Delaney. Reinwand also points to the Seige, a Rage Against the Machine-inspired duo from Los Angeles with placements for Yahoo Sports, NBA 2K20 and UFC 240 in 2018 alone. As a whole, hip-hop sports music sounds vaguely modern and undeniably anthemic while being mostly untethered to a particular region or even an era. (APM Music's Cinematic Hip-Hop is a rare exception, having tagged some songs as "Dirty South.")
These companies tend to cite Drake, Kendrick Lamar, Travis Scott, whoever is currently ruling radio, as reference points for their work. Should they want to dig deeper into hip-hop, they'd surely find dozens more: T.I.'s "King Back" and "What You Know." Lex Luger's 2010 production for Rick Ross' "BMF" and Waka Flocka Flame's "Hard in the Paint," for all its orchestral swells. Meek Mill's "Lord Knows," for how the operatic flourishes of the Dreams Worth More Than Money original were fleshed out by composer Ludwig Göransson for a moving scene in Creed, where Michael B. Jordan's Adonis runs through the streets of Philadelphia, cheered on by BMX bikers who help him keep pace.
Perhaps it is only a matter of time: "The library industry might be two to three years behind what everyone else is doing," Reinwand says.
At this rate, the notion of a hip-hop answer to "Roundball Rock" – not a remix, but an original track that ends up being as iconic – seems far-fetched. Then again, before Tesh's lasting success of that sports theme led to six-figure royalties, a long, decorated career in music seemed like a long shot. Despite how his Tour de France score won him a 1987 Emmy, Tesh still needed to keep his day job as an Entertainment Tonight anchor. "Television has been a way to pay the bills while I've been trying to establish myself," he said. In that sense, the tale behind "Roundball Rock" ranks among the greatest underdog sports stories, positing that a victory can come out of anywhere and sound like anything. Perhaps, one day, that victory will sound like Crime Mob.