What Does Library Music Sound Like in 2019?
Aine Devaney explores the genre's modern iterations and where it's headed in the future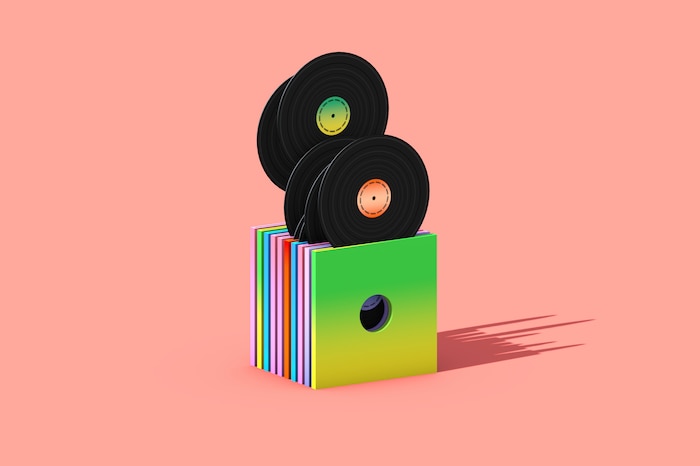 Library music is everywhere: Whether we're aware of it or not, we're absorbing it all the time. Also known as stock and production music, it's often overlooked as "real music" because of its purpose-based usage, but in reality it is the score to our everyday lives. It's the humble music that sits in the background on your favourite podcast and TV show. It's the music that oddly sounds like Ariana Grande, but not, at your local gym's squat class. It's the plinky-plonky glockenspiel loop that repetitively drills through your head while your call is on-hold. It's omnipresent and it's in endless supply, yet the industry remains a mystery to most.
For enthusiasts, library music might evoke the giants of the '60s and '70s golden age – Keith Mansfield, Alan Hackshaw and Brian Bennett are just a few of the names that became legends in the field for their skillfully vacuous jazz, funk and disco. A lot of their library records have become cherished rarities that are fetishised for their curious sound and strange existence outside the conventional music world. And because library music is generally unavailable in the public domain, its exposure controlled by content producers, this uncharted world became a treasure trove for sample diggers: Beyoncé, Gorillaz, Lily Allen, Drake, Madlib, Mark Ronson and many more have all dipped their toes into the peculiar world for inspiration.
But where is library music today? Who is making it? What does it sound like? Will it retain the same cultural value as some of the infamous catalogues? And will the dark overlords of artificial intelligence eventually replace it with the soulless carcass of virtual compositions?
Library music is often cited as "faceless" music, made to briefs, and often times it is. But even more often it's just imitations of contemporary hits. However, both concepts are currently being challenged by artists like Ikonika and BNJMN. Both have found ways to repurpose some of their own art as library music, challenging the very notion of library music as purely incidental.
It's like being a musician but having a real job, like I'm actually doing something for someone, working with a brief, being creative on demand. You're able to use your skills.
For Sara Chen, AKA Ikonika, she had only heard about the industry when she was approached by EMI in 2018 to produce an album for their collaboration with Domino Publishing. The Library Album is a classy combination of restrained dubstep, downtempo electronica and experimental bass – not all of which had been produced to spec. "There's a lot of ambient in there, which was the basis for my third album, but at the last minute I was like 'Nah, I need some beats,'" she says. "Some of them are demos and some of them I had R&B singers in mind.''
Chen edited her tracks down to the standard library track length, between two and three minutes, and sent them off to EMI for the final selection. Even though she had only recently became familiar with library music, in reality it was something she'd always wanted to do. From an early age she was intrigued by everything from the soundtracks of her Sega Mega Drive games, to traffic light sounds in Australia, and Paul Hardcastle's advert music. To her, library music is an appealing way to use her skills for functional and fulfilling purposes: "It's like being a musician but having a real job, like I'm actually doing something for someone, working with a brief, being creative on demand. You're able to use your skills." Just solely being an underground artist feels limiting to Chen. "I guess I've never felt like my job was a real job, because it was a hobby to me. So it's only in the last few years that I've taken my career seriously and wanted to branch out and discover where my music can take me."
Working with a library music company was more of an accident for Ben Thomas, AKA BNJMN, who's supplied production music to the likes of Universal, Ghostly Songs and Chappell. Over the years he's written music under various styles and aliases, including Jackhigh and Singing Statues, but his career only took off when he launched his dancefloor-focused guise BNJMN. It could have gone two ways for Thomas, as Ghostly had originally signed an album with Singing Statues, a guitar-led electronica project, but for some reason or another it never happened. Instead, the unreleased music ended up in libraries, where he continues to send the more softer and experimental sounds that don't fit with his BNJMN brand. Spending time on different styles and flexing his songwriting skills via library music now reflects a vital part of his creative process: "I can't go to the studio and make techno every day – it would drive me nuts. Sometimes it feeds back into the BNJMN thing and will inspire me to do something different. It's like getting something out of my system so I can go back to the BNJMN stuff."
For many artists, submitting music to libraries is one way of giving it an alternative lifecycle, out of the glare of critics and surreptitiously into the background of life: rousing TV dramas, lulling tragedies, carrying heartbreak, selling you yogurt. It's not used for you to think about too much, but it's often made with the same vulnerability, if not more, as the publicly released music made by your favourite artists.
One other odd thing about library music is that artists and libraries have no control over where it goes, and sometimes it shows up in weird places. A track of Thomas's once surfaced on the stark documentary, How Police Missed The Grindr Killer. "It was strange... I didn't think the track was that weird, but when I saw it... It had some weird emotion, some sort of murderous vibe," he remembers. But it's not all doom: When listening to a nature podcast, BNJMN recognised his own track scoring the lives of dolphins and whales, while a track of Chen's found its own way onto a conspiracy theory documentary – fun!
With a greater demand for easily licensed music than ever before, and given almost anyone can be a "content creator" today, there is an inconceivable amount of library music in every style imaginable.
Browsing through the modern catalogues on De Wolfe and Universal is a fairly bewildering experience, mostly due to the vast endlessness of crap in playlists with labels "Stardust Indie," "Positive Emotion" or even "Christmas Jumpers." But deep in the trenches there are some gems, like this Meredith Monk-inspired vocal track, just patiently waiting for its turn to shine, or this very believable, '80s post-punk number "Lies." I discovered both of these tracks on "The Music Library," a radio show hosted by Paul Sandell and Will Clark of EMI Production Music on Soho Music. The program is dedicated to shining a light on standout library music, both new and old, although it feels impossible to compare the quality and value of library music made back in the golden age to now. This is largely down to the quantity and breadth of it all today. With a greater demand for easily licensed music than ever before, and given almost anyone can be a "content creator" today, there is an inconceivable amount of library music in every style imaginable. Composers of the '60s and '70s, like John Cameron, Alan Parker and Trevor Bastow, were talented session musicians who relentlessly played together. There's a palpable human connection and chemistry within many of their records on KPM. This, and the rarity of the format, non-commercial vinyl, have perpetuated the cult following of early library music. Today you can make orchestral pieces on your laptop, with digital means making music accessible, plentiful and, at times, very much disposable. But perhaps things are changing.
Along with EMI commissioning artists like Ikonika and Luke Slater to bring their artistic edge to their catalogues, labels like WotNot Music are paving the way for underground electronic artists like My Panda Shall Fly, Sinah and Deft to break into the industry with their boutique selection of contemporary electronic music. "I saw a gap in the market for great, authentic, current electronic music and also a non-traditional opportunity for our label and our artists/network to find some extra music-based income," says Arun Sethi of WotNot. Their catalogue spans all genres but is geared toward music-conscious clients, who want the flavour of contemporary experimental and dance music without the price tag.
Although the demand for production music is increasing, the industry is buckling and there is stiff competition between libraries and the composers themselves.
Speaking to Craig Beck, an industry professional with over two decades of experience working with Universal and his own company Audio Wallpaper, creating a sustainable library music business is a matter of fine tuning: "You need to mix it up so there's a balance of art, definite money-making work and future trends. You need to spend the money wisely and not make too much art." For Beck, the ''meat and potatoes'' of the industry usually comes in the form of what he calls "trailer music." You know the kind: the overly dramatic, suspenseful stuff that scores Tom Cruise flailing between buildings. Craig likes to take a family-like approach with his roster of composers: "I've never put the composer into a brief or a box, I like to find what people love to do. You get better quality stuff from composers when they write within what they love to do. If you push them outside that you get rubbish."
Although the demand for production music is increasing, the industry is buckling and there is stiff competition between libraries and the composers themselves. The rise of exploitative companies refusing to pay composers fairly and the burgeoning threat of AI are very real anxieties for those in the industry. "It's constantly being devalued, composers aren't being paid, if it goes totally AI, computers will just be making it and the pie will be even smaller," according to Beck.
With labels like Warner signing AI soundscapes company Endel, and Spotify now employing AI expert François Pachet, the creator of one of the first AI-composed songs, "Daddy's Car," it's daunting to think about where this is heading. Drew Silverstein, CEO of Amper Music, an AI music production house, has developed a web application that enables customers to directly interact with AI itself to create custom music for their content. Using inputs like genre, subgenre, mood, instrumentation and emotional-cues, you can control the music yourself. Drew gave me a demo of how their app works. Under a "corporate pop" genre tag and using a cue called "A Blink of Optimism," it was hard not to feel slightly squeamish as he scored a faux video of a couple getting married with fairly believable sweeping strings, even with a little stiff emotion in there.
Silverstein and his team of composers set up Amper Music to help content creators save time and money when looking for library music. Although he doesn't think Spielberg will be hiring AI to score his next film at any point soon, he believes AI will continue to thrive and grow in the library music world. When pressed on the idea that AI could devalue the work of the library music industry and composers in the future, his response was pragmatic, yet sobering.
"If the music one creates is solely functional music, that value is being democratised. Whether Amper exists or not, frankly, it's the relentless progression of technology in our world, and functional music composers will need to move up the value chain into artistic music. If the music you compose is artistic music then you should continue to prosper, because creative AI will never replace artistic music, because making art together is a core part of what makes us human."
Artificial intelligence is on everyone's mind, and for good reasons. Speaking to Warren de Wolfe, CEO of the legendary De Wolfe Music, about the future of library music and AI, his parting words seemed quite nonchalant, almost philosophical about it all: "It's part of the process of where we're headed. Not just in music, but in many other ways as well, it's part of our life in this digital age. It will become very interesting in years to come. It may have an effect in some ways, but you have to adjust, adapt and find a way of working with it as well. I've never been frightened to do that."