T.I's Trap Music Museum and the Preservation of Atlanta's Hip-Hop Legacy
Christina Lee takes a look at the origins of a singular institution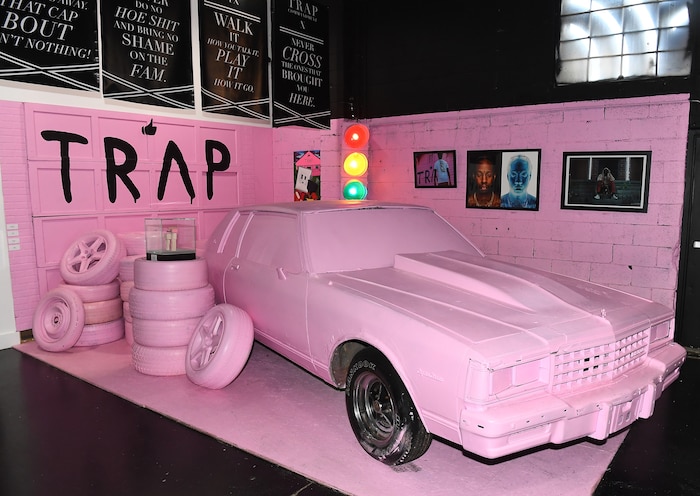 Starting in 2015, escape rooms, where folks actually pay to get locked in a themed room, then seek clues and solve puzzles to find their way out, had finally made their way stateside. They became a novel basis for family outings, corporate team-building exercises and, for Atlanta hip-hop trailblazer T.I., a couples date night. He and William "Bem" Sparks, who manages business partnerships for T.I.'s label Grand Hustle, had taken their wives (Tip's is Tameka "Tiny" Harris, of Xscape fame) to a medieval-themed escape room, refashioned to look like a castle. "This is dope," Sparks said. "I wish they had a trap version of this."
T.I. and the team behind Grand Hustle decided to make it themselves. The initial plan was to find an abandoned bungalow somewhere in town and decorate it with couches dumped curbside. Then they decided it wasn't enough to make patrons just feel like they were in the trap. They wanted folks to understand why the trap, and the music it birthed, exists in the first place. That is why the "Escape the Trap" experience is now only part of what has become the Trap Music Museum. It's a more complete before-and-after image, laying out how trap music documented the aftermath of the '80s crack epidemic down South, and ended up shaping pop culture at large.
The Trap Music Museum did not have to wait for approval from anyone outside the culture. It is what happens when artists take charge of preserving their own legacies.
"It's a safe way to view the trap," says Krystal Garner, the Trap Music Museum's general manager. But the prop table scales and actors posing as crackheads aren't the only reasons why navigating the building feels surreal. Museums have a reputation for being "repositories for ancient Greek statues and Renaissance paintings," as Ford Foundation president Darren Walker recently argued, so quiet that you can hear dust settle. This monument that T.I. built feels alive because the culture it celebrates is alive.
The Trap Music Museum was "supposed to be open for two months," says marketing director James Miller. But when the museum closed in November 2018 after launching the month prior, more than 2,500 people signed an online petition to stay open. The museum is an easy sell for a weekend night; its hours of operation are 4 PM to midnight Fridays, and noon to midnight Saturdays and Sundays. The oft-sold out "Escape the Trap" is now open seven days a week.
The Trap Music Museum now holds greater significance than it did during its launch: Similar to 2 Chainz's Pink Trap House for his 2016 album Pretty Girls Like Trap Music, the museum began as a promotional stunt for T.I.'s own Dime Trap. Dime Trap also happened to follow the 15-year anniversary of T.I.'s own Trap Muzik. That event sparked a lively Instagram debate between Tip and Gucci Mane, in which the former called the latter "that Christopher Columbus ass" over who was trap music's true originator. That public back-and-forth was all bravado that provided a decent basis for a few op-eds. But behind the scenes, members of the Grand Hustle team were trying to find an honest answer.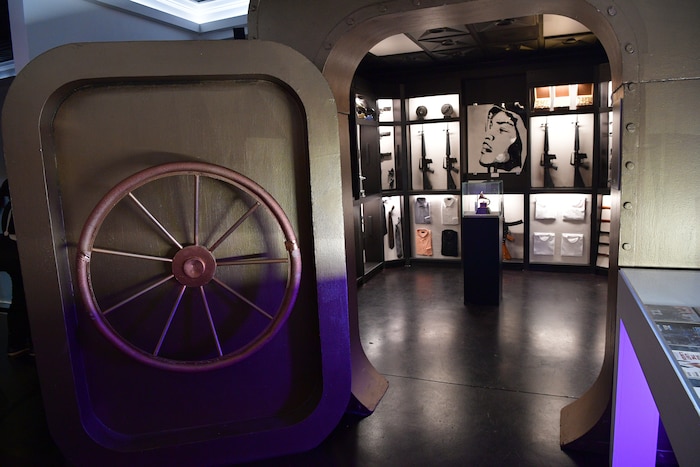 Their search began with trying to pin down the first hip-hop reference they could find to "trap," the term that their boss helped bring to mainstream consciousness. That research became the basis for the Trap Music Museum. While T.I. figured that turning this rented event space into a bonafide museum – knocking down walls, building up new walls and installing exhibitions – would take two weeks max, the process instead took two months due to trap music's breadth and scope.
"It really became homework for me because I am the youngest," says Dre Drakes, Grand Hustle's 22-year-old director of promotions. "We're in the office, playing songs: 'Oh, we found this. Let's see if we can go back any further [in time].' We ended up getting to Kilo Ali as one of the first. The thing is, I wouldn't have thought as far back. Really, I would have just given it to Gucci or Tip."
The Trap Music Museum features a timeline of the music's evolution that begins with 2003's Trap Muzik. There are other signs that the museum is from T.I's point of view: It is located in Bankhead, a working class neighborhood, rapidly gentrifying with the arrival of the nearby Mercedes-Benz Stadium, that once served as his stomping grounds. And it features an impressive replica of the bedroom closet-turned-vault where police confiscated six firearms in 2007, leading to an arrest the day he was supposed to perform at the BET Hip Hop Awards as that year's top nominee.
But the museum also acknowledges the Dungeon Family as predecessors, in the timeline's preface and with a CD copy of Cool Breeze's East Point's Greatest Hit featured inside a glass display. Selfie-friendly backdrops pay homage to Rick Ross, with a recreation of his Rather You Than Me artwork, complete with a prop crown and fur; Gucci Mane, in a "kitchen" featuring his portrait above the stove; and Jeezy, via a life-sized, Styrofoam replica of his angry snowman emblem – iconography once banned from public schools nationwide.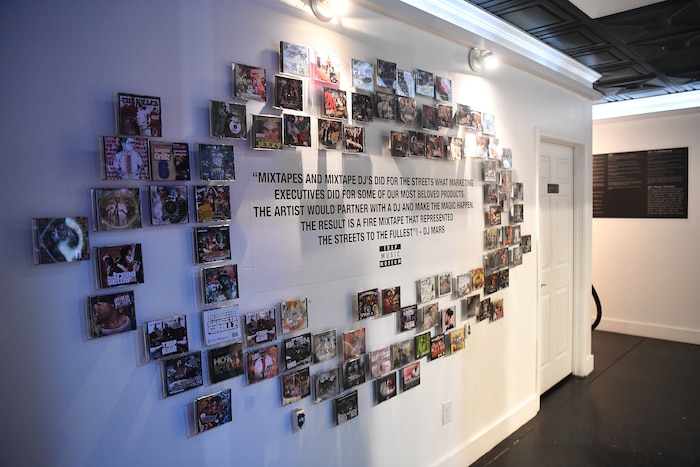 One striking example of the subgenre's expanding scope is DL Warfield's "We Did It for Trap Music" – a literally glittering composite of past mugshots from Future, Migos and more. "That's one of the most photographed pieces in the museum," Garner says. "But it's a mugshot wall. You have these mugshots of these different artists, showing you what they overcame. Through that adversity, they were able to produce content that we are super in love with."
"We didn't want to glorify the guns, dope and illicit behavior," says Mark Jackson, the museum's creative director, "but it's an unfortunate truth."
Near the beginning of the museum, "Grandma's Living Room" features boarded-up windows, plastic-covered couches and mason jars of prop weed on shabby coffee tables. The name alone speaks to how trap music history spans at least two familial generations. So does one wall's display of childhood photos of, among others, Boosie Badazz, Webbie, Clipse, Gucci, Kevin Gates, Young Thug, 21 Savage, Cardi B and YFN Lucci.
Jackson rattles off a list of even more folks the Trap Music Museum could acknowledge: producers like Southside and Lex Luger, but also Grandmaster Flash and the Furious Five due to "The Message" ("all trap tones") and Curtis Mayfield, with how he composed the soundtrack to '70s blaxploitation film Superfly. "Trap music don't just live and die in Atlanta," he says.
With its featured photographs of newcomers like Lil Baby, Gunna and Mozzy, the Trap Music Museum already felt as up to date as it could have been when it first opened its doors as a pop-up experience in October 2018. However, the museum has been uniquely positioned and committed to updating its exhibitions in real time. Staff dutifully dragged in a makeshift basketball hoop – that is, a milk crate attached to a telephone pole – to honor 2 Chainz's Rap or Go to the League, next to the actual '70s Chevy painted pink from the Pink Trap House. In June, BET Experience, the live music component of the Hip Hop Awards, hosted Little Trap House. That pop-up exhibition's artwork featured Cardi, Nicki Minaj, YG and the late Nipsey Hussle.
The museum has been so committed to respecting Hussle that after Kodak Black's insensitive comments about flirting with Hussle's girlfriend, actress Lauren London, it took down a wall of art dedicated to the "ZEZE" rapper. The criteria for being featured in the Trap Music Museum's walls may be arbitrary. But, compared to how hip-hop has historically been treated within museum walls, that is only a small consequence.
20 years ago, music historian and former VIBE writer Kevin Powell organized the Rock & Roll Hall of Fame's "Roots, Rhymes and Rage" exhibition, to "a lot of debates, a struggle to get financial support, and critics who just did not get it, or want to get it," as he told the San Francisco Chronicle. The Universal Hip-Hop Museum, slated to open in 2023 in the Bronx, has already taken five years to gain city backing and the support from artists like Kurtis Blow (its chairman) and Ice-T (a board of directors member). The Trap Music Museum did not have to wait for approval from anyone outside the culture. It is what happens when artists take charge of preserving their own legacies.
"I would like to see [the Trap Music Museum] go international," Warfield says, "because when I see videos of kids from Japan or speaking in Mandarin, but rapping trap style, it's an art form. Screw the High, take it to Asia."
He is half joking about Atlanta's own High Museum of Art. But really, at this point in time, who expects the average museum to keep up with trap music's ever-growing list of permutations? The trap began as handy shorthand in Southern hip-hop's drug-dealing narratives. Today at the Trap Music Museum, it is the basis for future date nights and vacations for people traveling from as far as New Zealand. T.I. may be partly responsible for the former, and almost completely responsible for the latter, though surely he couldn't have seen that coming.