Lil Jon, "Yeah!" and the Evolution of Crunk
Christina Lee on how the Southern hip-hop subgenre took over the mainstream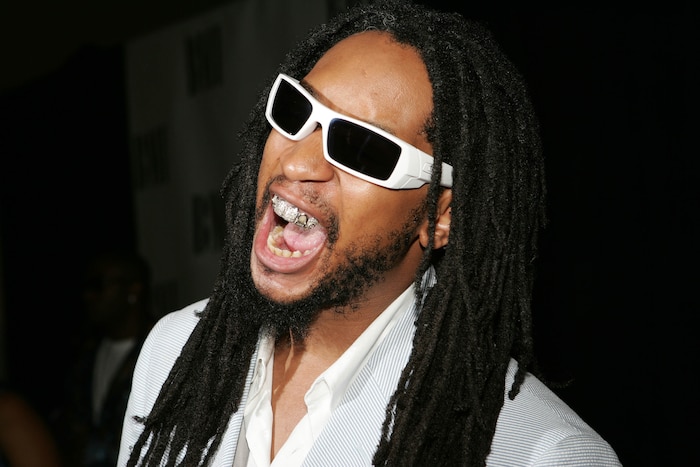 15 years ago, comedian Dave Chappelle introduced one of his best celebrity impersonations. He can't help but show the source material first. On the screen is Lil Jon and the East Side Boyz, the Atlanta trio that branded crunk for mainstream consumption. It's their 2002 "I Don't Give A..." video, where they meet Mystikal, Krayzie Bone and other famous friends at Club 112, for a night inspired by Prodigy's "Smack My Bitch Up" video. But the Chappelle's Show audience doesn't see that action unfold. Chappelle stops the video at the five-second mark, long enough for Jon to yell "OKAY!" twice. "That's all he says in the whole song, n----!" he exclaims.
In 2013, on MTV's comedy clip show Ridiculousness, Lil Jon imagines what a pastor would say at his funeral service: "He was a good man, YEAH!" It's a good joke, though folks in polite society often need to let go of any fear of judgement, before they can exert as much guttural energy as he does.
These easy laughs speak to everyone's general ideas about crunk: bass you hear from outside the club, mobbed-up chants, mayhem. But as Chappelle added a Lil Jon impersonation to his repertoire, there came a plot twist. Usher's "Yeah!," featuring Ludacris and Jon, hit #1 in the United States, and became the second highest selling record of the 2000s. "Somewhere along the way, Lil Jon made an unexpected discovery: crunk beats work for lovers as well as fighters," Kelefa Sanneh, then with The New York Times, wrote during the chart debuts of crunk&b – what Jon and his camp called their crunk-and-R&B hybrids. That discovery came in 2001, before the mainstream came to know Jon as the life of crunk's party.
Jonathan Smith has always had diverse musical tastes. As one half of production team the Dynamik Duo, he owned a soundsystem and helped produce Capleton's "Tour," a #1 hit in Jamaica. As bass music migrated from Miami, he helped Atlanta find its own tempo. His first task as an A&R at Jermaine Dupri's So So Def was to oversee the launch of the So So Def Bass All-Stars series that spawned Ghost Town DJs' "My Boo." Lil Jon's 1997 debut with East Side Boyz members Big Sam and Lil Bo, Get Crunk, Who U Wit: Da Album, showed how indebted Atlanta still was to Miami. But with the lo-fi "Who U Wit," Jon highlighted the inspiration he took from the raucous party stylings of Memphis – what they called "get buck" music. "When [Eightball and MJG's] 'Lay It Down' came on, everybody in the club would be crunk as a motherfucker, wilin', letting loose whatever kind of energy was inside," he said in Ben Westhoff's Dirty South.
Lil Jon and the East Side Boyz' 2001 TVT debut, Put Yo Hood Up, teases a first attempt at crunk&b. "Nothings Free" isn't so much a hybrid as it is a standard R&B/hip-hop collaboration. For the first minute, Jon's then-protege Oobie sings of how she's "not your ordinary ho" as sweetly as she would ask to be your valentine.
Melody has always been part of the Atlanta crunk equation – that is what James "LROC" Elbert, producer and Lil Jon's classically trained keyboardist, was for. While sounding at home in an era of sparse keyboards and synths (Clipse's "Grindin," Jay Z's "Dirt Off Your Shoulder"), LROC operated by a single guiding principle. "I paraphrase Quincy Jones here, and I've used this [quote] for my whole career. He said, a hit song is a hit song that you play in the piano on one finger," he says. (The origins of that quote are hard to pin down, though Jones has often touted that melody is "God's voice.")
But in foundational songs like "Bia' Bia," "I Like Dem Girlz" and "I Don't Give A...," the shouted refrains overwhelm everything else. That's why LROC can't overstate how refreshing "Nothings Free" sounded back then. "It was great to hear Lil Jon screaming and doing all those rap verses," he says. "But to hear Oobie singing, on the same music, it was just, oh my God." Comparatively speaking, "Nothings Free" is a footnote in crunk history. Vince Phillips, Lil Jon's childhood friend and partner in BME Enterprises, attributed Jon's mainstream rise to crunk's chalice-bearing spokesman, to three events: The regional crossover success that was "Couldn't Be a Better Player," Jon's collaboration with Too $hort. Lil Jon and the East Side Boyz's 2001 signing with TVT, the independent label behind Nine Inch Nails' Pretty Hate Machine. And, of course, "Get Low," the rap juggernaut with no less than ten club directives that helped 2002's Kings of Crunk go double platinum.
By the time Usher was readying 2004's Confessions, going crunk was a burgeoning trend. Britney Spears' "(I Got That) Boom Boom" may be its most avant-garde turn, with how Ying Yang Twins and banjo riffs underscore her singing to "all the Southern boys out there." As its blunt force confounded critics (Village Voice's Greg Tate called him "a minstrel-poseur genius"), crunk increasingly went high-definition. Sometime in 2003, a trip to Miami prompted LROC to pick up the Novation sound module A-Station, before he would use it for "Yeah!"'s monstrous synthesizer lines. "We would go to the strip clubs and hear all this techno stuff," he says. "Jon would ask, 'What do you use on those synth sounds?'"
While "Yeah!" gleams, it's still crunk. The more Usher sings Lil Jon's trademark ad-lib, the more the hitmaker behind "Nice and Slow" sounds ready to risk it all, for a woman who can bend over to the front and touch her toes.
Here's another funny story about crunk's surprising range: When Usher turned in Confessions, his Arista label boss LA Reid called songwriter Sean Garrett. Never mind that Garrett didn't have any notable credits to his name yet. "Burn" was Usher's choice for lead single, but Reid wanted a more standout hit. "Since all the other songs on the album were very hot and R&B-ish, I wanted to give him something out-of-the-box that was more creative and dynamic," Garrett said to Billboard in 2006.
Garrett wrote to a leftover instrumental featuring Lil Jon, LROC and bassist LaMarquis Jefferson, of TLC's "Waterfalls," from a studio session for Mystikal. The high-energy hook flaunts Usher's vocal range, but to instrumentation that played up his good-guy-turned-bad image, amid his messy breakup with Rozonda "Chilli" Thomas of TLC. Unbeknownst to everyone, Petey Pablo, the rising Carolinas rapper, had cut his next single "Freek-A-Leek" to the same slinky instrumental.
"We were going back and forth between Miami and Atlanta," LROC says. "We're in the car, and we heard 'Freek-A-Leek' on the radio. We were like, "What the hell? This is Usher's song.'" (Lil Jon learned what happened from Pablo himself: "He's like, 'We've recorded, mixed, mastered, and put it on vinyl already.' So, I'm like, 'F---.'")
"Of course, with Usher being the bigger artist, we were going to fix 'Freek-A-Leek,'" LROC says. That was the goal, as he recorded with Lil Jon for two days in Miami, then one night in Atlanta. At OutKast's Stankonia Studios, Jon is sipping his yet-to-be-released energy drink, Crunk Juice, out a tester gallon. He toys with a string melody on a Korg Triton – Southern hip-hop's keyboard of choice during this era. ("The strings and pianos weren't programmed, they were sampled. It sounded like the real thing," LROC says.) LROC overhears him from the kitchen, and for the first time, plays their new A-Station, as inspired by their trip to Miami. "I go, 'DUH-dun, DA-dun!' It's for 'Freek-A-Leek,' now. Jon put some strings on it. I'm like, 'Cool, we got one.'"
The next morning, Lil Jon called LROC. Instead of laying Pablo's vocals over the replacement instrumental, Jon used Usher's vocals. "That shit" – meaning, the new version of "Yeah!" – "outta here," Jon said to LROC.
While "Yeah!" gleams, it's still crunk. The more Usher sings Lil Jon's trademark ad-lib, the more the hitmaker behind "Nice and Slow" sounds ready to risk it all, for a woman who can bend over to the front and touch her toes. LROC's keyboard vamp – of three notes, no less – sets it off. "That's the thing with all music: It has to hit as soon as you press play. Those melodies have to come in slamming right away," he says. "Yeah!"'s chart impact was similar. It topped the Billboard Hot 100 three weeks after its debut, before it was promoted to mass market.
It was #1 for 12 weeks total, before "Burn" replaced it for eight weeks after that. Amid the sonic boom, more crunk&b hits followed, like Ciara's "Goodies" and "Lovers and Friends." (As the outro goes, "Please tell your lovers and friends / that Ursher (sic), Jon and Luda had to do it again"). "Yeah!" was nominated for a Record of the Year Grammy, but such awards ceremonies tend to reward seniority and legacy above all else. "Ray Charles passed that year, so a lot of people voted for him," LROC says. "But he couldn't beat us in Best Rap/Sung Collaboration."
For years, that distinction felt like peak crunk. Atlanta hip-hop slowed down to snap, then trap, revealing a different kind of menace. Lil Jon and the East Side Boyz disbanded in 2005. TVT declared bankruptcy in 2008. Jon retreated to the club scenes in Miami and Las Vegas, holding down several residencies; even before 2010's long-delayed Crunk Rock, releasing albums seemed besides the point. Usher chased down different electro-rave highs, from "Love in This Club" to "OMG," "Without You" and "Climax."
But in hindsight, crunk didn't disappear. Its sound diversified. Crunk was made operatic by way of Waka Flocka Flame and Lex Luger. It became kiddie fare with "JuJu on That Beat (TZ Anthem)." It went full-EDM in Lil Jon and DJ Snake's "Turn Down for What." When Saweetie became the seventh female rapper on the Hot 100 in 2019, the most the chart has ever seen, she did so with "My Type." "My Type" samples "Freek-A-Leek," a beloved song from her childhood. "Yeah!" teased out this future 15 years ago.
"The beat of the culture has been bounce – it's just that the genres have changed," LROC says. "From crunk to snap to trap, the beat of the culture is still bounce, as opposed to making you nod your head. I always like to make that distinction, when we talk about why our music is still relevant."
When Chappelle hosted the 2016 season finale of Saturday Night Live, he revived some of his most memorable Chappelle's Show characters. There was a catch. The skit was inspired by The Walking Dead's gruesome season 7 premiere, where any one of them risked being whacked by a baseball bat wrapped in barbed wire. In the advent of Trump's America, Chappelle's imitation of Lil Jon gets a slight update: "Kill us for what?" he says. Even the comedian had to admit: Jon always figures out new ways to shake things up.