Nightclubbing: Hibiscus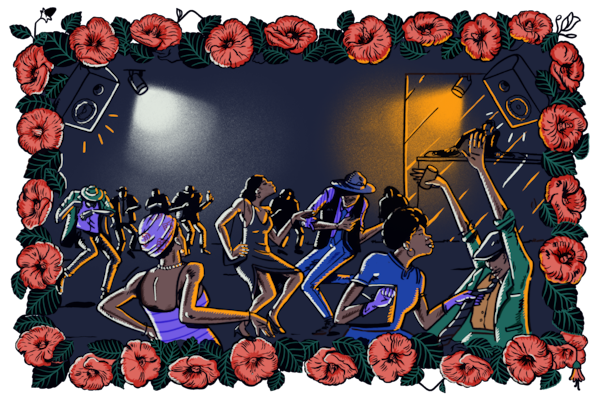 Between 1977 and 1980, the Monrovia nightclub was a favorite of Liberia's newly minted professionals and famous international residents, including Nina Simone and Hugh Masekela
Eddie Dunn knows a lot about nightclubs. "I've been in the nightclub business for all my life," he told me one sunny afternoon in August 2019. His temperament likely helped. Exuding a steady sense of calm and patience, it seems Eddie was built to weather the unpredictable and often wild world of nightlife. Born in Monrovia in 1946, he relocated to the Netherlands with his family at ten years old after his stepfather received a posting at the Liberian Embassy. While attending Hastings College in the United Kingdom, he linked up with some friends to start the college town's first nightclub, which they named the Witch Doctor. Eddie, then in his late teens, helped design the club and would occasionally DJ popular R&B and soul records.
In nightclubs, he found himself most attracted to the social aspect. "The most important thing is to design the club in a way that it would have great ambiance," he advises. The Witch Doctor would go on to achieve its own acclaim in the mod scene, hosting a young David Bowie in 1966 and the Who the year prior. But by that time, Eddie's eyes were already set on Liberia. He had no idea he'd open another nightclub – let alone one as historic as Hibiscus would come to be.
Throughout the late '60s and early '70s, a number of foreign-educated Liberians made the permanent move back home from the various European and American cities they had temporarily settled in. Invigorated by the country's rapid growth, they brought with them ambitious dreams of expanding the country's private sector and developing a true Liberian middle class. By the time the repatriates arrived, the nation was entering something of a golden era. President Tubman's free-market Open Door Policy paved the way for one of the fastest economic growth rates in the world, second only to post-war Japan. Within West Africa the country was commonly referred to as "Little America," and it operated on American currency. A bustling economy, supported by the trade of Liberian rubber, iron and timber, kept the capital, Monrovia, running by day and a myriad of nightclubs, restaurants and bars kept the city alive at night. In spite of these gains, the True Whig Party – which had controlled the government since Liberia declared independence from the United States in 1847 – still maintained a tight grip on the nation and few businesses were actually owned by Liberians. Seeing this, the young and hopeful returnees were determined to reclaim some ownership over their homeland.
Hibiscus came to represent an alternate vision for the nation, one that placed Liberia on the global stage in a manner that wasn't dictated by the neocolonial objectives of foreign powers, but rather by Liberians themselves.
Among this group was Eddie, his older brother Joseph and Joseph's wife Rachel Diggs. "It was very exciting to be on the ground floor of development in whichever field, whether it be architecture, medicine or engineering," Joseph, now in his 80s, told me recently over the phone. Given the dearth of Liberian-owned entertainment spaces, they decided to take a gamble on the nightlife scene and together they founded Hibiscus, a nightclub that became the stomping grounds for the who's who of Liberian society in the late '70s. The 100 capacity space was frequently occupied by politicians, diplomats and other prominent government officials, including some of Liberia's famous international residents and frequent visitors like Nina Simone, Hugh Masekela, John Amos and Miriam Makeba. In the afternoons, the quieter after-work crowd would unwind at the daily jazz-themed happy hour and as the sun would set, the late night patrons would dance the night away to the latest hits from the likes of Earth, Wind and Fire, Donna Summer and Teddy Pendergrass whilst sipping on specialty cane juice cocktails.
A spirit of exuberance and national pride fueled countless evenings till the early hours of the morning, but by 1980, just three years after the club opened its doors, it would all come to an abrupt and violent end. A coup overturned 133 years of Americo-Liberian rule, ushering in the first indigenous government. Generations of staggering inequality between the descendents of the first Black American settlers and the native ethnic groups that populated the coastal nation had taken its toll, and the country would never be the same again. Many professionals linked to the ousted government were killed, imprisoned or chased away through threats and intimidation. Hibiscus, like many other businesses, shut its doors and to this day remains just a memory in the minds of those who lived it.
As Monrovia's most popular nightclub, Hibiscus came to represent an alternate vision for the nation, one that placed Liberia on the global stage in a manner that wasn't dictated by the neocolonial objectives of foreign powers, but rather by Liberians themselves. Eddie, Joseph, Rachel and many of their friends took great pride in the efforts they put towards the country's development by creating something for Liberians, by Liberians. These days, you're more likely to hear about the brutality of the war and high rates of poverty than stories of Nina Simone and Hugh Masekela cutting a rug on Hibiscus' dancefloor. Reasons for this are wrapped up in a complicated and tangled political history, where depending on your perspective anyone's status can easily flip from hero to villain. That said, something special did happen at 22 Broad Street in the years Hibiscus was open, and its place in Liberia's cultural legacy cannot be denied.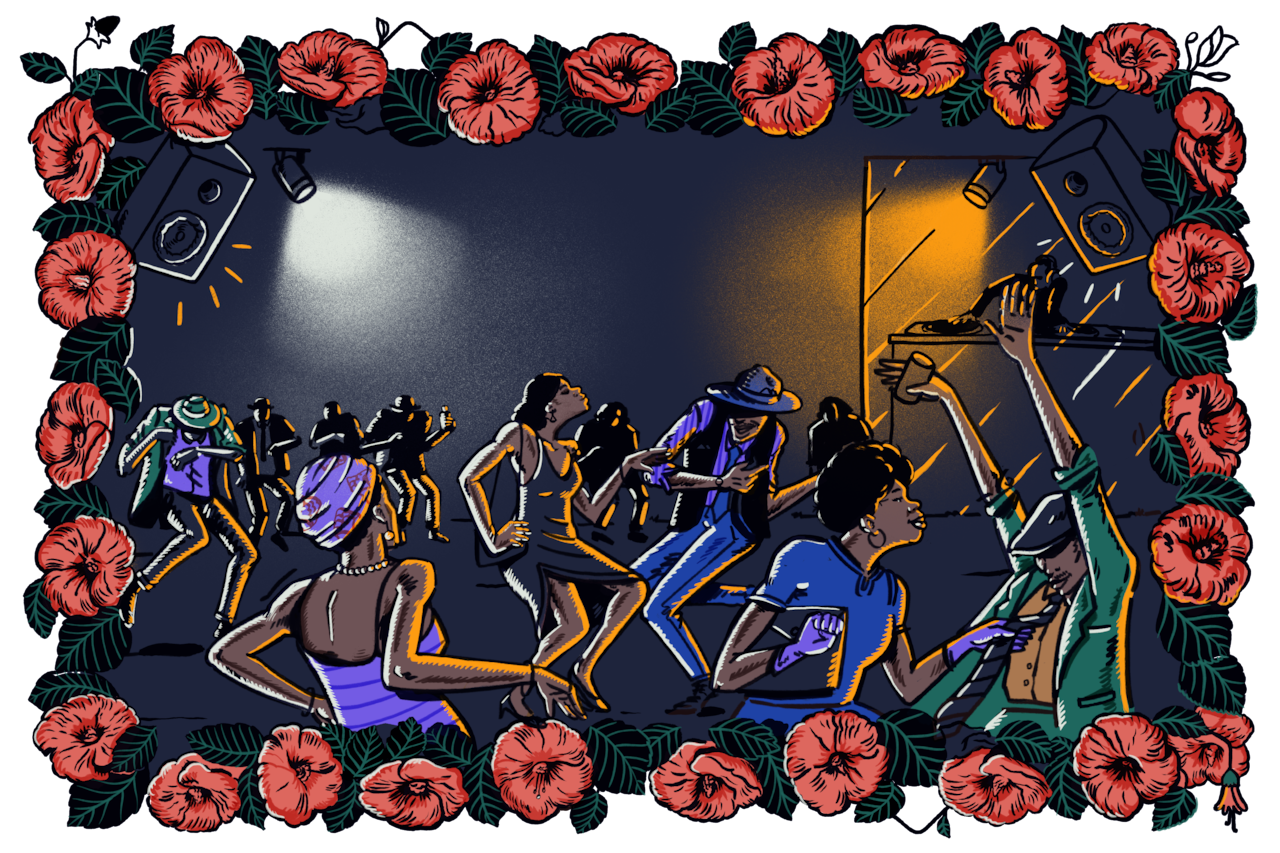 When Eddie arrived in Monrovia in 1969, an entrepreneurial air had settled over the city. Industries were thriving and the newly minted class of Liberian professionals were opening everything from architectural firms to restaurants, faithfully patronizing one another and cultivating an ecosystem of Liberian-owned prosperity. Soon after getting married, Eddie found himself again in the entertainment space as the manager of a bowling alley which had a small nightclub attached to it. After the business folded, Eddie completely switched gears, taking a job at an oil company. The oil company shut down in 1977 and around the same time, Eddie's brother, Joseph Diggs, the chief radiologist at Monrovia's John F. Kennedy hospital, and his wife Rachel, a translator by trade who ran a medical supplies company, approached him about re-entering the nightclub industry. Joseph, 42, and Rachel, 36, had recently moved back to Monrovia from Geneva with their young children and were looking to start a business. They brought in three additional partners to help finance the project and together they opened a club called Gemini. It quickly became clear that the business wouldn't survive – "too many partners," Eddie recalls – so the three family members decided to strike out on their own, putting the wheels in motion for what would become Hibiscus.
The trio set out to build a small entertainment complex with a target audience of friends and family, setting up shop on a plot that has been in Rachel's family for over 100 years. The club took its name from Rachel's mother's green thumb: "My mother was a great gardener and her favorite flower was hibiscus. So we always had this blooming hibiscus hedge around the property," she recounts over the phone from her home in Tennessee in August 2019. Rachel also wanted to find an impactful way to support the young Liberians who would end up staffing the establishment. To this end, she created a scholarship fund in which Hibiscus would pay the school fees of all employees while they worked at club. The trio's brief experience with Gemini smoothed out the edges for Hibiscus' debut, and before the end of 1977 they were up and running.
Although the nightlife scene in Monrovia was mostly foreign-owned, in Eddie's eyes it wasn't living up to international standards. "Gemini was the first club with carpets on the wall, a pool table, and video you hang on the wall. I mean, you're talking '77. So we carried all of that over to Hibiscus." Located on 22 Broad Street in the neighborhood of Crown Hill, Hibiscus wasn't on the downtown strip, but you had to drive past it to get downtown, granting it effortless exposure. Regardless, neither the Diggs nor Eddie felt the need to invest in extra publicity, they already knew people were anxiously awaiting the opening of the club. "People were excited from day one. In fact, during the construction of the club, we had so many people stand by to find out when opening night was," Rachel remembers.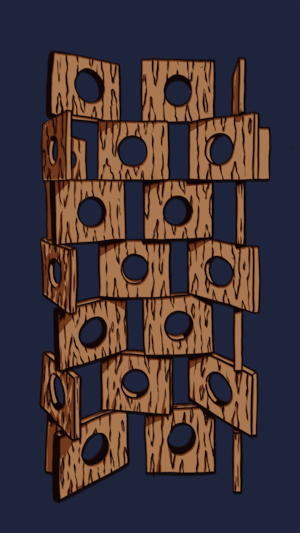 Inspired by her time in Europe, Rachel knew it was important to invest in the club's aesthetic. She enlisted a personal friend and architect, Winston Richards, to help design the interior and decor. They made sure that every piece of artwork and infrastructure was made of Liberian materials and "Afro-centric." Rachel understood that small details could have a lasting impact and was meticulous in making sure Hibiscus was full of them – from an accent wall of checkered burlap squares dyed in gold, green and copper, down to lotions and hand towels in the bathroom. The latter made perhaps too much of an impression, as clubgoers mistook them for gifts. "They kept walking away with them," she laughs.
The design focal point was a tall divider-like piece that greeted guests just as they made their way past the foyer. Affectionately referred to as "chunks," it consisted of connected wood squares that jutted out at varying depths. The point of keeping "chunks" at the entrance was to provide a buffer between the dancers and incoming guests: " [Once] you enter, the dancefloor was right in front of you, but you're not going to see the people. If you walked in and you see everybody, it will be intimidating for people dancing," Eddie notes. Once in the foyer, guests could gather themselves before choosing to make their way to the right and up a few steps to a pool room and lounge area, to the outside patio if there was a concert, or straight to the bar and dancefloor.
To emphasize a feeling of homeliness, the bar was shaped in a semicircle with just ten leather seats to allow people to comfortably hold conversations. At the helm, the wildly charismatic head bartender Smitty was constantly whipping up a flurry of new drinks, while never failing to remember the orders of regulars. Ever inclusive, he even had something for the non-alcoholic crowd – a milk-based drink he christened the Hibiscus Special. Behind the bar an elevated DJ booth, enclosed in glass, overlooked the dancefloor from a corner angle. The Hibiscus dancefloor was smaller and more intimate than most in Monrovia, another deliberate design choice by Rachel and Winston, with floor lights to "give it a certain glow."
Behind the decks was the club's resident DJ, Lawrence Wilson. When Lawrence, a younger relative of the owners, first arrived in Monrovia from the countryside for school, he had never DJed before. But he needed a job and Eddie needed a DJ. "I thought, let me interview him and see what he knows," Eddie recounts. Having DJed himself at the Witch Doctor, Eddie was confident in his ability to train someone, but was hoping he wouldn't have to start from scratch. "I asked him, 'What do you know about popular music? Who's your favorite?' He said, 'Prince Nico.' And so I thought 'Wow, I've got a long way to go, but at least he said something.'"
Eddie trained Lawrence on a standard set-up of two turntables and a mixer, and once he seemed to get the hang of syncing music, set him off on his own. Lawrence excelled and became popular very quickly, especially for his ability to read the room. He would pay such close attention to reactions from the crowd that he would often welcome regulars to the dancefloor by playing a song he knew they liked, making the space feel more like a cozy house party than a buzzing nightclub.
While Lawrence's style certainly captured the crowd, the much bigger draw was the music itself. "I think one of the biggest attractions was our ability to provide, besides the African music, black American music – some white too – but mostly black American music." Eddie tells me. Crowds and competition were wowed every weekend with brand new music that often times was so fresh it hadn't even made its mark in the United States. During the time Hibiscus was open, Pan-Am had several direct flights a week between Monrovia and New York, and Eddie's sister-in-law happened to be attending school in the city. The businessman in Eddie quickly capitalized on the advantageous trade route. "[My sister-in-law] made sure that every single piece of music that came out, [made its way to Hibiscus] before anybody could even hear it in New York. People would come back from New York, enter the club, and hear a record on Friday or Saturday night that only came out on Monday. " Outside of the latest American R&B and disco, the club would often spin the music of popular Liberian musicians who also happened to be personal friends, such as the modernized folk of Miatta Fahnbulleh and the Afro and disco-inspired dance sounds of Tecumseh Roberts.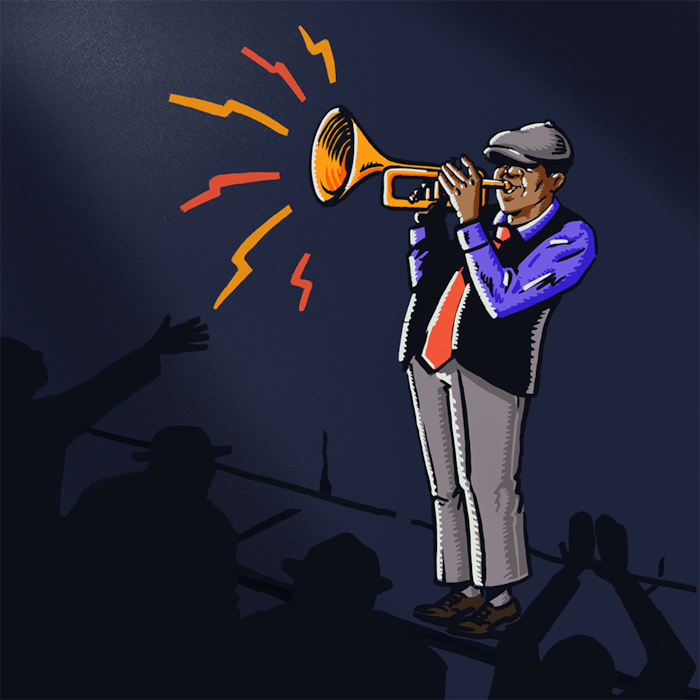 Music of other African superstars also made its way through Hibiscus, including the funky makossa of Manu Dibango and even more memorably, the inimitable trumpet of Hugh Masekela. Masekela first arrived in Liberia with Miriam Makeba at the request of President Tolbert, who assumed office in 1971. They were invited to perform at the national stadium as part of a fundraiser for Tolbert's Total Involvement for Higher Heights initiative, a social program intended to bridge the inequality gap between the ruling class and the native population. Masekela and Makeba, who were already huge stars at the time, had to play multiple encores of their respective hits, "Grazing in the Grass" and "Pata Pata," to the sold out crowd of Liberian fans. Following the performance, President Tolbert invited Masekela to dine at his home, where he handed him a Liberian passport.
Sympathetic to the plight of black South Africans fighting the apartheid regime, Liberia became a hub for many in exile. Makeba was already living in Guinea at the invitation of President Sekou Toure, so it was an easy sell for the jazz icon. Masekela quickly took to the city's vibrant social scene and fell in with the HIbiscus crowd, becoming close friends of Eddie, Rachel and Joseph. In his 2004 autobiography he wrote, "Monrovia never went to sleep…[it] featured round-the-clock bars, [and] a thriving international tourist trade."
Masekela gave at least three concerts at Hibiscus, enthralling the small crowd with his magical trumpet. "He could almost make the trumpet talk. And to see him, even when he's practicing, tuning up and stuff, he's different, " Eddie remembers. He was also very fond of cognac and would often come by for a drink, sometimes staying late into the night. Eddie recalled one evening when he was trying to close the club around four or five in the morning and Masekela was still sitting at the bar. "I said to him, Look you have got to go home, we've got to close. You're the only one here. Everyone's gone.' And he said, 'OK, no problem, where are you going?' I said, 'I'm going home!' He said, 'Well, I'll follow you.' And he would follow me to my house."
In addition to the jazz-themed happy hours and outdoor concerts, every new year Hibiscus hosted an all-you-can-eat-and-drink black tie event that was so popular it would usually sell out by March. Where other clubs only offered drinks, Hibiscus had a rotating snack menu provided by an innovative Indian chef. "It was always surprising," Rachel recalls. The club became extremely popular with the upper middle class crowd and even visiting diplomats always made sure to stop by. "It was like even in their African countries, they had not enjoyed themselves or experienced that kind of entertainment that was provided by Hibiscus, and it took the name Hibiscus all over Africa," Eddie says.
One day in the late '70s, Rachel was on a Pan-Am flight to the United States and she picked up a copy of The Economist to pass the time: "There was a write-up about the Hibiscus in the Economist. It was unpaid, unsolicited publicity, but apparently one of the editors or reporters had been in Monrovia and dropped by Hibiscus and wrote a very positive article. In essence, 'If you have not been to Hibiscus, you have not been to Monrovia."
Due to the clout of its clientele, Hibiscus became more than just a place to dance and enjoy music – it became a prime location for making strategic business moves. "It was a good meet-up spot if you wanted to cut a deal or to explore possibilities in Liberia," says Rachel. This had much to do with the fact that the establishment was Liberian-owned: "It attracted and made Liberians more comfortable. Not just Liberian, but black people in general were more comfortable coming there," says Eddie.
In 1974, around the same time Masekela settled in the Liberian capital, Nina Simone moved to Monrovia with her daughter Lisa. Fed up with America's racial politics, she made the leap at the suggestion of her close friend Miriam Makeba. Though she would leave Monrovia the same year Hibiscus opened, in the overlapping time she was a frequent visitor. Appreciating the company and anonymity, famous guests such as Simone, Masekela and American actor John Amos (fresh off his breakout role in the Roots mini-series) became embedded in Liberian high society. "They all found the atmosphere attractive I think because when you were in the Hibiscus you were not identified as that person, you were just another guest," says Rachel.
On the night of her birthday, Simone ran into Hibiscus seeking refuge from the barrage of birthday salutes she was receiving in town. DJ Lawrence Wilson, attentive as always, decided to play "Happy Birthday" to welcome her into the club. Remembering the unfortunate mistake, Rachel tells me, "She performed like Nina, she came into her territory, loud, swearing: 'I usually come here to be quiet and look for peace. Who in the hell told you to…'" Though they were friendly with her, the Diggs could never anticipate what mood Simone might be in. "If she was in the best of humor, she would be your best friend, but sometimes she was just ornery," Rachel continues. Simone, who famously danced naked at the Maze, a members club not too far from Hibiscus, would leave her high-rolling Liberian life behind just a few years before everything would come falling down.
When we left Liberia we walked away as if we were going for a stroll. We left everything in our home, in our offices, in our business.
To begin to understand the coup of 1980 and the magnitude of the violence that followed, you have to go back to the country's founding. In 1822, a little over 80 black American settlers arrived on the shores of what is now Liberia. Fighting through disease, strained relations with the native population and the numerous challenges of building a settlement from the ground up, in just 25 years, they would declare independence from the United States and their proxy managers, the American Colonization Society.
A century later, Liberia became a founding member of the United Nations and, upon the discovery of minerals and other profitable natural resources, began to modernize swiftly, particularly among the coast where many of the towns established by the settler community were based. Since the founding of Liberia, deep divisions have existed between the descendents of the settler class and the indigenous population. The settler class came to be known as Americo-Liberians, while the indigenous identified with their respective tribes such as the Kru, Kpelle, Bassa and Gio, to name just a few. The True Whig Party, founded by the settler class, kept a tight grip on political and by extension economic control for 133 years, allowing deep-seated resentment to foster in the country's underserved regions.
William VS Tubman, Liberia's president from 1944 until his death in 1971, oversaw much of the nation's dramatic growth. Following seven consecutive terms, he passed away and his successor William R. Tolbert assumed political office with a more progressive social agenda than his predecessor. Hoping to provide more resources for the impoverished native population, Tolbert instituted a series of measures under the banner Total Involvement For Higher Heights. The goal was to raise ten million dollars from the public in order to fund a series of self-help programs and development initiatives. It was one of these fundraisers that first brought Masekela to Liberia and, despite living comfortably as an honorary member of the upper class, Masekela was uncomfortably aware of the underbelly of Liberia's success: "There was a heartbreaking disparity between this community, who called themselves Americo-Liberians, and the ethnic population which was obviously living in abject poverty," he wrote in his autobiography. "It was governed by a Christian minority of the descendents of American slaves, who treated the indigenous population almost like slaves. Americo-Liberian opulence and vulgar wealth existed in the midst of embarrassing ethnic poverty."
Tolbert's inauguration also coincided with a global decline in the price of Liberia's major exports, slowing down the nation's rapid growth. As the economy continued to decline, in 1979 he proposed an increase on the price of imported rice in a supposed attempt to boost local rice production. People took to the streets to protest the proposal and the gathering quickly turned violent, likely foreshadowing what would happen the next year.
In 1980, the Diggs and Eddie made plans for an expansion of the club. They erected a second building and built an adjoining tunnel. The new addition would be more youth-focused, with a video game arcade and jukebox. They also had plans in motion to open up a recording studio with Hugh Masekela, and with the increased capacity were working to book Earth, Wind and Fire for the annual New Year's Party. The new additions were set to be launched in September. But on April 12th, 1980, 17 decommissioned army officers, led by a mostly unknown sergeant named Samuel Doe, entered the presidential mansion and killed 27 members of the Tolbert regime, including Tolbert himself. Shortly thereafter, Doe made a definitive announcement on the national radio station stating, "The Tolbert government is no more." In the following days 13 more high-ranking officials were gunned down on the beach in front of members of the press and cameras. Many more were arrested and killed, including close friends of the Diggs and Eddie.
"It was such a lawless time, a lot of the business people left Liberia," Rachel remembers. She knew it was time for her own family to leave when, six weeks after the coup, their five-year-old son came home from playing outside with live bullet casings gathered in his shirt: "He thought they were toys to play with." Soon after, a neighbor's young daughter was shot and killed by a stray bullet. Joseph, who was still working at the hospital and at his private clinic, knew the situation was dire, but felt as a doctor he would be needed. "I was naïve enough to believe that these people who were taking over the country were not going to be shooting at doctors. They need me, I thought. But I was mistaken." Many people were arrested under cloudy claims of attempting to overthrow the government. Those who were arrested were often never heard from again. When Joseph began hearing his own name thrown around in an accusatory tone, he knew it was no longer safe for him to stay.
By this point the new government was already suspicious of the Diggs, given Hibiscus's clientele, so they could not make it too widely known that they were leaving the country. "When we left Liberia we walked away as if we were going for a stroll. We left everything in our home, in our offices, in our business," says Rachel. Rachel left first with their children, as men were not allowed to travel at the time. After managing to get permission to attend a medical conference in Nigeria, Joseph took a flight to the United States from Lagos, leaving everything in Monrovia behind. He later found out that security forces had attempted to arrest him the day of his departure. Some years later, their home was looted as the country devolved into a bloody civil war, which over less than a decade would lead to the deaths of over 250,000 people. They lost all physical memories of their lives prior to 1980. "We have one wedding picture that a friend of mine found lying on the street in some market. But that was a life lost – we lost everything. We don't have one picture of Hibiscus," Rachel tells me.
I never gave up on the country. And I always felt that as long as I was innocent, as long as I didn't work for the government, then there was no reason for anybody to [arrest me].
Eddie was in Ghana the night of the coup, watching a soccer game. A local Liberian team was playing and he managed to snag a lift on the team's flight. He got word of the coup when he was in Accra and while it was shocking, it wasn't all too surprising: "When you're in the bar, you hear a lot of things. What I was picking up was not good." A few days before the coup, while at Hibiscus, Eddie had been casually chatting with two high-ranking officials. One of the officials generously offered him a diplomatic post in London or Paris, his pick. He kindly refused: "Leaving was the farthest thing from my mind." The other official wanted him to organize a concert at Hibiscus for a French pianist. They agreed to discuss more details at a later date. By the time he was able to catch a flight back to Liberia, they'd both been arrested. A few days after he got back, they had both been killed.
While family and friends made plans to leave before they might suffer the same fate, Eddie decided to stay. When asked why, he ponders a moment. "I never gave up on the country. And I always felt that as long as I was innocent, as long as I didn't work for the government, then there was no reason for anybody to [arrest me]... Even when they came to question me there was always some soldier there that would say, 'Oh, that man, leave him alone.' And so with that I felt encouraged. Another reason was that I had an uncle, my mother's brother, who had been sent out of town to a prison which was like a concentration camp. You couldn't get there by road and only the government had access to it. And I said 'If I leave, what would happen to my uncle Josh?' I was hopeful that one day he would be free and he would come to town, and he would need somebody to come to." He's careful to emphasize that this was a decision he made independently and not one he would necessarily impose on others. "Everybody made a choice, and that was mine."
Though Eddie stuck around, due to Hibiscus's association with many prominent leaders of the old regime, it became too risky to keep afloat. It stayed open through Christmas of 1980 and quietly shut its doors soon after, never to be opened again. The building was eventually firebombed during the first Liberian civil war several years later, and the original furnishings were lost. But the building still stands, and over the years various companies have come in and out, including a cake shop, a travel agency and newspaper office. Rachel moved to Washington D.C and took up a job at the World Bank. Years later she would serve as Liberia's ambassador to the United States under Charles Taylor's government, before retiring and relocating to Tennessee in 2000 with Joseph.
Immediately after Hibiscus closed, Eddie opened another club called Lipps, which became a favorite of the country's new elite. "They adopted it as their club now. Which was fine with me. The color of the money is the same, " he concedes. He would eventually go on to serve as the Chief of Protocol for an interim government of national unity following the violent ousting of Samuel Doe in 1990. He would reprise this role for the government of Ellen Johnson-Sirleaf, the first female African head of state, in the early 2000s, but would retire from politics soon after. Through the ebbs and flows of violence in the country, Eddie stuck by the decision he made in 1980. "Even when the interim government was taken out, I still didn't leave until I was targeted for having worked with the interim government. But I stayed in West Africa. Again because I felt one day Liberia will get back and my people who have left will come back. And if they [do], they'd know Eddie's there. 'I can stay with Eddie until I get back on my feet.'"
Hibiscus continues to spring up in surprising ways despite the fact that it has been closed for nearly 40 years. The Diggs and Eddie remained close to Hugh Masekela until his death in 2018, and whenever they'd cross paths at one of his tour stops, they would exchange memories of their time in Monrovia. In a completely unexpected instance, several years after the Diggs had settled into Nashville, Joseph ran into John Amos. "Oh, Mr. Hibiscus!" Amos exclaimed. Other times, former staff have tracked them down and called to thank them for the scholarship fund. Though they don't know the exact number, they are certain that they offered at least 50 scholarships. "Three years looked like a lifetime," Rachel muses, "But it was such a short time."
In Nina Simone's 1992 autobiography I Put A Spell On You, she reflected on her time in her former home, "Liberians are naturally affectionate, open people, proud of their country, and the fact that a famous black American had decided to come home – which was what they called it – to stay, meant something special to them." Spaces like Hibiscus became a second home for many like Simone and Masekela, who were turned away from their own countries due to their politics, but it also served as another kind of home for many Liberians, one in which harmony and unity was not a distant dream but a workable future. Despite the politics that would bring this chapter to a close, ultimately Rachel, Eddie and Joseph wanted to show at Hibiscus that, through music and communion, Liberians could build something impactful in their community. Rachel sums it up best: " I would like people to remember it as a gathering of peaceful Liberians, coming together with the hopes of changing Liberia for the better."
Header image © Musonda Kabwe