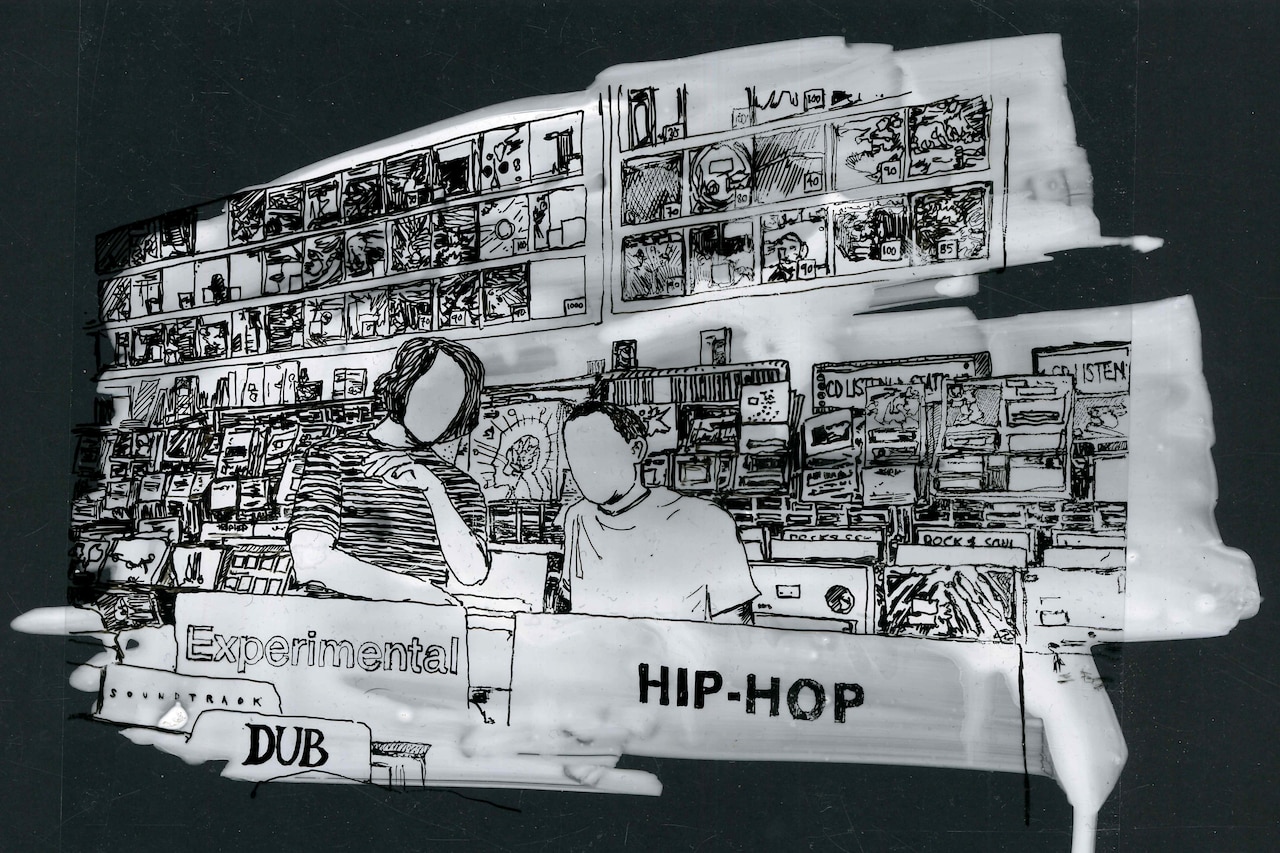 Aron's Record Store and the Development of the LA Beat Scene
How the Los Angeles store became a breeding ground for the city's trailblazing producers
Visits to Aron's Records were an important weekly ritual for Gregory Shorter Jr. Three times a week, the young DJ and producer would take the bus from the border of Gardena and Compton to Hollywood where he would spend hours in the shop's crates looking for beats to play at Project Blowed, or samples to flip on his MPC. Looking down on him from the shop's white walls were covers for prized records, some seeming to speak directly to him. They were like nothing he'd ever seen before, a mix of custom fonts, abstract artwork and photos of a man who seemed cool and crazy. "You know who this is, what this is," they said. But Shorter, known locally as Ras G, didn't know who Sun Ra was yet. Still, the records kept bugging him until one day he went to the jazz section and reached for a copy of My Brother The Wind. The 1970 album by Sun Ra and his Astro Infinity Arkestra, full of wild stylistic synth experiments, shattered all preconceptions Shorter had about what a jazz record might be: "I had never heard a record like that in my life. It blew my head. I liked it all." It was a classic, pre-internet digger move, inspired not by what the music sounded like but what it looked like. And it set Ras G, a producer grounded in a love of beats and bass, on a path of outward expansion that defined the rest of his career.
In Los Angeles, where city boundaries are blurry, sidewalks end abruptly and the car reigns supreme, private spaces have always been where things happen. It's where personal connections are made and communities grow. Aron's Records was one such place. In the busy landscape of record stores that dotted the LA area in the second half of the 20th century, from Santa Monica to Pasadena, Aron's was much loved and is fondly remembered. With a motley staff and the welcoming warmth of a dive bar, Aron's was patronized by everyone from Hollywood stars to local DJs. In the decade leading to its closure in 2006, amid changes to the music industry that decimated the traditional record store business, Aron's became something more: the nexus for a community of artists focused on beats.
Every week, local DJs and producers would congregate between the aisles to swap recommendations and stories, before reconvening at parties where the music they found or made was shared. Within a few years of Aron's closing this group made its mark. Known informally as the LA beat scene, this loose congregation's fascination with beats fed into a wider, global movement that transformed the bedroom producer from anonymous beatmaker into live performer and chart topper. And while few people outside of LA would have heard of Aron's, the shop's legacy lives on in the artists that passed through its doors and the records that still bear its price tag. Be it a deep cut championed by DJs like Kutmah and Cut Chemist or an obscure record sampled by Daedelus, Madlib or Dilla.
"Anyone who lived in LA in the '90s shopped at Aron's and has at least a big stack of records [from there]," says Eric Coleman. A photographer and co-founder of the production company Mochilla as well as a DJ and producer with connections to multiple generations of LA's hip-hop scene, Coleman shopped at Aron's for the best part of three decades. "I knew damn near everyone in that place. It was like our meeting ground. I'd see you all week [around town] but I could go in there on a Friday afternoon and bump into all my friends. We're all on the same path and it was a place where we could share knowledge. When I started going they had no listening posts, so you'd have to trust and go with recommendations and that's how you created your camaraderies, associations to these other people."
The roots of what came to be known as the LA beat scene extend beyond a simple attraction to instrumental music or the confines of Low End Theory, the weekly club night that became a byword for the movement. These roots stretch back across decades and the entire urban sprawl that makes up the mental image most people have of the city: the rumbling bass and punching drums of electro records spun at Uncle Jamm's Army or Unity parties; the freestyles and cyphers of the Good Life Cafe in Crenshaw and Project Blowed in Leimert Park; C.V.E's South Central studio shack; college radio stations KPFK and KXLU; early online broadcaster dublab; the hip-hop and breakbeat fusion of Science and Konkrete Jungle; the itinerant dance movement led by the Soul Children; the breaks spun at the Root Down and its infamous soundclashes; Madlib's bomb shelter in Mount Washington. The list goes on. Aron's was central to this root system, a space where people, sounds and ideas met in crates, grooves and conversations.
I found so many more [special] records at Aron's than in San Francisco where the scene was stronger... Like a Dillinja white label, or some label test press. 'Why is that record...? What's going on? Who?' It felt like somebody was whispering me secrets.
Aron's Records opened in 1965 at 7725 Melrose Avenue, tucked between West Hollywood and Fairfax. It was named after its founder, Manny Aron, who wanted to offload his collection of classical records, and over the following decades Aron's grew in tandem with the nearby music industry. It stocked new genres, releases and formats but, crucially, also carried imports, independent and used releases, which meant the store catered to the complete spectrum of music fans, no matter the depth of their pockets or knowledge.
As the '80s rolled in, Aron's found itself in the middle of a revived stretch of Melrose Avenue popular with fashionistas, punks and thrill seekers. In 1989, it relocated to Highland Avenue, just off Santa Monica Boulevard, on the gritty western edge of the Hollywood most know today. A former meat market, the new location was rebuilt to give Aron's 9,000 square feet of space. Bigger and brighter, the new Aron's somewhat disguised its mom-and-pop roots, but within its white walls and mix of tiled and carpeted floors you could still find what had made it popular: deep selections, knowledgeable staff and affordable prices.
The topography of record shops in Los Angeles in those decades reflects the city's unique position as an industry town, a haven for independent artists and a tourist destination. There were chain stores – Tower Records, Liquorice Pizza, Wherehouse – alongside local shops like Rene's All Ears on Melrose, Poo-Bah in Pasadena, Rhino Records on Westwood or Record Surplus on Santa Monica. Despite lacking the name recognition of chains, local shops had the edge: Their stocks could be riskier, and they ran trade counters.
Spend enough time in LA's used record stores and a composite image of the city's entire music culture would emerge: promo records, white labels, cut-outs, one-off recordings, rare pressings, personal collections, radio station cast-offs. All of this sonic detritus would find its way into the nets of a store like Aron's, feeding the endless appetite of customers eager to digest and repurpose it. For Alfred Darlington, AKA Daedelus, Aron's was where he could really indulge his interest in the UK sounds of jungle and drum & bass. "I found so many more [special] records at Aron's than in San Francisco where the scene was stronger," he recalls. "Like a Dillinja white label, or some label test press. 'Why is that record...? What's going on? Who?' It felt like somebody was whispering me secrets."
A large part of the magic that could be felt when shopping at Aron's was thanks to the staff, many of them working musicians and DJs. Numbering over 50 at the shop's peak, staff were enthusiastic (if sometimes still snobby) proponents of their preferred genres. The quality of the stock, variety of in-stores and depth of knowledge made Aron's a favorite of LA's indie rock and hip-hop worlds. Starting in the '90s, a string of employees turned the shop into an essential destination for a generation of artists raised on sampling.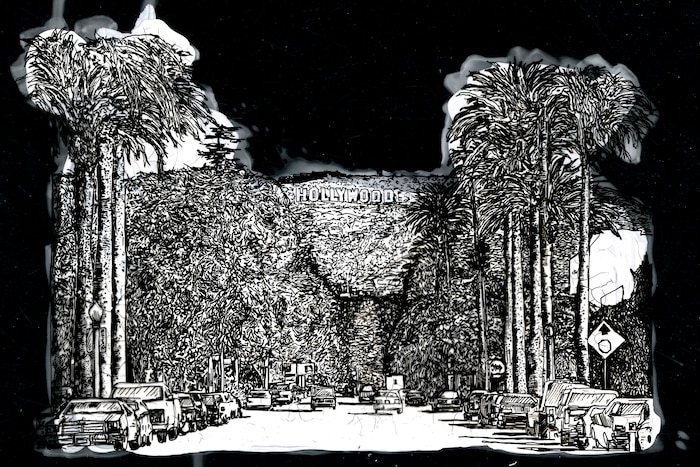 "Word of mouth, it became the word of mouth," says Shafiq Husayn, who started visiting Aron's at its first location as a high-school student and upcoming rap artist looking for samples. Husayn recalls how the '90s brought a new consciousness to the record shopping community following the release of albums by Pete Rock or A Tribe Called Quest. "That's when they started having record conventions out here. And that's when Aron's stepped up [as a place for diggers]. You had A-1 Record Finders in the same area, they were competing."
Jon Liu is a native Angeleno who worked at Aron's from 1994 to 2001. A self-described "product of record store culture," Liu got a job at Rhino Records in the late '80s and then landed at Aron's via his friend and ex-Rhino colleague Tomas Palermo. A writer, DJ and co-founder of local crew Umoja Hi-Fi Soundsystem, Palermo was the hip-hop, dance and reggae buyer at Aron's, responsible for ordering new releases. Alongside the counter managers who oversaw trade sales, buyers were essential in shaping the shop's musical aesthetic.
For Carlos Niño, the sensibilities of Aron's staff in those years are key to making what came next possible. "They were very supportive," he explains. An omnivorous, enthusiastic music fan, Niño began digging at Aron's in the early '90s and also worked briefly behind the register and later as the world music buyer. "There were other, bigger used record stores, but they did not buy new stuff. Aron's also had the hippest staff, like Tomas. Tomas brought more hip beat music in than anyone in LA. Anyone. And he knew it. He knew what it was. He was into it." As a budding promoter, producer and radio DJ, Niño himself would eventually be a catalyst for the beat scene that emerged from Aron's.
By 1997 Liu had taken over as the hip-hop buyer, just as a new wave of independent labels and artists was washing over California. In the wake of gangsta rap and g-funk's popularity in the early '90s, the music industry started looking for other potential local successes. One area of interest was found in the no-curse-word freestyles of the Good Life Cafe, and its follow-up Project Blowed, a space where the experiences and energies of inner city living were channeled into wordplay and performance. The major label interest proved short-lived and LA's underground rap world remained a largely DIY affair. But it found kindred spirits in other crews and labels up and down the California coast, and they all found receptive ears at Aron's.
"Whether it was 12"s or CDs, there was a lot of people who hadn't made the connection to distributors," recalls Liu. As the hip-hop buyer at Aron's he was the point of contact for those who came in the store hawking their wares. Freestyle Fellowship, Living Legends, Celestial Recordings, ABB Records: Name a Californian indie act of the time and it's likely they passed through Aron's looking for cash or consignment. "That was just the available channels. You would come in and we'd take it, especially if it was local. You wanted to represent and you knew people would be looking for it." Liu's support didn't stop at just stocking releases. According to Coleman, he is the reason Keepintime, Mochilla's first documentary and music project, got off the ground. "He was the first dude to be like, 'I'll loan you some money so you guys can make this happen.'"
Joining Liu behind the counter in the late '90s were two other members of Palermo's Umoja Hi-Fi. Cokni O'Dire, the reggae buyer, and DJ Jun, who handled electronic and dance. The pair expanded Aron's appeal via their involvement at the intersection of Jamaican music, dance music and hip-hop. Liu credits Jun with cementing Aron's reputation as a shop that catered to deeper abstract tastes and interests. While other specialist shops had opened throughout the decade, including the dance-minded Beat Non Stop and a local branch of NYC hip-hop mecca Fat Beats, Aron's was more than a match. "Jun's an insane DJ because of his skills and knowledge, he can move dancefloors. But he would also buy stuff that was more leftfield because there was a market for it," explains Liu. "IDM and Warp, that stuff was really ascending and it was huge, all the Wagon Christ stuff, Mo' Wax, DJ Krush, DJ Shadow. The Prodigy was big too, but it was more on the commercial side of what we were doing. There was a dedication to the more independent, maverick stuff."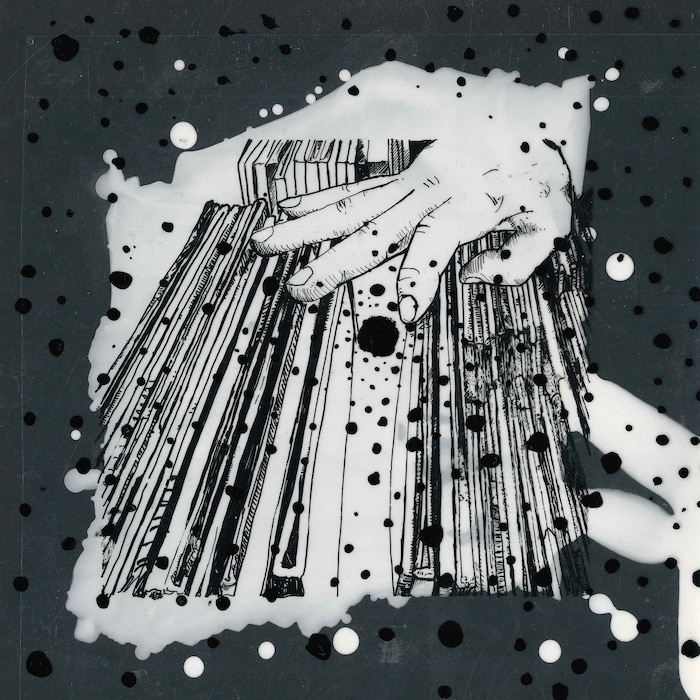 A regular figure at Aron's in those years was a young Pasadena resident named Damon Riddick. On weekends, he'd hop on the freeway and hit stores on Melrose before ending at Aron's, his main stop. "It was a nice community of people," he recalls fondly. "When you walked into Aron's you felt like you were among your own, whether a nerd or cool." Sporting a distinctive perm, Riddick often attracted the curiosity of staff for selections of deep funk and boogie cuts that littered the 99 and 29-cent bins and were left untouched by most. Riddick's interest was in listening, rather than sampling. He soaked in the music for inspiration to make his own, under the name Dâm-Funk. "We were all record diggers. No one was holier than thou. Best dressed or just woke up and came from the basement, we were all equals at the store."
Step into Aron's on any day of the week and you might catch Tha Dogg Pound's Daz Dillinger knelt down on the floor sifting through the discount bins for soul records, or Warren G grabbing $200 worth of vinyl in the hope of making a million. Quentin Tarantino once came in asking about a guy called Bobby Digital. Redman stopped by for a Nate Dogg cassette to bump in his rental car. Local drive-time DJ Garth Trinidad was a regular at the trade counter, selling unwanted promos. When Biz Markie asked about kung fu movies, the staff dug in the back and he walked out with a stack of 30 VHS tapes.
Lucas MacFadden, AKA Cut Chemist, was another frequent presence. A friend of Liu's, he was one of the rare few allowed upstairs, where staff kept carefully selected records (often for their own purchases) and stock awaiting pricing. When Cut Chemist and DJ Shadow pooled together a collection of little-known funk and soul 7"s for a multi-turntable live show called Brainfreeze, Aron's was chosen as the only location where tickets for the LA show could be bought.
Once Stones Throw had relocated to Los Angeles in 2000, they'd make regular cross-town trips from their home-office in Mount Washington to Aron's. "Madlib would always have a big stack, $300 every time," recalls Ramon "PayRay" Limon, who started on the register as a teenager and today works with local crew Hit+Run and DJ J Rocc. "Peanut Butter Wolf would have a more conservative selection. Seeing them every week, you'd get to know them. Quasimoto was out around that time. Yesterday's New Quintet was a big record at Aron's." A typical Madlib find was the Swedish psychedelic pop-funk of Doris, whose "You Never Come Closer" he rearranged into Quasimoto and MF Doom's "Closer." "That was my favorite store back in the day," Madlib said in his 2016 RBMA lecture. "They had good records, I was cool with all the employees and I get discounts."
After James Yancey, AKA J Dilla, relocated to Los Angeles in the spring of 2004, he also made frequent stops. He'd browse the selections in his careful, quiet manner, whether on his own or accompanied by Common, J Rocc and, towards the end of his life, his mother. The Detroit producer had been an LA favorite for years and Aron's was where many of his fans in the scene first got a chance to see him in person, transforming the myth into man. "That's where he was buying most of his records out in LA," confirms J Rocc. Dilla's deathbed sampling masterpiece Donuts most likely used records from Aron's, among others. "Dionne Warwick and Raymond Scott are two that come to mind," recalls J Rocc. "Those records were always at Aron's."
In November 2001, Amoeba Music opened its Los Angeles location. Overnight, it became the largest independent store in town, with 31,000 square feet on the corner of Cahuenga and Sunset. While barely a decade old, the San Francisco shop was already an institution and its opening in LA sent ripples into the tight-knit record store community. Liu left Aron's for Amoeba, soon followed by Jun. Replacing Liu as the hip-hop buyer was Stanley Swinger, AKA Sacred, a member of the Soul Children collective and an Aron's regular since the Melrose days.
Cut from a similar cloth as the buyers before him, Swinger brought a depth of knowledge, fondness for the quirks of music history and a deep love of beats that connected generations of Aron's customers. "Stan was the older, knowledgeable guy who not only knew stuff but also had a good ear and loved good music. He would constantly put me onto records," recalls Tom Wilson. A DJ and producer known as Take, Wilson asked Swinger about a job after returning to LA in 2002, eventually becoming the new electronic and dance buyer.
Living in LA meant having to contend with some of the best DJs in the world. Justin McNulty knew that if he wanted to make something of this hustle he needed to find his own niche, and Aron's was the ideal place in which to study. "It was the spot, like in Cheers where you walked in and say hi to ten people," he remembers. "I'd go there and spend hours listening to records." McNulty would often spot Ras G in the shop and eventually asked Swinger, "What's up with the rasta in the experimental section? Is he lost or something?" Soon after the pair found themselves side-by-side at the listening booth, commenting on their respective picks. "We started talking and it just clicked," recalls McNulty. The pair soon became close friends and collaborators.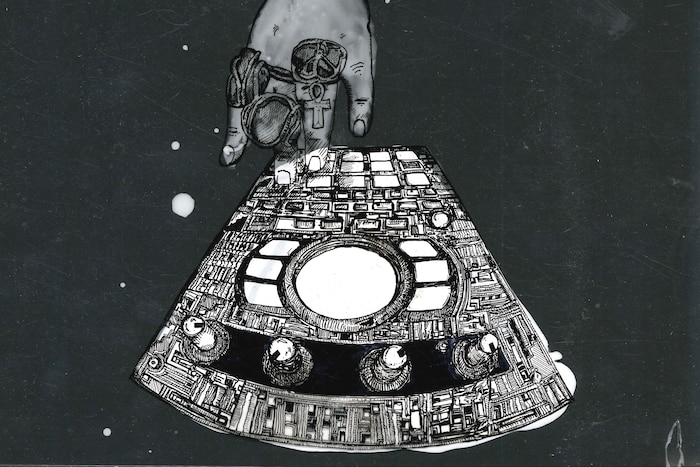 In 2001, McNulty attended the first installment of the Root Down's soundclash series, hosted by DJ Dusk, which pitted Cut Chemist against Madlib for a friendly beat battle in the sweaty confines of Gabah, a divey club on the southern edge of Hollywood. By then McNulty had been DJing as Kutmah for a few years, including slots at J Logic's Sound Sessions and Firecracker, a genre-spanning weekly at the Grand Star Jazz Club in Chinatown co-founded by Coleman. "I was unhappy with how [the DJing] was going, thinking I was playing good music and I wasn't getting any love for it," he recalls. Seeing the crowd's response to Madlib and Cut Chemist convinced him there might be something to a night dedicated to just beats. Further inspiration came from Juju, a party by the Soul Children collective that took place every other Saturday in Leimert Park and continues intermittently to this day.
"You could play Moodymann records, Roy Ayers, rare grooves, breaks," recalls Swinger, a Juju resident alongside Al Jackson and DJ Rome. "It was the kind of thing where I could play sets of samples, just crazy for 45 minutes. And later on, come back with a set of something else, and I would bring the beat element." McNulty's idea became reality sometime in late 2003 after his friend, a barmaid and DJ known to most as Okasan [mother in Japanese], offered him a Tuesday residency at The Room, a Hollywood venue she helped manage. The Room was an unremarkable bar on a busy block. Two doors down was indie rock staple Beauty Bar, with hip-hop leaning Star Shoes around the corner, and another two doors down was Cinespace, home to Steve Aoki and DJ AM. You entered the Room via a grimy back alley. Inside the space was longer than it was wide, creating a tight, cozy atmosphere. It was dark and the soundsystem was surprisingly good. The night was called Sketchbook, after the actual sketchbooks McNulty left on tables for people to doodle on while listening to music. With a penchant for visual arts, he created hand-drawn black and white flyers featuring intricate drawings and the tagline: dirty beats all night long.
From its inception Sketchbook was an Aron's party, its residents including shop regulars Orlando Reneau, Coleman and Wilson. "It was where dudes who found weird records would go play them," says Darlington. Those weird records were the creative niche McNulty needed, full of beats that better known, and more skilled, DJs couldn't necessarily make space for in their sets. "Tom and Justin would go upstairs and listen to everything when it came in," explains Limon. If hip-hop's early pioneers had gone looking for the perfect beat, this was a search for the dirtiest beat. "From there they gathered a small group of records to make that Sketchbook sound, that beat sound."
The beat sound was, and remains, hard to define in traditional terms. It's not a genre, more a feeling. In particular, the physical feeling when it hits: a scrunch in the face, a snap in the neck, a shout that erupts uncontrollably. It's hip-hop and electronic. There are traces of dub. It's whatever bangs, really. The entry point is often the instrumentals tucked on the B-side of hip-hop singles. From there, you jump into an expansive rhythm-led sound universe: the break on a Donovan song, B-sides on Mo' Wax or Warp 12"s, that one segment in a Rapture single, a little-known Neptunes bonus beat, a dance record at the wrong speed, pitched up.
A classic example is the 2004 French techno single "Stunt," written by Mr. Oizo and Sebastien Tellier. McNulty found a cheap copy in Aron's and experimented with it. He played it at 33 RPM, instead of the original 45 pressing. Then he brought it up to plus 8 on the turntable. At this point, the punitive, 147 BPM drum machine and synthesizer jam morphed into a more malleable, slurry 100 BPM head-nodder that could be mixed with classic hip-hop joints. "I knew I couldn't play a James Brown record at [the wrong] speed, everyone knows it. I can't play Pete Rock at the wrong speed. But no one knew this weird shit I was finding," explains McNulty. The "Stunt" trick became a Sketchbook staple and resurfaced in 2008 on Shhh!, a 12" collection of MySpace-era Flying Lotus bootlegs.
When German label Sonar Kollektiv released A/DD, the debut EP from then unknown Swiss musician Dimlite, Wilson took no real notice of it as he filled the sales-order fax. That changed once he put the needle to the single copy he'd ordered. "By that point Dabrye and Prefuse [73] were already hot," he says. "I remember going to get Stan and we were both just like, 'Holy shit.'" Wilson bought the copy and played it for McNulty. The following week he ordered ten more. "Everyone got it. Ras, Justin, Orlando etc… We all started to rinse it like crazy. Carlos heard it, I think Justin put him on it. We all became the biggest Dimlite fans."
"It was kind of a competitive culture of guys out here," explains Brian Cross, an Irish transplant who landed in LA in the late '80s and co-founded Mochilla with Coleman. "There was nothing in it, it was just that if you were the cat who came up on the Dabrye or Dimlite or Birdy Nam Nam, everyone was like, 'Whooo!' When cats first started DJing, to hold it down for an hour was huge." Still, you couldn't just play the obvious cuts. "It's like, 'Nah. Raise the motherfucking bar.'" According to Cross, Kutmah and Coleman displayed the same technical sensibility that had made DJs like Cut Chemist or Z-Trip popular. But they applied it to an entirely different class of beats. "They were trying to take those [beatmatching and mixing] skills to break weird, glitchy, fucked up music that no one was trying to listen to. And that was the geek."
"For me, Sketchbook was the most progressive blend of what I would say is hip-hop, beats and beat-oriented music," says Niño. "I might go and buy that 12" Kutmah told me about and be like, 'I'm not feeling that at all.' But I was feeling it in his set because of the way he presented it. That to me was the essence of Sketchbook. It was a lot of amazing mixes by guys who were looking at it really creatively. It wasn't just hip-hop, but it wasn't a broad diverse amount of music either. It wasn't an LA thing. They were playing music from all over the world. It was very much its own thing, you know?"
In the years Sketchbook took place, from 2003/2004 (depending on who you ask) to 2006, the idea that had sparked it began to feel more tangible. More music became available. A particularly potent stream of inspiration were beat tapes from established, prolific producers. New CD-Rs of beats by the likes of Madlib, Dilla and Sa-Ra Creative Partners were spoken of in hushed tones and sought with excitement. Producers started to play their beats live – some of the first such performances by Ras G and Flying Lotus took place at Sketchbook. And then there was MySpace. The place for friends had become a digital space for music and youth culture. It was where, and how, fans of the beat sound both in and outside of LA connected. Beats were about to become a thing.
Steve Ellison was an intern at Stones Throw during that time. Known locally by most as a movie buff, he made beats in his spare time under the name Flying Lotus. Some of these were first heard in and around Sketchbook. They also went up on MySpace. The play counts started increasing. People messaged him for CDs. He'd press a handful and drop them at Aron's. Speaking to dublab founder Frosty in 2017, Ellison recalled MySpace and Little Temple – Sketchbook's second home after The Room – as hubs. "I think we all knew that there was this thing that was brewing. I remember how united everyone was. It was so beautiful."
In February 2006 LA label Plug Research released a double 12" compilation entitled The Sound of L.A. Conceptualized by Carlos Niño, with some financial help from the owners of Little Temple, the compilation captured the nascent beat movement unfolding between Aron's and Sketchbook. Niño solicited tracks from residents and attendees. The cover was a simple horizontal sticker of portraits taken by Coleman in the same outdoor area – under a billboard, at the intersection of two busy avenues – where new beats could be heard coming out of a boombox brought by Ras G's high school friend Dibiase. This was the first document of the LA beat scene, 16 beats by 16 local artists that traced the scene's vast stylistic contour. "It wasn't like this is the only sound of LA," explains Niño. "But it was a document of what was happening at that time in that community."
"[Sketchbook] helped me open up and share," says Georgia Anne Muldrow, then an upcoming producer and one of the few women in the often male-heavy crowd. Like Ellison, she recalls the communal spirit of the time, and the beat cyphers, with fondness. "It helped me have confidence in myself too, you know, because I got a chance to play my stuff all the time."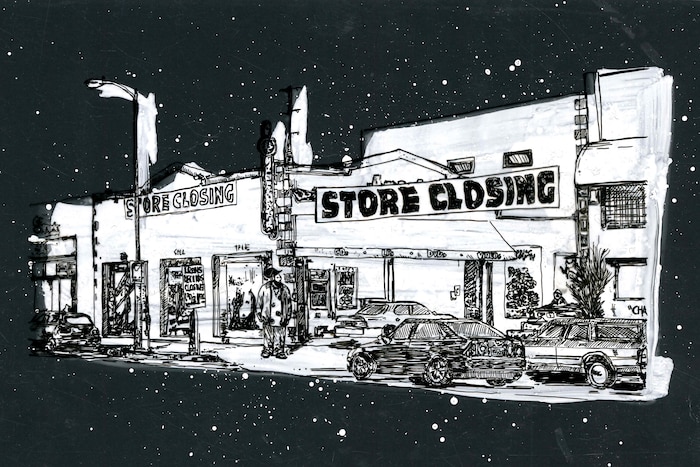 Just as the LA beat scene Aron's had nurtured was coming into its own, the shop closed its doors. The announcement came in December 2005. It was a blow, if not necessarily a surprise. Things had been going downhill, with less staff and less attention to the stock. Speaking to the LA Weekly in January 2006, Jesse Klempner, an early employee who'd become the owner, pointed to Amoeba, digital sales and chain stores like Target as reasons for the closure. In many conversations, Amoeba was pointed to as guilty for the shrinking of LA's indie record store world, earning it the nickname "the germ." The truth, as always, is less palatable.
"There was maybe, I think, a depth to [Aron's] sections at the expense of breadth," says Liu, who still works at Amoeba today. "Certain sounds and scenes were supported. And probably to its detriment, a lot of the buying reflected the buyer's predilections. It wasn't necessarily about something being a strong seller, it was more, this is great stuff and people should have the opportunity to get it."
Many of the staff and regulars also mentioned management issues. Klempner worked hard – 50-hour weeks for the best part of 40 years by some accounts. Had he tried to keep the shop open it may have become the sort of scene-focused institution Rush Hour in Amsterdam or Submerge in Detroit still represent today. Ultimately though, Aron's value had become monetary rather than cultural. "I asked him once if he was still a fan of the music, or if he saw the CDs and vinyl as commodities," says Limon. "He was like, 'I was a big fan, but being so involved in the work I became more business-minded, so I see them as six or ten-dollar CDs now.' It was just a business that wasn't working anymore at the end."
Amoeba Music sold its iconic building in 2015, and as of writing announced that it would move in the next year, making way for a 26-story residential building. Like nightclubs, record stores worldwide are fighting a seemingly already-decided battle against faceless real estate capital. Today's indies are primarily small, boutique places. In LA some are making it, like High Fidelity, while others, such as Mount Analog, come and go. Of the original indie stores Aron's was a part of, only a few remain including Poo-Bah in Pasadena and Record Surplus in Santa Monica.
As for the beat scene that first congregated in Aron's, it also weathered its own changes. Sketchbook ended in late 2006 just as Low End Theory, its spiritual successor, began a 12-year weekly run. Yancey passed away at the Cedars-Sinai hospital in February that same year, his unique talent for beats fossilized in recordings obsessed over to this day. British label Warp released Flying Lotus' second album in 2008, launching a career that currently includes movies, A/V live shows and a radio station on Grand Theft Auto V,the fastest-selling entertainment product of all time. In 2009, Ellison launched Brainfeeder. The label was born of a series of broadcasts from the dublab studio, located above Little Temple, featuring music and performances by many of the artists heard and seen at Sketchbook and Aron's. The sound was wider, richer. It now spanned the entire globe.
"There was a policy that you could hold records at Aron's," recalls Dam-Funk. When he could, he'd stop by on work days, run in wearing his uniform, grab some records and place them behind the counter. "I was always good with my word and came back to get the stack on pay day. That was a cool thing. There was a restaurant I went to, Maria's Cafe by World on Wheels, they would let me get a full plate and let me pay end of the week. There was a lot of great things about LA like that. It still had a small town vibe to it. It's what makes it real. This is how LA really is. It's what Aron's represented."