Cold Gettin' Dub: Rap 12"s and the Forgotten Artform of Bonus Beats
Jazzy Jay, Carlos Berrios, Monica Lynch and more on one of hip-hop's most adventurous eras
Ponder some of the most prolific names in hip-hop production of the '80s – Marley Marl, Teddy Riley, Kurtis Mantronik, Jazzy Jay, Rick Rubin, the Bomb Squad, Larry Smith, Hitman Howie Tee, Arthur Baker et al. – and it's evident why the decade is regarded as one of the most innovative in modern music. Essential as the many recordings credited to this pantheon of beaticians may be, there exists an under-acknowledged entry point for appreciating theirs and others' work within the canon of '80s New York hip-hop (classic, cult or otherwise): those mixes left behind in the leap from vinyl to digital. The ones in which period technological innovations in sampling, drum programming, tape editing and other tricks of the studio were indulged via the music's then-primary and forever ideal vehicle, the 12" single. The versions targeted not for consumers, but for DJs. The "bonus beat," instrumental and dub versions.
Dub means raw riddim. Dub jus' mean raw music, nuttin' watered down.
ThAT BEAT
You ThinK This is F_ d up – IT's GoNNA GET WORSE
Hip-hop's musical connection with Jamaica isn't so much owed creative debt as bloodline DNA. Though its birthplace is the Bronx, hip-hop's musical architect, first DJ and origin story star, Clive Campbell, AKA DJ Kool Herc, was born and raised in Kingston. Hip-hop's foundational DJ-emcee performance template and entrenched battle ethos are acknowledged extensions of the island's soundsystem and sound clash culture. One can make the case that Herc and other pioneering hip-hop DJs' manipulation of dual copies of the same break was an evolutionary outcome of the stripped-down sound of Jamaican recordings. Yet tracing the influence of dub, Jamaican music production's most profound studio achievement, on hip-hop production and commercially released recordings, is perhaps a less obviously linear endeavor, as befits a sonic invention in which what isn't heard is as inherently vital as what is.
The genius and beauty of dub, as a recorded mixing technique pioneered by the likes of King Tubby, Errol Thompson, Scientist, King Jammy and other Jamaican studio engineers, is in its employment of the recording console as an active musical participant. The best dub recordings of any genre are simultaneously produced and reduced, visceral and ethereal, as isolated instrumental parts spar and separate in adherence to their own sweet science. Pinpointing the first appearances of formal dub mixes on rap 12"s is somewhat less than scientific. But by all accounts they started in the late disco "Rapper's Delight" (1979) era as B-side karaoke tools.
"In the era of the disco rap records when you still had disco backing bands, instead of 'instrumental' or 'bonus beats' or 'dub mix,' [records] would say, 'Make Your Own Rap,' or something," remembers Freddy Fresh, author of The Rap Records, the definitive pre-Discogs catalog of independent label rap releases. "But in essence it was an instrumental version. Around '82-'83 you really started to see dub mixes on freestyle records. Like releases on the Emergency label – Shannon's 'Let the Music Play,' things like that – where they would add extra percussion into the dub, add extra little bits and echo stuff out, and really get jazzy with the mix, as opposed to an instrumental where you would take the vocals out and have the exact same mix. Hip-hop kind of followed suit because a lot of the producers that were engineering in these studios in New York [doing freestyle and dance records] were also doing hip-hop records."
With the advances in technology in dance music production in the early '80s, producers and engineers began getting increasingly adventurous, exploring the variety of sounds generated by their new toys.
"You're getting into the era when people are starting to get their own gear and set up their own little bedroom situation with their own drum machines and keyboards," says Monica Lynch, former president of Tommy Boy Records, which released one of the first bonus beats mixes via the unadorned 808 drum track on Afrika Bambaataa & the Soul Sonic Force's landmark "Planet Rock" 12" (1982). "That whole era of bonus beats and dubs, you were basically giving aspiring producers their first tracks. You could fly in vocal a cappellas over a beat, and then, boom, you've got a signature mix if you're a DJ."
The collision of styles, genres and personnel so unique to the era is epitomized by one of the best and earliest hip-hop dub mixes – the "sure shot edit" of Fantasy Three's "It's Your Rock" (1983), a Harlem group-harmonized rap with backing performed by legendary underground drummer/bandleader Pumpkin, distributed by what would become a key electro/house/Latin freestyle label, Cutting Records, and re-worked by a one-time WKTU DJ dance mix battle champ, Cutting co-founder Aldo Marin.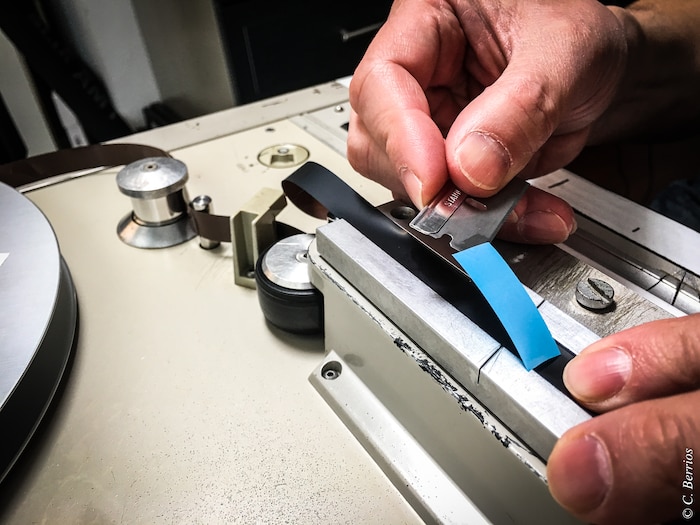 Commencing with an appropriately epochal symphony of Marin-orchestrated pre-Funk Flex explosions, its jittery drum break, ghost note synths and clipped-vocal refrain sublimely harnesses hip-hop's raw live performance energy, managing to sound at once futuristic while evoking the spirits of park and PAL jams past.
"I just went in and took the passes that they had and I edited [them]," says Marin. "That was the first time I really edited on half-inch tape… The mixes and the sound of the mix were great. They had the bomb at the beginning. They just had it like a sound effect. I repeated the bomb, then we went into the beat. I added beats to Pumpkin's beats and then I added that little vocal piece. I put a piece backwards, I just went all out.
"A lot of our dubs were more done on a freestyle tip. I don't mean freestyle like the genre freestyle, [I mean] like, 'anything goes.' We would put on the two-inch tape machine and just go press all the buttons and do it on beat, and make different breakdowns and scratch things. That's where the dubs used to come out."
Producer Carlos Berrios, best known for his work in freestyle, also began his career largely in hip-hop, teaming with Omar Santana to form the studio team the Hit Squad, and doing mixes and edits for the likes of T La Rock, Mantronix, and producer Jazzy Jay, amongst others. As Berrios remembers it, dub mixes emerged as an almost recreational exercise.
"The dub started happening," he recalls, "because when you're sitting with the producers and you already cut the three-and-a-half minute 7" version for radio, and you arranged an extended club version, you would just do like a dub session where they would go in and wash stuff out with reverbs and delays. And it was always cool because you had these really strange arrangements going on."
Back then we were in an experimental stage and that experimental stage produced a lot of stuff.
Jazzy Jay, a pivotal original school figure and producer of such classics as he and T La Rock's "It's Yours" (with Rick Rubin) and Busy Bee's "Suicide," affectionately refers to such sessions as "brainstorm mixes:" "It was all at the discretion of the cat sitting behind the board mixing and maybe the ideas of the producer. You're putting a lot of effects on the vocals, so instead of having to complete an entire lyric, you just had certain key parts – the hook phrases, the catch phrases that caught everybody's ears. It's almost like what we did back in the days [DJing live, cutting up] just certain parts of the song."
Exemplary dubs could dispense with the most recognizable parts of the main track á la Run-D.M.C.'s largely guitar-free "Rock Box (Vocal Dub)," or take mischievous pleasure in altering their sparse musical elements, as with the heavily distorted snares that infest the "Zootie Mix" of LL Cool J's debut, "I Need a Beat" (1984). UTFO's Kangol Kid and producer Howie Tee's "Buggin Much Hard" version of Whistle's smash "(Nothin' Serious) Just Buggin'" (1986) dubs out an already oddball assortment of TV show hooks, stabs and various audio sundry into a configuration that more than lives up to its title. T La Rock's "Breaking Bells (Dub)" (1986) finds producer Kurtis Mantronik's typically dynamic work enjoying the equivalent of a sonic steroid infusion via a flurry of Omar Santana's machine-gun tape edits. And on Eric B. & Rakim's "Eric B. Is President (Dub)" (1986) – already one of the all-time dubbiest hip-hop tracks in its OG incarnation – Marley Marl and MC Shan's co-credited mix represents a pinnacle of controlled chaos. "Back then we were in an experimental stage and that experimental stage produced a lot of stuff," says Jazzy Jay.
The spontaneity of the dub mixing process could make flubs serendipitous via the transformative magic of razorblade edit re-arrangements: "When you're punching stuff in, you're hitting the echo in the wrong places. Sometimes that little mistake that you made would be the best part of the song…" Jay continues. "You thought it was a mistake until you listened back and thought, 'Oh shit, we gotta figure out a way to use this'… Here comes somebody like a Omar Santana or Carlos Berrios or Latin Rascals and they would figure out a way to edit that part into the embodiment of the song."
"You'd take eight bars of this, four bars of that, and you arrange it into something," adds Berrios. "And it was in the middle of those things that we added our editing flavor. And we would get really creative with that sort of stuff. Jazzy Jay, he was a real fan of the editing stuff and he just wanted more."
A trilogy of terrific bonus beats mixes by Berrios on Jazzy Jay-produced and affiliated 12" singles from 1987 and 1988 clock in at just over 40 seconds apiece. But their brevity belies their intricacies. For the bonus beats mix of Black, Rock and Ron's underground favorite "That's How I'm Living" (1987), Berrios ping-pongs tuned bass drum hits from Taana Gardner's downtempo classic "Heartbeat" with accents from Cerrone's breakbeat staple "Rocket In the Pocket" in a lovely percussive volley. His bonus beats creation for MC Beta's all but forgotten obscurity "There's Nothing Like New York" (1988) employs a truncated 16th note tape slicing technique developed by him and Santana reminiscent of DJ Jazzy Jeff's transformer scratch.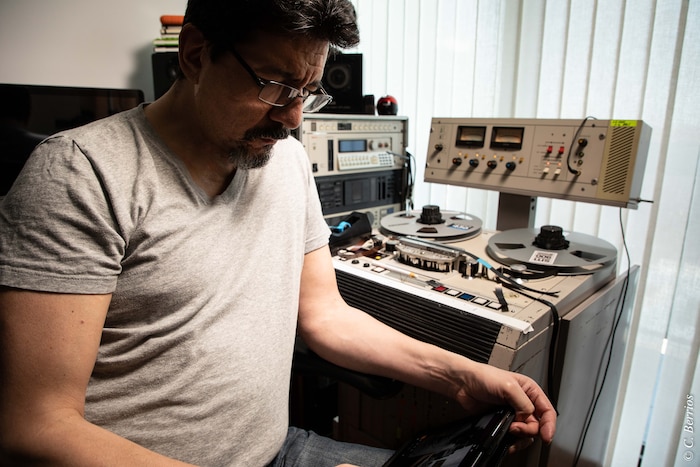 And for the dizzying bonus beats for Masters of Ceremony's "Cracked Out (Remix)" (1987), Berrios starts the track with a tape stop effect before revving back up into a flurry of dissonant edits set to a tricky swing rhythm and punctuations of "crack spot!" – a perfectly unnerving summation of the disorientation and turmoil of the song's subject matter. If dub at its essence is the art of crafting a compellingly atmospheric musical environment, these inspired, hyper bursts of beats and their corresponding dub mixes check the same box. In their own, abbreviated way they evoke the general mood, urgency and aesthetic of '80s New York hip-hop as distinctly as any four-verse Rakim-composed opus.
Still, there were not just stylistic reasons but a very practical motivation for all of this studio experimentation: the more unique the additional mix, the more the potential play from influential DJs – the king-makers and gatekeepers of the day.
"It was really an effort to cater to club DJs and mix show DJs and give them anything and everything you could to get them to play the record more," says Monica Lynch. "So there was a commercial impulse behind this."
"You had to deliver," says Berrios. "Record companies were waiting. I can't tell you how many times we were hired and the session would start on a Friday night, we would go into Monday morning. We would just crash out in the studio, get up and keep working. It was just like a nonstop thing, we were just in there cutting, slicing, there was tape everywhere and it was just crazy. But we would literally finish six o'clock in the morning [Monday]. And then sit there with bloodshot eyes and wait until [mastering studio] Frankfort Wayne opened, and deliver the tape to the mastering session that was set for nine o'clock in the morning. And you had to get it there! Those sort of situations created the discipline that we had."
"These mixes were kind of important," concurs Jazzy Jay, whose foundation as a longtime Zulu Nation DJ would serve him well as a club and radio mix-show jock himself. "They gave the DJs a lot of versatility to kind of alter the songs and mix them their own way, which gave them a little bit more identifiable quality to their playing."
The dub version of Classical Two's 1987 single "New Generation" is one notable example – as anyone can attest who's heard a DJ invariably double up on Teddy Riley's opening keyboard riffs. So popular was the "New Generation (Dub)" with a generation of DJs, it all but rendered its vocal counterpart superfluous. An uptown anthem, the dub would even be regenerated in 1992 during the hip-hop R&B era as the main sample for Mary J. Blige's "Reminisce (Bad Boy Remix)."
Dubs that brilliantly explored the re-arrangement possibilities of a track – e.g. the late, great Paul C's double time kick drum-driven treatment of Superlover Cee and Casanova Rud's "Do the James (Dub)" (1987), or the layered cacophony of Public Enemy's "Son of Public Enemy (Flavor Whop Version)" (1987) – continued to attract the ears of discerning DJs and listeners alike. But as the decade neared its close, these mixes gradually began to grow scarce on rap 12" singles, the limited vinyl real estate reverting in favor of straight-up instrumentals or sometimes to new B-side songs altogether. Precisely why the dubs disappeared – whether due to changing tastes, circumstances, or complacency – is some matter of debate.
"I think [artists and producers] got lazy," says Jazzy Jay. "We enjoyed sitting in the studio and experimenting. To do a song from the conceptual stage up until we're done with it, it might be two, three weeks to get that whole song together. I think a lot of that disappeared because cats was not willing to experiment."
"The hip-hop industry changed," notes Lynch. "Things were starting to be more top down. You had videos, which became a more prominent mechanism for promoting something. As soon as Yo! MTV Raps came on the air that was a huge game-changer."
In addition, the heightened profile of the hip-hop producer as artist and central figure by the early '90s permanently altered hip-hop's creative and promotional equation, as dubs and bonus beats begat a greater emphasis on full-fledged remixes. Ironically or fittingly, depending on how you're hearing the mix, some of the most noteworthy of these – Pete Rock's horn-dominated early work in particular – masterfully incorporated and refined the reverb and echo-heavy approach of dub.
"You were starting to have star producers and star DJs, to where a person's name could actually sell this," continues Lynch. "Pete Rock remixing [House of Pain's] 'Jump Around' is a good example. You weren't relegated to club and mix-show exposure as the dominant way to break a record."
"I think it's tragic that dub versions don't exist anymore," laments Berrios. "That sort of dub mentality, that sort of creating this otherworldly version of the main record – I really don't know why it doesn't exist anymore.
"I gotta tell you, though, it's much harder [now]," he concedes. "Back in the old days when you worked on a console like an SSL or a Neve or whatever, you were basically playing the thing like a keyboard or some kind of musical instrument. You could mute ten things at the same time, you could press a solo button here, you could push this button and it would send a massive delay and reverb. And over time you just got really, really good at doing that sort of thing. You were improvising and it was a physical thing that you were doing with the console. But to do it in a computer it's almost a hundred times harder. Because now you're working with a mouse and you can only click one thing at one time. In ProTools and these other programs you get caught up in the minutiae of going into one single parameter and that sort of thing. So you can't improvise like you used to."
Heard now, un-tethered to potentially dated vocal or lyrical trends, and wholly divorced from the circumstances that birthed and ultimately quelled them, it's impressive how well the best '80s hip-hop dub mixes have aged. Perhaps it's because they're in some respects the precursors to Madlib and Dilla-styled instrumental hip-hop beats for beats' sake. Or that dubbed-out arrangements of triplet hi-hat heavy tracks like Seville featuring Jazzy Jay and Shameek's "Back for the Payback (Dub)," or any number of Mantronik productions, reveal themselves as the oft overlooked antecedents of the trap sound. Or maybe it's simply the fact that these mixes were the end results of highly collaborative, interactive moments in the studio between very talented people – the quality of which transcends era.
"It used to be a simpler thing," reflects Monica Lynch. "With dubs and bonus beats, you didn't have to rely on the star wattage of so-and-so anointing a record. It just had to be dope."
Somehow, it all felt more purely creative and exploratory. Whether that was in fact the case, or a nostalgic impression as illusory as the note you thought you heard muted in the mix.

To hear more bonus beats, listen to Across 135th Street - Cold Gettin' Dub
Header image © Carlos Berrios