Daniel Brandt's Modern Classic
!K7's Brandt Brauer Frick have had a vintage year, taking their quirky blend of modern classical dance music to stages, festivals and parties the world over in 2011. Their live show engages audiences of all ages, perhaps because it straddles the worlds of Basic Channel-era techno as much as the other-worldly classical pioneers like Steve Reich. It's fitting that last years debut album 'You Make Me Real' found as much critical appreciation in broadsheet columns as it did on the blogs, forums and fanzines of the underground. Band leader Daniel Brandt was an Academy participant way back in 2006, and with a new BBF album on the horizon, and the band swelling in size from a humble trio to a near-orchestra, it seemed high time for a retrospective chat about the story so far.
Who are Brandt Brauer Frick and who does what in the band?
That's me, Jan, Paul, our three surnames. All three of us in the band, we're all performing the same function – we don't have particular roles because we all produce and write our stuff together in jam sessions. Recently we decided to try this live ensemble project, with ten people, a violin player, a cello player, three percussionists, a harpist, piano, brass players. We play together with them, they bring in some other ideas and then it evolves from there.
How did the ensemble grow out of the trio?
The idea was there from the beginning. Last year, in August or so, we did a first rehearsal to check if it worked at all. We had the first gig this January and have played 15 shows since then, with the full ensemble. The original band grew out of a few jam sessions, and that's the music that came out first. But we already had in mind to do this, because we already recorded the first album called 'You Make Me Real' with acoustic instruments. So it was already an idea to have a larger band on stage and eventually record with them.



Watch on YouTube
Is your music improvised?
If it's the 10 piece show then it's almost not improvised at all. It's all completely planned. It's the music we made before, the trio stuff arranged for a larger band, thinking about which instrument will play which part. Everything is laid out on sheet music and we all have a click track via our in-ear monitoring. There are a few parts in there for improvisation but very few! If we play just the three of us, it's more of a dance music show, we set it up for electronic drums, piano and groovebox, and we improvise it all actually. We know each other well so we know how to improvise together. Ten people would be much too complicated for an improvisation, hopefully we can do that at some point. It takes a long time and a lot of playing together, then you know each other and you know how to get your little space to improvise. Everybody improvising all the time is always a complete mess.

Or it sounds like the Sun Ra Arkestra I guess!
Exactly, we don't want that 'free jazz' thing! We all started playing instruments at an early age. We have always played in different bands. And Paul studied classical composition, so he always had a lot to do with the modern classical guys and wrote pieces in that vein. I also played a lot in small orchestras or classical ensembles. So we always had that kind of classical background. But we don't have the concept behind what we do which says "we're gonna do classical music meets techno". That's what a lot of people have to say about it, but for us, it's just the music we make out of a feeling. It just happens. It's not like we're saying "we should try this combination of styles."

Tell us about your influences.
People like Steve Reich and John Cage, but more the Detroit techno guys, like Theo Parrish, Kevin Saunderson, or Herbie Hancock, or the 4hero guys, those lush harmonies. That's the music we all come together for. More recently we've been listening to a lot more dubstep, or 'post-dubstep', whatever that's called. James Blake, Untold, Burial. The most recent thing I really liked was the Hessle Audio compilation, really amazing tracks. That's more like a newer inspiration, we're about to release a remix on a record company from Berlin very soon, our first record with a dubstep influence. So we are constantly curious, and it's always changing. But of course, there's a ton of modern classical in there… I don't remember the names much because I usually remember "this is the red cover, this is the blue cover". I buy mp3s as well, not so many, but same thing, I can never remember the names. I was always going to the record store after school, and I was very interested in design at that time, I always picked out the records that looked the coolest. And those were most of the time some electronic music records, techno. Then I got into drum 'n' bass, I was in a live drum 'n' bass group, going to every d'n'b rave everywhere. And then suddenly that got very boring, I don't know why. Probably because the music didn't change. I also got into house and went to the Robert Johnson club in Frankfurt, that was one of the main influences. Great DJs, great sound. It's like London's Plastic People but not in a basement. It has a balcony and is on a river, so it's really cool in the morning when the sun comes up.

We don't want that 'free jazz' thing! We all started playing instruments at an early age. We have always played in different bands.
Touring two bands is pretty complicated to say the least, especially with your hectic schedule at the moment, and as well as this you're still DJing here and there?
Yes, at the moment we play every weekend with the three piece, so there's not much time for DJing. But we all DJ sometimes, maybe we DJed more before. Last night was the first Friday where we weren't playing either an ensemble or a three piece gig for the last three months. So I DJed! We're constantly on the road, we will play Fabric in October, then a US tour for three weeks, and then a couple more ensemble shows before Christmas. The weekends where you have two trio gigs separated by an ensemble gig becomes a complete mess because you don't know what to leave on the tour bus and what to take on the plane. I always seem to forget something in the tour bus! Of course we are really happy about it all, it's been a fantastic year and we've had a great time, getting to play at all those festivals everywhere, like Coachella, Sonar, and all the English festivals like Glastonbury, that was amazing. But for sure, it would be nice to have some quiet time, because I've just moved to Berlin in May, and since then I've never had the time to check out this city. Sometimes I'm back for a few days but then basically I don't leave the flat [laughs].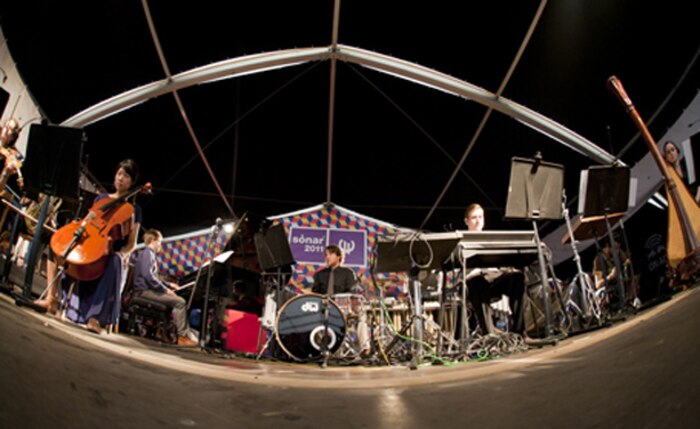 So what are your first impressions of Berlin as a new resident?
It's just a great atmosphere here and you always meet really great people, really interesting people, it's a great city. I was living in Cologne before, that was also nice, but it's much smaller and here it's just so international now. We just shot our new video clip for the latest album, and we asked on Facebook who wanted to be in the video as extras… There were so many people from different countries coming over, and they were all living in Berlin, at that exact moment, and had time. There you go, pretty cool place.

How did you come to release on !K7?
The first record we released was on the Tartelets record label from Denmark, originally started by Tomas Barfod from WhoMadeWho, and Fredski. We also released on our own labels, Doppelschall and The Gym. Then, we just thought "let's make an album", Tartelet records had encouraged us to do it. But once we made it, we thought it was bad to have it going through the traditional techno distribution, because if you release it on a small independent techno label, it reaches far fewer people, or just the people in this scene. I think K7! are little bit more universal. It's a very electronic-orientated label, but still, it's something where you buy albums, or even the Dj Kicks series. I always liked the label and just called them, we had sent them an email, and got nothing back from them, so we actually called them up and said "check our video". So they called us back and said "come tomorrow, at 12'o clock".

That sounds like the way many people dream of getting signed.
[laughs] Exactly! But of course that was not the first time we had attempted to get signed somewhere. Before, when I worked with Jan on another project, we had sent a lot of demos somewhere and also got a deal sometimes. Lots of labels didn't give us an answer, normal stuff, but this was easier, because it was the label we wanted to be on anyway.
Where did you record the first album?
I'm from Wiesbaden, the same place as my bandmate Jan. Wiesbaden is close to Frankfurt, it's a town with 300,000 people or so, not that big. There we were doing our own underground parties, or making music in our studio. Our studio is going to move next week to Berlin, but so far it's always been in my parent's garage in this town.

What did your parents make of your first opus being put together in their garage?
They really like it actually! They are also coming to the concerts, along with the parents of my bandmates, if they have a chance to go to the show they enjoy themselves. Our music is not offensive enough for parents to not like it!

What kind of equipment did you use?
In the garage we have lots of different instruments, we have two drum kits in there, we rented a vibraphone, and I bought an old piano for 50 euros, right before the first session, which we deconstructed and played with drum sticks, playing on the strings. It's totally out of tune. We have a Rhodes, we have a lot of synthesizers, like 4 or 5 cool ones, the Nord Wave being one of those. We have one good microphone, that's the only mic we have, we recorded everything with that. That's the setup.

Is the piano you 'deconstructed' a prepared piano?
Yes, there are different ways to do it. We also sampled the complete "setting". There's one John Cage piece where he writes a special manual of how to prepare the piano exactly for this piece, Paul studied it at University, so we recorded every note from that and put it into the Nord Wave. So we had the whole 'officially' prepared John Cage piano which we used on every track on the old album. And then there's the other style where we played with drum sticks inside the piano, I don't know if that could be called 'prepared piano'. We just did it. [laughs]
So the new album is done and forthcoming on !K7?
Yeah, we've just finished it, it's gonna be released in October. It's called Mr Machine, and we recorded the whole album with the ensemble, so there's a few old tracks as well, which we rerecorded in totally different versions. We have new tracks as well, two tracks with vocals. One track is with Emika, originally a remix we did for her for Ninja Tune, we did an ensemble version of that, for our live performances with her. The other was also originally a remix of Agnes Obel, she's a Danish pop singer. We didn't record this album in the garage, but the origins are from there. This time we recorded at Jazzanova studios in Berlin. They have a lot of equipment, perfect for recording. The sound there is really good, we had great mics and we hired a grand piano, along with bringing our instruments. I had bought a lot of their records in the past and was totally into that sound back then.

Do you think the Academy has played a part in your story so far?
Definitely. I don't know how I got in, I'm glad I sent the application, it was great, one of the most important things I've done actually. I met so many cool people, I can easily bump into friends all over the world now. I'm still making music with classmates, I worked a lot with Aroop Roy, and toured Japan with him, and currently I'm working withPascal Bideau, and with Marsha 'Marshmello' Smith from London, we have a pop band without a name. I mean literally we have a whole EP together, and a video, but we can't release it because we can't decide on a name for the band! Our discussions always end up being Germany vs England! [laughs]

And finally, out of all the gigs you've played this year, what were your best and worst moments?
The best three-piece was probably Gilles Peterson's Worldwide festival in Sete, France, we played to 5000 people on the beach at sunset. Cologne had an amazing atmosphere, we played in an old Radiophonic hall to a seated audience. As for the worst, the day after the amazing RBMA world tour party in Berlin we played at another launch party and they wanted us to play from inside a caravan, I'm not sure they read our rider, we couldn't fit all of our equipment in there!