Key Tracks: Mannie Fresh on Juvenile's "Ha"
It's fair to say that Juvenile was one of the main rappers responsible for the rise of the South in the late '90s. Alongside his Cash Money cohorts, he took what had previously been a regional concern to national attention. There had been isolated cases, sure, but Juvenile and others signaled the beginning of what would become one of the most popular sounds in late '90s and early '00s rap. In this excerpt from a lecture at the Red Bull Music Academy in 2011, producer Mannie Fresh describes the recording of "Ha," Juvenile's breakout hit from the 1998 album 400 Degreez.
I knew that Juvenile was gonna be that thing because the way his voice sounded, his delivery, the way the beats were. It was just a different thing from what hip hop had heard at that time. When I saw Juvenile [for the first time though] he didn't have that raspy voice, that New Orleans drawl like he's got now. But it was all on the streets – this kid named Juvenile was rocking every block party he went to. The city already knew 'cause he was going from spot to spot: bars, schools, whatever… Ku Klux Klan rallies, he was there. [laughs] I saw him at a hole-in-the-wall bar. He was probably like 15 at the time. He had no business being there, but he was rocking with the DJ and everybody knew the songs. One of them was "Back That Azz Up." He was performing it to the "Paid In Full" loop. It was just a DJ spinning the loop back and forth, he was doing that song to that. Everybody in the city already knew the song, the verses, the hook, it was just phenomenal.
I remember when we were doing this record Juvenile was like, "You're gonna leave the beat the way it was, the way I do it."
The thing about it was, when we got into the studio, he knew all those songs, so that made it so much better. When "Ha" came out, everyone was like, "This is so nuts, the way his rhyme schemes are going, everything he's saying." Everyone was, "Never heard anybody rap like that." But it was already a key song in New Orleans. It was already jumping off, it was already hot.
When I started putting beats to them, I said, "I'm gonna strip these songs, we're gonna take the bounce element out of a lot of these songs and make it mainstream in our own New Orleans way." I remember when we were doing this record Juvenile was like, "You're gonna leave the beat the way it was, the way I do it." He wanted a bounce beat behind it. I was, "Nah, man, I'm gonna change the drums and put a little music or something behind it." To them, it was a sad day for Roland 808. But I said, "Trust me, it's gonna all work out. I'm gonna change it to something I know will go mainstream. Let me do what I do." He was trying these songs out in different spots, the worst-of-the-worst places you could find. I'm like, "If you can rock that crowd, I know the world is gonna accept it."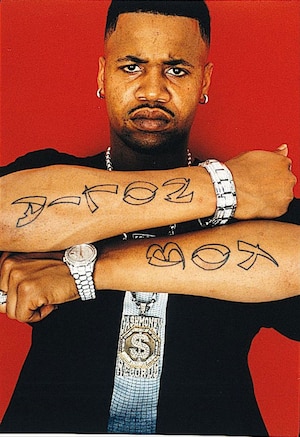 "Ha" was the last song we added to his album. We went out to eat and came back and were like, "It's one more song, do the 'Ha' song." When I programmed it – and he already had the rap – it was one of those songs that came together in like 30 minutes. It was, "Hurry up, do this, this is flowing so good." When he did the raps, the first take he did wasn't very energetic 'cause he wasn't really feeling it. Our first argument ever. I was, "Dude, come on, put some energy to the song." He was like, "I don't know dude, I kind of like the beat the way…" "Just try it, when it breaks down and the drums change on the hook, this is gonna be so crazy." He came back and did it again and I was, "That's the single, that's the one." "You really think so?" "That's the single, I think so."
When Jay-Z called – "I wanna get on the remix to 'Ha'" – I knew I'd arrived.
One day Baby called me at home and he was like, "Jay-Z wants to get on the remix to 'Ha.'" I was, "Man, stop playing me, you're lying." "No, they already sent him the track. They should get it two weeks from now in the mail." At that time there was no emailing anybody. So we get it back and we must have played that song back 15 times. We were like, "That's him. Play it again." And he had this line in the song where he's, "Jay-Z and Cash Money." So I was, "I'm gonna sample that and move it to the front." "Do you think we should call him?" "No! Just take that and move it to the front of the song." [laughs]
When Jay-Z called – "I wanna get on the remix to 'Ha'" – I knew I'd arrived. That was unheard of at the time. For anybody from New York to even pay attention to what we were doing down South... They were, "They're alright, they've got their little thing going. We ain't really paying attention. To get respect, y'all gonna earn it." That catapulted Cash Money even further, when that song hit the airwaves, people were like, "Damn, Jay-Z is on that song and he's doing the 'Ha' thing."