Five Prog Records From Jameszoo's Discogs Want List
The Dutch collector reveals a few pieces of prog vinyl he's lusting after.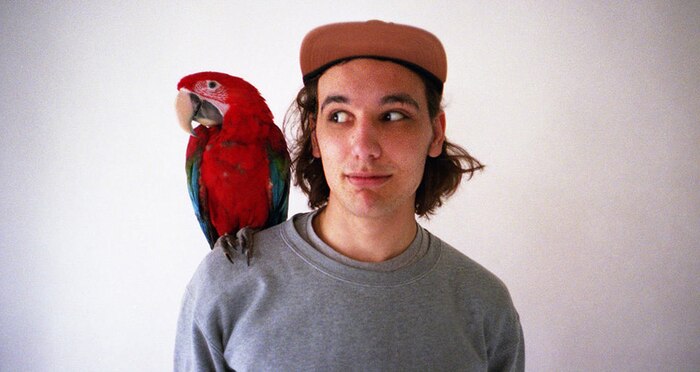 At times Jameszoo's beats veer so far left of center that you could imagine them catching whiplash. It's no surprise then that the Dutch producer has a special place in his heart for below-the-radar scale excursions. Which is why we asked the 2013 Academy grad to compile a list of underrated prog records. The vinyl aficionado aptly resorted to his Discogs Want List to supply us with answers.
This French band's name is a brilliant description of a fairly delicate process, but what is even more brilliant is their album The World of Genius Hans. These youngsters were apparently performing their Canterbury-influenced pieces on partly borrowed gear, having no more than a few nickels and dimes to their name. The lack of financial resources was the ultimate downfall of the band, but they left two great records to enjoy. So, the next time you're eating this peculiar jelly made from hooves and bones, don't think about Dr. Oetker. Think about the Moving Gelatine Plates.
Kevin Ayers is the former Soft Machiner that recorded one of my favorite prog albums in the history of recorded prog albums. After touring quite heavily with the Machine, Kevin took his time to create this masterpiece. I've read a story that claims Hendrix was a big fan of Ayers, and gave him a custom Gibson guitar to encourage him to keep writing music after he stopped playing with Soft Machine. So, supposedly, it was just Kevin and one of the most expensive gifts that has ever crossed the big ocean (apart from the Statue of Liberty and the MPC I bought, which they should have marked as a gift to avoid custom taxes). Signed to Harvest EMI, Kevin went in the studio with a line-up that included his former band members to create this odd pop prog record about walruses and Disneyland.
Always finding myself a bit on the jazz side of things, I was quite captivated by the sounds of this Swedish Archimedes. It's hard to put any label on this record, as it shifts around (in quite a professional way) between jazz, prog, fusion and more related genres. It was the song "Wago Goreze" that convinced me that I could put this record in the prog list. (According to Mr. Shakur only God can judge me, so if there is a prog god, please spare me and my write-up.) This record is something special, from the odd way of using percussion to the sometimes sparse instrumentation. The cover art looks like an '80s cereal ad, and the group photo found on the back looks like the group photo of an anti-deforesting organization. Please take a listen while I bathe in the sorrow of not owning this bliss piece.
With song titles like "Where Did I Go Wrong?,'' ''No Warmth in My Life'' and ''Cemetery Junction,'' Bath is not the group of guys you wanna get emotionally drunk with. Instead, just play the record and enjoy life at the same time. The vocals of Jane Kevern reminded me a bit of Triste Janero and other lightweight stuff at first listen, but there is an odd edge spread out over the course of the record. It feels more influenced by blues and psych records from across the big ocean than anything from Canterbury.
As far as I can tell, Germans are mostly known for their stable cars and Bärenfang – which, incidentally, should not be mixed. There's also the band named Virus. The group only made two records, and shifted the band members quite drastically in between those two recordings. While Thoughts is just as brilliant as Revelation, the latter has a great feel for track titles ("Hungry Looser" and "King Heroin" among them). This record kind of floats in between kraut and prog, fitting perfectly on your shelf next to Brainticket and your copy of Breathe Awhile by Arcadium.