Pizzicato Five: Japan's Pop Culture Overdose
"Imagine every great record you've ever heard stuck in a blender overlaid with the most experimental heavy metal guitar you've never heard combined with the most outstanding montage of video clips you can't imagine plus super-adorable camp fashions, all synthesized through a demented Japanese consumerist impression of America. Then try to imagine something better than that..."
These are some of the words I wrote nearly 20 years ago about Pizzicato Five's San Francisco stop on the Tokyo-based group's first US/European tour. Even looking back today, I still think about my initial 1995 encounter with P5 as one of the most startling, fully realized concerts I've ever experienced, and their records remain among my most beloved.
Pizzicato Five were many things, but never ordinary. They'd started in the mid-'80s as an easy listening quintet, switched vocalists to favor smooth plastic soul, discovered samplers around the time their third (and defining) singer Maki Nomiya arrived in 1990, then morphed into a dance/pop-art/retro-futurist act that pulled from just about every musical genre and aesthetic movement since the mid-20th century. By the time leading American indie rock label Matador Records introduced them internationally with the 1994 samplers Five by Five and Made in USA, P5 was only two, the absurdly productive songwriter/multi-instrumentalist/producer Yasuharu Konishi the sole original member. When the act called it quits in 2001, Pizzicato Five had released 14 studio albums, at least that number of compilations, about as many EPs, and every kind of single conceivable.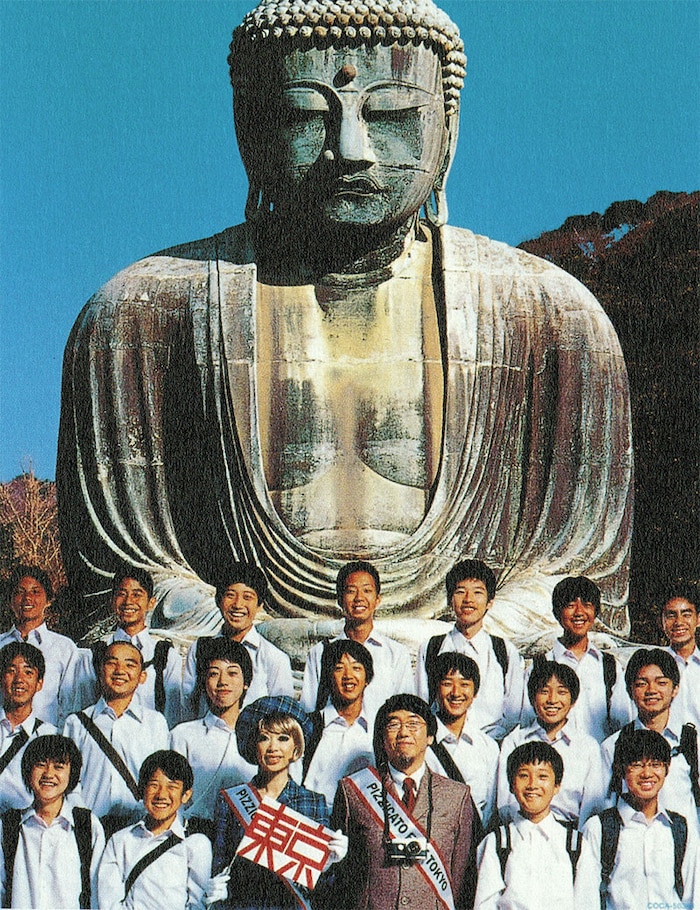 When popular music was at its bleakest and most monochromatic, Pizzicato Five were neon-hued and eclectic. Their international arrival occurred between the sudden deaths of Kurt Cobain and Tupac Shakur, figureheads of the grunge and gangsta rap that defined American music in the '90s. Even house music – severed by this point from its gay and black roots – was straighter, whiter, less melodic, and more formulaic. The resulting electronica was hailed as "the new rock" while Britpop reintroduced previously retired orthodoxies. Although the '90s featured more successful women rockers than any other decade, the era's sensibility remained traditionally male – loud, brash, barbaric. Even the guitars were often downtuned to sound more ominous and growling. Juxtaposed against the furious flannel-clad sasquatches of the Pacific Northwest, P5's worldly, feminine lightheartedness was even more refreshing than it would be today.
"I don't like dark, brooding music – I don't understand the purpose of it," Konishi mused during a 1996 interview I conducted with the pair that went unpublished until now. Intrigued by my concert review, the band merely wanted to meet the American critic who they felt understood them. "I don't think music should reflect reality. I think music should be more of a magical entity, something that lets you escape from reality."
P5 found inspiration in both the sunniest and most radical qualities of the '60s. "I have three superstars: Godard, Warhol, and Maki," Konishi told Puncture. As P5's vocalist, Maki was unrelentingly cheery and extraordinarily composed, as if she were biologically incapable of striking an unflattering pose or emitting a wayward note. A professional model before, during, and after her P5 reign, Nomiya was rail-thin like the face of '60s Swinging London, Twiggy: Pizzicato Five's most internationally popular song, "Twiggy Twiggy/Twiggy vs. James Bond" was a souped up 1991 remake of a track on her 1981 solo album that streamlined and simplified its source material with a caffeinated, sample-invigorated arrangement that would serve as the prototype for most P5 to come.
Like early Warhol superstars Baby Jane Holzer and Edie Sedgwick, Nomiya exuded larger-than-life glamour: In the mode of subsequent Factory graduates like Mary Woronov, she was a beautiful woman presenting herself like a drag queen imitating a faded Hollywood starlet. Her favored fabrics were vintage and synthetic; her wigs even more fake. In the video to "Sweet Soul Revue", she struck moves like Jagger while radiating the poise of Hepburn before morphing into a Pan Am-esque flight attendant.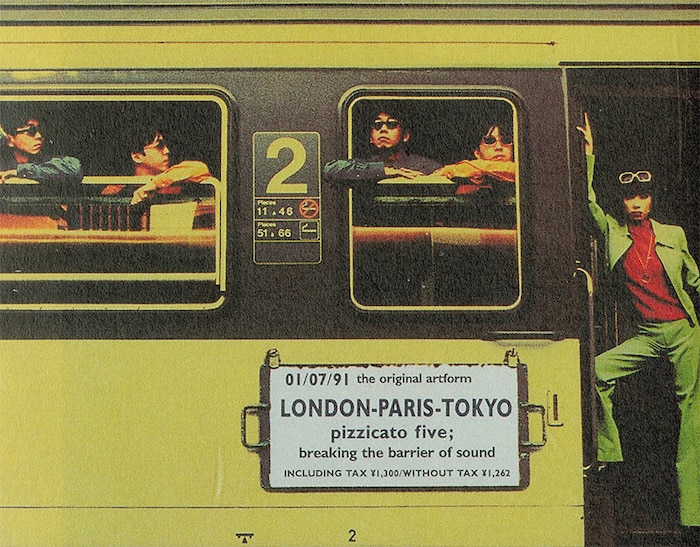 Even more than the early De La Soul and Deee-Lite records that almost certainly provoked their initial Maki-era shift, P5 were vigorously post-modern: A Pizzicato jam might feature astoundingly accurate pastiches of the vocal and orchestral arrangements from baroque pop acts like the Fifth Dimension and the Left Banke, discothèque breakbeats played live and continuously at double time, and hip-hop production techniques that recall Godard's jump cuts. Occasionally the guitar got harsh, but sophisticatedly so: Bravo Komatsu – the guitarist who temporarily replaced founding member Keitarō Takanami on the 1995 tour – could wail on his instrument while flaunting enviable chops: Check out the virtuoso surf-metal spew he shoots over prerecorded "Twiggy Twiggy" tracks while Konishi dances the Frug on UK music show The Word.
If 1991's This Year's Girl set the Maki era's aesthetics in motion and '92's Sweet Pizzicato Five edged the group closer to club music, '93's Bossa Nova 2001 was the album where the group's musical erudition, sprightly tempos, sugar-sweet tunes, technically exquisite performances, seamless layering of sampled and freshly generated material, and Nomiya's poptastic delivery all fell into place. It was co-produced by Keigo Oyamada, a kindred record collector and label owner. He'd been in Flipper's Guitar, a late '80s/early '90s Anglophile band who together with P5 pioneered what became known as Shibuya-kei, Tokyo's omnivorous fusion of vanguard pop, jazz, lounge, bossa nova, yé-yé, Brill Building girl groups, and West Coast harmony acts. After their introductory single "Sweet Soul Revue" – promoted, like much J-pop, via a cosmetics commercial – gave P5 its initial hit, Bossa Nova 2001 went Top Ten, a status that Oyamada would consistently achieve in Japan as a solo act, under the name Cornelius.
None of this could've happened anywhere besides Japan. In the '90s and early '00s, Shibuya – Tokyo's Times Square for trendy teens – housed many of the world's greatest record stores. International outlets of that period like Tower Records and HMV sold catalogs as ridiculously deep as national chains like RECOfan, and the CD-generated reissue bubble was at its peak: If it wasn't reissued and remastered, chances are it could be found somewhere in Shibuya in the district's countless micro-niche stores selling used and rare "analogs."
With Bossa Nova 2001, P5 and Oyamada distilled the underground's fetish for bygone styles and matched it with J-pop's fascination with fashionable flash. Despite his refinement, Konishi respected subversion: Another hero was Sex Pistols' manager Malcolm McLaren. Konishi rooted P5 in conceptual art and gimmick: Like Made in USA, Sweet Pizzicato Five's "Tout Va Bien" may be named after a typically challenging Godard film, but it's also instantly memorable because it lifts the "Beep-beep, beep-beep, yeah!" refrain from the Beatles' "Drive My Car." "Airplane" from '94's Overdose similarly apes Donovan's "Epistle to Dippy," while that same album's "Hippie Day" pays homage to Young-Holt Unlimited's "Soulful Strut." Like Nomiya's ever-changing but rarely subtle outfits and P5's masterfully bold artwork designed by Mitsuo Shindō, such recognizable references helped cross the language barrier. Whereas most grunge and gangsta vehemently shunned theatrics, P5 were resolutely multi-media.
P5 had always been special. But when Nomiya joined, Konishi had clearly found his Annabella Lwin, the perpetually perky singer McLaren plucked from obscurity to front Bow Wow Wow. Yet unlike Lwin and indeed most J-pop singers, Nomiya had long ago left behind her teens: During P5's hit years, both she and Konishi aged from their 30s to their early 40s. Although their intricate and knowing arrangements reflected their maturity, the energy and excitement of their execution remained youthful. With only rare exceptions, Nomiya delivered Konishi's words and tunes with a childlike enthusiasm almost surreal in its joy. Like Vincente Minnelli, Konishi made feminine art not because he was gay, but because he loved women. "I always love beautiful things, tiny things," he confessed. "But the most beautiful thing, I think, is a girl."
After Bossa Nova 2001 crashed the Japanese mainstream, P5 maintained its manic productivity. Following Takanami's departure, Konishi took even more creative control on 1994's Overdose. Reflecting a shift toward house music, the arrangements turned starker to showcase Nomiya higher in the mix, reflecting her rising profile. He directed their music videos as he would their music – with the smarts of a scholar and the mirth of a miscreant. In his clip for "Happy Sad" – perhaps the duo's most perfectly realized tribute to bubbly, righteous funk – Nomiya cavorts with the track's guitarist and background singers as if Martha Reeves and Ike Turner joined the Staple Singers at Wattstax.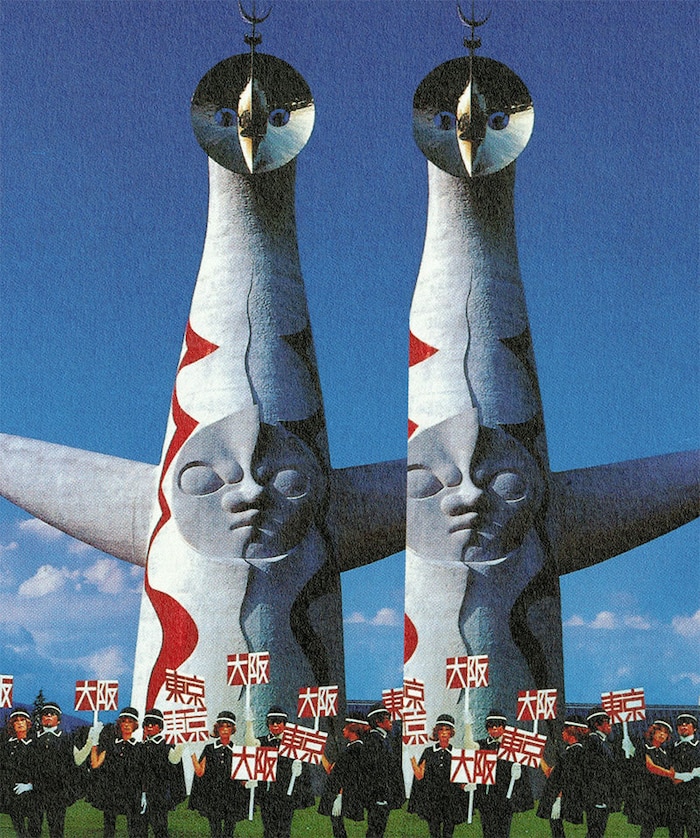 "Before I started Pizzicato Five in my 20s," Konishi reflected, "all I did was watch films. I read all the critical reviews. So when I started writing music, I was already so immersed in those films that I wrote from the same perspective. Whenever I plan to make an album, it seems to be with the same mindset that Godard or Fellini would plan their films. Maki is my Giulietta Masina. Our relationship is just like Masina's and Fellini's."
This meant that P5's records studio albums had a beginning, middle, and end like narrative film: Nomiya even sings "bye bye" at the end of Overdose's closing "On the Sunny Side of the Street." And they often had a theme: The next album, 1995's Romantique 96, reflected the pair's interest in all things French – an interest they shared with Japan's stylistic elite. Featuring a cover of Bridget Bardot's Serge Gainsbourg-penned hit "Contact" that perversely sampled Kraftwerk's "Pocket Calculator," Romantique 96 became P5's biggest domestic hit, but as it was released simultaneously with Matador's Sound of Music compilation, it was never issued in America.
Although P5's North American popularity soon eclipsed the success of Japan's Yellow Magic Orchestra, they wouldn't pander to the American market. Like Romantique 96, P5's most successful single, "Baby Portable Rock," a jingle for Nissan's Mistral SUV, never even came out in the US. After the initial Matador compilations featured a few tracks with re-recorded English vocals, Nomiya stopped singing all but the occasional buzzword in English. "This is quite a typical thing in Japan, the English catchphrases," Nomiya pointed out. "You've got to remember that the Japanese are very Americanized and in tune with different cultures. The words we use, 'groovy' and other things, even though they're sung in English, the Japanese listener can easily understand." Rather than applying themselves to mastering English, Konishi and Nomiya stuck to pop's internationally comprehensible Esperanto. Happy End of the World, their 1997 album, exaggerated the high BPM breakbeats that had been their rhythmic foundation, and looped them like drum & bass. By contrast, The International Playboy & Playgirl Record of 1998 accentuated the cosmopolitan Burt Bacharach-schooled harmonic sensibility central to Konishi's tunes. The resulting minor keys were accompanied by melancholic lyrics, some clearly meant in jest. The opening cut "La Dépression" acknowledged Japan's then-current economic crisis with tongue firmly in chic: "I haven't seen a single interesting man around for ages... We've been going through quite a recession these days... My God, you are so unfair."
"I think the most important elements in music are the humorous aspects," Konishi asserted. "That's what I like about Maki's singing. It's not so much what she's singing about but how she presents it. I'm not saying that I want my lyrics to be unimportant. I just don't want my fans to listen to the lyrics and say, 'Oh, I can relate to that.' I'm definitely serious about a lot of things. I just don't want to talk about them."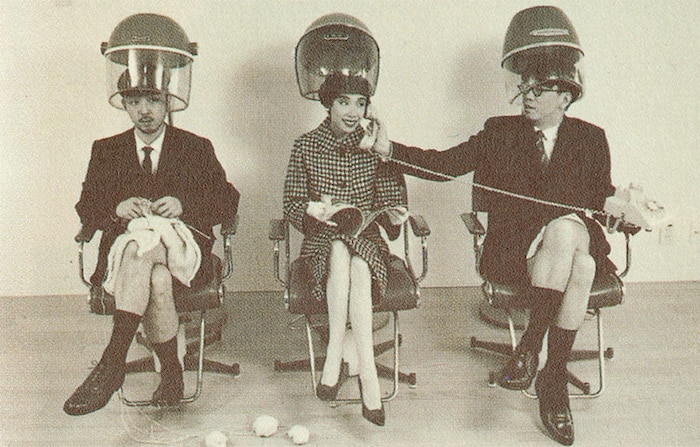 By the time of '99's Pizzicato Five™, P5 were clearly nearing the end: Although his arrangement skills were still in abundance and the mellower grooves broadened the band's stylistic palate, Konishi had run out of gimmicks to maintain the music's freshness. A Tokyo-themed work that reduced Nomiya's participation in favor of guest musicians like Sparks' Russell Mael and France's Bertrand Burgalat, 2001's Çà et là du Japon waved a similarly strained goodbye. It was soon supplemented by farewell concerts back home and a final round of hits collections. Today, P5's entire catalog is out-of-print, both in Japan and the United States.
When I look back on Pizzicato Five, I forget their denouement. Truth be told, I didn't need them as much at the end: Thanks to acts like Air and the New Pornographers, things had begun to lighten in electronic music and indie rock. But still I think of them as the band that got me through grunge – a sonic Hello Kitty with a penciled-in grin.
"We see elements of American pop culture as very cutesy, the way you see ours," Konishi revealed at the end of our meeting in 1996. "Once you've exported elements of your culture, it's viewed different from the perception of the people at home. Obviously, we've taken lots of Americana and English music and sort of regurgitated it. Maybe we've done that in such a way that American people might not even recognize it as theirs. We've thrown your culture back in your face slightly skewed."

Thanks to Keiichi Hoshi for research assistance.