Cosey Fanni Tutti and Nik Void: A Conversation
Expectation is a powerful thing. When you see a guitar get strummed, you anticipate a certain sound to emerge from the speaker. The music of Cosey Fanni Tutti and Nik Void consistently tries to upend these expectations. Both come from an English art school background, an education that was decidedly non-musical in nature. As a result, their work is often as conceptual as it is visceral. What makes them so special, though, is that it never sacrifices one for the other. Cosey in Throbbing Gristle and Chris & Cosey, Void in Factory Floor – they always leave a mark.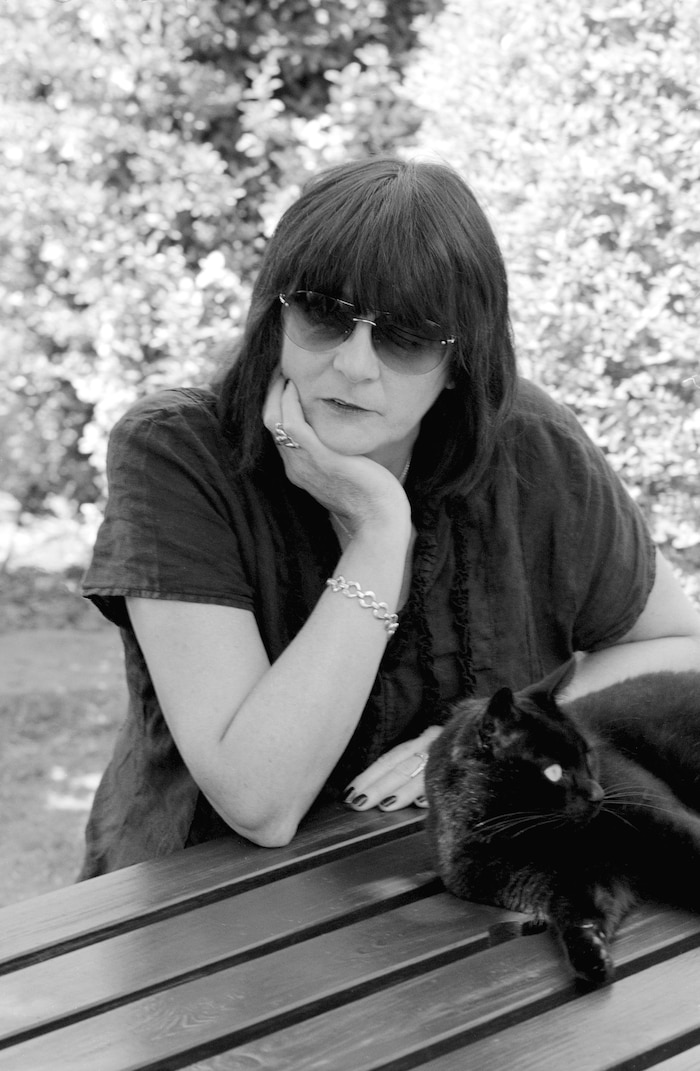 Nik, how did you first come to Cosey's music?
Nik Void
A manager of mine pointed me in Throbbing Gristle's direction in the early '00s and I just fell in love with the whole thing. It kind of changed my way of thinking as well. It was a breath of fresh air, to be honest, because I think you find when you're surrounded by British music that it's very closed-minded in a way – and it was especially like that in the mid-'00s. It was really nice to see another band that was so progressive and had their own rules.
Cosey Fanni Tutti
Before you were introduced to TG stuff, you were just doing KaitO?
Nik Void
Well, before that I was more into experimental guitar music. It started off with Sonic Youth, then it went to Glenn Branca and Rhys Chatham and noisy guitar bands. I played a lot in America as opposed to England because we had a label there, so I was influenced a lot by the US scene. It was a bit tight, coming back to the British scene. And so listening to Throbbing Gristle kind of freed me up again, if you know what I mean.
What was the stuff that was going on around the middle of the '00s that wasn't that interesting to you?
Nik Void
It was difficult, because it was at a point when a lot of independent labels were merging with major labels. At that time we were writing a record and we were asked to make more commercial-sounding songs. This was around the time that The Strokes and Franz Ferdinand were coming out. Guitar music was at its height. The NME would always talk about guitar music. It was quite strong at that time.
The NME seemed so happy to have guitar music back somehow.
Nik Void
Exactly. And it was kind of the opposite of the type of guitar I like. But, at that point, I was playing guitar quite traditionally with chords and structured songs. It wasn't until I left KaitO and went on my own, and later met Factory Floor, that I started to come more into bowing and extended technique with guitar, as opposed to playing it in a traditional sense.
But that was partly my father's fault. He was totally into electronics and building wirelesses and things like that, so my ear was tuned to quite strange noises from an early age.
Did you learn guitar playing in school or by going to lessons?
Nik Void
No, not at all. It was mainly listening to other sort of chart music: pop music. And then listening to American music. Noisy guitar. I've never been taught as a musician, and so it kind of has this interesting twist, because you listen to something and you think that you've picked it up correctly, but it's completely different. But you mold it into your own.
Cosey Fanni Tutti
It's what you hear, isn't it? Rather than what the technique is.
Nik Void
Yes.
Cosey Fanni Tutti
It's weird, that.
You didn't have any lessons, Cosey, right?
Cosey Fanni Tutti
I had piano lessons when I was 11.
Ah, right. But you've said you were immediately more interested in the John Cage, prepared piano type of thing.
Cosey Fanni Tutti
Yes. I used to make really noisy low down and high up things until my father would come in, and then I had to go back to the real music that should be practiced. But that was partly my father's fault. He was totally into electronics and building wirelesses and things like that, so my ear was tuned to quite strange noises from an early age.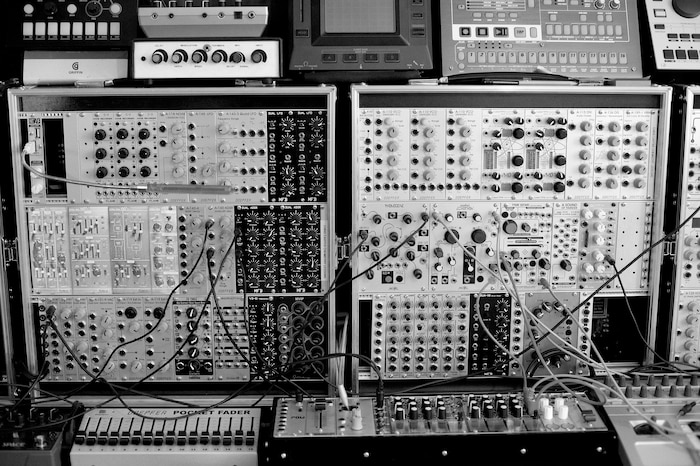 But he was still pushing you to do "proper" music?
Cosey Fanni Tutti
Yes, because he never had the opportunity. It's one of those typical parental things, "You'll have what I never had." But I didn't want it. I was quite happy to be as I was, you know? He tended to forget that I was too much like him. I was very independent thinking and I couldn't be molded like that. I was interested in the scientific as well as the arts side of things. They sort of ran in parallel for me right through my childhood. I wasn't torn between the two. They always mixed quite easily.
Nik Void
It's like an investigative approach to things. Is it more that you wanted to see what things did?
Cosey Fanni Tutti
Yeah, I said to Chris [Carter] the other day that we – me and my sister – got Cinderella watches for Christmas one year and I took mine apart to see how it worked. Then I couldn't get it back together again. So that was it, the end of my Cinderella watch. But yeah, it was that kind of curiosity.
How old were you when KaitO started, Nik?
Nik Void
I was 19. I think I was at art school already.
When you have your own studio you can spend so much time analyzing it. To the point where you don't hear it anymore.
What were you going to art school to study?
Nik Void
I knew I wanted to do art very early on, but I didn't know what direction I wanted to take it. At Art School I did a Visual Studies degree, which was a brand new course at the time. The tutors were still finding their feet with it all, so as a student this gave me a lot of freedom. I was kind of left to my own devices. I was left alone to experiment and source materials from outside the institution. It was more about conceptual art, and bringing my concepts into practice. Bridging the gap between an idea in my head, then presenting it to the public or an audience within an exhibition space successfully. At the same time I was in school I was working in factories to pay my way through college and get a car. I remember I did something where I manipulated loads of projectors to make my own handheld viewing cameras. I had cases made by a metal work factory that made machine parts for lorries. It worked for me, being in North Norfolk at that time, because there were a lot of places where you can just go in and say, "I really need this made" and they like the challenge. It was good, because I went out of the art school to seek things that I wanted to make. I don't think I would have had the guts to have done that if I was in a bigger city that I didn't know.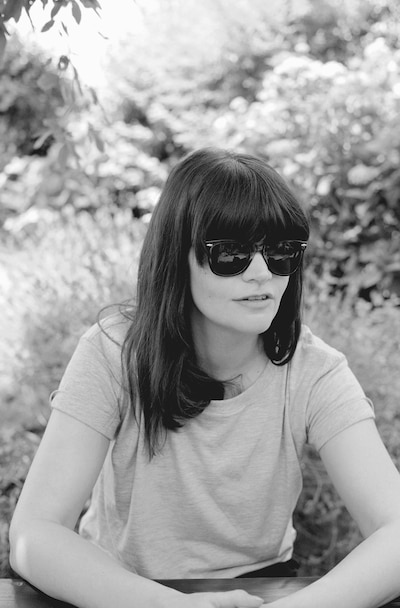 Cosey Fanni Tutti
That's weird because when I was younger I had a similar kind of thing in Hull. You recognize all the different industries around you, and the small businesses that can actually be utilized to get you what you need. We used to go to a ship chandler and get flags made. They were really up for it because it was something different for them to do. There are so many opportunities like that in smaller towns. It wasn't one of my fears but... I was uneasy about moving to London because I had a really good source of places I could go and get things, you know?
Nik Void
When I moved to London I started working as a sculptor technician, and saw it from the other point of view, where you have these massive British artists that have people working for them to make their vision. I didn't do a very good job of it, I must admit. It lasted a year.
Cosey Fanni Tutti
I always found that side of the art world really weird. That you just come up with an idea and get it made. It's very bizarre.
Nik Void
That's because the best part of art or music is the making of it.
Cosey Fanni Tutti
Exactly. The whole process you have to go through, you learn so much. You go off on a tangent and it creates other ideas immediately. I think the first time I ever saw that type of artist-as-manager thing was with [Op artist] Bridget Riley. She'd do the drafts, and they were lovely because they were ideas in the making. All the really rough ideas coming through. I could understand it in a way, because the idea is already there and visualized. But, even so, I would have liked to have done it myself.
With that particular type of art it almost seems like cheating in a way. Because when you look at it, you can't help but think about the amount of work that must have gone into it.
Cosey Fanni Tutti
But historically, you think of all the old masters, and they would get the best apprentice at skies to do the skies for them. The best apprentice for hands would do the hands. So how much of it is theirs? It's traditional. I think that's why I've always steered clear from that. I've never understood it. I felt cheated that I thought this person had done this wonderful painting and, in actual fact, he wasn't so good at hands.
Nik Void
I think that's kind of why when we came to record the first Factory Floor album that we wanted to do it ourselves. To try and explain to an engineer what you're actually trying to achieve with the sound is difficult. And, also, you miss out on the creative accidents. It's kind of the main reason for doing it, even though it took two years.
That's the trade off, right? You can do it yourself, but then it takes an enormous amount of time.
Nik Void
Exactly. When you have your own studio you can spend so much time analyzing it. To the point where you don't hear it anymore. My room was positioned right above the studio, and Gabe is completely deaf so he'd be working on stuff until 11 PM or whatever and you kind of start... It got to a point of resenting it a little bit, I must admit.
You resented your own album?
Nik Void
Yeah.
Cosey Fanni Tutti
A murder on the Factory Floor dancefloor. [laughs]
We're still discovering what we're doing. I mean, we haven't rehearsed for a long time. We tend to not rehearse anymore. We tend to do it onstage.
I'm shocked that you have this big space in London.
Nik Void
It was really lucky. I'm not sure how much longer it's going to last, to be honest, because there is a lot of demolition going on right around it. It's the only original building standing on the whole street. So that's the reason why the landlords haven't had the urge to throw us out. They've always known that it's going to be pulled down soon.
Cosey, I was curious earlier when you said that you were almost nervous or uneasy to go to London.
Cosey Fanni Tutti
I wanted to go. I wasn't sad at leaving family or friends because we kind of outstayed our welcome in Hull. The police were already on our backs. Every time we did any kind of event they'd try to find something illegal that we were doing. We mixed with a lot of Hells Angels and skinheads, so we were always the outsiders in that town. Strange people in Hull. They don't like outsiders, so they always make your life very difficult. So we moved to London.
Nik Void
I remember I made the decision to move within a weekend, and just literally packed up my things and slept on people's sofas for about six months until I found a job. I guess I was just a little bit desperate for a change. I started recording on my own, because I'd also had enough of playing on stage. I hated that kind of band-as-entertainment thing. I still really enjoyed making music and the recording process, so I spent about three years doing that and, at the same time, I was meeting a bunch of new people like Gabe and Dom.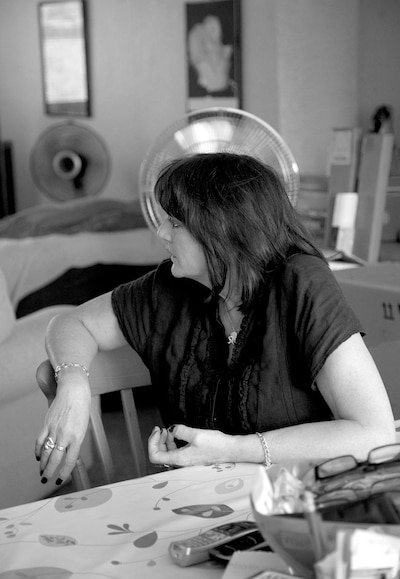 The Factory Floor live show is definitely not a "look at us, this is entertainment" type of thing.
Nik Void
Absolutely not. I saw Factory Floor play and related to how they were doing it. They were playing in a really small room in East London, and it was so shambolic. Everything they seemed to do was quite awkward. They didn't look at each other, and I think one was playing a different speed to the other. But the sound... it was confident. It was almost like the nervousness was making them bash out a sound. I couldn't really figure out whether they had any songs as such, and I think their set only lasted for about 15 minutes.
How long were your first shows, Cosey?
Cosey Fanni Tutti
Always an hour. We worked with a clock because we used to do a lot of jam sessions in the factory and we figured that an hour was just right. We'd do a set list that allowed us to sort of warm up and gave us the freedom to really get into something if it took off, and then come out of it and go into something else. So we'd have a freeform section, a cornet section.
Is that similar to how the Factory Floor live show has evolved?
Nik Void
Yes. When I first saw them play live I couldn't recognize songs, but when I listened to their recordings there were definite songs, you know? When we started to play together it evolved into something else. We all consciously discarded the past a little bit. Dom was growing his modular synthesizer. Because of that Gabe had to change his role in the band. He wasn't the timekeeper anymore. We're still discovering what we're doing. I mean, we haven't rehearsed for a long time. We tend to not rehearse anymore. We tend to do it onstage.
Did you find the roles shifting over the years in Throbbing Gristle?
Cosey Fanni Tutti
Sleazy and Gen were the ones that were quite happy with what they did. They didn't really want to shift what they did much at all. Sleazy was quite open to doing all kinds of stuff the second time around because he'd gone through Coil. With TG the first time around we swapped instruments a lot in the beginning and basically figured out what each one of us was really good at and how it worked well together. It was whatever gave us the sound we wanted. It didn't matter where it came from.
Nik Void
I read that you sometimes wouldn't know who was making what sound sometimes after you played.
Cosey Fanni Tutti
Me and Sleazy, this time around, would be looking at each other and we'd be going, "You or me?" And then I'd take my hands off my Mac and he'd go, "Oh, it was you. OK. That's nice." And then the next gig he'd do a sound that sounded like the one I did before because he liked it so much. Or he'd start doing sounds that mimicked my guitar when I was playing. Then I'd sort of shift, and he'd take over my guitar role. Which was quite a nice thing to do. One person starts a sound and then another one picks up on it and starts moving along with it. It pisses you off at first, though, because you think, "That's my sound. Do you mind?" But then you think, "Right, I can move on now. He can do that." Sleazy, in particular, used to sort of look down on guitars, but he didn't mind nicking the sounds.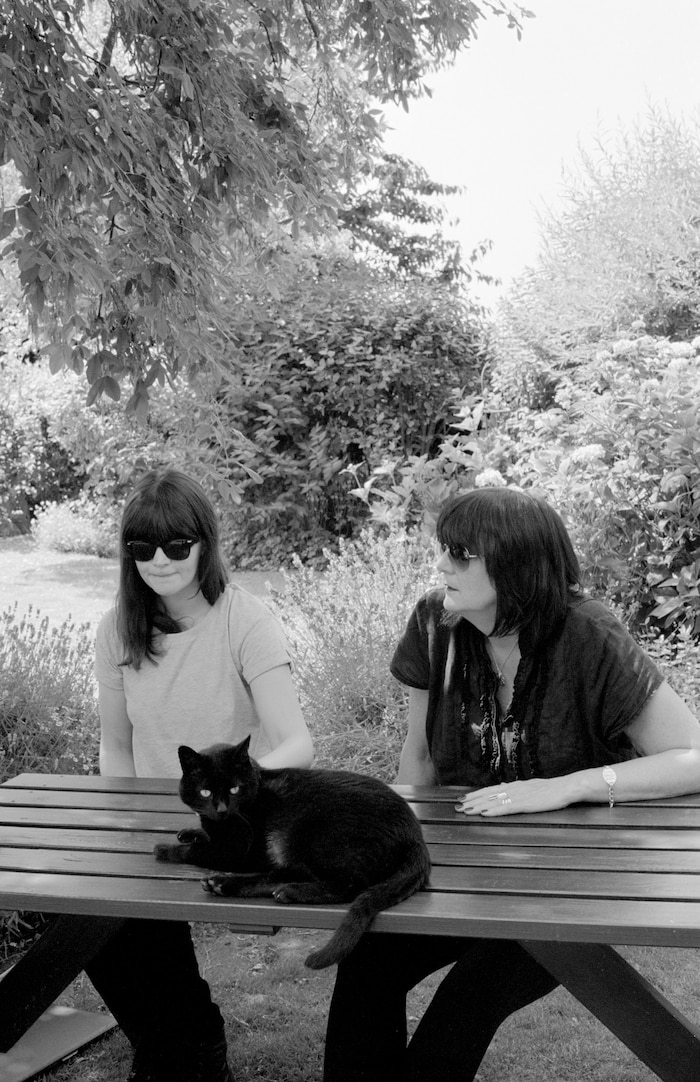 I think it's very rare that you get a group of people who are all willing to shift their roles so easily.
Cosey Fanni Tutti
Well, having your role usurped is a dodgy area. If Dom got a drum kit out and started drumming, how would Gabe feel?
Nik Void
It does happen, because a lot of the modular stuff that he has does sounds very drum-like. You can see Gabe thinking, "Oh... what am I supposed to do with that? How am I supposed to fit in with that space?"
Cosey Fanni Tutti
That's the thing. When people start filling the spaces up and don't leave room for you to come in... That's weird. You start thinking, "Hang on a minute, are you playing with me or do you just want to play with yourself?" And guys tend to do that more than girls.
Nik Void
Definitely. That's why I think we've decided to go off and do our own side projects. When we do our own thing we think, "Oh… I really miss the other two." What was the point where you and Chris moved to do stuff by yourselves?
Cosey Fanni Tutti
TG were in Los Angeles to do some shows and although it wasn't public, we had already split. Me and Chris were recording Heartbeat when we were there. The shows were weird, but the San Francisco one was great. The animosity gave it an energy. I felt that I'd levitated about three foot off the floor that night. It was so powerful and weird. Because all our energies were conflicting and, yet, they were coming together at the same time. It was quite amazing really.
Nik Void
Sometimes it makes the best shows.
Cosey Fanni Tutti
That's the weird thing though, isn't it? When you've got a conflict within a band it does create some kind of weird energy that is really fantastic. I mean, even if you take it back to ABBA. When they were all split as couples, they did some of their best singles.
Nik Void
Fleetwood Mac.
Cosey Fanni Tutti
It's hell for the band, but it's great for the music and the fans.
When you dance naturally you get all kinds of weird things going on with your body, which really manifest from the sound as counter-rhythms.
You mentioned that boys tend to try to fill the spaces of the music more than girls. What are the other differences that you've noticed?
Cosey Fanni Tutti
Just on that "fill the spaces" thing.... If you're ever on the Tube, a guy will sit like you're sitting there, Todd. Not only displaying everything, but also a posture of like, "This is mine." That space-filling is what they do when you play with them as well. I find that anyway. Even Sleazy – a quiet gay guy – would always come thundering in during a quiet bit. And then he'd go, "Oops."
Nik Void
I think that's what was happening with Factory Floor before I joined. All of them wanting to fill the space.
Cosey Fanni Tutti
All posturing and…
Nik Void
A "this is my territory" type of thing.
Cosey Fanni Tutti
It's an innate thing. They can't help it.
Nik Void
When I joined it kind of changed that dynamic. We started to understand that you can make your own rules and you can play together nicely.
Cosey Fanni Tutti
And you have techniques to counter what's building up. You know it's inevitable, so you just blast the idea of that out the window, which I've had to do in TG loads of times.
How have you done it?
Cosey Fanni Tutti
I always keep my guitar low at sound check, because I know that the others are going to come in loud. So, when I do the gig I've got some headspace, you know? Someone often finds a really good place and a really good sound and everyone works off it. It's fantastic and you have to allow that, but you also have to recognize the point at which that becomes self-indulgent and it doesn't do anything for the overall piece that you're all supposed to be working together on.
Nik Void
Yeah. Dom is terrible for that. He'll go on and on and with his head down.
Cosey Fanni Tutti
They get locked in.
Nik Void
Yeah, you're totally unaware that there are other people playing. That's the great thing about having a drumstick on a guitar. It's just like… "Wake up!"
Cosey Fanni Tutti
I always said, way back in the '70s, that I should get a little metal wristband so that I could deliver shocks now and again.
So has Chris learned to play... I hate to put it in binary terms, but does he play in a less masculine style than most people, would you say?
Cosey Fanni Tutti
His focus has always been the complete sound. His role was actually to give us something to play along with. He always created the rhythms for TG, and still does that with Carter Tutti and Chris & Cosey stuff. He's got no ego. That has a lot to do with it. It's human nature to have people that want to lead and people that want to follow.
Nik Void
Gabe and Dom definitely want to lead. I just secretly lead.
Cosey Fanni Tutti
That's the trait of women, isn't it?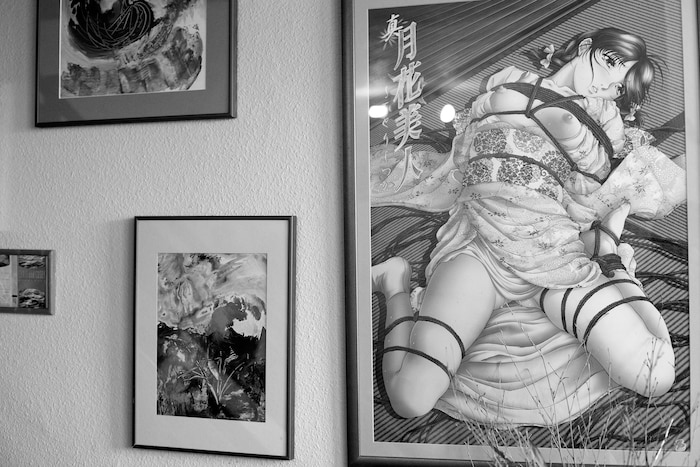 I think it's very rare – whether you're a man or a woman – to be able to conceptualize the whole when you're in a band. To do your own thing, but also think about everything else.
Cosey Fanni Tutti
Chris has a very good ear for tuning and timing. It's almost robotic, really. I leave a lot of that in his hands. But, having said that, he will then get locked into a thing, and it's hard to pull him out. I don't like everything that quantized. Every now and again, I like things to flow out. A bit of fluidity, if you'd like. So I guess that's my role. I say, "I think that rhythm has gone on long enough. We need to change it. We need to counter it." When I listen to our music I think of dancing because I used to be a dancer. When you dance to music you're almost hunting for counter-rhythms. Not like the rave culture, which is based on drug-induced bang, bang, bang. When you dance naturally you get all kinds of weird things going on with your body, which really manifest from the sound as counter-rhythms. Or the melody creates another kind of dance movement. I'm always wanting to shift our music along. I can't dance or even listen to music that's just the same all the way through. It just drives me nuts. I just think, "I'm not brain dead," you know? Give me something to work with here. I'm a human being. That's strange coming from a founder of industrial music, isn't it? But there you go.
Nik Void
Did you ever dance to your own music?
Cosey Fanni Tutti
I did once. I danced to "United," but that was just to please Gen because he came to the pub and he was just miserable. The nearest I got to dancing to any music I liked listening to was Pere Ubu and Captain Beefheart's "Hard Working Man." Alternative TV's "Love Lies Limp" too. That one seemed quite appropriate to stripping.
There was a Sylvester tune that was on a playlist I once saw as well. You were also in the video for "You Make Me Feel (Mighty Real)," right?
Cosey Fanni Tutti
I've still got those white satin shorts upstairs. What was interesting about that video shoot – speaking about keeping things fluid – they'd gone to Pineapple Dance Studios and got some dancers in. And then they'd come to my agency, which is a stripping agency, and got girls from there. They ended up using the girls from the stripping agency, because they danced instinctively to the music. We were looking at the girls from Pineapple, and they were going, "Two, three, four and turn." And I'm thinking, "This is disco music!" It's not Riverdance. It was interesting. And, of course, you had all the boys as well. We corrupted all the young boy waiters. In fact, those shorts were the boy waiter shorts. Yeah, it was good fun.
Nik Void
I think that's the key though, isn't it? Instinct. Factory Floor is sort of driven by instinct a lot more than anything else, really. That's why some of our tracks go on for a long time. I can totally get what you're saying about, "Can you dance to it?"
Cosey Fanni Tutti
You don't even have to call it dance, because you can move internally to it as well. It can become a cerebral thing, which it often is when we do music that takes you to a different plane completely. You wonder where the hell you've been. It's that almost trance-inducing thing. Quite often when you're playing that kind of music and you repeat things, you find new levels quite naturally. They move along with, for want of a better word, the vibe of the audience when you're playing it. That has a huge amount to do with what you do live. You either punish them because you're pissed off with them or you have a really good time because you know they're with you. It's sometimes almost like they're up there playing with you. It's fantastic.
Nik Void
You know when it's locking into place onstage, especially when it is driven by instinct and you're kind of semi-improvising. You also know when it sort of falls apart. When that happens we almost feel a little bit embarrassed to be up there. We feel like we've lost all of our clothes or something. I think the best show that we played was this blackout show where we were behind a curtain and the audience were brought into a dark room, no lights at all. They didn't even know who was playing behind the curtain. We couldn't see them, and so we just started playing. Eventually we could feel people moving around from the air that was made from the curtains just moving slowly. You completely lost all the self-consciousness of being on stage. And also you just thought, "What the hell is going on out there?"
Cosey Fanni Tutti
It gets a strange effect from the audience. I remember we once played a gig with mirrors so that all the audience could see was themselves. They didn't like that. I think they take offense at the fact that you're manipulating them. But we'd go on with the opinion that, right, we're here to deliver something and share something with you tonight. Come along with us for the ride.

Images: Roberta Ridolfi
Header image © Roberta Ridolfi