Fear of Music: A Tribute to Black Rock Coalition
Michael Gonzales pens a love letter to the pioneering organization that helped propel Living Colour and others to stardom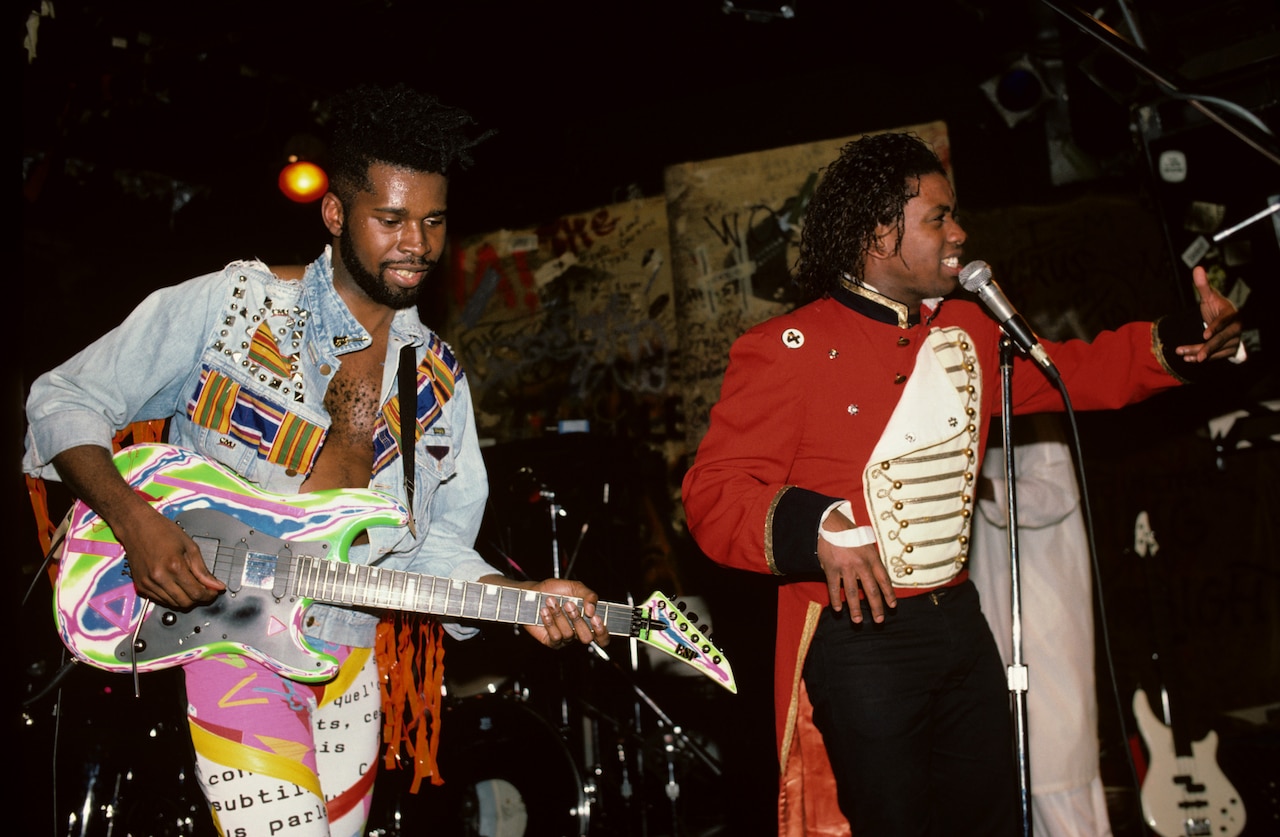 1985 was a transformative year for emerging black artists living in New York City. Be it the visual explosion of Jean-Michel Basquiat, Spike Lee in Brooklyn shooting his cinematic breakthrough She's Got to Have It or LL Cool J rapping from every radio on the block, there was a definite cultural shift happening. While the funk and disco of the previous era was being been replaced by rap and R&B, that year, below 14th Street on the Lower East Side of Manhattan, a collective of artists calling themselves the Black Rock Coalition (B.R.C.) began working towards, as writer/co-founder Greg Tate penned in the manifesto, "...creating an atmosphere conducive to the maximum development, exposure and acceptance of Black alternative music."
While the primary goal was to help black musicians get gigs, the B.R.C. was open to anyone who wanted to roll. And, within the next few years, the organization became a major entity on the downtown music scene with its flagship band Living Colour, fronted by B.R.C. co-founder Vernon Reid, leading the charge.
British by birth, Reid was raised in the Crown Heights section of Brooklyn back when the local bands included B.T. Express and Crown Heights Affair. Nerdy enough to get into Brooklyn Tech High School, Reid discovered the weird sci-fi prose of Phillip K. Dick and started exploring other worlds with his guitar when he was gifted his first Jimi Hendrix album at age 15.
After graduating, Reid began playing gigs with avant-jazz drummer Ronald Shannon Jackson, hanging out with John Zorn and putting together his heavy rock band Living Colour. Along with friends that included bassist Melvin Gibbs, who'd later formed the rock group Eye & I with vocalist DK Dyson, Reid walked in the free jazz footsteps of Albert Ayler and Cecil Taylor, but was also down with the Downtown caterwaul of No Wave.
"One night they might be playing a show with Ornette Coleman and the next they were with James White," explains Reid's friend, writer and educator Greg Tate. At the time, though, nobody was checking for a bunch of brothers playing rock & roll. Ike Turner and Little Richard might've laid the foundation for the Beatles and the Stones, but many folks of both races believed that blaring guitars and wailing vocals was "white boy music." It was cool for blacks to be down with jazz, soul, funk or disco, but nothing marked a traitor to the race quicker than your boys hearing Jimmy Page bleeding through the tenement walls.
Black people started this music and I take umbrage that I have to explain that.
"I've always been proud of my ethnicity," Reid told me in 1988, a few months before Living Colour's debut Vivid was released. "I just want to be free to do what I want to do. Black people started this music and I take umbrage that I have to explain that." Between Reid's constant rehearsals and various gigs, he also spent many hours with friends at the cheap eats restaurant Dojo's on St. Marks Place, a posse that included Village Voice cultural writer Greg Tate, trumpeter Flip Barnes, future record producer Craig Street and artist manager Konda Mason.
Taking bites of their stir-fried veggies, soy burgers and carrot-ginger dressed salads, they talked about science fiction novels (William Gibson's cyberpunk debut Neuromancer was the rage), Marvel comics, heady foreign films and, of course, music. "The commonality that we shared was that we all loved talking about rock music," remembers Flip Barnes. "We were as into Led Zeppelin as we were into Coltrane." Barnes first met Tate at Howard University in Washington, D.C., where the two became fast friends, bonding over free jazz, fat-bottomed funk and the frenzy of the Bad Brains.
A few years later, when Tate moved to New York to write music criticism for The Village Voice, it was Barnes who found him an apartment in Harlem. "At Dojo's, we also began talking about the politics of music and the many black musicians we knew who were into playing rock, but couldn't get gigs. I can't remember if it was Vernon or Greg, but one of them said, 'Maybe instead of us simply complaining about the industry, we should do something about it.' That's how the Black Rock Collation (B.R.C.) was born."
Those meetings were the one place where black women didn't look at me like I was crazy.
This past August, the B.R.C. celebrated its 30th anniversary, forcing a lot of graying rockers, myself included, to question where the time went, remembering the beginning of a movement that went beyond music and embraced likeminded artists who came together under one banner to try to make an artistic difference. While there aren't any fixed numbers of the current membership, according to President LaRonda Davis, "The B.R.C. continues to thrive, community build and sponsor events."
I can recall those early meetings I attended, just another Harlem guy dressed entirely in black, listening to David Bowie and the Clash, working at Tower Records and aspiring to be a writer. In 1986, after a chance encounter with Vernon Reid at Sounds, a used record shop a few doors away from Dojo's, he invited me to come check out their scene. On a quest for my own personal Harlem Renaissance, I leapt at the opportunity to find friends who weren't appalled that I used to air guitar to Brian May solos or my (then) punkish style.
Cult novelist, performance artist and former downtown fixture Darius James, who I met at my first B.R.C. meeting in 1986, came for the same reasons. "I've always been interested in the culture and history of black bohemia, so I wanted to be a part of that. A few years before, I was taking a class with Ntozake Shange, and she showed me this cool poem Greg Tate had written when he was a teenager; in the '80s, the music pieces he wrote for the Voice were in this rock & roll style that had nothing to do with academia, and I dug that... Those meetings were the one place where black women didn't look at me like I was crazy."
The B.R.C. was – and continues to be – a safe place to be different. "For a lot of black musicians, by the time we joined the B.R.C., we'd already been through a lot of shit," bassist Felice Rosser said recently. Rosser moved to the city from Detroit in 1974 to attend Barnard College. "People at home, in the neighborhood and family members would be like, 'Why do you like this music? It's horrible.'" After attending a Patti Smith poetry reading on campus, Rosser subwayed to CBGBs on the Bowery; a few years later, while watching a Talking Heads show, the bass playing of Tina Weymouth inspired her to pick up the instrument. She put together her own band, Faith, in 1987.
In its infancy, the B.R.C. held its meetings at Just Above Midtown (JAM), a pioneering black-owned avant-garde gallery owned and run by Linda Goode Bryant. "Linda was like the den mother," Grammy-winning music producer Craig Street explains. "Those early meetings were like salons. I've never been a fan of organizations, but those meetings were amazing. Vernon was more focused on the politics while (member) Bill Toles, who worked in the industry, thought we should start a record company. The discussions could go anywhere. Some of those early B.R.C. shows were also great, even if they were a little chaotic."
While the meetings attracted early supporters Duke Bootee and members of the Bad Brains, the majority of attendees had little to do with the music industry. "We a hard time getting musicians to come through," admits Greg Tate. During this same era, Tate's funky fresh jazzy neo-hoo essays and reviews was turning the textual tide while also inspiring the next generation of writers. "The politics made them nervous. Cats thought we were rabble rousing when we talked about Apartheid-oriented rock and that stuff. Some cats told Vernon that he was writing his own suicide note."
But, if they weren't getting the opportunities in the first place, what difference did it make? Tate chuckles. "Well, you know," he says, "hope springs eternal in Black America. Everybody thinks they're going to be the one, so they don't want to rock the boat. Then we had guys who played R&B who told Vernon, 'You're just wasting your time, because black folks don't want to hear that noise.' We were dealing with a double-edged wall of resistance."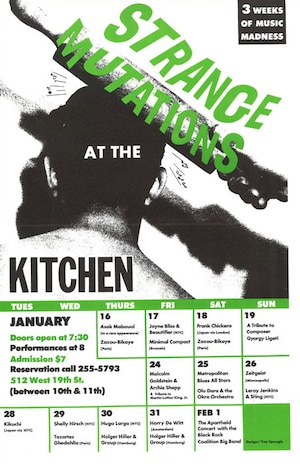 It wasn't until the B.R.C. began booking shows at various venues and art centers downtown that other musicians began to take them seriously. In January of 1986, the B.R.C. held their first public performance at The Kitchen for Martin Luther King's birthday. As an exercise to drive home the effects of Apartheid, they separated the audience by race.
"I worked the door for that show and it was a packed house," says former PBR Streetgang leader and keyboardist Bruce Mack, who met Vernon and Craig in the West 4th Street subway stop in August of '85. "There was a little bit of grumbling, but we were trying to show people how apartheid felt." As part of the show, Reid put together the first B.R.C. Orchestra, which included guitarist Ronny Drayton (Material, David Sylvian), saxophone player Steve Coleman (Dave Holland, Abby Lincoln) and others.
People kept asking, "Who's baldie on the bass?"
Months later at the same venue, the B.R.C. did a show dedicated to blaxploitation songs. Sitting in the audience that night, I was blown away by a young bassist in the band, plucking along to a James Brown song from the Black Caesar soundtrack. The petite player was Michelle Lynn Johnson, a D.C. native that had cut her teeth in go-go bands and studied under Gerri Allen at Howard University. A few years later she changed her name to Me'shell Ndegeocello, but that night she was a 17 year-old playing her first gig outside the capital and, without a doubt, she was an aural inferno that still burns in my mind. In fact, she's the only musician I can recall from that show, and not just because her head was shaved.
"People kept asking, 'Who's baldie on the bass?'" Greg Tate recalls. "Me'shell was being managed by Bill Toles, and she and her girl lived uptown in my neighborhood." 12 years later, Craig Street produced Bitter, perhaps her best album.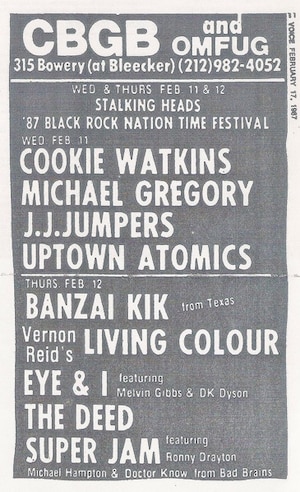 In February, 1987, the B.R.C. put together a musical event the called Stalking Heads, a three-night gig at CBGBs that included Living Colour, Eye & I, The Deed and JJ Jumpers. According to Jumpers founder/bassist Jared Nickerson, "Some members of the B.R.C. felt they were being ripped off by the audition policy of the club, so the organization approached owner Hilly Kristal about doing a festival." Kristal agreed. It was a decade after the club provided a home to Blondie, Television, The Ramones and Talking Heads. By 1986, Kristal had nothing to lose.
Thinking back, Greg Tate laughs. "We brought the darkness to CBGB. Hilly was a saint; God bless him. That first Stalking Heads show was the first time in the history of the club that black bands ruled the stage at CBs for three nights. Hilly adopted Vernon like a brother." After those initial three shows, the club became a regular spot for B.R.C. artists 24-7 Spyz, Jean Paul Bourelly and the Blue Wave Bandits, Michael Hill Blues Band, Sekou Sundiata and Shock Council. They made folks scream as though they were in church instead of a beat-down club with spilled beer on the floor and overflowing toilets.
Sitting in the audience surrounded by my new friends, I was excited by the frantic energy that flowed from the groups as well as the health hazard décor of the club. "The first night I ever went there," says photographer Earl Douglas, Jr. who began creeping into gigs when he was still in high school, "I told Tracie Morris I was going to use the restroom and she grabbed my hand and said, 'Never go the bathroom in here.' She was serious too."
Former Spin editor John Leland gave Living Colour much ink, calling them "the last great CBGB band," and they soon became the darlings of downtown. Mick Jagger offered to produce the group's demo, and they became the first B.R.C. band signed to a major label. Even with the endorsement of Mick Jagger, getting a deal wasn't easy. "Before and after Jagger produced their two-song demo, Living Colour got rejected by every label in town," Greg Tate says. Finally signed to Epic Records in 1987, they released their debut, Vivid, the following year. The album sales were slow in the beginning, but the second single "Cult of Personality," propelled Vivid into the top 20 as they became MTV sensations.
Living Colour's success had a knock-on effect, helping to revive the careers of Fishbone and the Bad Brains while also encouraging a few A&R's to take chances and sign 24-7 Spyz (Relativity), Me'shell Ndegeocello (Maverick), Family Stand (East/West) and Eye & I (Epic). Unfortunately, shortly after filming a video for their first single, a cover of the Velvet Underground's classic "Venus in Furs," the band imploded one night and was dropped from the label the following day. Tate, who was managing them at the time, says, "That was just a bad marriage that fell apart on stage."
Meanwhile, other deserving groups like PBR Streetgang and Faith got passed over. "People were going crazy over Faith in the clubs, Lisa Jones wrote a big story on them in the Voice, but the record executives just couldn't see past a six foot woman playing bass and singing." While the B.R.C. meetings and gigs became the fertile ground many young artists needed to develop (one of my first published pieces was an interview with Funkadelic album cover illustrator Pedro Bell for the B.R.C. newspaper Ravers), at the major labels things barely budged. Says Greg Tate, "All these years later, even with AfroPunk being so popular and the B.R.C. celebrating our 30th year, when it comes to rock & roll, it's still a white male discussion."
We created this platform for eclectic, esoteric, experimental and avant-garde Negroes to find one another like unicorns in the forest.
Currently a visiting professor of Afro-Futurism at Brown University, these days Tate lives in the same Harlem pad; he also plays guitar and conducts his own motley crew of musicians in Burnt Sugar the Arkestra Chamber. He is eagerly awaiting the publication of Flyboy 2: The Greg Tate Reader, which will collect most of his 1980s writings. In a life filled with bright moments, helping to form the B.R.C. remains one of the brightest. "We created this platform for eclectic, esoteric, experimental and avant-garde Negroes to find one another like unicorns in the forest," Tate says. "30 years later, what makes me proud really is maintaining friendships and connections around an ideal – a creative, political and spiritual ideal. Unlike AfroPunk, which is much more business-minded than the B.R.C., nobody made any money, but we made a difference both musically and culturally."